Pumpkin Spice Scones
September 27, 2020
Pumpkin spices scones are a perfect fall treat; not-too-sweet, fragrant with spices, and a full complement of rich pumpkin flavour.
Pumpkin spice scones are my new favorite treat. And although I love baked treats made with pumpkin, I am not generally a fan of "pumpkin spice everything." There is a time and a place for pumpkin and spices, but beer, cheese and chocolate bars are not it. Too often, there is too much chemical aftertaste and not enough pumpkin-and-spice goodness. But give me a delicious from-scratch muffin, cake, scone, or waffle made with pumpkin and I am happy.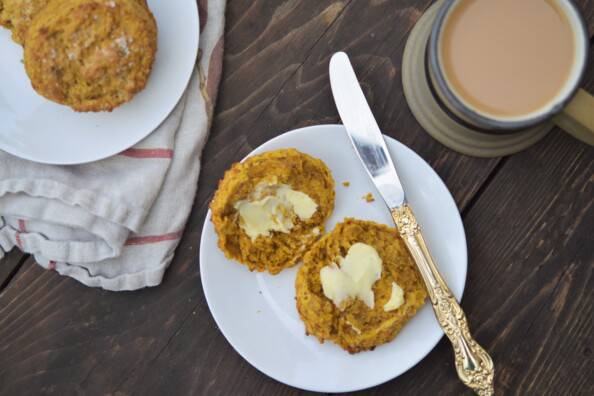 I have been toying with this pumpkin spice scone recipe for a couple of years. I wanted a proper flaky buttery scone texture with warm pumpkin-and-spice goodness. I grew up eating lots of homemade pumpkin loaf; it was definitely my favourite of Mom's baked treats. So when I first tried to make these scones, in homage to my favourite childhood treat, I used the spice mix in my mom's recipe, but it wasn't quite right. Too heavy on the clove, which works to perfection in the sweet and moist loaf, but overwhelms the less sweet, more crusty scone.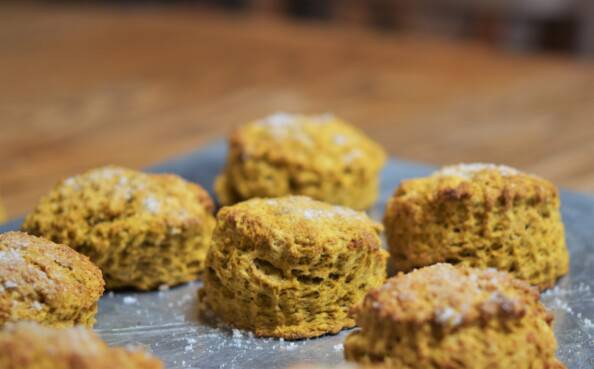 Finding the right balance of spices to let the pumpkin flavour shine through these scones has been a labour of love. I enjoyed every bite, even as I worked through the too much clove, too much cinnamon, and nope to cardamom phases. My testers have been no help, deeming every attempt "really good." Yes, they were all really good, but I wanted them to be SO good that they would disappear in minutes. Finally, I am there: cinnamon, a healthy dose of ginger, a speck of nutmeg and cloves, with just the right amount of pureed pumpkin.
You can make these pumpkin spice scones with either canned or homemade pumpkin puree. Be sure to use small sugar pumpkins if using homemade. Steps to making your own pumpkin puree can be found here, in my post about pumpkin loaf. But this works very well with canned pumpkin puree.
Enjoy these warm from the oven, with salted butter. Or cold as a snack. Or sliced and toasted with any kind of smear on there. But no matter what, they will disappear in no time.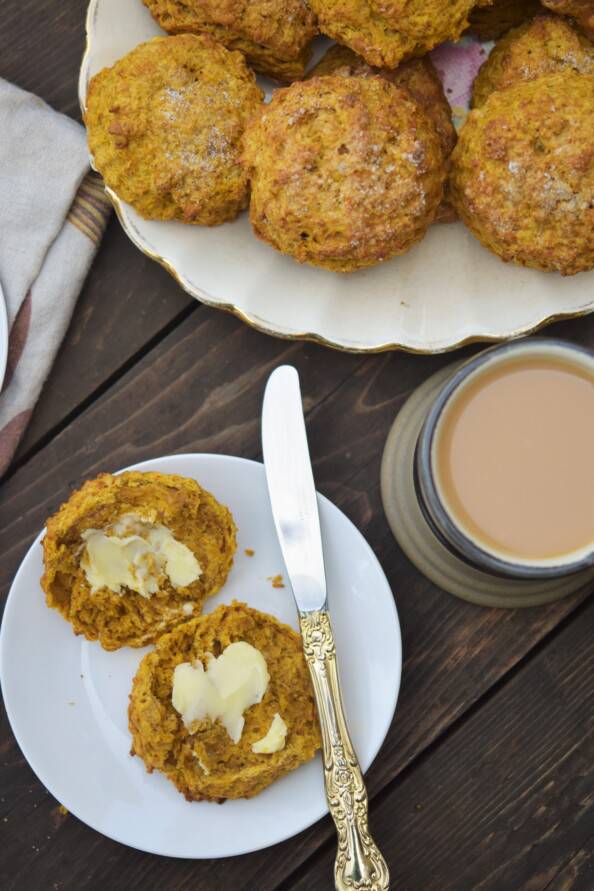 PUMPKIN SPICE SCONES
Makes about 12 scones
A delicious brunch treat or anytime snack, these are full of pumpkin goodness and warm spices. You can make these with either canned or homemade pumpkin puree. You can use pre-mixed pumpkin spice for this if you want; sub in two teaspoons for the mixture I have here.
ingredients
280 g (2 cups/10 oz) all-purpose flour
10 ml (2 tsp) baking powder
2.5 ml (1/2 tsp) salt
5 ml (1 tsp) cinnamon
2.5 ml (1/2 tsp) ground ginger
1 ml (1/4 tsp) ground cloves
1 ml (1/4 tsp grated nutmeg
40 g (45 ml / 3 Tb) light brown sugar
40 g (45 ml / 3 Tb) granulated sugar, plus more for sprinkling
114 g (1/2 cup/4 oz) cold unsalted butter
250 ml (1 cup) pumpkin puree, either freshly made or canned (NOT pumpkin pie filling!)
instructions
1. Preheat oven to 400 F. Lightly grease a baking sheet.
2. In a medium mixing bowl, whisk together the flour, baking powder, salt, cinnamon, ginger, cloves, nutmeg and both sugars.
3. Cut cold butter into small pieces and scatter over dry ingredients. Use two knives or your fingers to cut the cold butter into the flour mixture until the butter is distributed throughout and reduced to the size of crumbs.
4. Stir in pumpkin puree. Don't be tempted to add more, even though the dough seems dry at first. Use your hands to mix the dough together, turning it out onto a lightly-floured counter to knead and fold over a couple of times.
5. Shape the dough into a rectangle or circle about 2 cm high and flatten the top. I often do a rectangle and cut the scones into squares. Others favour a circle shape and cutting the scones into wedges. You can also use a round biscuit cutter to cut the scones (as I did for the photos) but then you have to re-roll the scraps of dough to get the final one or two scones, and who has time for that?
6. Place on the baking sheet, sprinkle the tops with extra granulated sugar and bake for about 15 minutes, rotating the tray once half way through baking, until the tops are lightly browned and the scones are cooked through. This may take a few minutes longer if cut into wedges (which tend to be bigger).
7. Remove scones from baking sheet to a cooling rack. Serve immediately. Allow to cool completely before placing them in a container for storage.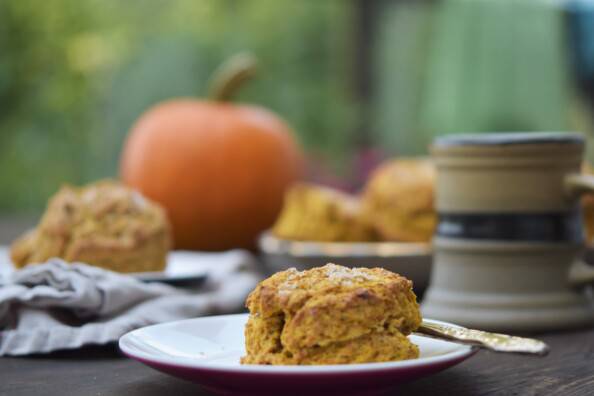 You May Also Like These Recipes: