Salad Meals to Beat the Heat
June 28, 2021
In this recipe round up, I have gathered my best and most delicious summer salad meal recipes in one post, for days when it's too hot to cook!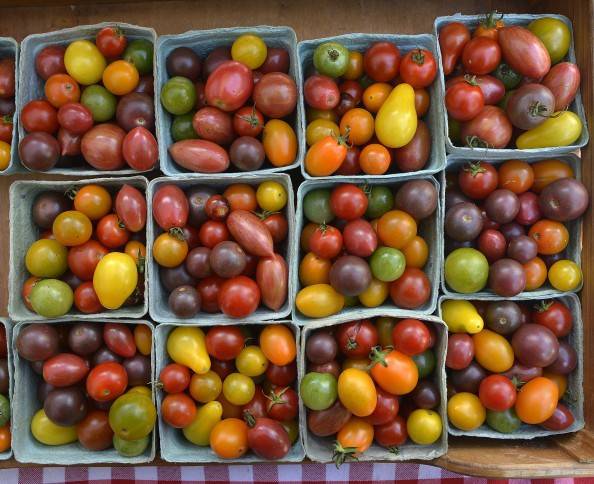 This Heat Dome is no joke. I have never experienced continuous heat like this on the west coast of British Columbia, where I grew up and have lived most of my 46 years. As such, my desire to turn on the oven (which is low in the summer already) is absolutely zero. We would live mainly on chips, popsicles, watermelon, and cheese platters. . . except that I know we need some quality vegetables and protein in there some where. Enter the Summer Salad Meal.
A summer salad meal in my house is often thrown together from various leftovers in the fridge, tossed with a salad dressing. This is a fine and delicious salad meal, but I also like to plan better when I know the weather is right. Marinated beans, washed leafy greens, cooked veggies and grains, and various homemade dressings can be ready to go in my fridge for a cool, refreshing, and nutritious summer salad meal.
The following are recipes for various hearty salads that make an excellent summer meal. Here is a round up of six of my favourites from summers past, plus one honourable mention that is not quite a salad, but may as well be!
SUMMER SALAD MEALS TO BEAT THE HEAT
My original, most flexible, and most delicious summer salad meal is what I call a West Coast Nicoise. I have been making this for years and years, with whatever vegetables I have on hand, subbing in wild salmon for the tuna, and generally using my favourite lemon-thyme vinaigrette. Step-by-step instructions, inspiration, and loads of refreshing summer flavour.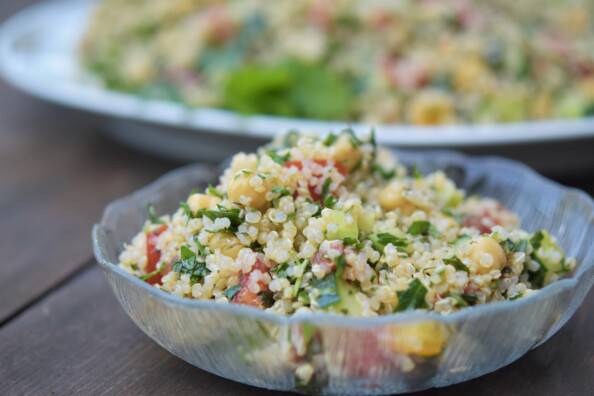 This high-protein salad meal gets the heaviest rotation in our house. It's a huge hit with both my kids, it's very easy to throw together, and leftovers make a perfect packed lunch the next day. The bright flavours of mint and parsley pair so well with summery tomatoes and cucumber. The addition of tasty, high-protein quinoa seals the deal on the best bang-for-your-work salad in this round-up.
A recipe borne out of bizarre food shortages early in the Covid-19 pandemic shut down, this has come to be one of my favourite go-to meals for simplicity, flavour, and summery-ness. Don't let the high vinegar ratio in this recipe deter you – its bright flavour really sets off the blandness of the beans and brings out their best. Loaded with fresh veggies for crunch, this one is a winner.
I won't pretend that this isn't the most complicated recipe of the bunch. It does invlove blanching a bunch of vegetables separately from each other, and from the noodles. BUT, my goodness, does this recipe ever satisfy every summer meal need: delicious, cold refreshing, satisfying without being filling, texturally pleasing, and loaded with flavour and nutrition. Prep this at the beginning of the week and enjoy delicious salad meals all week long.
I had to include this one because we are right smack dab in the middle of new nugget potato season. The bright chipotle-lime vinaigrette, fresh herbs, cherry tomatoes, and creamy new potatoes sets this salad apart from the usual summer potato salad. I do have a soft spot for my mother's mayo-based potato salad, for sure, but this recipe screams summer. It also last for days in the fridge. I often throw in smoked salmon, or leftover cooked salmon, to make this a more complete meal.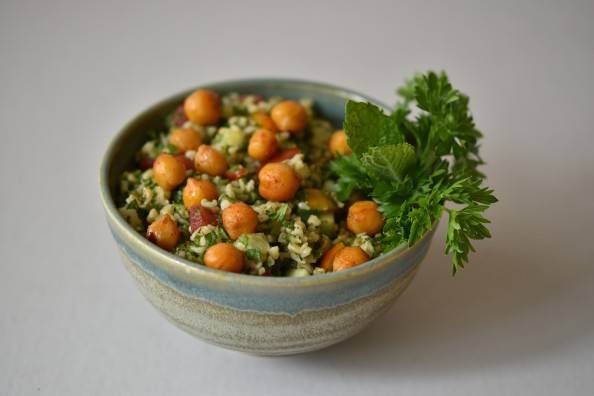 Never one to be satified with one tabbouli salad recipe, when I can have two, I devised this salad meal for Boulevard magazine back when I wrote their food column. Nutty, chewy freekeh (unripened, toasted wheat) pairs well with the standard tabbouli flavours, and the harissa roasted chickpeas add elements of both nutrition and flavour.
I couldn't have a summer salad meal list like this without including traditional gazpacho andaluz, which is essentially a salad in soup form, served icy cold. Unbelievably easy to throw together, requiring zero cooking, this gazpacho is ultra-refreshing on a hot day, and fills the soul too. If you have ever been to Southern Spain, make this and be transported back with your first bite!
There you have it! I hope you find something in my salad meal list to inspire you, either during this heat dome, or later in the summer. Stay hydrated and remember that you still need food, even if the heat is sapping your appetite!
You May Also Like These Recipes:
Categories:
Cooking in Season
,
Dinner Solution
,
Feature Ingredients
,
Foodgasm!
,
Gluten Free
,
Heidi's How-To
,
Late Spring / Early Summer
,
Late Summer / Early Fall
,
Local Harvest
,
Locavore Gone Loca
,
Lunch ideas
,
Recipes
,
Salads
,
Simple Summer Meals
,
Vegetarian