Quince: Easy Peeling and Cutting Tips
October 25, 2020
Quince have a wonderful flavour, but an almost impossibly hard texture. Read on for a quick kitchen tip that makes quince easy to peel and cut!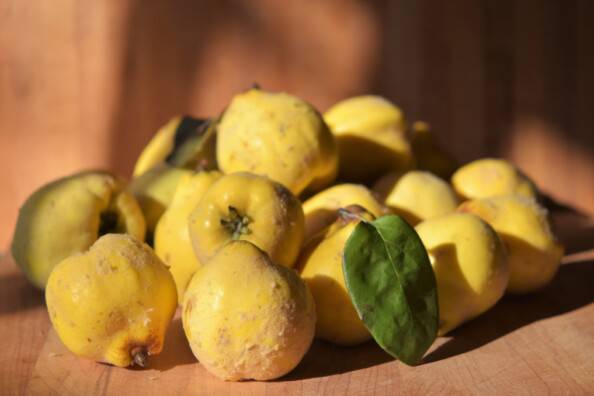 Quince are one of those fruits that chefs and foodies rave about, while the rest of us mortals try them once, and give up in despair or frustration. It doesn't have to be this way. I am here to help, with a very easy tip to transform your quince from rock hard impossibles into easy-peeling fruit.
Because the foodies are right: fragrant, delicious, amazing quince are the Queen of fall fruits, worth every bit of effort.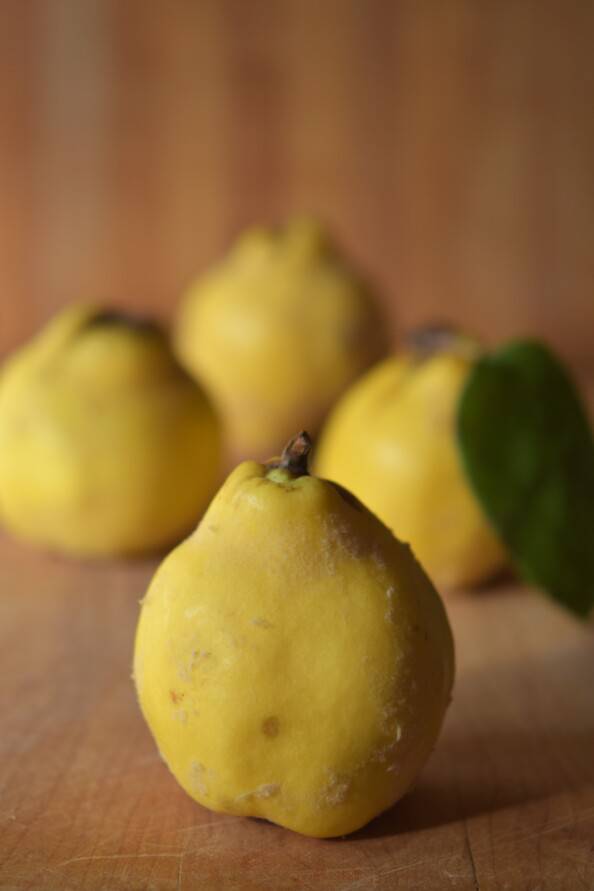 Quince are in the rose family, and related to both apples and pears. They taste as though they are made of equal parts apple, guava, rose, and red wine, with an incomparable perfume and a beautiful colour that progresses from yellow to rose-pink to deep burgundy as they cook. Despite their difficult nature and fleeting window of availability, quince are dear to my heart and to my palate. Which is why I want to help you all to use them easily.
Quince are available only in the fall, usually only in October. On Vancouver Island, you can find them at farms, farm markets, and some grocery stores. Including, but not limited to: The Root Cellar, Dan's Farm Market, Nanoose Edibles Farm, LifeCycles Fruit Tree Project, Michell's Farm Market. Call ahead to make sure there are some available.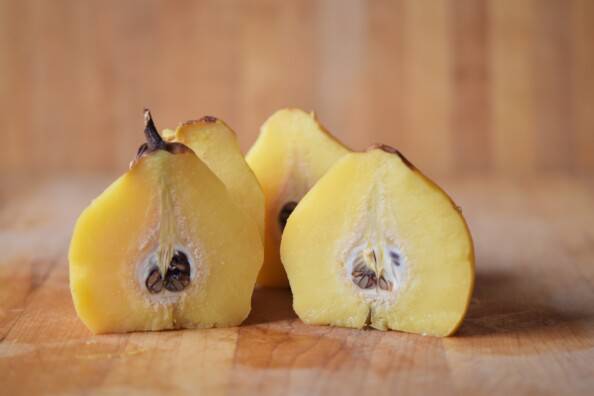 Now, on to our tip for making quince easy to peel and cut.
As some of you have no doubt already noticed, quince are ROCK HARD, almost impossible to peel and cut without blood, and maybe tears. They also can't be eaten raw; aside from being tooth-chippingly hard, they are sour and tannic. So they have to be cooked and sweetened to reveal their wonderful aroma. And most recipes just blithely tell you to "peel the quince with a peeler and then cut into wedges away from the core." HA. As if!
These recipes are clearly written by people who have either superhuman strength, or have never actually touched a quince.
But there is an EASY way around this.  . .
Just partially bake the quince ahead of time. That's it. Twenty minutes in the oven, let them cool enough to handle and bingo! The quince will now have the approximate texture of a raw apple: soft enough to peel and cut easily, while still firm enough to be cut into beautiful wedges and cubes without losing their shape.
The quince struggle is over with this one simple tip.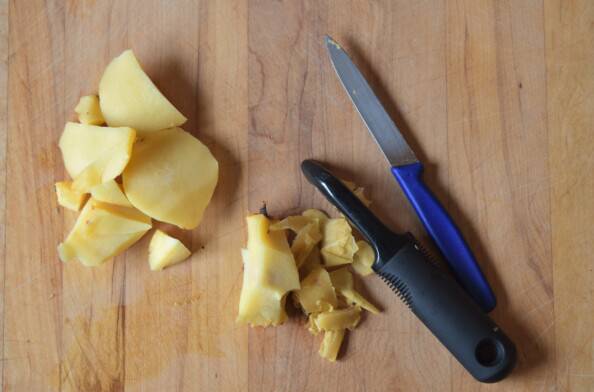 I can't claim to have figured this out myself. A friend of mine, a domestic goddess and preserving champion, told me this easy quince tip over ten years ago and I am forever grateful.
Now that you know how to make your quince life easier, you can try my recipes for quince paste, quince pie, and savoury lamb tagine with quince. Or you can search the internet for quince jelly, quince marmalade, poached quince, and so many more wonderful ideas. Happy Quincing!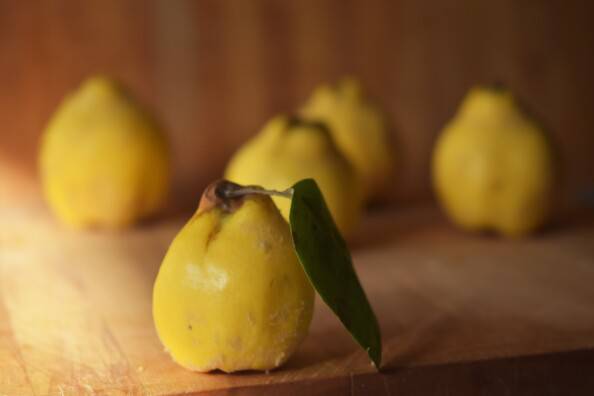 EASY PEELING AND CUTTING QUINCE
This quince cutting tip was shared with me by a friend many years ago and I am forever grateful. I often process all my quince this way and store the peeled and cut slices in zipper lock bags in the freezer for future use.
ingredients
Quince (about 5 lbs at a time)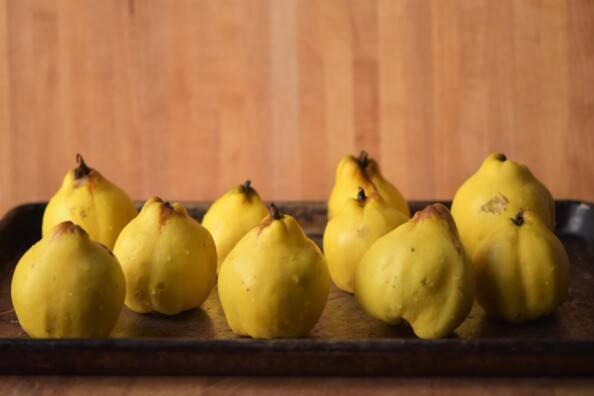 instructions
Preheat oven to 350 F (175 C). Wash the fuzz off the quince by rubbing them under running water. Place the whole quince upright on a baking sheet. Fill the sheet without crowding it too much. This works best if you only do one sheet at a time in your home oven, but you can do two sheets and rotate them half way through, if necessary.
Place baking sheet with quince in the oven for about 20 minutes (a bit longer if the quince were large) until their skins have developed a light brown colour. Remove from oven and allow to cool.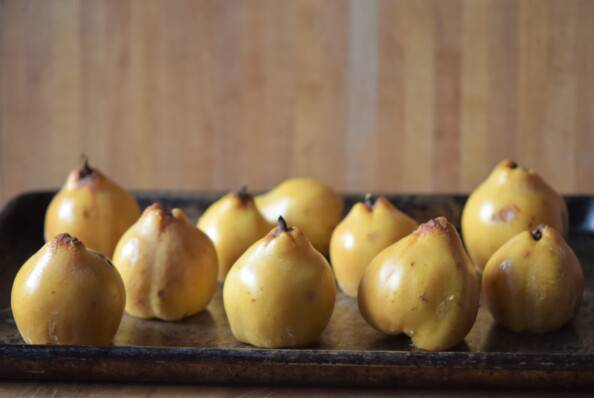 Once the quince are cool enough to handle, they will be easy to cut and peel. They will now be the approximate texture of a a raw apple: easy to peel and cut, while still firm enough to hold their shape. NOTE: the quince will still be quite hard around the core, so you may not get totally perfect wedges when you cut them. You can bake them a bit longer to help with this, but the cores have some grainy, hard quality that never quite goes away. Which is why we don't eat quince cores.
You can now use the quince in any recipe, OR put the peeled and cut quince wedges + pieces in a zipper lock bag and into the freezer for future use in pies, stews, jams, you name it.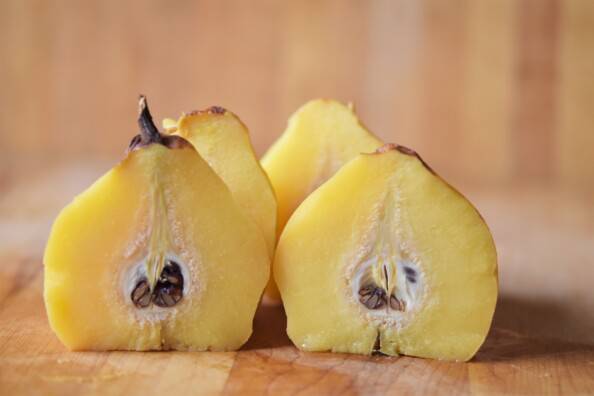 You May Also Like These Recipes:
Categories:
Cooking in Season
,
Fall / Winter
,
Feature Ingredients
,
Fruit
,
Fruit
,
Heidi's How-To
,
Local Harvest
,
Locavore Gone Loca
,
Preserving
,
Recipes
,
Technique technique technique