New Potato YUM Salad
June 21, 2011
New Potato YUM salad is exactly that: YUM. Creamy new potatoes, bright chipotle lime dressing, loads of fresh herbs and cherry tomatoes together make a salad that screams summer.
It's the first day of summer and so I'm sending out a favourite warm-weather recipe of mine. I adore new potatoes, but when they are bathed in a smoky-spicy-sweet-limey dressing, I want to marry them. That's what this recipe is: the salad I want to marry.
I learned how to make the original recipe when I first started cooking at ReBar. We used it as part of our South-Western Nicoise Salad, among many other things. It's been a favourite dish of mine ever since; I bring it to summer potlucks and barbecues all the time, and people never fail to ask me for the recipe.
Bonus: I often eat this salad for lunch on a sweltering day. I usually add smoked salmon to the lunch version for some extra protein, and that's when I really want to marry this salad.
smoked salmon version
New Potato Salad with Chipotle-Lime Dressing
Serves 6 to 10.
Easy to make and absolutely delicious, this salad is a great summer recipe.  It's perfect for barbeques, picnics, and potlucks, or as a simple dinner for a warm summer night. It is also great for adding other vegetables to: grilled corn kernels, steamed green beans, fresh roasted peppers or yams…
dressing
1/4 cup freshly squeezed lime juice
1 tsp Dijon mustard
1 clove garlic, pressed or minced
1 Tb pureed or minced chipotle chiles in adobo*
1/2 tsp salt
1-1/2 Tb honey
1/4 cup extra virgin olive oil
1/4  cup sunflower or grape seed oil
In a small bowl, whisk together the lime juice, Dijon, garlic, chipotle, salt and honey.  In a glass measuring cup, mix together the olive oil and the sunflower or grape seed oil.  Slowly pour the oil into the bowl, whisking the whole time, until the dressing is well-mixed.
Alternatively, put everything into a 500 ml-size glass mason jar, screw on the lid, and shake vigorously to mix the dressing. Always taste the dressing and make sure it is to your liking.  Add more lime, salt, or honey if you like.
Makes 3/4 cup dressing.
*Chipotles are smoke-dried jalapeno peppers, usually reconstituted in a tomato-garlic sauce (adobo sauce).  Chipotles in Adobo are available at any supermarket in the Mexican/Asian aisle, in a small can usually on the top shelf.  When home, open the can, puree the entire contents in a food processor or mini-chopper, transfer puree to a sterile glass jar and store in the fridge indefinitely, measuring out what you need with a clean spoon. I call this the chipotle chile paste method (much handier than freezing or any other method of storing chipotles once opened).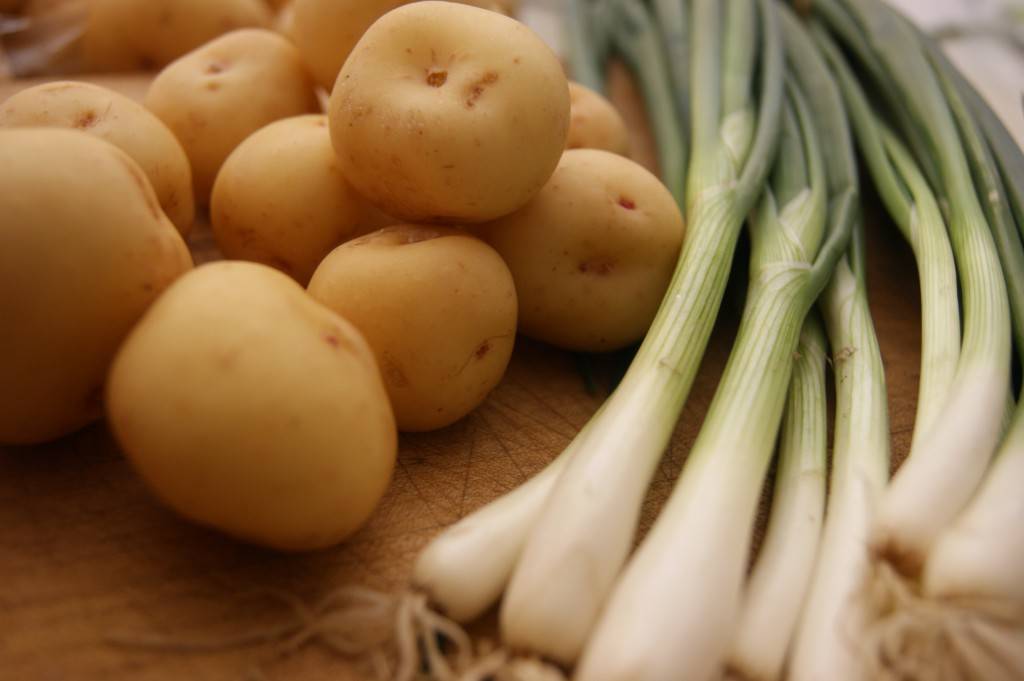 salad ingredients
Dressing from above
4 lbs new nugget potatoes (or red potatoes)
6 green onions (scallions)
1 bunch cilantro
1 300 gm box or bag cherry tomatoes, cut in half through the stem
200 gm – 400 gm hot smoked salmon – optional
Bring a large pot of water to a boil.  Add one tablespoon of salt to the water.  Meanwhile, prep the new potatoes.  Wash them well and cut larger ones into halves or quarters; leave smaller ones whole.
Once water has come to a boil, throw in the prepared potatoes.  Return to a boil, reduce heat, cover, and simmer for about 10 minutes, until potatoes are just cooked, but still firm enough to hold their shape.  Immediately drain the potatoes and spread them out on a tray to cool and steam off their remaining moisture.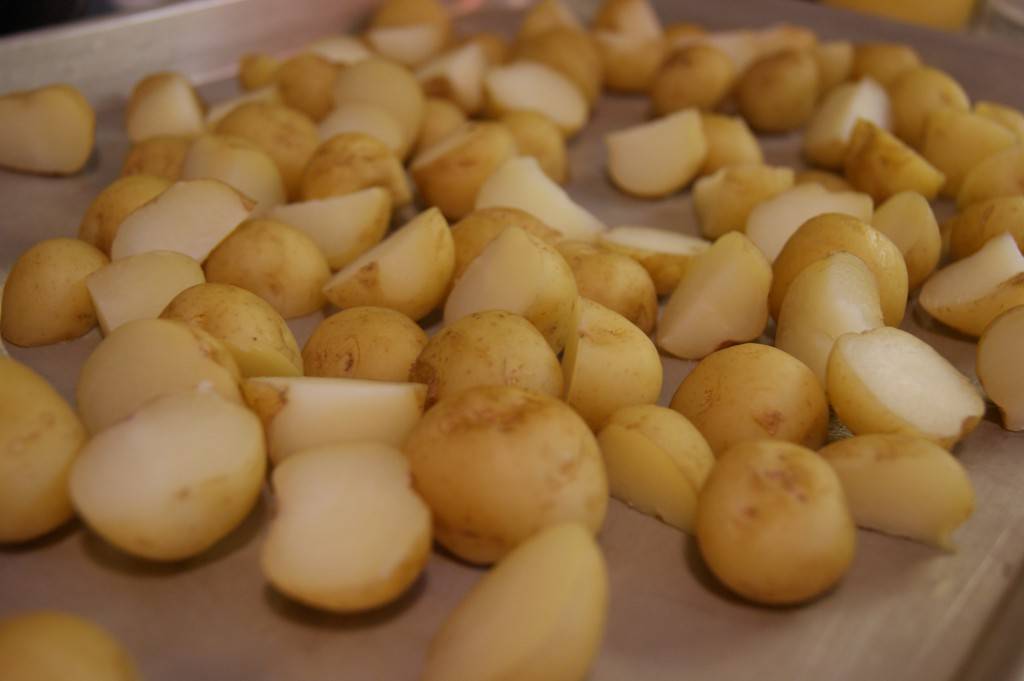 cooling the spuds
Meanwhile, thinly slice both the white and green parts of the green onions.  Roughly stem and chop the cilantro.   Once potatoes have cooled enough to touch, place them in a bowl with the green onions, the cilantro, the dressing, and optional cherry tomatoes.  Toss to combine thoroughly.  If you are using the salmon, make sure to skin it and pull it into large flakes, removing any bones you see, before tossing it with the salad.
Serve immediately or refrigerate up to two days before serving. Since the onions and cilantro will discolour overnight, you can stir in some fresh cilantro just before serving.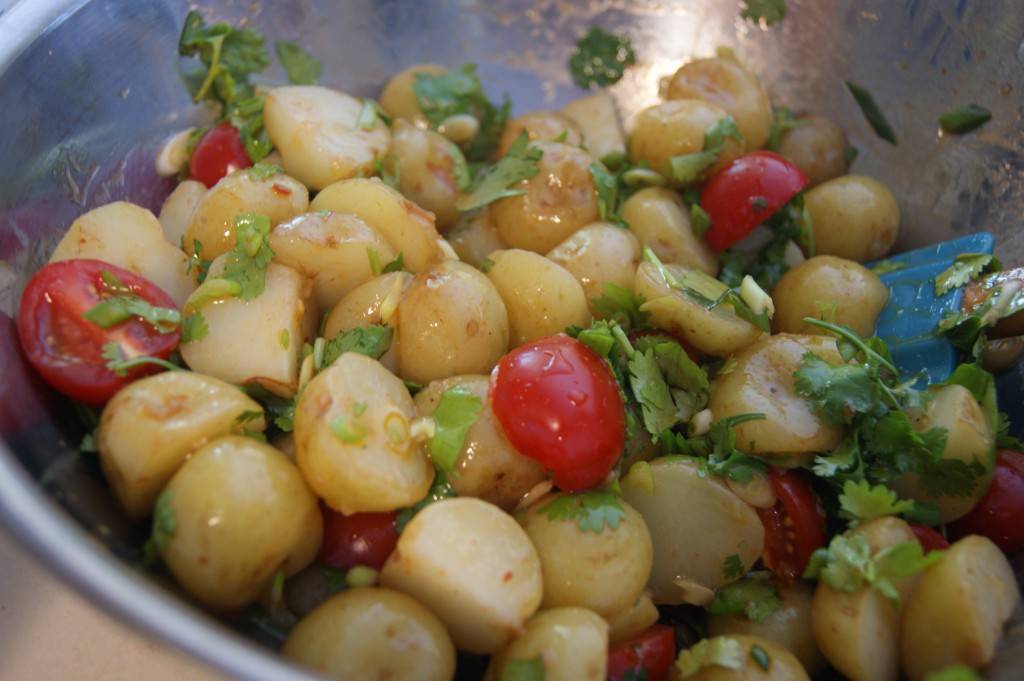 You May Also Like These Recipes:
Categories:
Appetizers
,
Cooking in Season
,
Dinner Solution
,
Feature Ingredients
,
Fish and Seafood
,
Foodgasm!
,
General
,
Late Spring / Early Summer
,
Local Harvest
,
Lunch ideas
,
Mexican
,
Recipes
,
Salads
,
Sides
,
Vegetarian