Farm Fresh Lasagne
August 8, 2011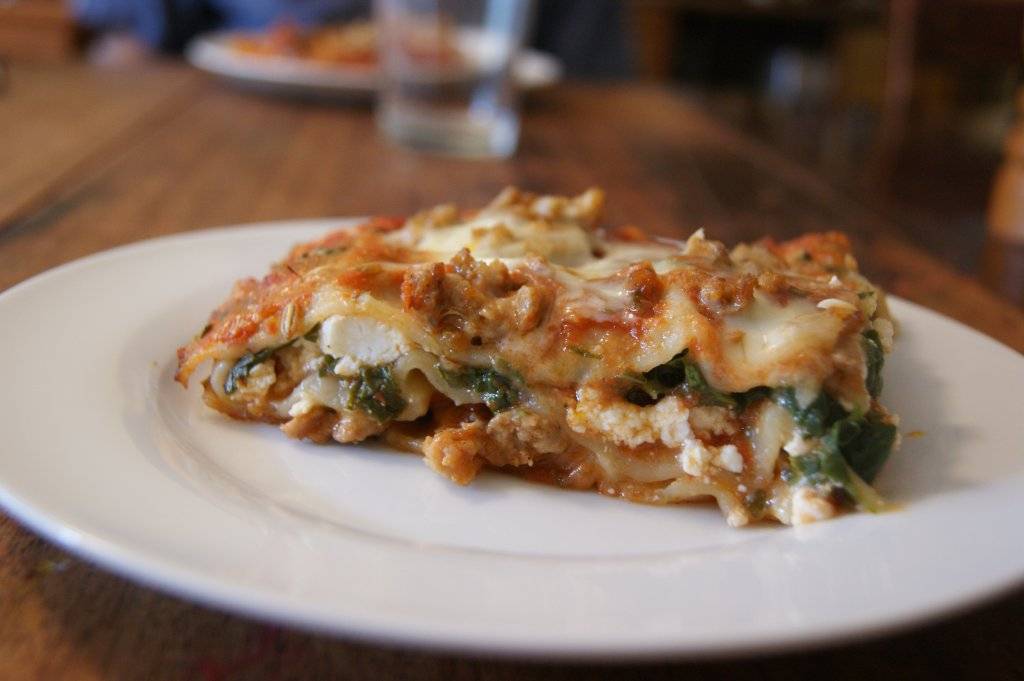 "Fresh" is not the first word that comes to my mind when I think of lasagne. But a stay at KilrennyFarm in the Cowichan valley changed my mind completely.
I taught an Indian cooking class at Kilrenny Farm last month and was charmed by Deborah and Russel Fahlman's enthusisam for their produce, their new teaching kitchen, and their newest venture: fresh pasta. They bought a state-of-the-art pasta machine after a research trip to Italy and are unbelievably excited about the pasta it makes. They behave as if they have landed a dreamed-of jackpot, rather than an addition to their already back-breaking business of farming.
Of course, I came home with a box full of Kilrenny Farm products: their fresh pasta, organic marinara sauce made from their own tomatoes, gorgeous bunches of fresh chard and basil. The first thing I did was make this lasagne, which was promptly inhaled by everyone in the family. It was fresh and delicious in a way that I have never experienced before in lasagne. (Also, I used two of my other favourite foodie products – the addictive fresh sheep milk ricotta from Choux Choux as well as their homemade Italian sausages.)
Then I made some pasta with fresh sauteed vegetables the next night. Ok, ok, Deb and Russ, you win. We love your pasta. It is somehow both more tender and more firm than dried pasta. It is silky, resilient, tasty – basically nothing like the pasty and gluey "fresh" pasta I have tried in the past. AndI love that your pasta only takes 2 minutes to cook.
Kilrenny Farm pasta and products are available at the farm gate Wednesday to Sundays 10 am to 5 pm and at the Duncan Farmers Market on Saturdays.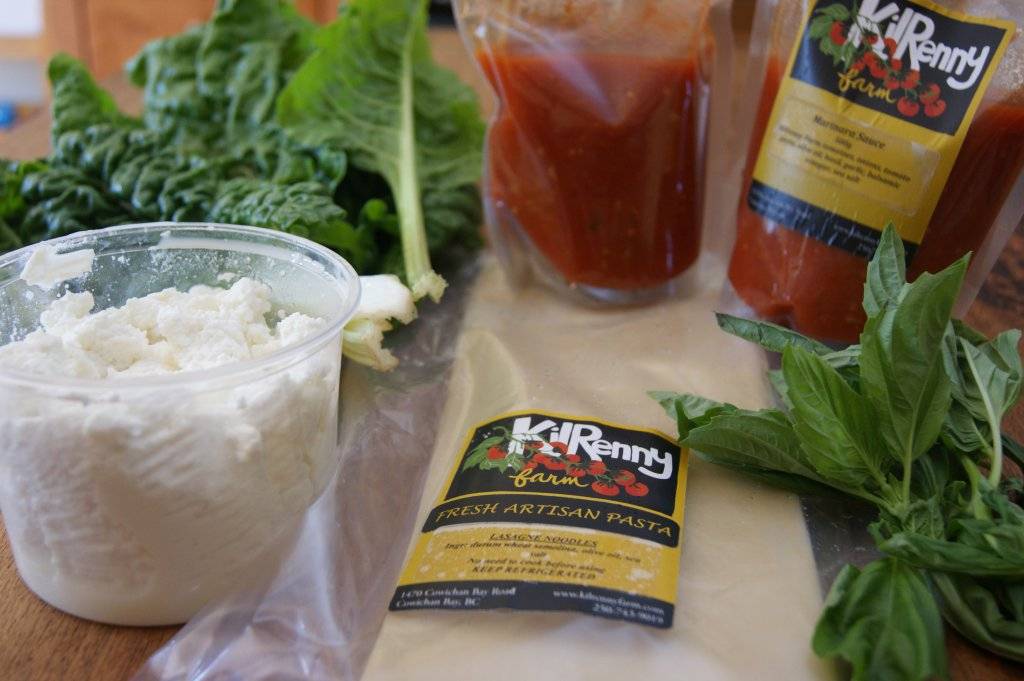 Farm Fresh Kilrenny Farm Lasagne
Serves 6 to 8.
ingredients
1 package fresh lasagne noodles (3 to 4 sheets) (Kilrenny Farm)
4 cups (700 gm) fresh marinara sauce (Kilrenny Farm)
500 gm fresh sheep milk ricotta (available at Choux Choux)
2 bunches fresh spinach or chard
salt, pepper, nutmeg
4 sweet Italian sausages – optional
2 to 3 cups grated mozzarella cheese (Paradise Island)
1 cup grated Parmigiano-Reggiano
1/2 cup fresh basil, stemmed and minced
1 Tb extra-virgin olive oil
instructions
1. Preheat oven to 350 F.
2. Stem the chard or spinach, wash, and place in a large saucepan with a small splash of water and a sprinkle of salt. Cover, bring to a boil, and steam for two minutes. remove the leaves with tongs to a bowl to cool. Once cool, squeeze out the excess water with your hands, chop the greens finely and set aside.
3. Remove the sausage meat (if using) from the casings and cook over medium heat until no longer pink. The sausage should end up in a mixture of small meatballish chunks and tiny crumbles. Remove sausage meat to a bowl and set aside.
4. Mix the minced fresh basil and the olive oil into the marinara sauce.
5. Get out your lasagne pan. Spread about 1/2 cup sauce in the bottom of the pan. Open the package of fresh lasagne noodles and lay one noodle to cover the bottom of the pan (another bonus about these awesome noodles – they are cut to fit the pan exactly and they don't need to be pre-cooked), 1/2 of the sausage meat and about 1 to 1 1/2 cups grated mozzarella cheese.
6. Cover with another lasagne noodle. Spread the sheep milk ricotta evenly over the noodle and sprinkle evenly with freshly ground black pepper and freshly grated nutmeg. Cover with the chopped spinach. Drizzle with 1 cup of sauce.
7. Cover with third lasagne noodle. Spread with remaining sauce, remaining sausage, and then sprinkle with grated Parmigiano-Reggiano. Sprinkle with grated mozzarella to cover (1-1/2 to 2 cups).
8. Cover the lasagne tightly with foil, making sure to place the foil in such a way to leave space between the top of the lasagne and the foil. Place in the oven and bake for 30 to 35 minutes, rotating the pan once during cooking. Remove foil and continue cooking 10 to 15 minutes more, to lightly brown the top. Remove from oven and let cool about 10 minutes before cutting.