Brunchy Baked Eggs
April 6, 2014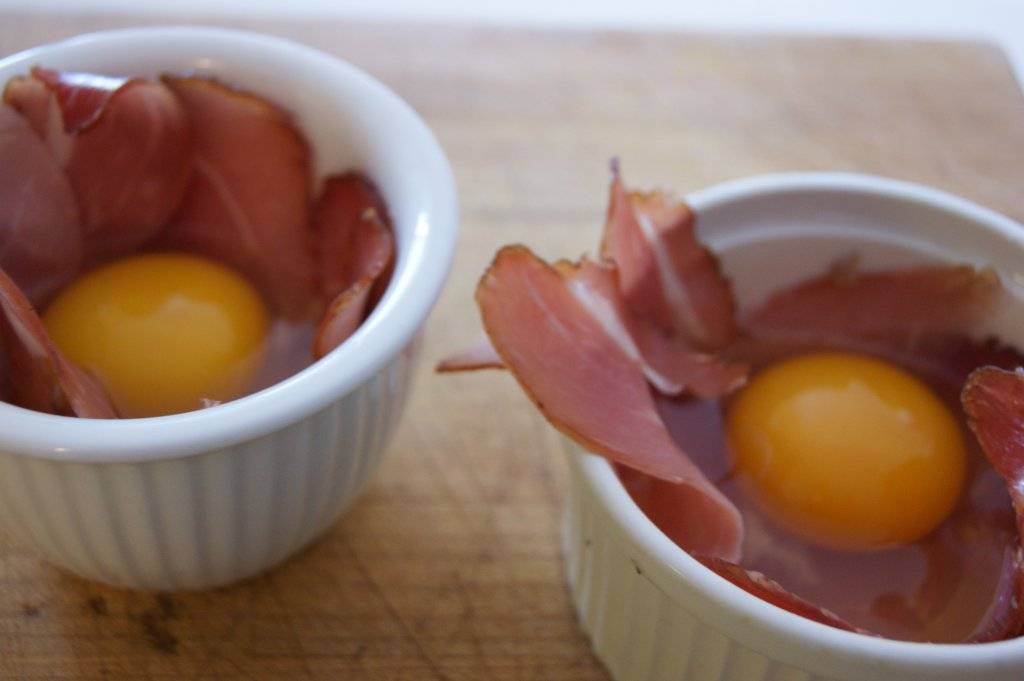 I shared a kitchen with three dozen children over five days of Spring Break, and all I can remember about it now is how much they loved this one recipe. "It's really, really good," said one boy, as he ate his third egg. "They're SO good!" said another. I heard synchronized groans of satisfaction all over the dining hall as the kids downed their Brunchy Baked Eggs.
Thank goodness! Because I was beginning to have performance anxiety about my menu-planning for my Cooking Camp. I love this recipe myself, but I had almost decided to remove it from the menu, after two years of  dealing with many children who refused to try it. WHY-Y-Y? (cue sobs and hair-tearing)
This year, I was vindicated. The kids almost all tried their eggs (some reluctantly) and all those who tried one, LOVED it. Ha, ha! I KNEW IT!!!! I KNEW they would love it!! (cue mad-scientist crazy-laugh)
So, this amazingly satisfying moment of kitchen vindication reminded me to share this recipe on the blog. Perfect! Perfect, because: it's easy; it's delicious; it's impressive enough for company (for brunch); the blog needs more recipes in the breakfast archive; and Easter is coming up, that prefect holiday to flog eggy/brunchy recipes.
I find this recipe ideal for company or family crowds because you can make a dozen or more at a time, and they can even be made a bit early and served at room temperature. This works perfectly well with any decent supermarket ham (or with spinach leaves, if you do not eat pork).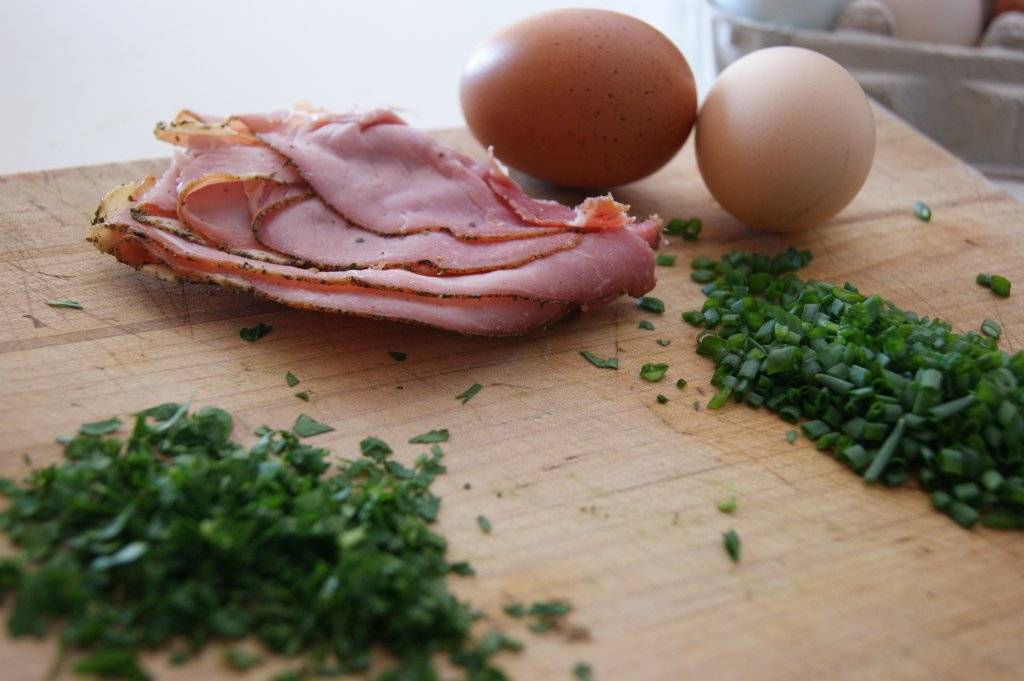 In the pictures, I have use the Jambon de Campagne from Choux Choux – it's smaller and drier than supermarket ham, so I need to use two slices per egg. Whichever ham you decide to use, make sure that you get it sliced thin, so that it can fold beautifully into the custard cups or muffins tins and still fit a whole egg on top without spilling over.
BRUNCHY BAKED EGGS
Makes 6 eggs, to serve 3 to 6 people, depending on the rest of the menu.
These can be made up to 30 minutes in advanced, if desired. Use spinach leaves in place of the ham if you do not eat pork.
Butter for greasing the tins
6 round paper-thin slices ham OR 12 spinach leaves
6 eggs
Salt and pepper
1 Tb EACH minced chives and parsley
4 Tb whipping cream, half-and-half, or creme fraiche
Optional – 6 Tb grated cheese (swiss, gruyere, and old cheddar are all great choices)
Preheat oven to 325 F. Grease 6 ovenproof ramekins or a 6 cup metal muffins tin.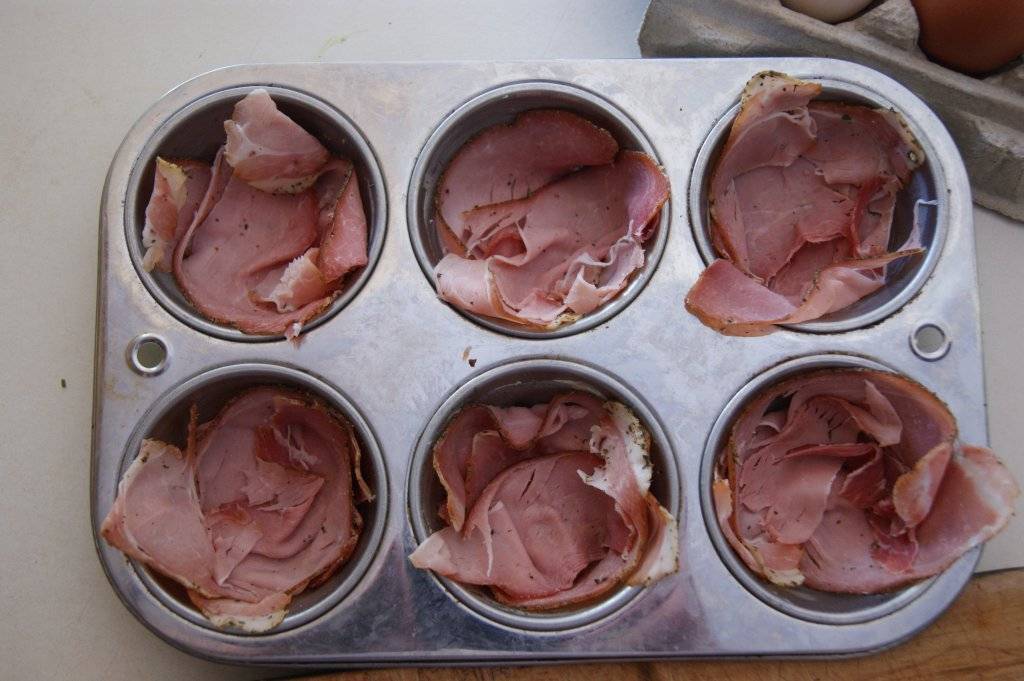 Add slices of ham to cover the bottom and up the sides of the muffin tins. OR use spinach leaves if you don't want to use ham. Crack one egg into each of the prepared ramekins or tins.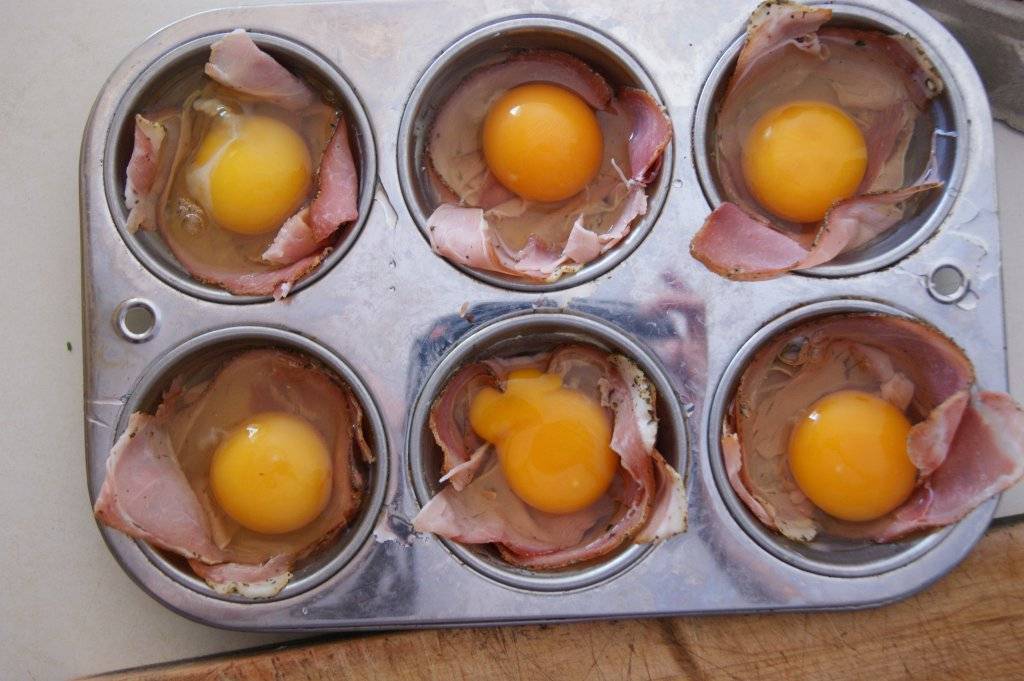 Sprinkle the tops of the eggs with salt, pepper, and herbs.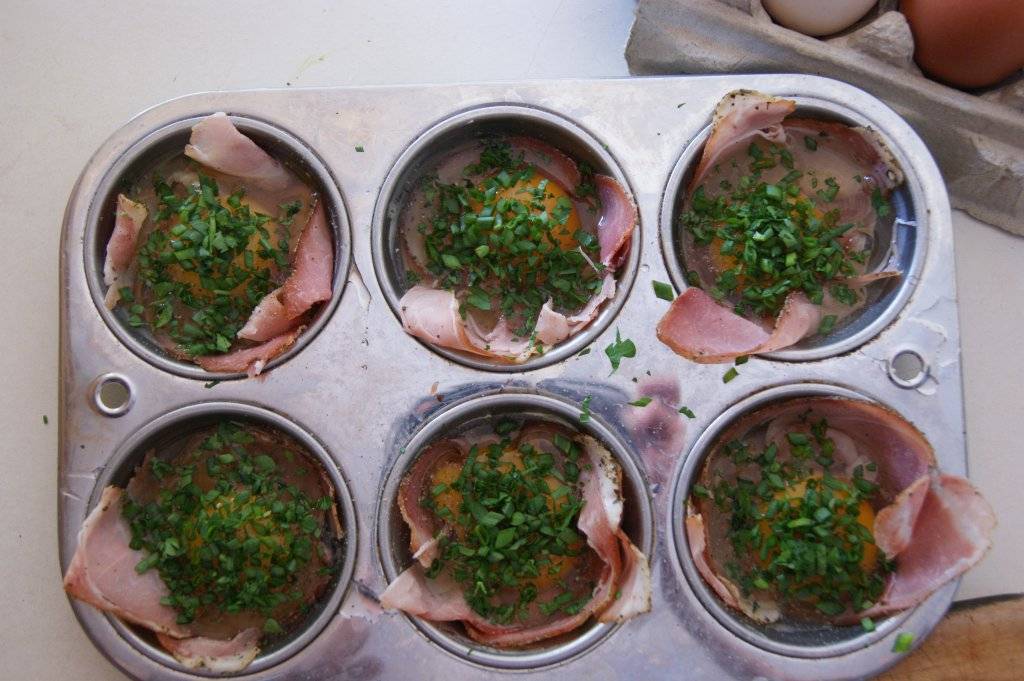 Top each egg with 2 tsp cream or creme fraiche. Sprinkle with cheese, if using.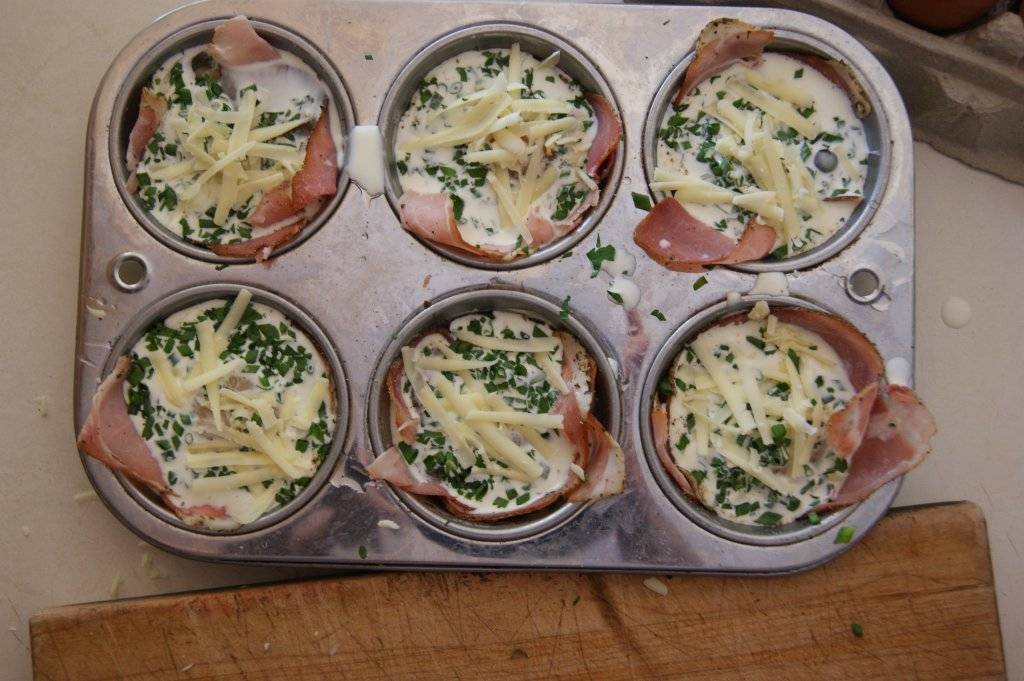 Place pan or ramekins in the oven (if using individual ramekins, place them on a baking sheet)  and bake for 15-17 minutes for soft-cooked yolks, or 20-22 minutes for firm yolks. Remove muffin pan or tray of ramekins to a cooling rack and let sit for a minimum of 2 minutes, and up to 10 minutes, before serving.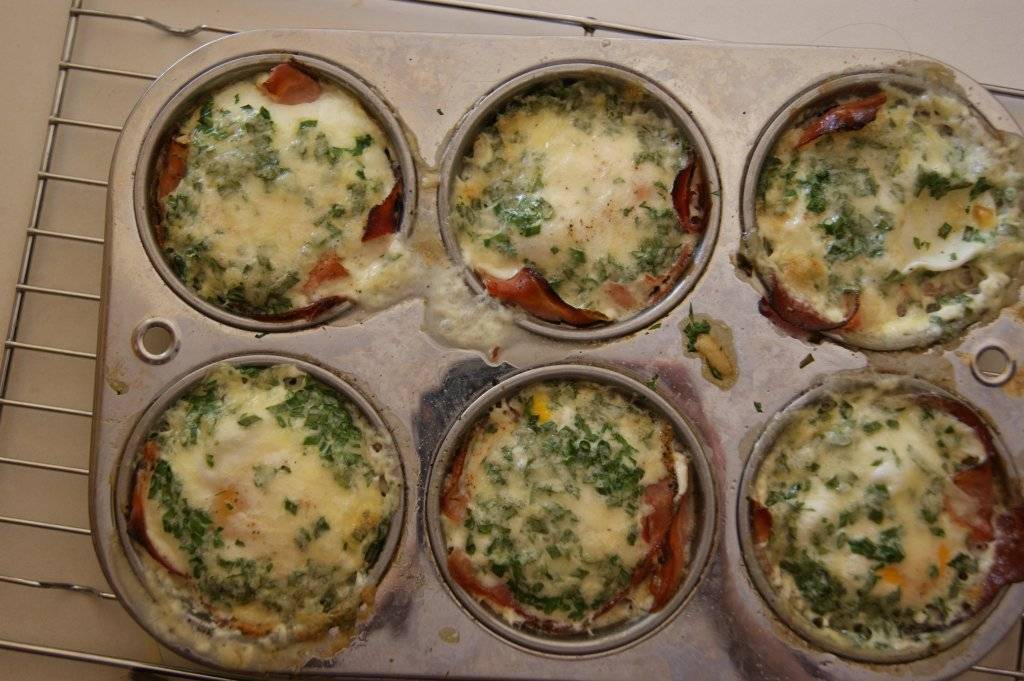 Run knife around edges to loosen ham. Serve immediately, with a nice brunchy spread : toast, jam, fruit, pancakes, yogurt, the works.