Stay at Home Recipes
April 24, 2020
Here it is: the list of foods I have been making for my family, links to the stay at home recipes that are getting me through this strange and stressful spring. A wonderful mix of decadent treats, simple recipes, and family friendly comfort foods, from my blog and others'. 
Hello, pandemic; goodbye 'normal life':
The stay home order worldwide has us all stuck at home cooking almost every meal, every day, all month. . .  is all this cooking really a source of enjoyment or is it a daily grind? I know how quickly cooking projects can turn from lots of fun to a burden of endless repetition and cleaning. So, let me invite you into my (messy) kitchen and show you some of the recipes that I'm cooking to survive each day. This post includes lists of the foods I have been making for my family, links to the stay at home recipes that are getting me through this strange and stressful spring.
Despite the bit of extra time I have on my hands (I am still working at Camosun Culinary, albeit doing only office work right now), I am not cooking more than usual, nor inspired to take on amazing kitchen projects. I am keeping things very simple, for a few reasons.
First, I am in small crisis mode. Our world has changed; my industry has been hammered, possibly never to recover; I've lost a few income streams; and my teenagers have lost most of the things that gave meaning to their lives. The boys are now eating every single meal and snack at home and I can't keep enough food in the house – I obviously did not appreciate how much they ate out on their own dime, pre-pandemic.
Second, even before COVID-19, I almost always cooked meals at home from scratch. We rarely ate out as a family or bought take out. So making dinner every night, and throwing a banana bread in the oven on the weekends, is very same-old for me. Additionally, cooking is my job; while I do enjoy it, cooking is not what I want to spend my free time doing. . . not when I have a neglected garden, a pile of unread books, and access to free online workouts.
Even so, I find cooking to be a comforting activity, a type of moving meditation that marks the day with a sense of normalcy. It is not so much a fun hobby as it is a soothing ritual, especially for the chef in me who can't cook for a living right now. So yes, I have been cooking, most days, and enjoying it most days, but no, I am not getting a thrill out of it nor spending more time cooking than I reasonably have to.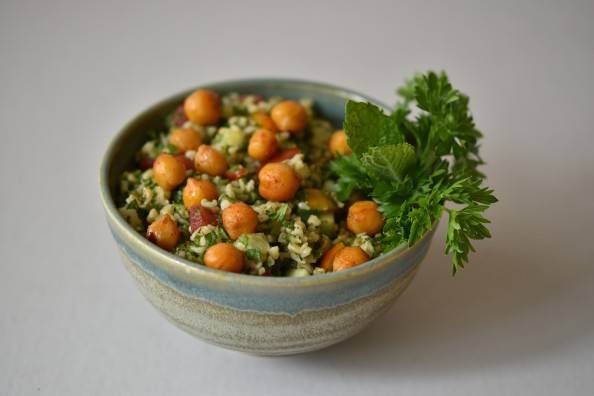 This following is a list of the actual recipes that I have actually made and cooked and served to my family in the last month, both from my own blog and others'. It consists of a wonderful mix of decadent treats, just for the sake of it, along with simple recipes, family friendly comfort foods, and at least one kitchen project. Obviously, this is not a comprehensive list of everything we have eaten –  some meals I haven't yet posted to the blog, some defy recipes (e.g. grilled cheese, scrambled eggs, tuna salad), and I am sure no one wants to see my peanut butter crackers and bowls of ice cream. But, for what it is worth, here you go:
(NOTE: If you do not feel like cooking right now, even if you previously enjoyed it, I get it, I hear you, I'm with you. These are stressful times, and processing the situation can take up a lot of energy. I know I am very lucky so far, in terms of health and access to income, food, and green space. That hasn't stopped me from facing days of general sadness and "unproductivity"; days when I have been thankful for the Amy's Burritos in my freezer or Annie's Mac & Cheese in my pantry because I can't manage a basic task. As long as we can meet our calorie needs on those down days, even if it is via snack foods, that is ok.)
CLICK ON THE PHOTOS TO GET LINKS TO THE STAY AT HOME RECIPES
BREAKFAST FOODS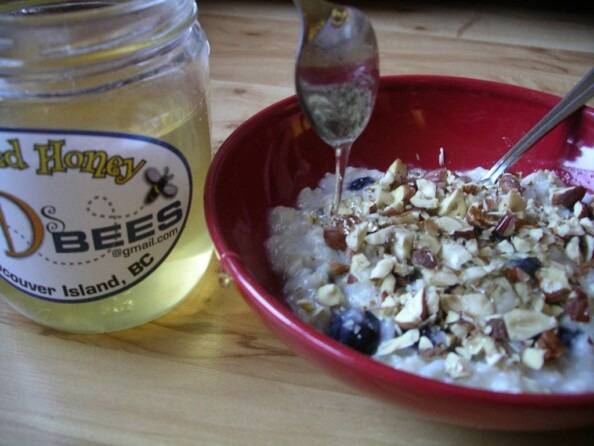 Three Bears Porridge
This family classic never gets old, and is more comforting than ever for us right now. Made with easily storeable pantry staples like oatmeal, honey, nuts and dried fruit, this recipe can be changed up with whatever grain, fruit, nut or sweetener you have already. As for fresh fruit, I happen to have plenty of blueberries in my freezer, but I have made this many times with chopped apple, strawberry, banana, peaches. . . name a fruit, I have probably used it. My current iteration uses raw hemp hearts and chopped Rancho Vignola almonds as the nut sprinkle.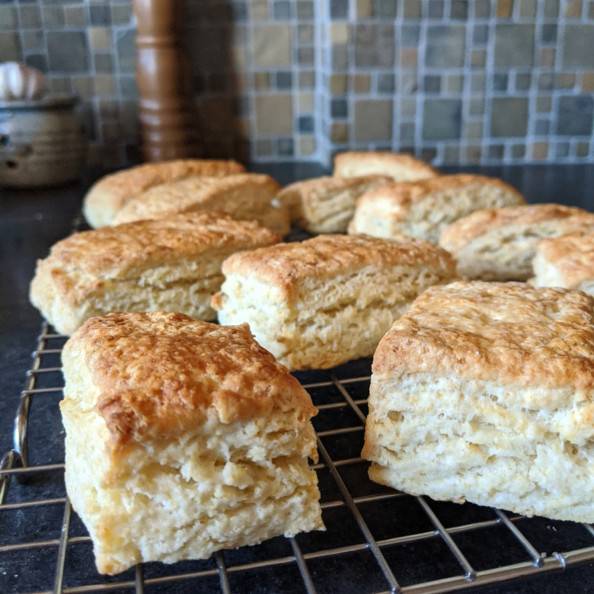 Sourdough Biscuits from Love and Olive Oil
My one and only kitchen project during this pandemic has been sourdough bread (for info and recipe, keep scrolling). This leaves me with the problem of what to do with my sourdough discard. Love and Olive Oil to the rescue, with their fantastic recipe for sourdough biscuits, which I have made three times. I do add two tablespoons of additional cold butter to the dough, though, because buttery biscuits are my jam.
Kefir Pancakes
A weekend regular around here, this recipe adapts easily to any fermented dairy –  yogurt, buttermilk, kefir, or a mixture – whatever I can find on my weekly shop. I'm even toying with the idea of adapting this to a sourdough pancake recipe.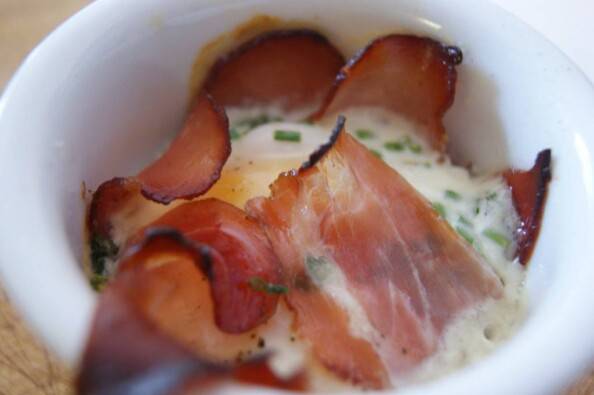 Brunchy Baked Eggs
This recipe seems decadent, but eggs have been so far easy to come by around here, I had a Costco-sized package of ham to use up, and (have I mentioned?) two teenage boys to feed. This delicious, protein-packed meal is very easy to make but feels very fancy. And it fills the boys up!
This Granola Recipe from Hot Thai Kitchen
One of my favourite YouTubers, I have to give a shout out to Pailin of Hot Thai Kitchen. Luckily, she has been posting down-to-earth videos from her home in Vancouver throughout the shutdown. Her granola recipe couldn't be easier. It's flexible, much like the porridge recipe above, relies on pantry staples, and is very delicious. Bonus: cute baby appearance :)
LUNCH AND SNACKS

Hummous
Hummous is a snap to make and a favourite snack of my children. This recipe is fantastic, but if you don't have the canned artichokes, you can leave them out and adjust the salt accordingly. If you don't have tahini, use a different nut butter (peanut butter and cashew butter both work!).
Sourdough Bread from DL Acken photography
Danielle is a food photographer and cookbook author from Salt Spring Island, and she has posted  a wonderful step-by-step process for making both your own starter and your own bread. I already had my own starter, but I followed her recipe for the bread. It was delicious.

Quinoa Tabbouli
The mint and parsley in my garden are going gangbusters right now, cucumbers are always available and on sale, and I have mysteriously large amounts of quinoa in my pantry. Also, my kids devour tabbouli. I have been making it, using this recipe from my blog, but substituting quinoa for the bulgur and using plain canned chickpeas instead of these spiced ones. UPDATE: I have now posted a recipe for the quinoa version! Get it here.
Kale Salad
I use a very basic recipe: shredded kale, sliced red cabbage, grated carrot and a basic lemon vinaigrette. The secret is in either massaging or marinating the chopped kale with the vinaigrette before eating. This softens the kale, making it tender and flavourful. To make this salad more filling, I've been topping it with canned beans, toasted nuts, dried fruit, chopped boiled egg and/or leftover cooked chicken. Recipe coming! In the meantime, you can check out this Kale Slaw recipe from Healthy Seasonal.
Simple Delicious Quick Bean Salad
I have made this for lunch many days. A quick and tasty blend of canned bean medley, chopped veggies and a garlicky vinaigrette, with or without feta cheese. This recipe is quick to make and packs a flavour punch.
DINNER

Moroccan Lentils
Easy, delicious, adaptable, family friendly – what more can you ask? As per my usual over-stocking problem, I have a fair amount of local Saanich lentils in my pantry, but this recipe works well with regular green or brown lentils, too. Change the vegetables to suit what you have in your pantry, or leave them out! Serve with rice, quinoa, bread, what have you.
Sheet Pan Dinners !!
This needs exclamation marks because I am making these A LOT. Throw everything on a pan with some good olive oil and seasonings, put in the oven for 45 minutes or so, and DONE. Easy, tasty, the kids love it. Plus the recipes are very adaptable.
For starters, try this chicken one from My Kitchen Love, or this Italian sausage one from Erik Akis at The Times Colonist, both of which I have made in recent weeks.
Garlic Greens
The recipe on my blog uses yin choy, but I have been making this with broccoli and kale. I have been using the garlic called for, substituting dried red chili for the fresh, and salt or soy sauce for the fermented yellow beans. A perennial favourite recipe of everyone in the family.

Pasta with Italian Sausage and Vegetables
Pasta is usually NOT a go-to meal for our family (I know, crazy, right?), but mysteriously, I have served a variation of this recipe at least 5 different times in the last month. Often I use broccoli or zucchini as the vegetable instead of peppers. Either way, it is delicious, hearty, satisfying, and easy to make.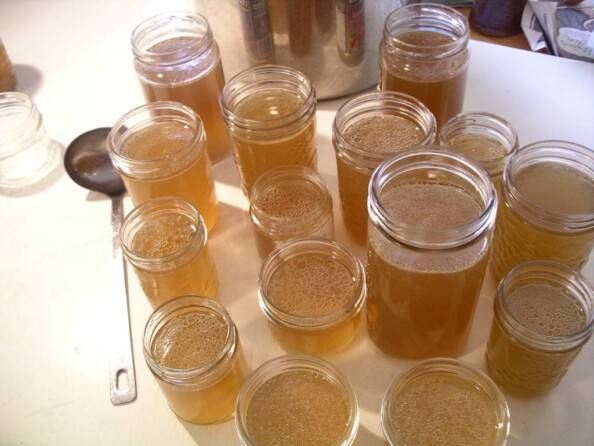 Homemade Chicken Stock
In the first week, I made a big batch of homemade chicken stock and stored it in the freezer against the time when we would all be sick with COVID-19 and need to sustain ourselves on warm fluids. I mean, it's a good idea, even if we never get sick.
Basic Homemade Soup
I have made a number of different homemade soups, mostly as a vehicle for eating sourdough bread (LOL). It is a great way to use up vegetables, or to incorporate the pantry staples that you panic-bought in Week One. I have no single recipe, but I found this handy & adaptable soup-making guide from Amiee over at Simple Bites. It will help you navigate a basic soup made from whatever you have on hand. If you need something with more detailed steps, head over to this Minestrone Soup recipe at Healthy Seasonal – she makes it very much how I would.

Beef Chili
I made this exact recipe, except with ground beef instead of beef cubes. It cooked up very quickly and the kids said they preferred it with the ground. I will have words with them about this later.
Cornbread
Would it even BE my pantry be without excess Bob's Red Mill cornmeal? Because I am a huge fan of cornbread, I made some to go with our chili, and to toast the next day for breakfast with some poached eggs. I use a recipe very close to what Jennifer makes over at My Lemon Apron – a mix of cornmeal and flour, buttermilk, a little sweetener, and a lot of grated cheese, cooked in a cast iron skillet. Check out her recipe here.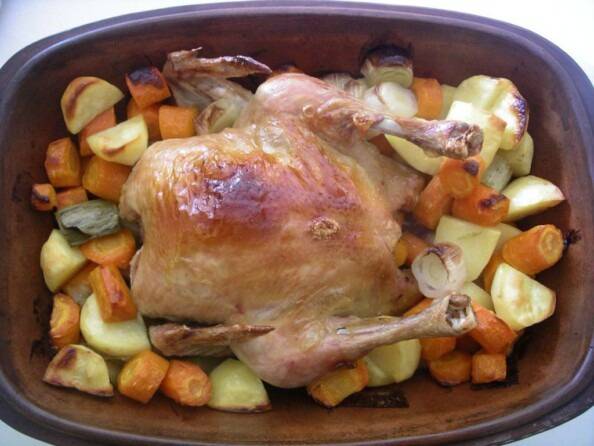 Roasted Chicken
I really did! In the first couple of weeks of the whole shut down, when there was a bit of a panicked feeling, I saw a whole roaster at Red Barn Market and bought it to roast for chicken dinner. We made quesadillas the following night with the leftover chicken. And then I roasted one again the next week, using the leftovers to make chicken noodle soup. Chicken is really soul food.
Chopped Dinner Caesar Salad
One day, I will post my recipe for this, my children's favourite dinner. In the meantime, you can look at this Dinner Caesar from Love and Lemons, or this Chopped Salad from Smitten Kitchen, or this Overnight Kale Caesar from Healthy Seasonal for inspiration. I basically make the Dinner Caesar from Love & Lemons, but with added chopped vegetables & protein like Smitten Kitchen, using protein I have (leftover chicken, steak, eggs, beans), and with a vinaigrette closer to what you see on Healthy Seasonal (I sometimes add spoon of mayo for creaminess).
TREATS

My Granny's Lemon Curd
This has appeared on the blog as the filling for both Lemon Feather Cake and Strawberry Pavlova and will appear again soon as its own post. (Update: My Granny's Lemon Curd now has its own post!) It is a must-have treat for us right now; I made it twice. We love anything lemon and citrus is still bountiful at the moment.

Lemon Squares
Further to the lemon chronicles, my oldest son has made this recipe from Once Upon a Chef three times and we are not sick of them yet. Her recipe is excellent – perfect crispy buttery crust with an excellent ratio of sliceable lemon topping.

Almost like Muffin Top Cookies
A Lip Smacking classic, this was one of the first pandemic recipes to get made in our house. It's one of the most popular recipes on my blog, for good reason.

Chocolate Chip Banana Muffins
We used the Banana Bread recipe from Simply Recipes, but added chocolate chips and baked it in a muffin tin.

Rhubarb Cookie Crumble
I had both apples and rhubarb to use up, so I combined them into a double batch of this lovely cookie-topped fruit crumble.
There you have it – a list of the recipes that have been getting us through. Looking over it, it seems impressive. But remember, I have at least three hungry humans to feed, we need to account for every meal and snack, and it's been almost five weeks. The meals add up. . . hence the endless pasta nights and sheet pan dinners. And the cookies :)
What have you been making, if anything? What recipes and foods are getting you through? Have you used any of the recipes on my blog? Let us know in the comments below!
You May Also Like These Recipes: