Homemade Peach Ice Cream
August 23, 2019
This extra-peachy version of homemade peach ice cream uses an abundance of ripe fresh peaches and just enough cream to make a delicious late summer treat.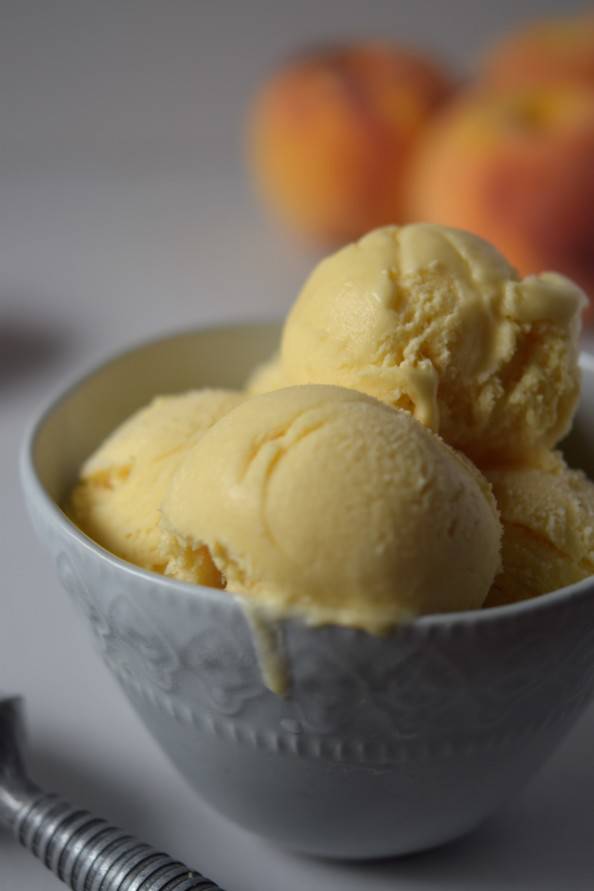 A couple of days ago, I posted about making peach ice cream to my Instagram stories. Soon after, I had a record number of people message me to ask for the recipe, which was a pretty good indication that I should a) blog about it and b) make another batch.
It is really, really good. Perfectly peachy, gently creamy, a bowl of delicious. I was thrilled to have an excuse to make a second batch. Even though this peach ice cream needs no such excuses, I had not planned to make more, despite the existence in my house of teenage boys who ate most of the first batch in under 24 hours!
Thanks to my awesome social media followers, I now have a second batch just for me, hidden in the outside freezer.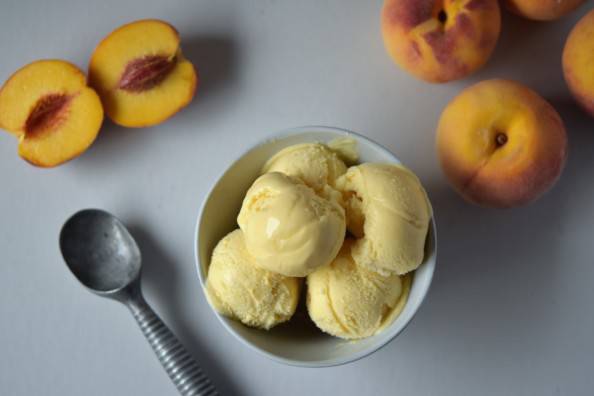 Homemade ice cream is quite easy to make; the most difficult part is making the custard base, which requires about 8 minutes of attention. The rest of it basically involves putting everything into a blender and pureeing it, then pouring that into an ice cream maker. Twenty minutes later – homemade ice cream!
The secret to really really good peach ice cream is to combine the prepared peaches with half of the sugar and let it sit until the sugar draws the juices out from the fruit, creating an intensely flavoured fruit syrup. In this case, a super peachy syrup, much like my Frozen Peaches to Die For. The peaches and peach syrup are blended with the custard base and whipping cream to create the ultimate extra-peachy tasting ice cream.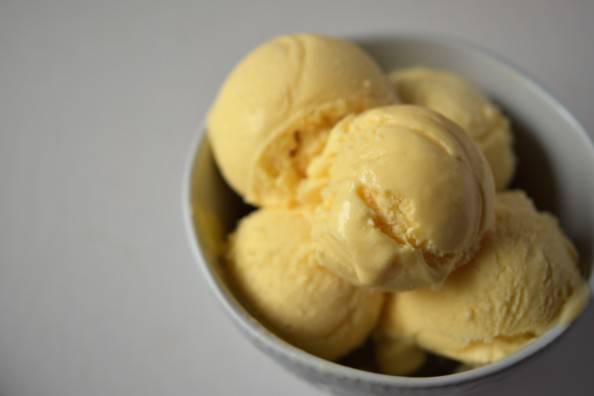 HOMEMADE PEACH ICE CREAM
Makes 2 litres of homemade ice cream.
1) Be sure to use ripe, in-season peaches for this recipe, for best peach flavour.
2) The vodka acts like anti-freeze, helping to keep this delicious homemade ice cream from turning rock-hard in the freezer.
3) This makes slightly more ice cream base than necessary. You might want to hold some back or it will slightly overflow the ice cream mixer as it freezes (I always freeze the whole amount anyway, because there is usually enough room in the lid to trap the excess, and then I have even more ice cream :) )
4) DO NOT be tempted to add vanilla to this – it overwhelms the peach flavour!
Custard
1 -1/4 cups whole milk
2 large eggs
3/4 cup sugar
Peaches
3 to 3-1/2 cups chopped, peeled ripe peaches
Pinch Salt
3/4  cup sugar
Cream
1-1/2 cups whipping cream
1 tablespoon vodka
Instructions
Custard: Have a metal mesh strainer ready over a clean bowl. In a different medium bowl, whisk eggs with sugar. In a small pot, heat the milk over medium heat until steam is rising, but it is not yet boiling. Pouring slowly and whisking constantly, whisk about half the warm milk into the beaten egg mixture. Then whisk the milk-egg mixture into the warm milk in the saucepan. Return the saucepan to medium heat and cook, stirring constantly with a flat whisk or a wooden spoon, until the mixture is slightly thickened, about 5 minutes. (Do not boil the mixture, or the eggs will curdle.) Immediately strain the custard through the metal mesh strainer into the clean bowl. Cool the custard to room temperature, stirring it occasionally to help it cool.
Peaches: Meanwhile, toss the peaches, salt, and ¾ cup of the sugar together in a medium bowl. Mash the peaches gently with a potato masher until slightly broken down. Let stand, stirring occasionally, until sugar has dissolved and peaches have released their juices, and the fruit is swimming in its own syrup. This will take 10 to 15 minutes.
While the custard is cooling, put the peach mixture and all its juice in a blender. Add the whipping cream and vodka. Puree until smooth. When the custard has cooled until you can touch it comfortably, stir in the peach-cream puree. Transfer mixture to a seal-able container and place in the fridge. Chill completely (this takes several hours or overnight.)
Pour the COLD custard-cream-peach mixture into an ice cream machine canister and churn, following the manufacturer's instructions, until the mixture resembles soft-serve ice cream. Transfer the ice cream to an airtight container, cover, and freeze the ice cream until firm, at least 2 hours.
Ice cream can be eaten immediately or kept in the freezer for up to 3 weeks.
You May Also Like These Recipes: