Quinoa Tabbouleh Salad
September 20, 2020
This quinoa tabbouleh salad is a perfect blend of fresh herbs, garlic-lemon vinaigrette and crunchy summer vegetables mixed into fluffy protein-rich quinoa, and makes for a satisfying warm weather meal.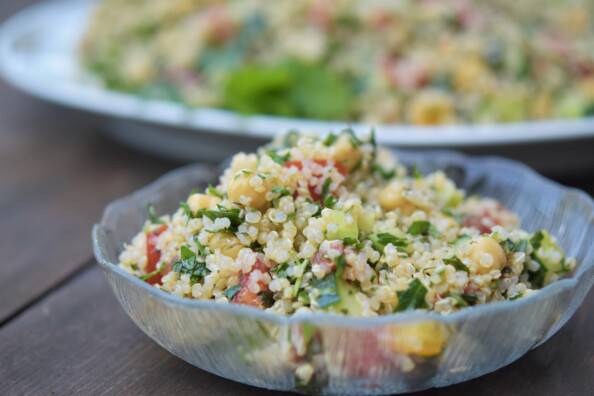 This has been the summer of quinoa tabbouleh salad for our family. At least weekly, I find myself in the garden, picking an armload of mint and parsley for our dinner. Nothing more summery than loads of fresh herbs, ripe tomatoes, and cucumbers to form the basis of a meal.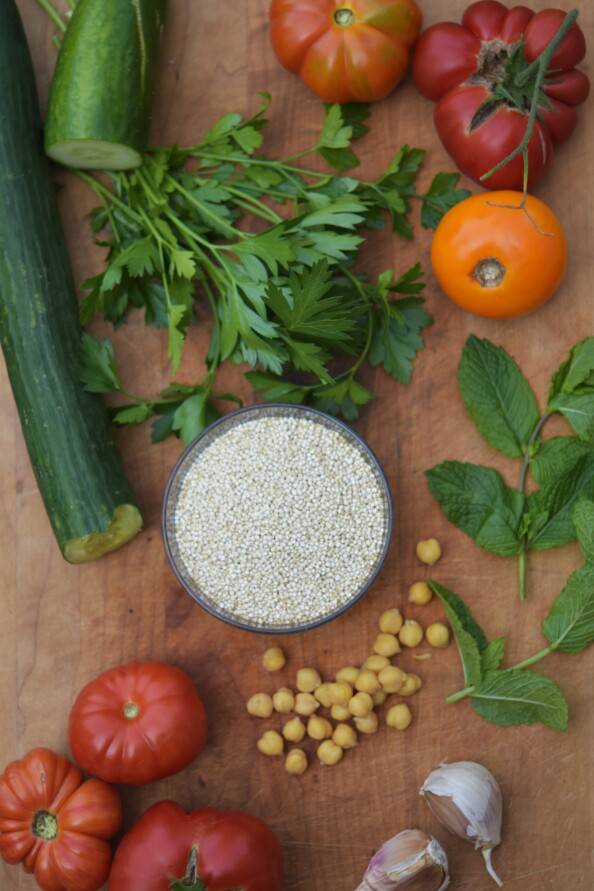 I have loved tabbouleh my whole adult life, but I only started making it with quinoa this year. I can't fathom why I didn't start sooner. As much as I love the nutty flavour and chewy texture of bulgur (or freekah), I have found something more in quinoa. It has a distinct rounded pop and light fluffiness that makes for an exceptional grain salad. Not to mention it's excellent protein profile.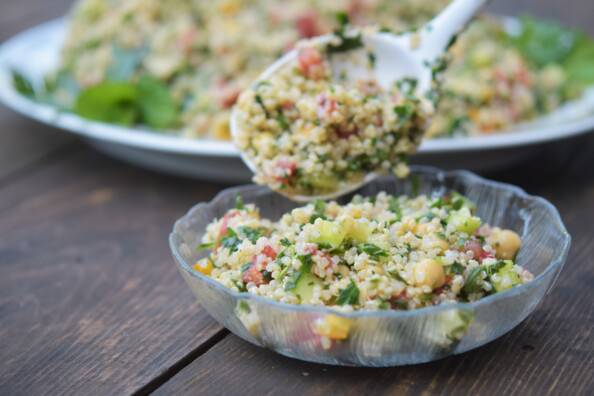 So, all of my tabbouleh salads this pandemic year have been built on a base of quinoa. We have all come to love it so much, that I have gone from making this salad once in a while to once per week. As the summer is winding down, and the mint is saying goodbye, we are still enjoying every bite.
Before the local tomatoes and cucumber leave the markets, I urge you to try this recipe. Fluffy quinoa, a light lemony dressing, lots of herbs and vegetables, and a smattering of chickpeas – I promise you a salad that is delicious, nutritious and soul-satisfying.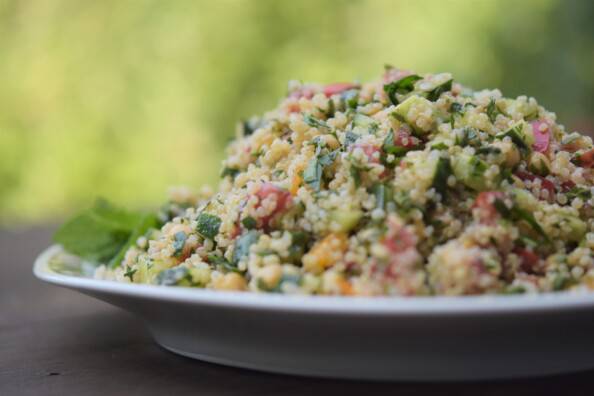 QUINOA TABBOULEH SALAD
Serves 6.
Fresh herbs, garlic-lemon vinaigrette and crunchy summer vegetables mixed into fluffy protein-rich quinoa – this makes for a satisfying warm weather meal. High protein and plant-based!
cooked quinoa
190 g (1 cup) dry quinoa
320 ml (1-1/3) cups water
pinch salt
dressing
80 ml (1/3 cup) extra virgin olive oil
60 ml (1/4 cup) freshly squeezed lemon juice
1 to 2 cloves garlic, minced very finely, or crushed to a paste in a garlic press
2.5 ml (1/2 tsp) salt
1.5 ml (1/4 tsp freshly ground black pepper
240 ml (1 cup) packed parsley leaves, minced
60 ml (1/4 cup) packed mint leaves, minced
add-ins
500 ml (2 cups) diced ripe tomato (seeded, first, if desired)
500 ml (2 cups) diced long English cucumber
250 ml (1 cup) cooked or canned chickpeas, drained and rinsed
instructions
1. Rinse the quinoa well and drain. Place in a small pot with a tight fitting lid. Add the water and salt. Bring to a boil, stir once, reduce the heat to low, cover and cook for 20 minutes. Do not open the lid or stir the quinoa during cooking. After the 20 minutes has passed, remove the quinoa from the heat and let it sit, covered and undisturbed, for 10 minutes.
2. Once the quinoa has finished resting, remove the lid, fluff it gently with a fork, and dump the quinoa into a large bowl to cool somewhat.
3. While the quinoa is cooking and cooling, make the dressing. Mix together the olive oil, lemon, garlic, salt and pepper, and stir well to combine. Finely mince the mint and parsley. Add the herbs and dressing to the cooked quinoa and mix well to coat the quinoa compeletly with the dressing and herbs.
4. Add the diced tomato, diced cucumber, and cooked drained chickpeas to the quinoa salad and mix well. Allow salad to sit at least 5 minutes before serving so that the flavours meld. Taste salad for salt before serving; you may want to add more.
5. Serve with grilled chicken or vegetables, or both.
You May Also Like These Recipes:
Categories:
Appetizers
,
Cooking in Season
,
Dinner Solution
,
Foodgasm!
,
Gluten Free
,
Kid Friendly
,
Late Summer / Early Fall
,
Local Harvest
,
Locavore Gone Loca
,
Lunch ideas
,
Recipes
,
Salads
,
Sides
,
Vegetarian