Smothered Pork Chops with Apple
January 25, 2011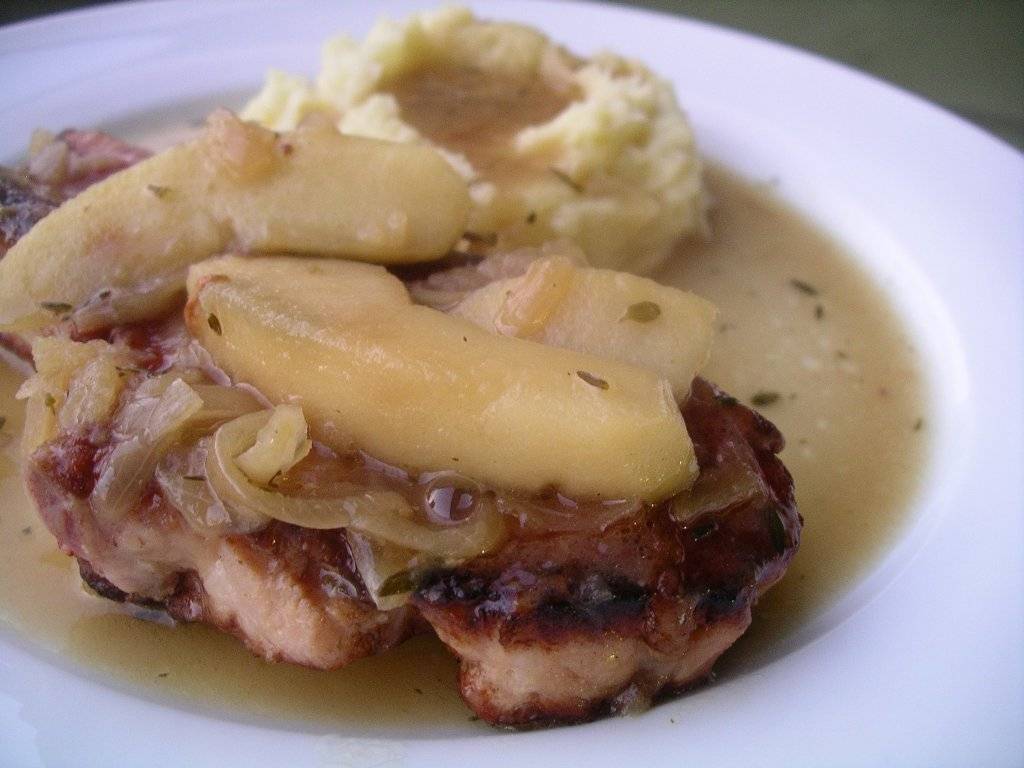 The other night, I made the yummiest and best smothered pork chops with apple for dinner. My two kids weren't so sure about this whole pork chop thing. They approached their plates with wary curiosity, as if the pork chops were a bizarre and alien food. They asked me strange questions:
"Mommy, what is pork?"
"What do these taste like?"
"Is it maybe like chicken or maybe like steak?"
I realized then that my children had never been served a pork chop ever in their entire lives. (And any of the pork we do eat comes by another name: ham, ribs, salami, sausage, and bacon.)
I was tickled. My kids eat Thai and Indian curries like champs, get excited about things like steamed artichokes and roasted tofu, but really did not want to try this strange food called a "pork chop."  I called my mother later to tell her about it and we laughed ourselves silly.
"I'm sure this is my fault somehow," she finally said.
I had to admit it sort of was, but not because my mom birthed a crazy foodie for a daughter. I blame the leathery pork chops my parents fed us during my childhood. Dry and tasteless pork chops, week in, week out, and I hated them.  I would listlessly chew down my weekly chop and (I'm guessing) swear never to eat them once I left home.
(In my parents' defense, they are both good cooks and generally put out a pretty good meal. Also they struggled with that common difficulty: cooking family meals while they both worked full-time. Unfortunately, pork chops are very lean and very very easy to over-cook.)
Anyway, the result of the weekly hated dry chop is that I have never once bought pork chops for my family since I have been in charge of the shopping. But I have occasionally cooked pork chops on the job, and had privately decided that I do like a properly cooked chop. So when I saw some juicy thick pork chops from Sloping Hill Farm for sale at Choux Choux the other day, I remembered a mouth-watering dish of pork chops and apple I had once made for a group of geologists in an Arctic camp, and decided to make them at home.
My smothered pork chops are really really good.
And my kids agree with me. But only after some serious convincing and assurance on my part that pork chops are, indeed, edible.  My favourite line from the evening: "Mommy, pork chops are so good, they are way better than ham!"
Smothered Pork Chops with Apple
Serves 4
I apologize for the lack of photos this time. I was too excited to dive into dinner to bother with my camera. I'll take some pictures next time and do a retroactive photo add-in.
UPDATE: I took some photos! Don't they look pretty?
apple-onion base
2 Tb butter
1 medium yellow onion, peeled, quartered, and sliced thin
2 small or medium Golden Delicious apples, peeled and sliced into thick-ish (1/2-cm) slices
gravy (for the smothering part)
2 Tb bacon fat or olive oil
1 tsp minced fresh thyme leaves
3 to 4 Tb unbleached all-purposed flour
1 cup low-sodium chicken broth
1 cup pure apple juice (made from sweet apples – this recipe doesn't work with a super tart apple juice)
4 fresh or recently-dried bay leaves, broken in half
chops
4 bone-in thick-cut pork chops, preferably brined* (they come brined at Choux Choux)
1 – 2 Tb vegetable oil
1/4-1/2 cup chicken broth or water
salt to taste
*To quick-brine pork chops: in a large bowl, mix together 4 cups water, 1/3 cup fine sea salt (or 2/3 cups coarse salt), and 3Tb granulated sugar. Stir to dissolve. Add  4 pork chops and let brine for 1 hour. Remove from brine and pat dry before proceeding with the recipe.
instructions
Heat a large saucepan over medium-high heat. Add the 2 Tb of butter and the sliced onion. Stir and saute until softened, translucent and flecked with brown, about 15 minutes (don't rush this part). Add the prepared apples and saute for a few minutes more, until apples are softened. Remove from heat and set aside.
Meanwhile, prepare gravy. In a small pot over medium heat, heat the bacon fat or olive oil. Add the fresh thyme leaves and let sizzle for a moment, then whisk in the flour. Cook, whisking constantly, for about one minute. Add the chicken broth and apple juice, increase heat to high and bring mixture to a boil, whisking constantly. Reduce heat to low and simmer, whisking frequently, until gravy has thickened, about 2 minutes. Stir in bay leaves. Scrape gravy into the sauce pan with the apples and onions.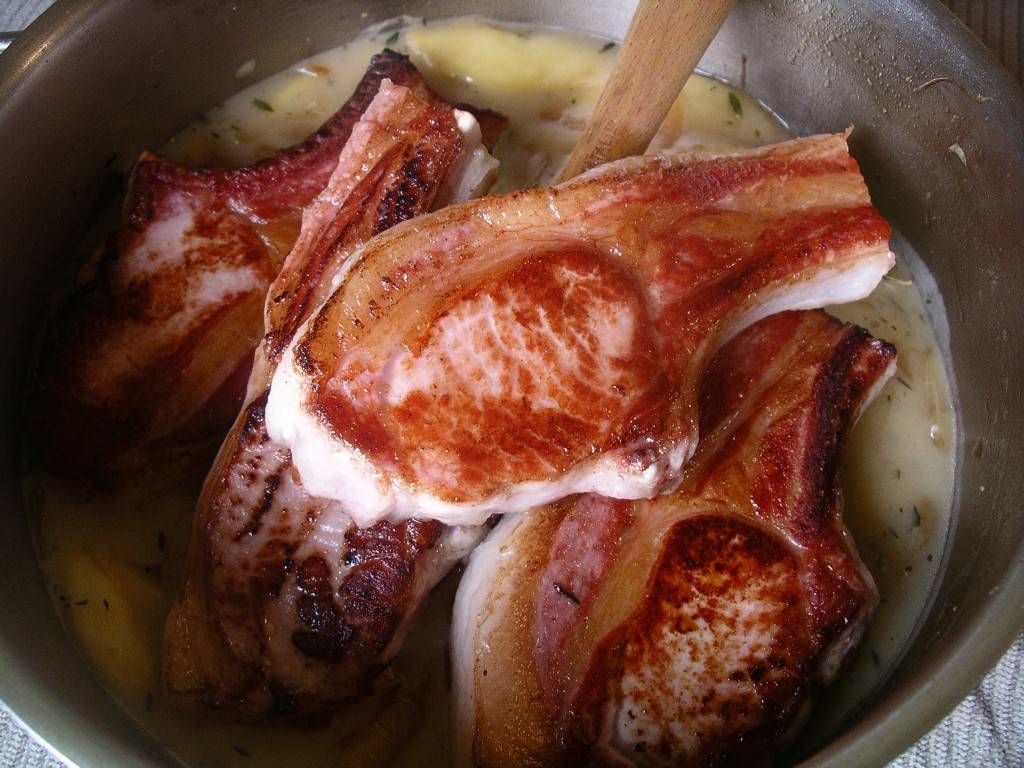 Heat 2 heavy skillets over medium-high heat. (I use my cast iron pans for this part). Pour up to 1 Tb of oil in each of the pans and swirl to coat bottom. Place two pork chops in each pan. Brown pork chops, without moving them,  for about three minutes per side. They should be a lovely golden crusty brown on each side. When the chops are done, use tongs to transfer them to the pot with the apple-onion-gravy mixture. Pour the excess oil out of the cast iron pans into a little bowl or something (the oil will be discarded once it is cooled). Place the pans back on the heat. Add 2 to 4 tablespoons of broth or water to each of the pans and use a wooden spoon to scrape any brown goodness off the bottoms of the pans so that it will dissolve in the broth. Once the broth in the pans has gotten brown and a bit syrupy, scrape it into the pan with apple-onion-gravy-chops. Stir to mix everything well. The chops should be completely submerged, or as close to it as possible.
Place this pan of chops and everything back on the heat. Bring to a boil, reduce heat to low, cover, and let the chops simmer for 30 minutes or so, until tender. You can work on mashed potatoes and vegetables while the chops are simmering. When the chops are ready, taste the gravy for seasoning. If the pork chops have been brined, there will be no need to add salt to the gravy. If not, taste the gravy and add salt to taste (at least 1/2 tsp). Serve immediately, with mashed potatoes, and smother everything in the apple-onion gravy. So yummy, I just want to go out and make this again tonight!