Chard with a Spanish-Moorish Twist (Catalan Chard)
January 30, 2013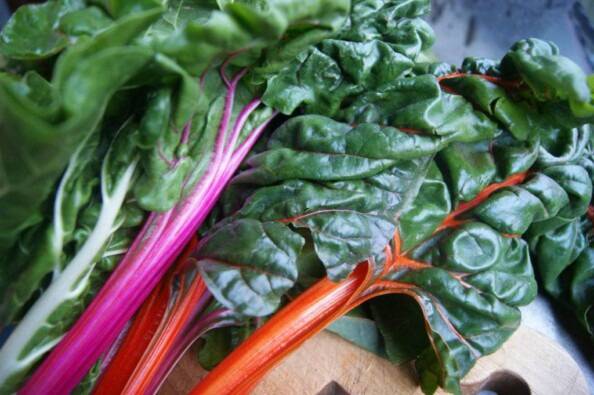 This is one of those recipes that I find myself making again and again. There is something so very comforting about the interplay of soft greens, sweet raisins and rich toasted nuts that has made this recipe a favourite vegetable dish for our family all winter. It's getting to the point where I am making it at least once a week, and still we have no leftovers.
That's when I know a recipe is ready for the blog.
I first learned how to make this during my culinary tour of Spain last year. Many regional Spanish cuisines have a significant Moorish influence from the hundreds of years of Arab rule during the Middles Ages. The use of dried fruits and nuts in this dish is typical of Moorish-Spanish recipes. And it's a winner.
The real name for this recipe is Catalan Spinach (or Chard) and it is commonly served cold or room temp as an item for tapas. However, we have been eating it warm as a side dish with grilled meats, sausages and fish.
And when I say 'we', I mean my husband and I. Our kids are not big fans (although they love greens in other incarnations). But, to be honest, we are not trying all that hard to get the kids to eat Catalan Chard – we want it ALL for ourselves! Mwa-ha-ha-ha-ha-ha!
CATALAN CHARD WITH RAISINS AND PINE NUTS
serves 6 to 10 for tapas, 4 for dinner
This delicious and simple recipe can be made with either spinach or chard.
Roasted sunflower seeds or chopped toasted cashews can be used in place of the pine nuts.
1 to 1.5 lb fresh spinach or chard leaves, washed, drained and chopped (leaves from two big bunches; 8 cups packed chopped)
1 cup diced onion (1 smallish onion, or 1/2 largish onion)
¼ cup dark raisins
¼ cup pine nuts
3 Tb extra virgin olive oil or butter, or a mixture
½ tsp salt
1/4 tsp freshly ground black pepper
In a medium saucepan, heat 1 tsp of the olive oil over medium-low heat. Add the pine nuts and toast, stirring constantly, for about 2 to 3 minutes, until nuts are evenly golden. Remove the pine nuts to a plate. Alternatively, toast the pine nuts in a preheated oven or toaster oven for 5 minutes, stirring a few times while toasting.
Also, you can use already-roasted pine nuts that are just, you know, casually sitting in the cupboard next to the macadamia nuts and dried wild blueberries :)
Heat the remaining olive oil or butter in a wide saucepan over medium-high heat.  Add the diced onion and sauté until softened; reduce heat to medium or medium-low and continue to saute until they are a light gold, about 15 minutes in total. Don't rush this. This is what your onions should look like: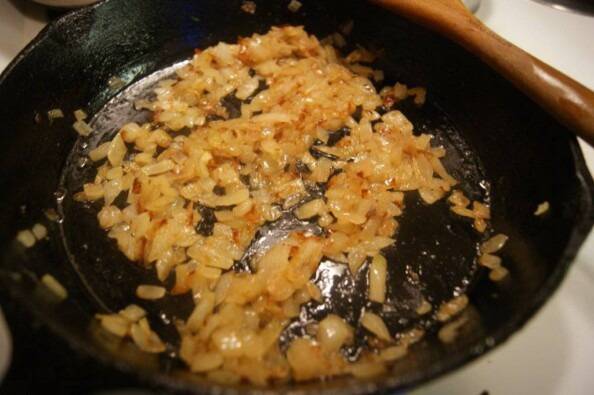 If you are in a hurry, use 3 cloves of sliced garlic instead of the onion and saute until light gold, about 2 minutes, before proceeding with the recipe. I once used a bunch of chives, sliced, and sauteed those for 2 minutes. It worked well.
Once the onions (or garlic) are ready, add the chard or spinach leaves (in batches, if necessary) along with the raisins, salt and pepper. (If the greens are very dry, or the onions appear to be burning, add a few tablespoons of water to the pan first.) Stir to mix everything well, cover, increase heat to medium-high, and steam for a minute or two. Remove cover, reduce heat to medium, and saute, stirring frequently, until the greens are soft and tender, the raisins are plump, and the water in the pan is mostly evaporated. This will take less time for spinach than for chard, somewhere between 4 and 8 minutes, depending on the type of green. Cook longer if you like it softer.
Stir in the pine nuts and a small drizzle of oil, if desired. Serve immediately. (I usually sprinkle the pine nuts over the top of each serving.)