Thai Style Stir-Fried Greens
May 19, 2010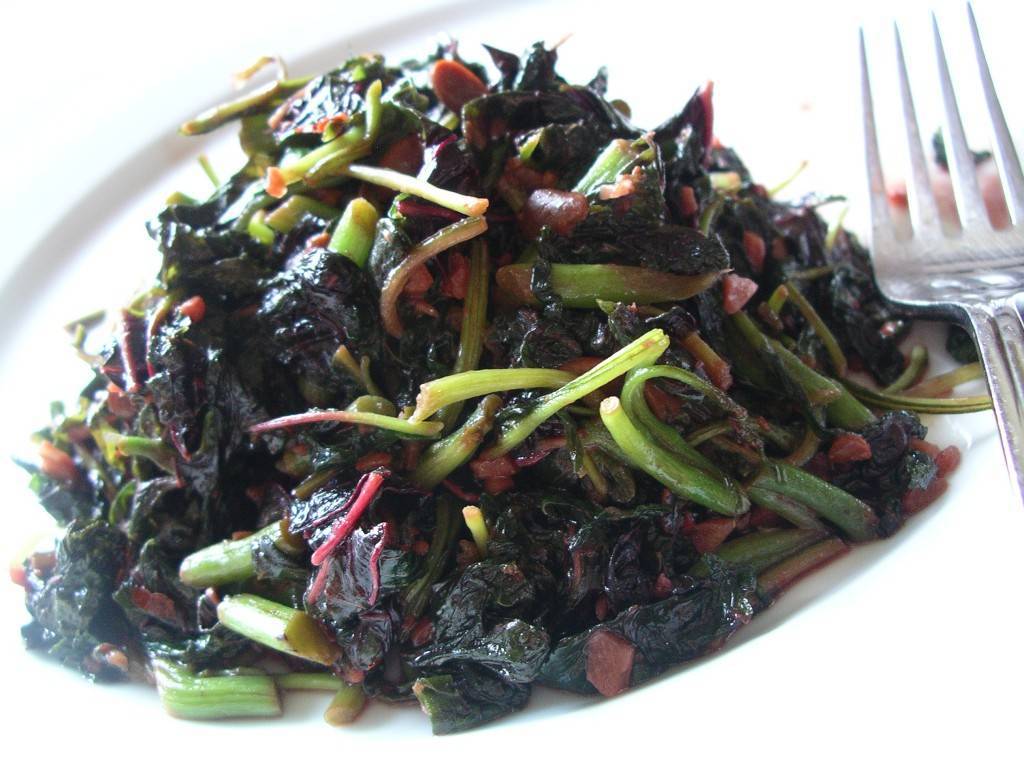 Yesterday, I did some experimenting with a beautfiul bunch of yin choy, otherwise known as Amaranth greens. You can read all about it here. In that post, I mentioned that I used the greens in a favourite recipe, Thai Stir-Fried Greens. As promised, here is the recipe.
Aside: Cooking any green vegetable according to this recipe is an excellent way to get your family members to eat (and enjoy) their greens! Leave the chiles out for a milder version.
THAI-STYLE STIR-FRIED GREENS Serves 4
3/4 to 1 lb Asian greens (try bok choy, gai lan, shanghai bok choy, yin choy or any other Asian green, OR use kale, broccoli or rapini)

2 Tb grapeseed or peanut oil

8 cloves garlic, peeled and chopped

½ tsp dried chile flakes, or 2 red thai chiles, minced

1½ Tb fish sauce OR 1 Tb soy sauce

1 Tb

salted soy beans (also known as fermented soy beans, yellow bean sauce, salted yellow beans, etc. Available in Chinatown or Fairways) *

1 Tb water

¼ tsp light brown or palm sugar

¼ tsp unseasoned rice vinegar
* I've blogged about Salted Soy Beans here. If you can't find salted soy beans, use a tablespoon of miso paste instead.
In a small bowl, mash the salted soy beans as best you can.  Add the fish sauce (or soy sauce), water, sugar, and vinegar. Set aside.
Prepare the greens.  Wash well, then use a knife to separate the soft leaves from the stems.  Slice the stems into ½-inch slices, and cut the leaves into larger pieces.  Keep the stems and the leaves separate
Heat a large skillet over medium or medium-high heat.  Add the oil and swirl to coat the pan.  Add the garlic and chiles and stir-fry vigorously for about 30-40 seconds, until garlic is sticky and golden.  HINT: This stage is very important. The sticky golden garlic will have the most flavour and richness.
Now add the prepared stems to the pan to the pan and stir fry for about 1 to 2 minutes.  Add a little water to the pan if things seem to be burning, but only if absolutely necessary. A little browning gives good flavour. Now add the leaves or soft florets and stir several times. Add the salted soybean mixture, stir well, cover, and cook for 3 to 5 minutes more, stirring occasionally, until greens are tender and infused with garlic. If necessary, add a bit of water to the pan while the greens are cooking to prevent burning.
Serve the greens immediately or allow to cool to room temperature to be served as a kind of 'salad'.
Categories:
Asian
,
Asian Foods
,
Asian Vegetables
,
Cooking in Season
,
Early Spring
,
Essential Thai
,
Fall / Winter
,
Feature Ingredients
,
Heidi's How-To
,
Local Harvest
,
Recipes
,
Sides
,
Technique technique technique
,
Thai
,
Thai Ingredients
,
Vegetarian