Best Apple Varieties for Pies
November 5, 2014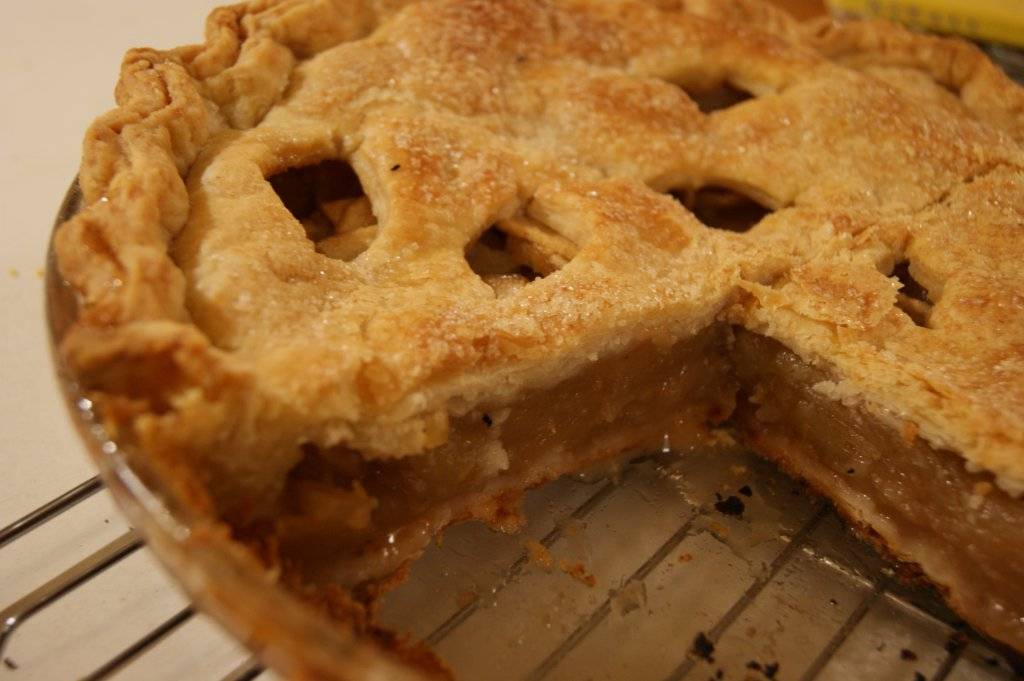 I have never been one to accept printed cooking lore as fact, at least not until I try it out for myself. Usually, the books are proven to be correct, but every once in a while I find that a hallowed cooking "fact" is actually a myth, copied from food writer to food writer with no critical assessment or experimentation (I'm looking at you Don't-Salt-Your-Beans).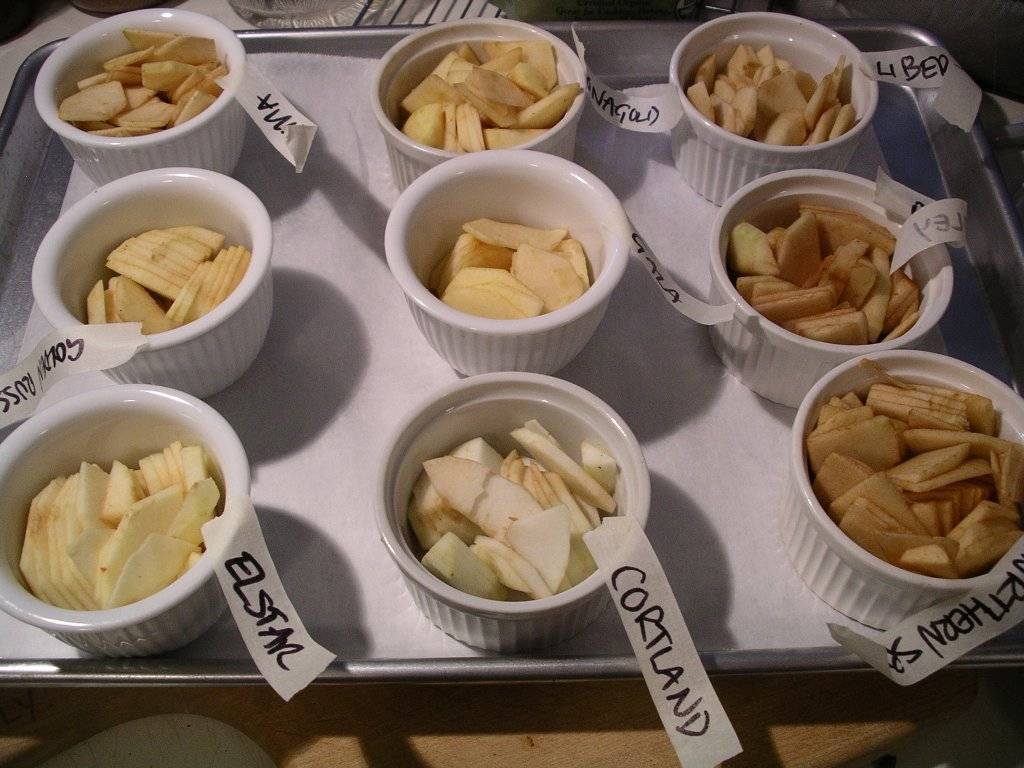 One such "fact" that I see everywhere, EVERYWHERE, is that Granny Smith apples are best for baking. They are reputed to "hold their shape" and to have "the best flavour". I had always been a little suspicious of this and I decided a few years ago to put this "fact" to the ultimate test.
I have been meaning to blog about my Apple Test for years. It's this obsessive kind of food experimentation that I particularly love to engage in, and the ensuing kitchen-prowess-making results are ones that I love to share with my cooking class participants. Students of my Pie-Making 101 class are already privy to this information regarding the Best Apple Varieties for Pies, and now, you, my blog readers get in on the action.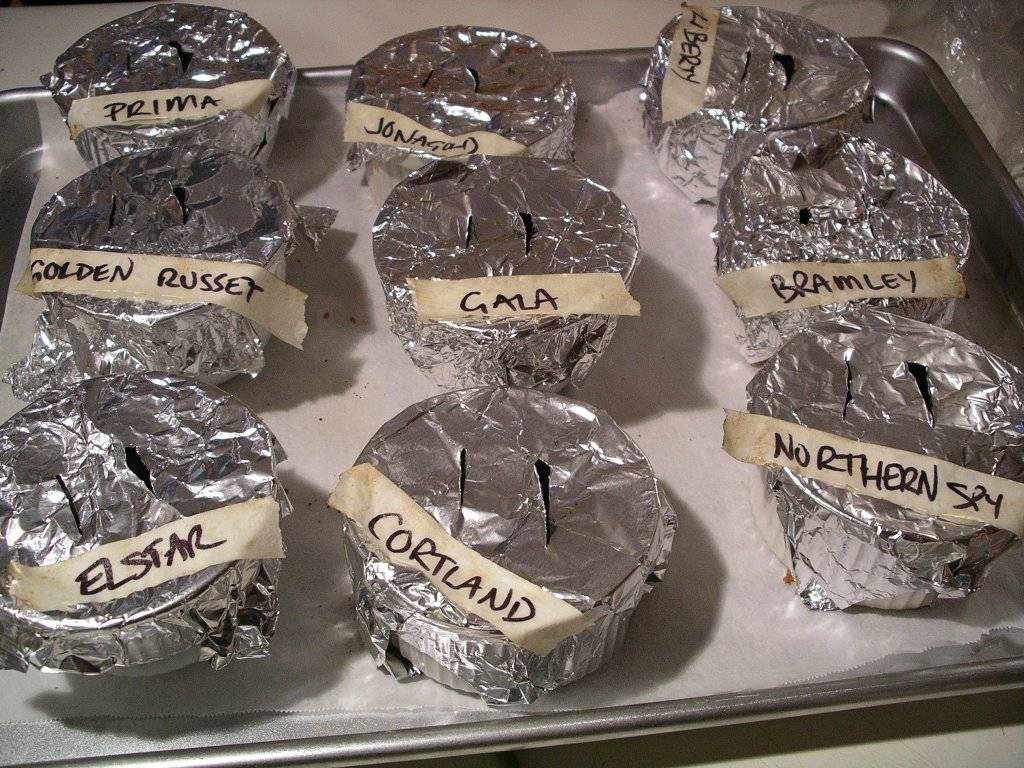 My Apple Test was epic. I don't say this lightly. Trips to both farm stands and supermarkets netted 20 apple varieties to test. In order to mimic how each apple variety would behave in a pie, I did the following: each apple was peeled, sliced and tossed with an appropriate amount of sugar, and then placed in a ramekin covered with foil (the slits in the foil faithfully reproduced a pie top), labelled and baked. After being pulled from the oven, the apple varieties were all tested for flavour and texture. The results were completely different than I expected and well worth the effort! I love this kind of thing!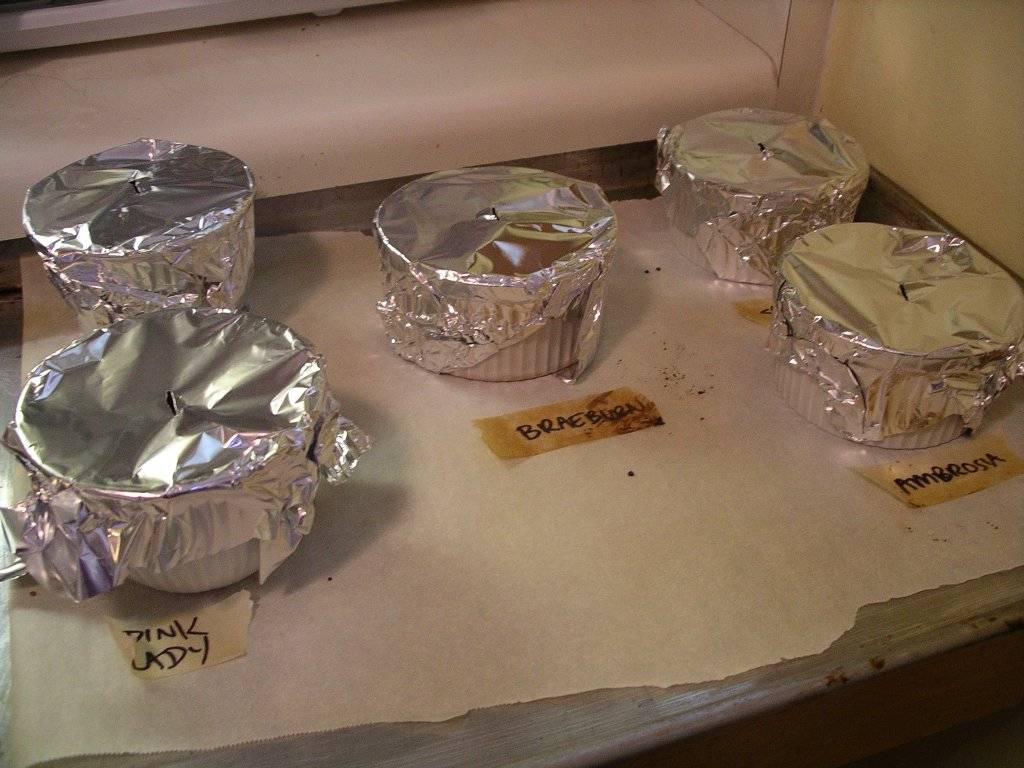 The most important thing I discovered in the Epic Apple Test is that tart apples (i.e Granny Smith), revered in print for their shape-holding abilities, actually get mushy when cooked! And that sweet apples (i.e. Gala) hold their shape! Mind blown.
The flavour discoveries were not so mind-blowing. As expected, heritage apples purchased through the farm stands had better flavour, but almost all of the apple varieties tasted delicious when baked with a bit of sugar. Sure, some were much more tart than others, but each had a special flavour, even most of the good old supermarket apples. So you can tailor your apple choices based on your budget, time constraints, and sweetness preference, as well as take the time of year into account. Right now you can buy loads of heritage apples at Dan's Country Market, but not so in March.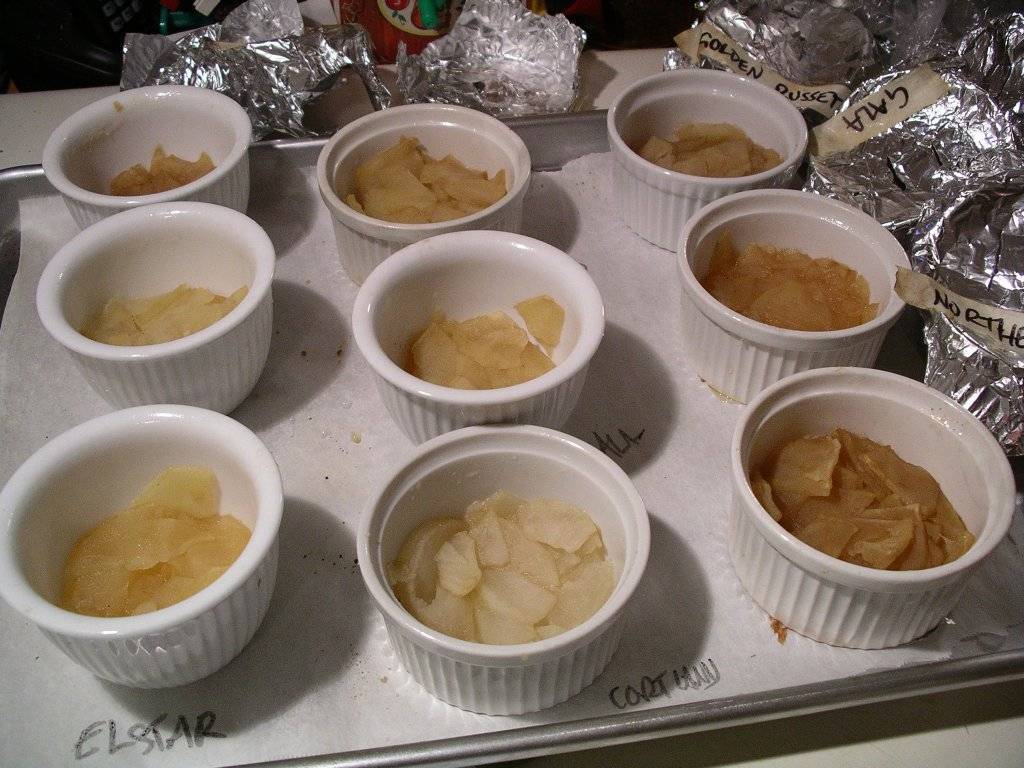 The detailed results of flavour and texture for 20 varieties of apple are below. In general, I discovered that apple pie works best with a mixture of at least two apple varieties, for the ultimate balance of flavour and texture.
An apple pie needs a mixture of both firm-textured (holds shape when baked) and soft-textured (breaks down when baked) apples, to make a filling that holds itself together with no additional thickener. (You want to avoid thickener, like flour or cornstarch, if possible, because it reduces the flavour  intensity of the filling and can make it rubbery or gluey). The firm apples act like bricks which stack together to form a wall, while the mushy apples melt between the bricks to form a "mortar" that holds the "brick wall" together.  Surprisingly, as I discovered in my Epic Apple Test, the sweet apples tend to hold their shape quite nicely, while the more tart apples get mushy. But, VERY IMPORTANT, you must slice your apples thinly to get the desired effect.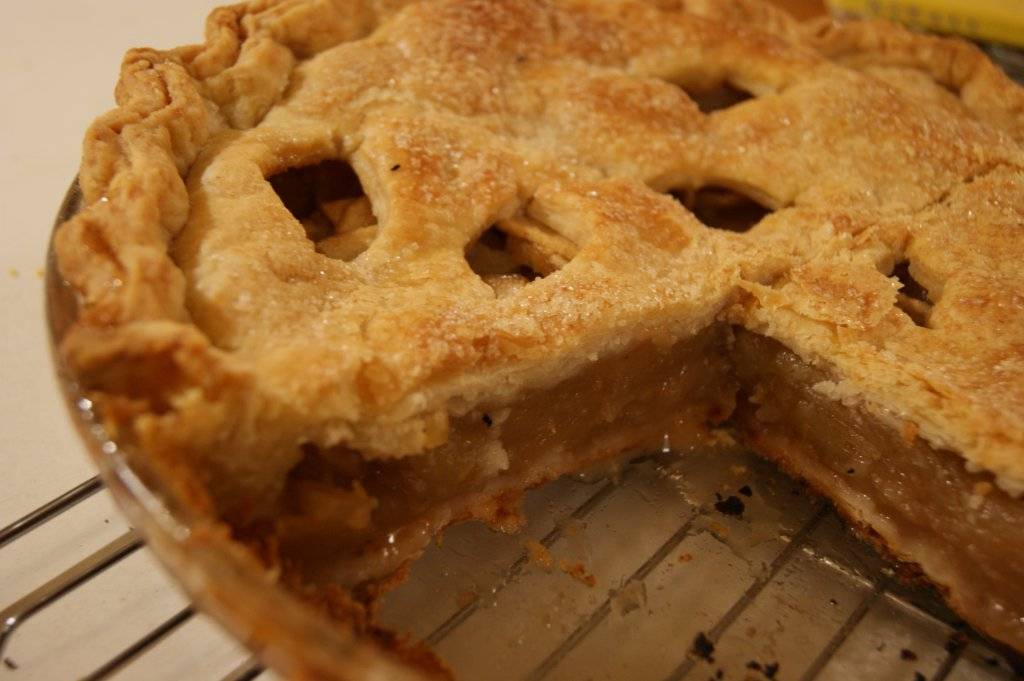 This, my faithful readers, is what an apple pie filling looks like with NO THICKENER (no flour or cornstarch), so long as you have paid attention to choosing the right apple varieties and slicing said apples thinly.

THE RESULTS:
These apples include some supermarket varieties as well as a host of heritage apples, many which are famous for their baking qualities. In my experience, heritage apples are best for baking, not because they hold their shape well (they don't), but because they all have a rich and complex flavour and a nice balance of tartness when cooked. Heritage varieties can be found at various farm stands in the fall, most notably at Dan's Country Market on Oldfield road.
Firm-textured apples (the "bricks") – SWEET APPLES
Golden Delicious – delicious, rich, sweet flavour
Jonagold – nice balance of sweet and tart, delicious, sometimes flowery
Ambrosia – sweet taste, nice "meaty" texture when cooked
Pink Lady – delicious flavour, balance of sweet and tart
Gala – very sweet, nice mild flavour, best to mix with tart apples
Elstar – delicious flavour and balance of sweet and tart, on the softer side when cooked
Golden Russet – a slightly mealier texture, mild and good flavour
Cortland – a sweet and unusual flavour, stays white when cooked
Liberty – tastes exactly like Minute Maid apple juice, softer texture, but still holds shape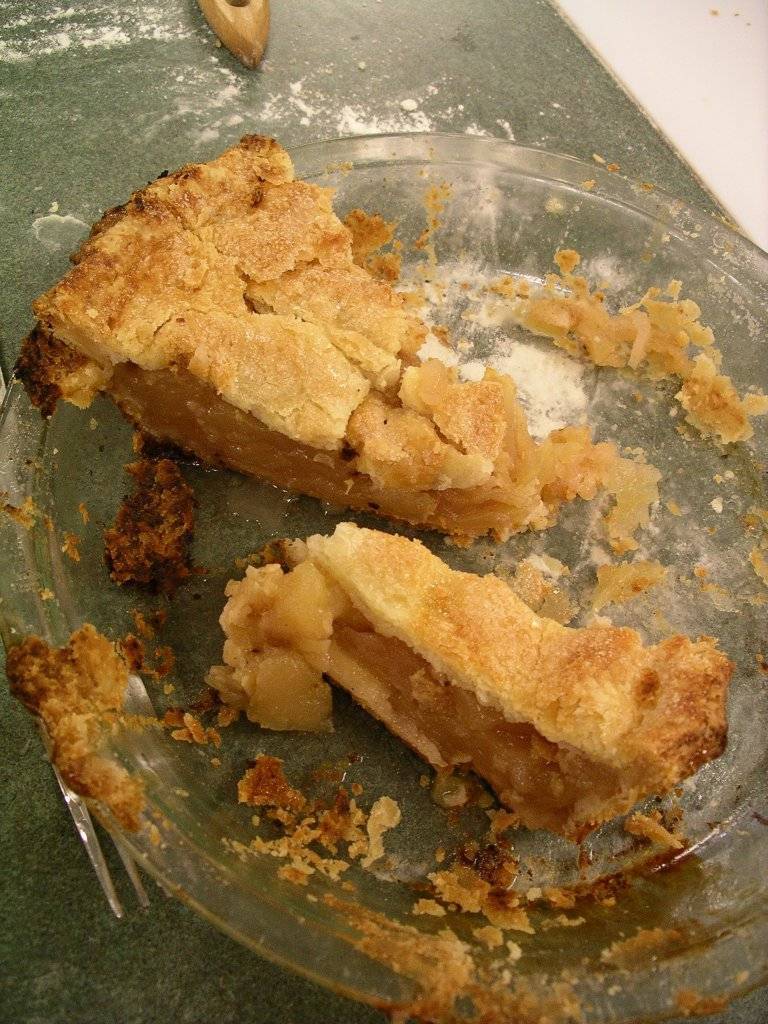 Soft-textured apples (the "mortar") – TART APPLES
Macintosh – great flavour and balance of sweet and tart
Spartan – excellent flavour and sweet-tart balance
Granny Smith – very tart, less complexity than the tart heritage apples (below)
Jonathan – more tart, nice flavour
Bramley – very, very tart, excellent flavour, complex, delicious
Gravenstein – sweet-tart, excellent flavour, delicious pie apple
Northern Spy – very tart, nice flavour, excellent pie apple
Prima – quite sour, very good flavour
Belle de Boskoop – very tart, excellent flavour
Cox's Orange Pippin – tart, delicious
Newton Pippin – tart, excellent, complex flavour
I'm interested to know what your experience has been, or will be now that you have seen this post. Let me know in the comments below. And in the meantime, happy autumn of pie cooking!