Bean and Sausage Soup with Parmesan
January 22, 2012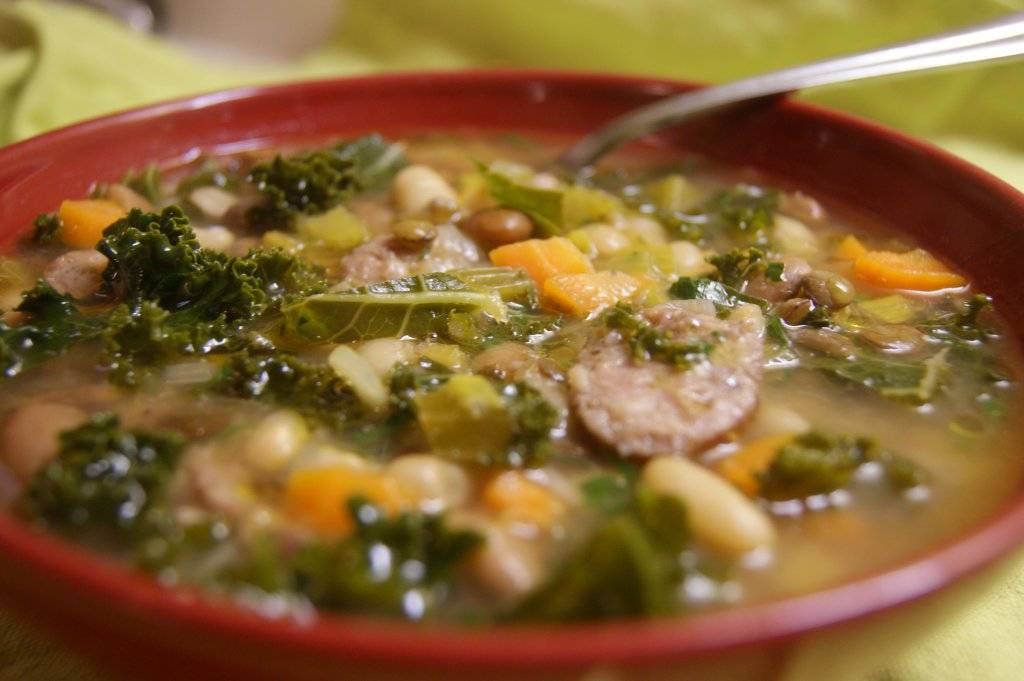 This recipe is definitely part of Operation Use-It-Up, but I got tired of using that term in all my post titles. It's kind of off-putting, don't you find? Posts about the struggle to use things from my pantry and freezer(s) will now be found under the category "Operation Use-It-Up" down there on the sidebar. In the meantime, assume that everything I post about from now to eternity are part of the process, because it's going to take a very, very long time to use up all the food I have been hoarding. Ahem.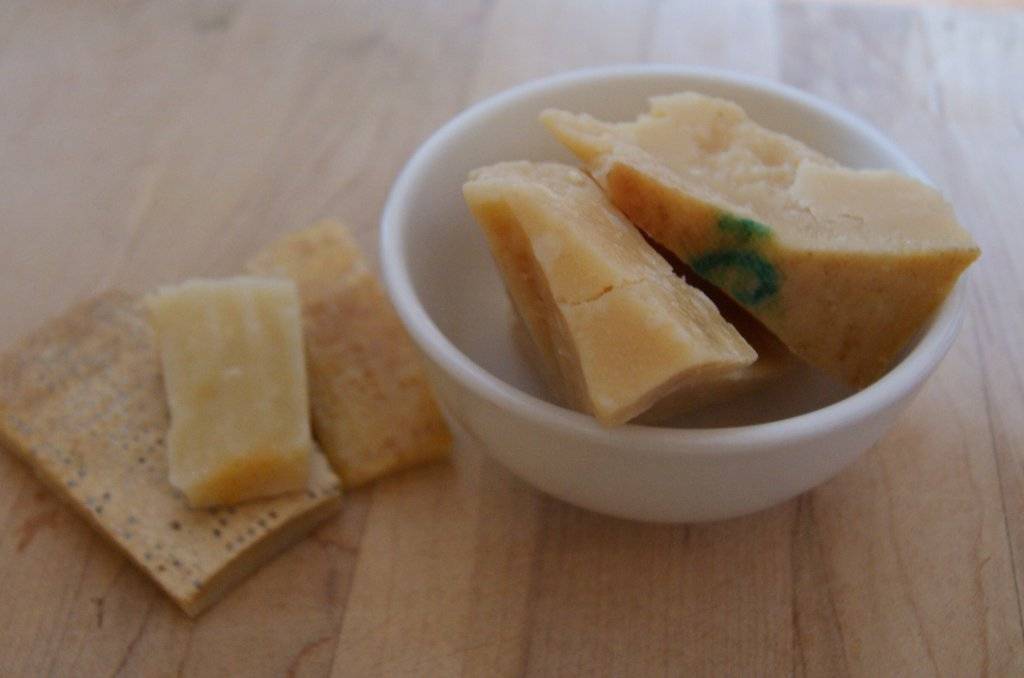 The soup I made this week, which has the delicious descriptor "with Parmesan," is actually flavoured with parmesan rinds. Parmesan rinds are an amazing bit of kitchen magic. They can turn ordinary soups and sauces into Yow-Za! soups and sauces. The may look old and sad, but they add a deliciously rich, yummy, almost meaty flavour to all kinds of soups. Especially for vegetarians, parm rinds are a godsend! And, best thing ever, parm rinds are something that you were just going to throw away, anyway.
Instead of throwing those dry, hard parmesan rinds away, pop them into a ziplock bag and keep them in the freezer for a rainy day. Pull a rind or three out whenever you want to make a soup but have no broth handy. The flavourful parmesan rinds will make a broth for you as your are cooking your soup. Or even if you have some broth, parm rinds can only make it better.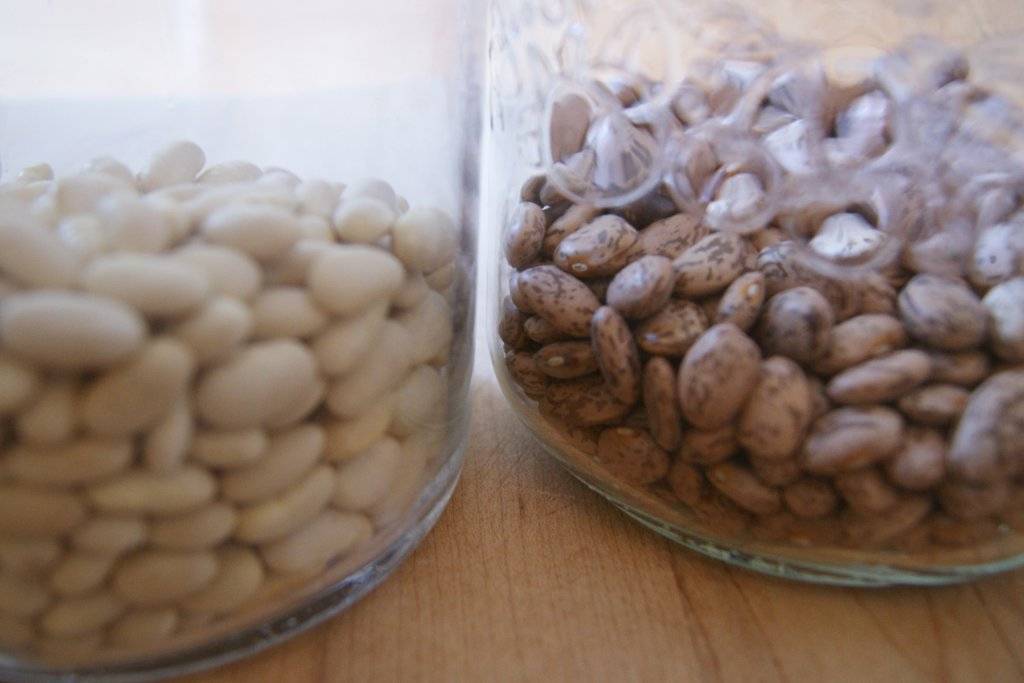 Now the only problem here is that you will one day open your freezer to find that your ziplock bag of parm rinds is busting at the seams because you keep forgetting to use them up (ahhahaha… haha… ha… ha… ahh). This recipe is for those times when you want to use up a lot of cheese rinds. And also use up a lot of old beans. And sausages that have been in your freezer for too long. And actually turn it all into some amazing dinner. You know, the Best of Operation Use-It-Up, Week Three.
(Actually, not totally the best. Kudos goes to the homemade peanut buster parfaits I made for family movie night, but that is for another post. And by the way, there was no Worst this week!)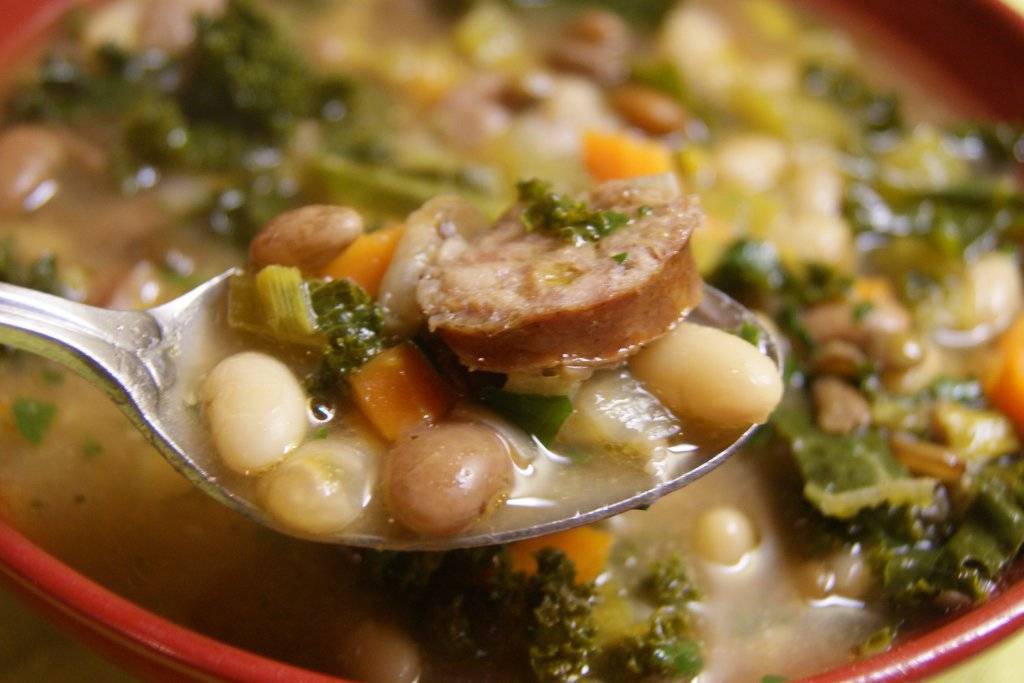 Bean and Sausage Soup with Parmesan Rinds
Serves 10
This soup is largely flavoured with the heels of parmesan cheese, which give an incomparably rich and tasty flavour to the broth. Try it – you will love it.
For a vegetarian version, leave out the sausage, and add a couple of garlic cloves (if you like) when sauteing the leek and carrots. You may also need to add more salt to the vegetarian version
ingredients
bean part 
1 lb dry beans (2-1/2 cups dry)
2 tsp salt
lots of water
three rinds of parmesan, cut up
4 to 8 cloves garlic, chopped
4 bay leaves, broken
1 tsp dry sage leaves, crumbled
soup
3 – 4 Tb extra virgin olive oil
1 onion, diced
1 large leek, cleaned and sliced
3 to 4 carrots, peeled and diced
3 stalks celery, diced
1/2 tsp salt, or more, to taste
1 parm rind, chopped
6 to 8 cups water
cooked beans from above
4 smoked sausages, (e.g. mennonite sausage from Choux Choux) or other sausage of your choice, sliced thin
1 bunch kale, stemmed and chopped small
2 Tb tomato paste
1/2 bunch parsely, minced
garnish
freshly grated parmesan cheese
cracked black pepper
instructions
1. Cook the beans: pick out any discoloured or otherwise lame-looking beans. Also pick out any rocks or clods of dirt you may find. Rinse the beans well. Place them in a large pot with ample water to cover (about 10 cups) and the salt. Bring to a boil, skimming off any foam that you see rise to the surface (a very important step to help with digestion). Add the parmesan rinds, the garlic, the bay leaves, and the sage. Reduce the heat to low, and let simmer very gently, partially covered, for 45 minutes to 2-1/2 hours, depending on the age, size and variety of your beans. Beans should not split open – that means they are over-cooked. Turn off the heat and let the beans cool in their own cooking liquid. DO NOT drain. Also DO NOT soak the beans beforehand, in case you were wondering about that.
Take my New Ways with Beans class if you want to know more :)
Note: I was using up old beans from my cupboard and did not have 1 pound of any one kind. I used 1 cup pinto beans, 1 cup cannellini beans, and 1/2 cup brown lentils. Because these beans all have differing cooking times, I cooked them in three separate little pots. A bit OCD, I know, but totally worth it – the beans all arrived at that perfect toothsome texture without over- or under-cooking. The pinto beans took about 1 hr 15 minutes, the cannellini beans took almost 3 hours, and the lentils took about 30 minutes. I divided up the garlic and other flavourings evenly between the pots.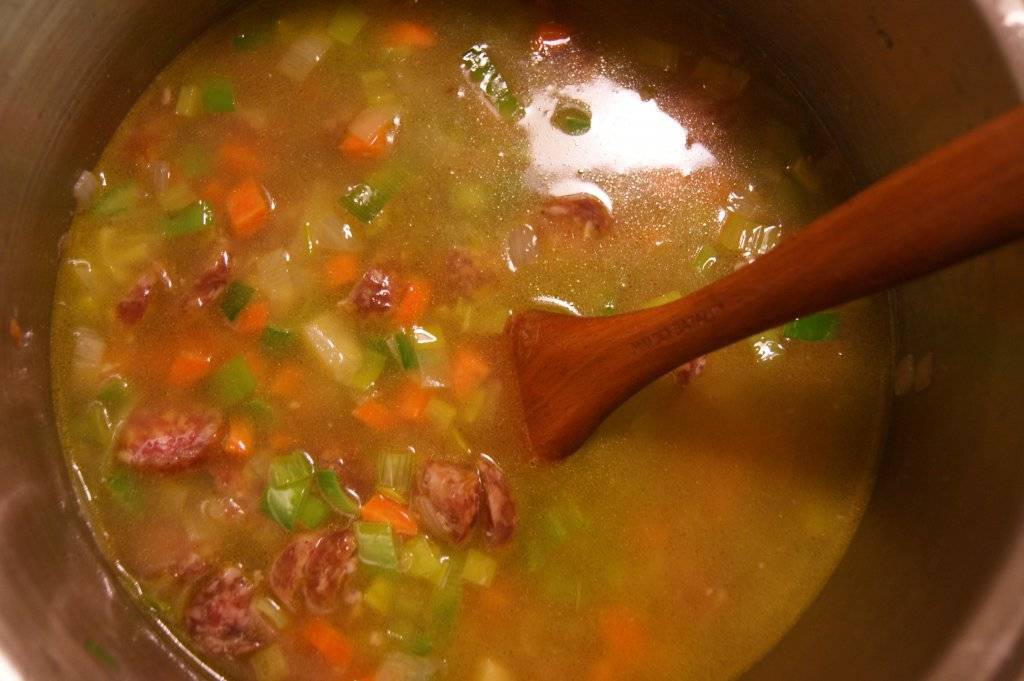 2. Once the beans are done, get out a large soup pot. (If you only have one large pot and the beans are already in it, dump the beans and all their cooking liquid into a large bowl and use the bean pot as your soup pot.) Heat the pot over medium-high heat. Add the olive oil and swirl to coat the bottom. Add the onions and saute until softened, about 10 minutes. Add the leeks, carrots and celery and saute for several minutes more.
3. Add the water, salt, sliced sausage, and parmesan cheese rinds and bring to a boil. Reduce heat, cover, and simmer 5 minutes.
4. Add the beans and all their cooking liquid to the pot. Bring to a boil again, reduce heat and simmer, covered, for 20 to 25 minutes.
5. Add the kale and tomato paste, stir well, and simmer 5 to 10 minutes, until kale is tender. Stir in parsley and taste to adjust seasonings. You may want to add more salt. Also, if the soup is too thick for you, add more stock or water. (I admit that I didn't really keep track of how much water I really used.)
6. Serve the soup immediately, topped with cracked black pepper and freshly grated parmesan cheese, if you so desire. Soup keeps for up to 6 days in the fridge and tastes even better the next day.