Moist and Fluffy Kefir Pancakes
September 6, 2010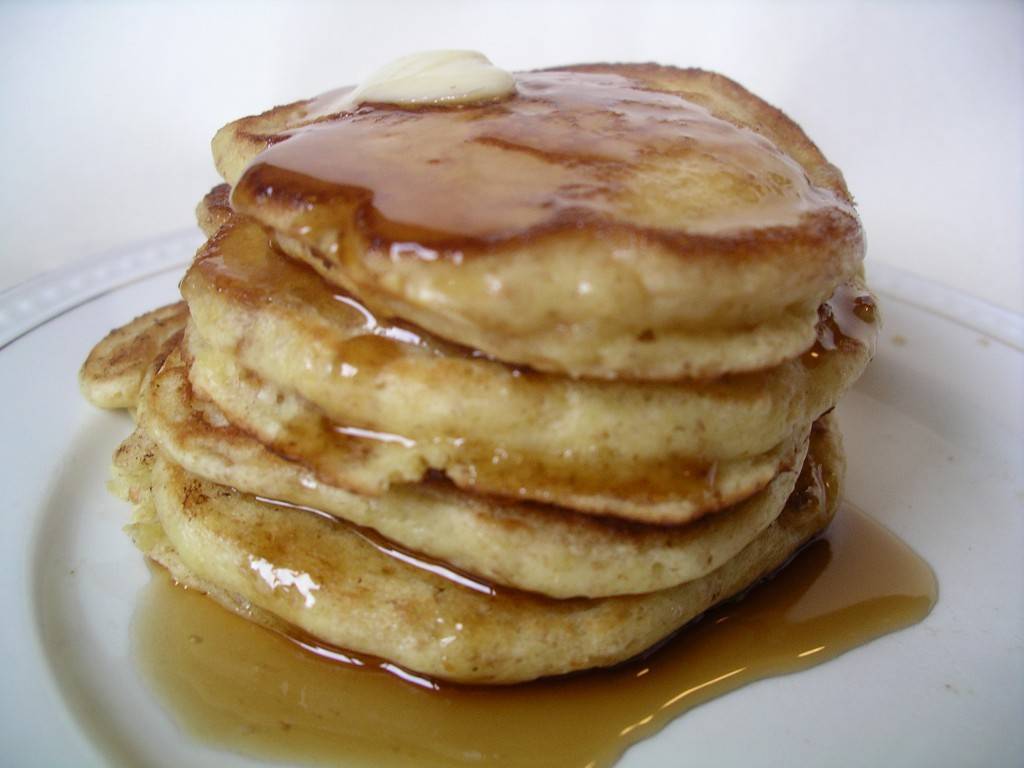 This rainy Labour Day morning most definitely called for pancakes.
Notice I am not admitting that it was yesterday's huge pantry clean-out that dictated the breakfast menu today. I definitely did not find many jars of last year's Apricot Preserves, blackberry sauce and red strawberry jam, all of which needed to be used up ASAP. That's right, I made pancakes only because it was a cozy, rainy holiday morning. However, this also gives me a chance to post about something I have been wanting to for a long while: my Awesome Kefir Pancakes.
For those of you who don't know, kefir is yet another fermented milk product. I know, they are everywhere, but this one is different. If milk, yogurt, and beer ever had a threesome, kefir would be their love-child. Kefir is more runny than yogurt, more tangy than buttermilk, with a pleasant carbonated fizziness. It's funky and yeasty, too, because of its fermentation by a special bacteria-yeast symbiosis (actually more beneficial for our health that straight bacteria!).
Kefir may sound odd and… OK it is. But it is also a baking rock star. Kefir adds rich flavour (like buttermilk), tenderness (like yogurt), and super fluffiness (like nothing else): because kefir is carbonated, it practically "rises" itself.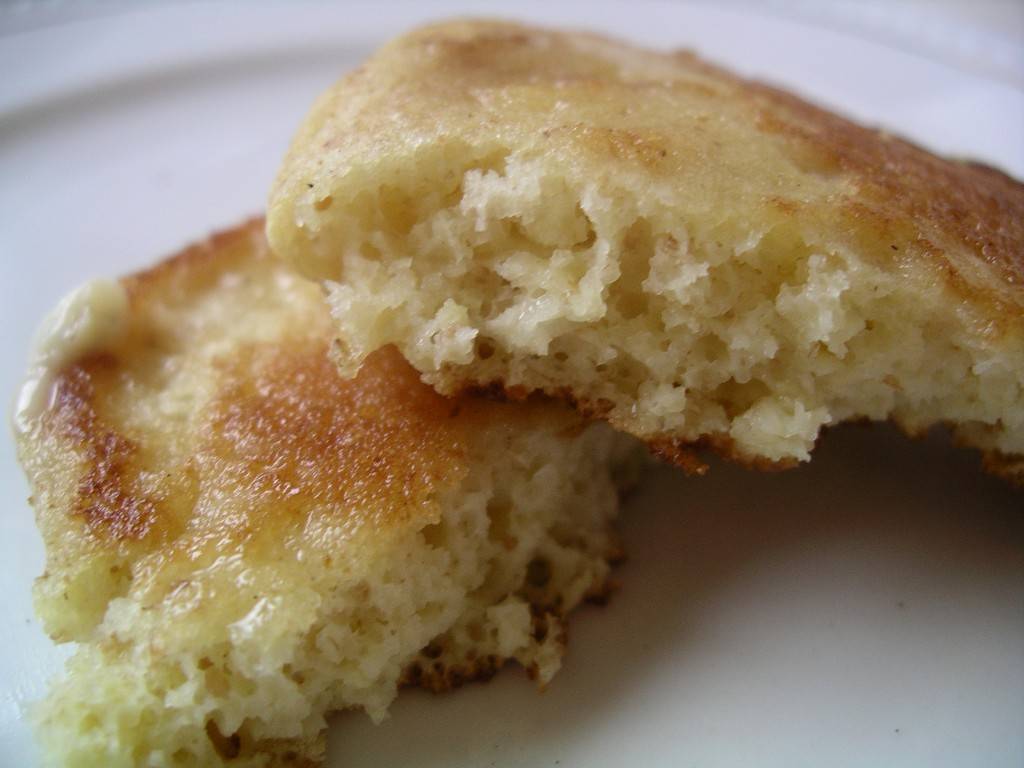 See how light and fluffy, yet totally moist these are?
I started using kefir over a year ago when one little person person in our family was diagnosed with deadly lactose intolerance. He can't tolerate most cheeses, nor yogurt nor buttermilk.  Which put a big damper on a slew of my recipes for a while there. I depended a lot on yogurt and buttermilk to enrich and tenderize everything from muffins, to marinades, to meatloaf – and really, soy yogurt or almond milk mixed with lemon juice can only go so far. Enter my kitchen saviour: Kefir is lactose-free! Kefir has been a baking powerhouse in my kitchen ever since, and frankly, my dear buttermilk, I like it better!
You can buy kefir at the health food store and in more enlightened grocery stores. But since I am an Extreme Foodie I get a kick out of making my own. I'll describe that in another post, but for now, here is the recipe for my Awesome Moist and Fluffy Kefir Pancakes. And if you don't have any kefir, feel free to substitute buttermilk.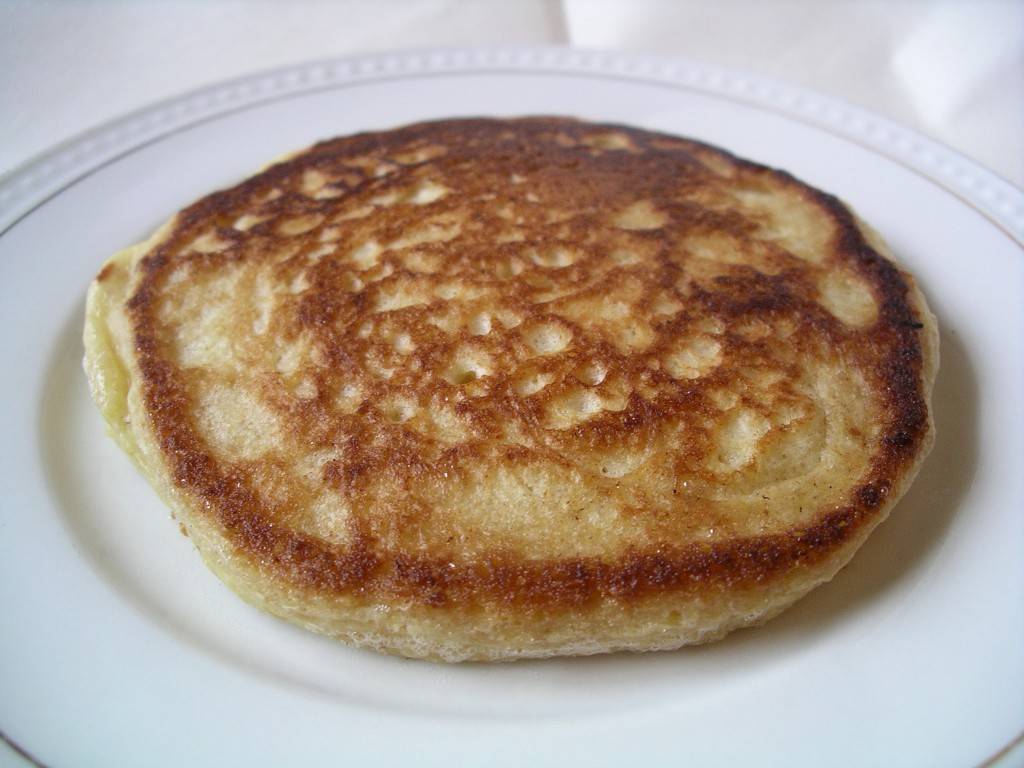 The one big pancake I cook for my 9-year-old: bubbly and lacy in the extreme
MOIST AND FLUFFY WHOLE GRAIN KEFIR PANCAKES
Makes about 12 small-medium pancakes. Serves 4.
Kefir (an effervescent fermented milk drink) is the secret to these fluffy pancakes. The recipe is easily doubled to serve more people, or to ensure leftovers for snacks later on.
Ingredients
2/3 cup all-purpose flour
1/4 cup whole wheat flour*
3 Tb fresh wheat germ
1 tsp unrefined sugar
1/4 tsp salt
1/2 tsp baking powder
1/4 tsp baking soda
1 large egg
1 cup kefir (OR buttermilk OR yogurt thinned with a bit of milk)
2 Tb unsalted butter or coconut oil, melted, plus more for frying
Maple syrup, jam, preserves, fresh fruit and/or yogurt for serving
*Feel free to substitute a different whole grain flour for the whole wheat flour.  I have used whole spelt flour, whole barley flour, whole oat flour, buckwheat flour, or fine corn flour. You can also try amaranth flour, quinoa flour, or millet flour.
Instructions
In a medium bowl, whisk together the all-purpose flour, the whole wheat flour (or other whole grain flour), the wheat germ, the sugar, the salt, baking powder and baking soda.
In a separate large bowl, beat the egg. Add the kefir and whisk well. Slowly whisk in the melted butter until evenly blended.  Add the dry ingredients to the bowl with the wet ingredients and mix well. You can mix the wet and dry ingredients more thoroughly than regular pancake batter because the wheat bran and germ will prevent the batter from getting gluey. The batter will be a bit thicker than regular pancake batter. Let the batter sit for at least 5 minutes before cooking (this allows the whole grain and wheat germ to absorb liquid).
Start heating two frying pans over medium-low heat.  Get your kids to help set the table and get out jam, syrup, fruit etc for topping the pancakes.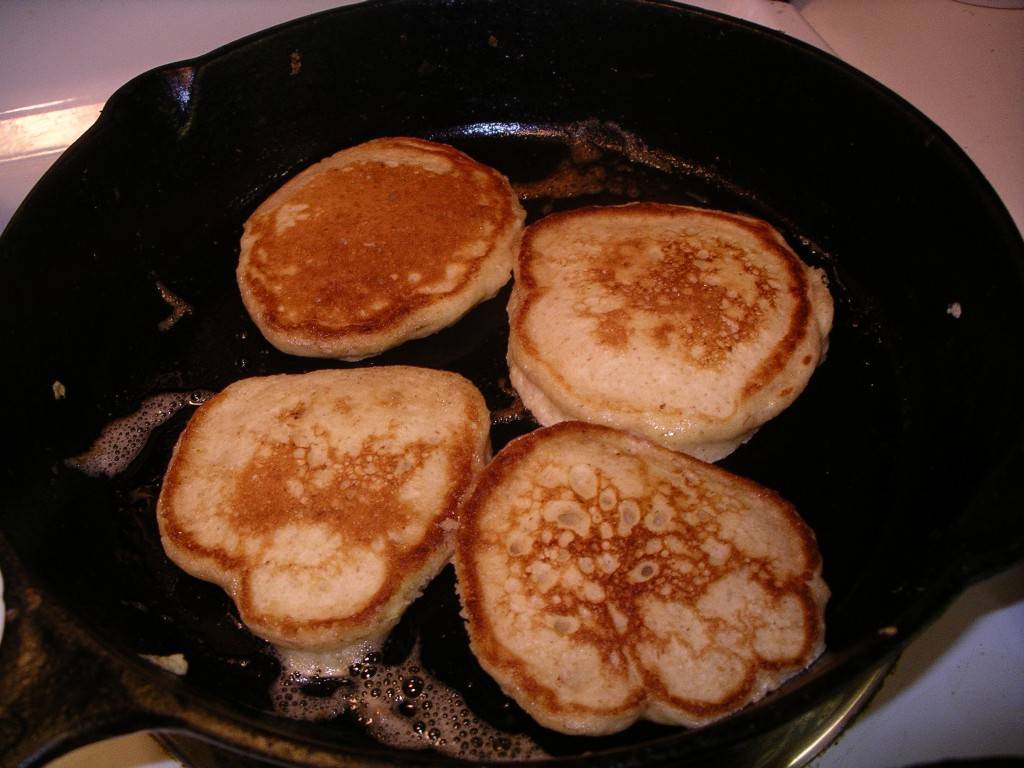 Put 1 to 2 teaspoons of butter or coconut oil in each frying pan and let melt.  Using 2 to 4 tablespoons of batter per pancake, drop or pour batter onto the heated pan.  The batter will seem quite thick when you look at it, but it should be aerated with lots of bubbles when you spoon it onto the pan. You should fit 3 to 4 pancakes per pan.  When bubbles just begin to show on the surface, flip pancakes and cook on the other side for a minute or two (this is a bit earlier than you normally flip pancakes, but it essential to the fluffy end texture).  Adjust the heat as you need to prevent the pancakes from burning or undercooking. Serve cooked pancakes immediately with maple syrup or any of the toppings mentioned above.
Leftover pancakes may be reheated in the toaster, or eaten cold with jam and peanut butter.