Camping Food, Post One: Bison Burgers
July 20, 2010
If there is ever a time to let go of gourmet cooking and embrace hotdogs and potato chips as a complete meal, camping is it. However, I have a wee problem, and I'm admitting it only to you and to my group at Gourmaholics Anonymous: I like to eat well and eat yummily all the time. This desire extends to all locations and times – bus stations, road trips, campsites, wilderness survival… So you can imagine that I have spent my fair share of energy on projects involving food dehydrators or mini coolers. (Not that there is anything wrong with hotdogs and potato chips, I just can't eat them for three continuous days.)
I know I am not alone in this. I have camped with many other Gourmet Campers: our coolers stocked with duck sausage and fresh raspberries, our cooking bins finished with corkscrews, we are ready to take on the wilderness in gourmet style!
I think this is a pretty good way to camp, but holidays should also be relaxing.  Now that I have two kids I am finding the gourmet camping route to be more grueling than I remembered. Days spent tracking down the perfectly ripe brie, or the perfect container to fit all my loganberries, are basically impossible with two restless boys in tow. I am starting to appreciate a camping food compromise somewhere between the gourmet and the non-stress-inducing.
So this is my camping food plan (such as it is) for all you food lovers out there. Plus a recipe for super delicious Bison Burgers, which are great for a camping trip, or for a summer dinner at home.
Step One – plan to go camping with friends, or if you are a parent, with other families.
Step Two – share all dinners with other friends/families on the trip. Make Family X cook dinner for everyone on Thursday, Family Y cook dinner on Friday, leaving you with only Saturday's meal to plan. (Change this up according to numbers of days and people.)
Step Three – resist the urge to control the above friends meals. Do not drop hints about organic weenies and crusty wood-fired hotdog buns. Take deep breaths.
Step Four – pick a meal that everyone will like and that is either a) very easy to cook or b) you can cook mostly in advance. Don't make the mistake of my friend T.K., unless you really really really love to cook.
Step Five – pack good snacks – healthy foods that transport and store well, are delicious and pretty easy to make or buy. Some of our family's favourites are listed below, but only what I think of as the less obvious choices are listed. (I'm guessing that things like cheese, peanut butter and trail mix are pretty obvious.)
Snacks for the cooler:
-fresh blueberries, or cherries, or grapes in a big sealable container (all these fruits transport quite well and make for yummy camping treats. But learn from my example and leave the softer berries at home. Egads!)
-plain or fruity yogurt
-smoked salmon
-hardboiled eggs
-hummous
-baby cucumbers and baby carrots
Snacks for the dry foods bin:
-homemade muffins, granola bars, cookies, etc (or choose some good-quality store bought stuff)
-pistachios in the shell (a favourite camping snack for my kids)
-dried apricots
-Wasa sesame crackers (another camping favourite of my kids – top with hummous, cheese, nut butter, honey, etc)
-avocadoes
-healthy chips of some kind, with salsa
-Cocoa Camino hot chocolate powder (I know, I know, hot choc powder is pretty obvious. I snuck this in there to tout my favourite brand, Cocoa Camino. Not only is CC superb, it is organic and fair trade, which are very important considerations when putting money into the corrupt chocolate industry)
Now, on to meals. My favourite camping meal of all is Bison Burgers. They are easy to make, nutritious, and loved by all. I usually make the patties in advance and freeze them, just so I don't have to try and sanitize my hands at the campsite after playing with ground meat. Also, they keep better in the cooler that way. Bring buns and assorted condiments and toppings (these are a must for the ultimate burger experience, and also because Family X, who will inevitably be making hotdogs, will inevitably forget to bring said condiments.) I also make sure to bring a big bag of corn chips and some salsa (organic, of course) so that I don't have to cook anything aside from the patties.
And bingo! there is your camping meal: natural, delicious, easy-peasy, loved by both kids and adults.
HOMEMADE BISON BURGERS


Makes 8 burgers

Ingredients
2 pounds ground local bison meat (available in bulk at the Market on Yates meat counter)
2 tsp sea salt
1 tsp ground black pepper
2 cloves garlic, pressed or crushed
2 to 4 tablespoons extra-virgin olive oil
parchment paper

8 sesame OR whole wheat kaiser buns (I buy the big delicious buns at Bond Bond's Bakery)
1 or 2 fresh tomatoes
leaf lettuce or head lettuce
1 sweet onion OR red onion
sliced dill pickles
mustard, mayo, ketchup, relish, sambal oelek – whatever condiments are necessary to your family's burger enjoyment
Instructions
Get out your largest cookie sheet (that will still fit in your freezer) and cover it with parchment paper.
In a large mixing bowl, place the ground bison, the salt, the pepper, the crushed garlic, and 2 tablespoons of the olive oil. The olive oil is added because bison tends to be very lean, which makes for dry, not juicy, burgers. But a bison burger with olive oil added is still way lower in fat and saturated fat than a regular burger (huzzah!). Mix well with your hands, squeezing a bit even, until everything is well-combined. The spices should be distributed evenly. Add more oil if the meat seems too dry and is not sticking together easily.
Divide the meat mixture into 8 equal-sized portions. Form each portion into a very thin, very large, very flat patty. This last instruction is very very important! Burger patties shrink by almost half their diameter while cooking – if you want a patty that actually reaches the edge of your bun and doesn't mound in the middle, make it as thin as you can and wider than the width of the bun.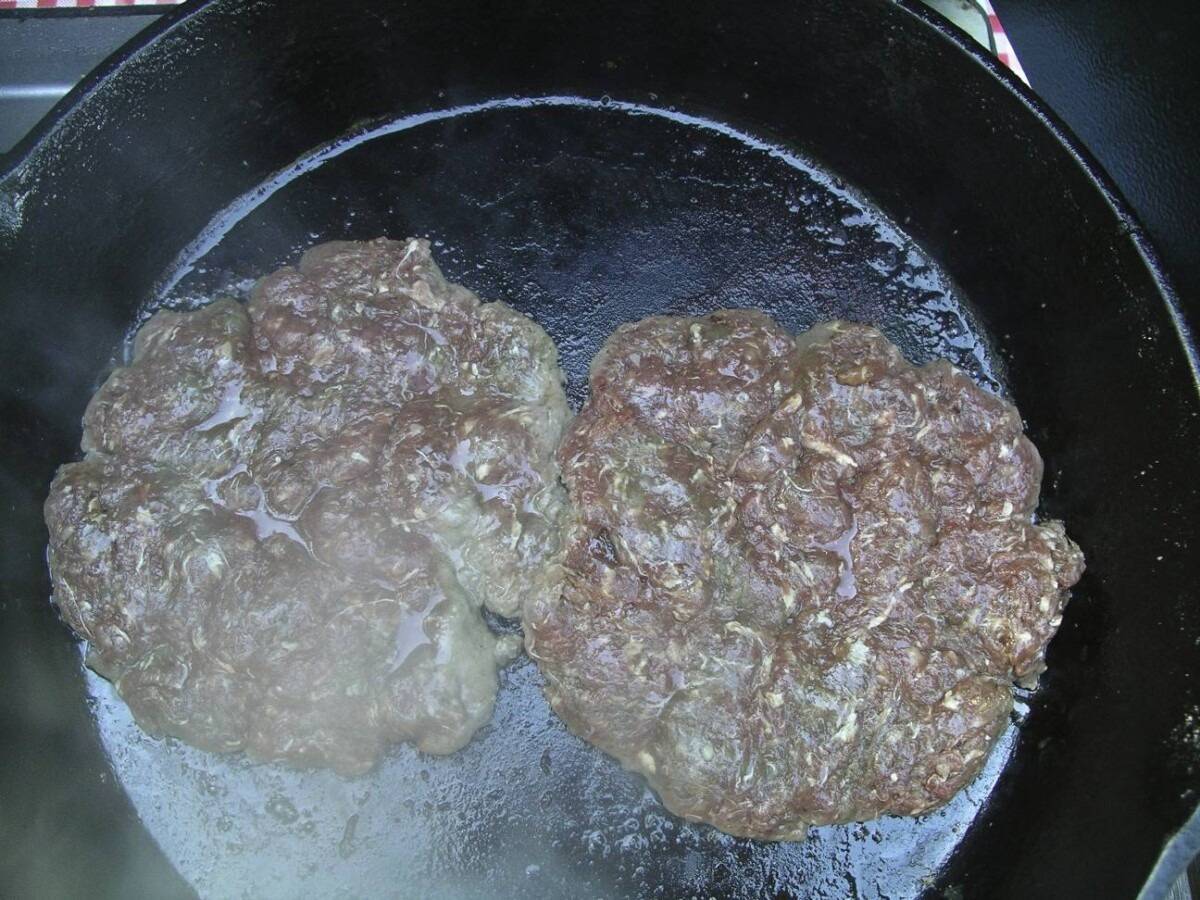 As you form the patties, place them on the parchment-lined tray. If the patties don't all fit in one layer, cover the first patties with more parchment before adding a second layer of burger patties. Once all the patties have been made, pop the tray in the freezer. Freeze the burger patties for several hours.
Once the patties are frozen, place them in a large zipper-lock freezer bag, with a piece of parchment paper separating each patty (so they don't stick together once thawed.) Store in the freezer until ready to go camping. You can prepare up to this step as far in advance as you like.
On the day of your camping meal, heat two frying pans on your camping stove (hopefully one of your camping friends brought a second frying pan). Add two patties to each pan and cook for about 3 to 4 minutes, flip, and cook for about 2 minutes more. Remove patties to a plate. Repeat with remaining patties. While the patties are cooking, slice the tomatoes and onion, lay out the buns, lettuce, pickles and condiments, open the bag of chips and the jar of salsa, and call everyone to the picnic table. A healthy camp meal has never been quicker.
P.S. I suppose most of you have noticed by now that the burgers pictured in this post are all on pita breads, and not burger buns. A tragedy: I forgot to bring burger buns on my last camping trip, but luckily had extra pita left over from my tandoori chicken camping meal debacle. Story coming soon…
Categories:
Camping
,
Camping Food
,
Cooking with Kids
,
Dinner Solution
,
Extreme Foodie
,
Feature Ingredients
,
Food Philosophy
,
Heidi's How-To
,
Kid Friendly
,
Late Summer / Early Fall
,
Local Harvest
,
Meats
,
My Life in Food
,
Quick and Dirty
,
Recipes