Camping Food, Post Two: Tandoori Chicken
August 20, 2011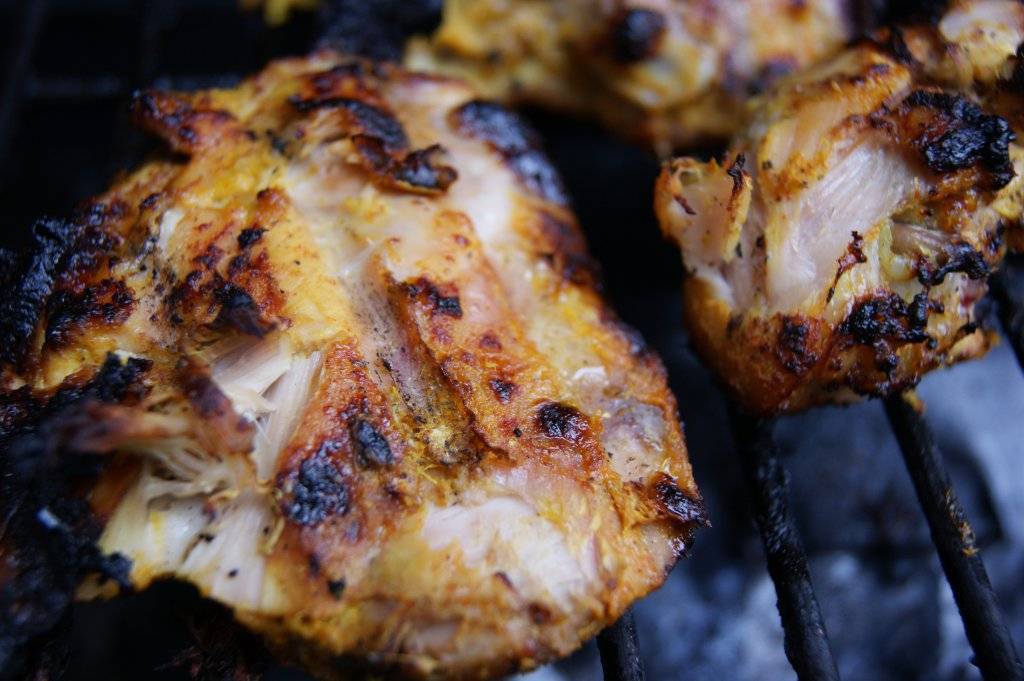 I first mentioned this recipe here last summer, after a camping trip with my sister and all of our children. I'm almost ashamed to say that I referred to it as the "tandoori chicken debacle". My love of drama had gotten the better of me – the tandoori chicken was not a debacle. The chicken was divine, the meal came together quickly, and we all stuffed ourselves. With the wisdom of passing time, I am downgrading the first tandoori chicken camping experiment from debacle to comedy of errors.
I love my recipe for tandoori chicken. It's easy, delicious, and flexible – it can be made with both light and dark meat, bone-in or boneless, served in whole pieces or on skewers, roasted in the oven or grilled on the barbecue. And did I mention delicious? Imagine tender pieces of delicately-spiced chicken, crispy on the edges, matching perfectly with warm flatbread, crisp cucumber, and cold beer.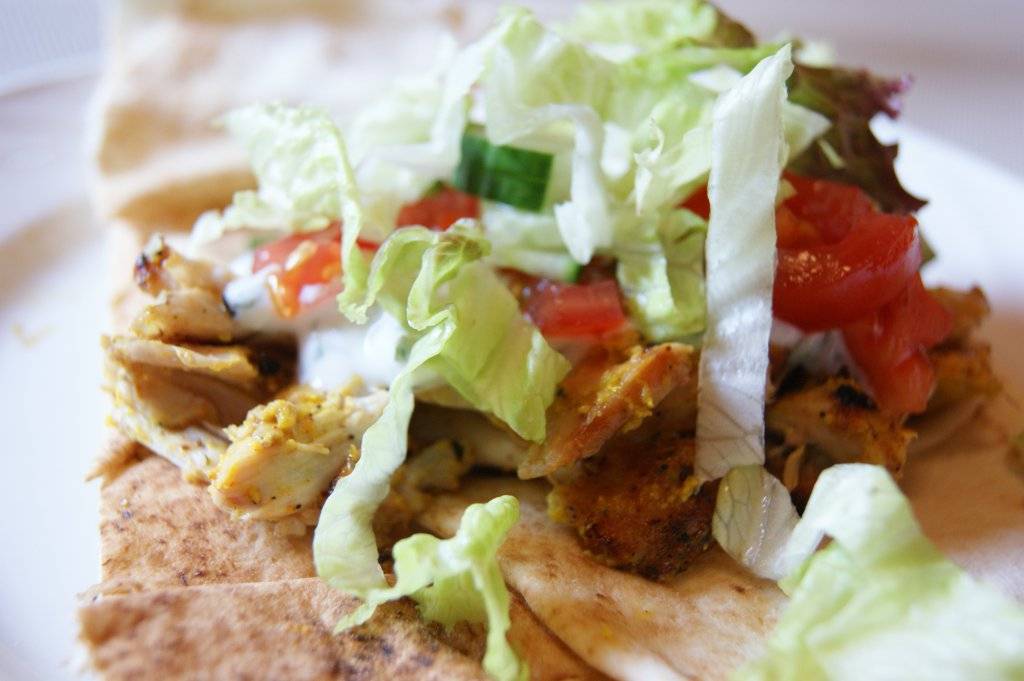 Definitely perfect summer food. So, naturally, I thought it would make perfect camping food.
My first mistake was in preparing the chicken as kebabs, rather than as whole pieces. Of course, the skewers poked through the heavy duty zipper-lock bag I had placed them in, and the icy cooler water seeped in to waterlog the chicken. Then came the struggle of cooking the kebabs over an open fire on that tiny BC Parks grill, watching the bamboo skewers burst into flames and the tiny pieces of meat fall into the fire, all while fending off a giant dog and three small excited children. I am not making this up. My sister took pictures, which I think were meant for future blackmailing purposes. I might have been willing to share the photos, or to look back and have a laugh, but in the final step of this debacle (there I go again) the pictures have gone missing. Bummer, because there were some great close-ups of flame-roasted tandoori chicken mixed in with the grim-faced portraits of me burning my hands and yelling at the dog.
However, I perservered. I knew this recipe would be great for camping. I have made tandoori chicken for subsequent camping trips and other away trips and it has been easy. And divine. No skewers. Boneless pieces only. Bring a grill rack from your home barbecue to put over the fire, or bring a Hibachi or other portable grilling contraption. Marinate the chicken before you leave, put it in a sealable plastic container in the cooler, pack some pita, cucumber, mint and yogurt. There will be no debacle, no comedy of errors, only a super delicious meal.
Or, you can always make this at home for an easy summery feast.
TANDOORI CHICKEN
Serves 4 to 6.
Tandoori marinade and chicken:
1 cup whole milk yogurt
3-4 Tb fresh lemon or lime juice
1 tsp salt
1 tsp garam masala
1 tsp turmeric
1 tsp paprika
1 large or 2 small cloves garlic
1-inch cube of fresh ginger
1 jalapeno pepper, seeds removed
2 Tb cilantro stems
½ yellow onion
4 lbs bone-in chicken thigh OR 3 lbs boneless chicken (either thigh or breast, or a mix)
Yogurt dip:
1-1/4 cup plain whole-milk yogurt
1/2 tsp salt
1/2 cup finely chopped sweet onion (Walla Walla, Vidalia, Maui, etc)
1/2 cup finely chopped fresh mint
Other accompaniments:
Thin pita (my favourite is Shamsane white or whole wheat pita – very thin, very large, and very very tasty – available at Blair Mart )
2 to 3 ripe tomatoes, chopped small
1/2 long cucumber, chopped small
a few leaves of crisp lettuce, sliced thin
Tools you will need at the campsite:
barbecue grill rack OR portable grill
assorted small bowls
tongs
foil
hot pads or oven mitts
instructions:
To make the marinade, process all ingredients (except chicken) together in a blender or food processor until finely pureed, like a big tandoori smoothie.  Transfer to a bowl.
If using bone-in chicken, remove the skin and slash the top of the chicken three times. If using boneless chicken, cut it into smaller pieces – thighs in half and breasts into thirds or quarters. The pieces should be still big enough to cook on the grill easily without falling through, but small enough so that they absorb the marinade properly.
Add prepared chicken to the bowl with the marinade and stir to mix.  Put in the fridge to marinate for at least 4 hours, and up to 24 hours.  I usually do this the night before, or in the morning before the dinner. I ignore the 24-hour maximum for trips because I like to prep the chicken before I leave. It still turns out very well.
On the night of the dinner, make the Yogut Dip (this can be made a few hours in advance): mix together the onion, mint, salt and yogurt in a bowl and stir well to combine. Let sit for about 10 minutes before you taste to adjust the seasoning. You might like more salt, more mint, more onion, or, depending on the tartness of the yogurt, a squeeze of lemon. You can also make this before you leave for the camping trip.
Remove chicken from marinade and drain well.
Grill instructions: preheat grill to 400 degress, or very hot. Scrape grill and place chicken pieces on the hottest part of the grill. Cover and cook 3 to 5 minutes. Flip and cook 5 to 10 minutes more, depending on size and type of chicken (breasts will cook more quickly than thighs). Bone-in pieces should be moved at this point to a cooler part of the grill and cooked, covered for another 15 minutes or so. On an open fire, you will have to do you best. It will require more juggling around of pieces, but it will work. (I recommend bringing boneless pieces only on a camping trip).
Oven instructions: roast the chicken thighs, bone-side down, in a 400°F oven for about 30 minutes, until cooked through.  Place chicken under the broiler for a minute or two at the end of cooking to brown the top a little.
While the chicken is cooking, cut the pita into halves or quarters, wrap in foil and heat in the oven or on the grill (or near the fire). Chop the tomatoes, cucumber and lettuce and arrange in separate bowls on the table. Place the yogurt dip on the table with a spoon. Place the grilled chicken and warmed pita on the table. If you have the time or the inclination, feel free to shred or to chop the chicken into smaller pieces before placing on the table. Let every person make their own pita wraps, using the chicken, vegetables, and yogurt dip in the portions they want. But beware of how much pita each person uses! The only way to ruin the taste of this meal is to use too much pita compared to fillings.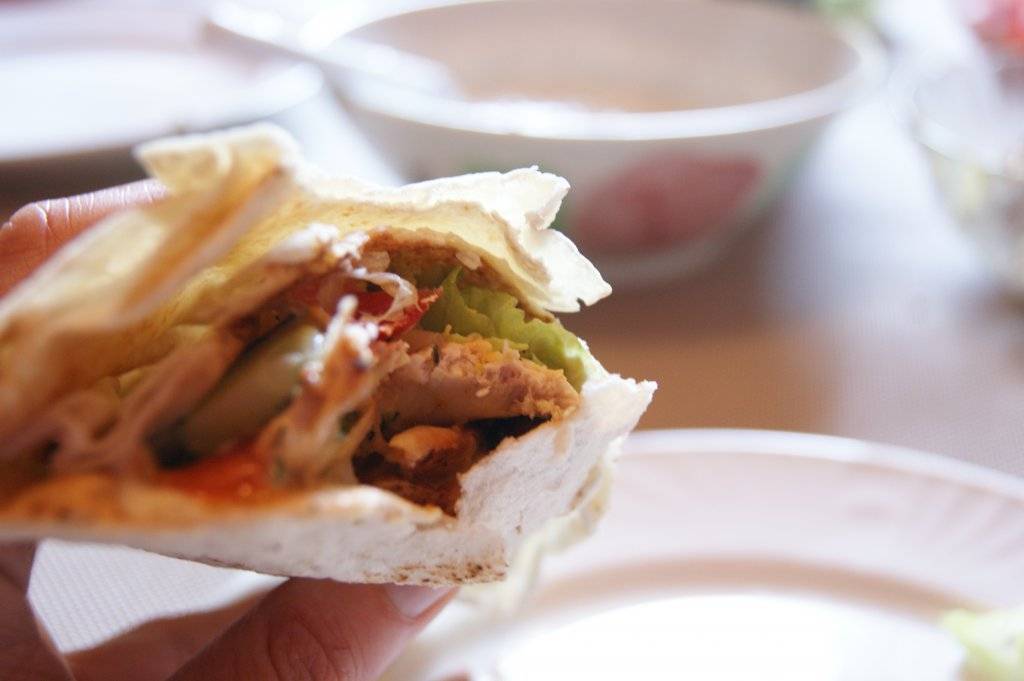 Categories:
Camping
,
Camping Food
,
Cooking in Season
,
Cooking with Kids
,
Dinner Solution
,
Extreme Foodie
,
Fall / Winter
,
Foodgasm!
,
Heidi's How-To
,
Indian
,
Late Summer / Early Fall
,
Local Harvest
,
Locavore Gone Loca
,
Meats
,
My Life in Food
,
Quick and Dirty
,
Recipes
,
Spices