Chocolate Ice Cream with Ceylon Cinnamon
July 31, 2013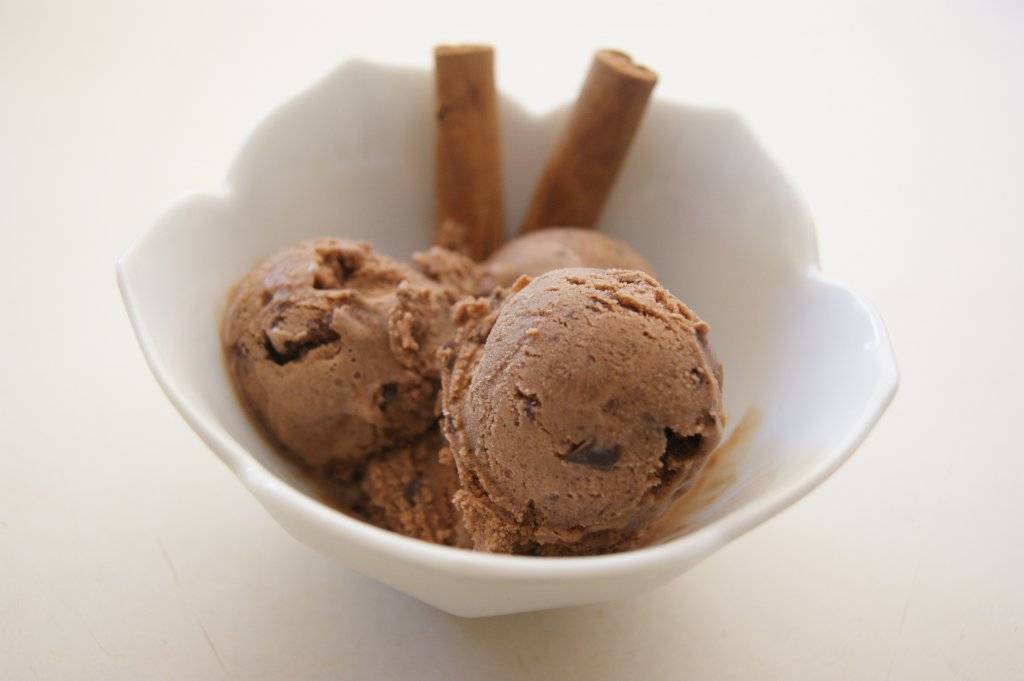 It's amazing to me what an impact small tweaks can have on the final taste of a recipe. That hit of fresh mint on your Thai noodles; light cream instead of milk for a silkier quiche; or the round sweet taste of melted butter (not oil) to roast your asparagus.
It's what I love most about recipe development: tweaking, substituting and tasting until I arrive at the magic combination that blows my taste buds away.
It's also, sadly, my biggest stumbling block. I usually don't have the time and space I need to tweak and fiddle with a recipe until it's perfect. (See here, here, and here for all my sob stories).
Despite this, I am hooked on the process. I manage to perfect a recipe just often enough to keep me coming back, testing and re-testing (even if only once a year) to find a magic flavour hit again.
For example, this chocolate-cinnamon ice cream, of which I am eating (really, devouring) my third bowl. I made it for the first time last summer, when my son begged me to add cinnamon to the rich chocolate ice cream I was in the middle of making.
Ah, yes, my son, who never shows an interest in cooking except to interrupt my flow with wild and crazy flavour ideas.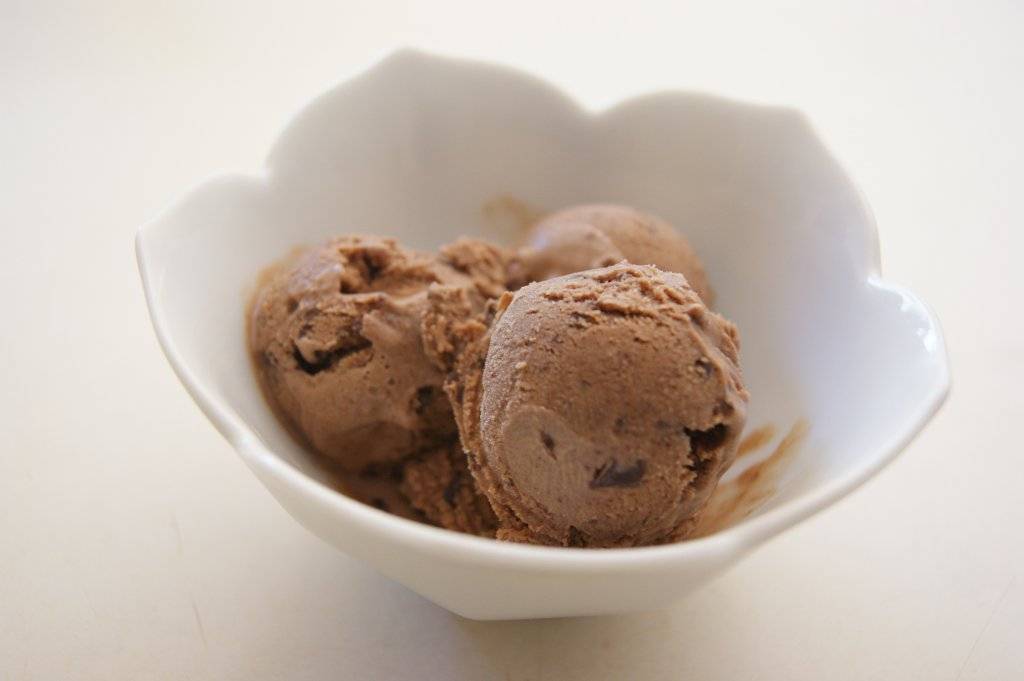 I can't imagine now why I agreed with his suggestion. Maybe he Bambi'd me with his big hazel eyes, or maybe I was looking for another excuse to include the stupendously delicious Ceylon cinnamon in my recipes. Ceylon cinnamon, otherwise known as 'True' cinnamon, has been the focus of a long-standing food-love affair in my house. We have been sprinkling it on everything from oatmeal to applesauce, cooking it in pilaf and chai, and sometimes just opening the jar to take in the smell.
Ceylon cinnamon is delicate, fragrant and fruity where our ordinary cinnamon is heavy, spicy and robust. Ordinary cinnamon is actually from a closely related species called Cassia, which has a thicker bark, darker colour, harsher flavour – a flavour which cruelly overpowers its traditional cooking partner, the apple. Ceylon cinnamon is a perfect kitchen player – flirty in flavour, light on its feet, exotically sweet and spicy.
I have a place for both Ceylon and Cassia cinnamons in my kitchen, but I reach more and more frequently for Ceylon because, well, it just tastes better. I bought mine through South China Seas Trading Company in Vancouver, but you can buy it locally at Ottavio Delicatessen.
Now, about this ice cream. I did mention that it's three-bowls-good, didn't I? Not only because of how the delicate spiciness of the cinnamon plays off the fruity cocoa-rich base, but because there is something so satisfying about a bowl of creamy homemade ice cream.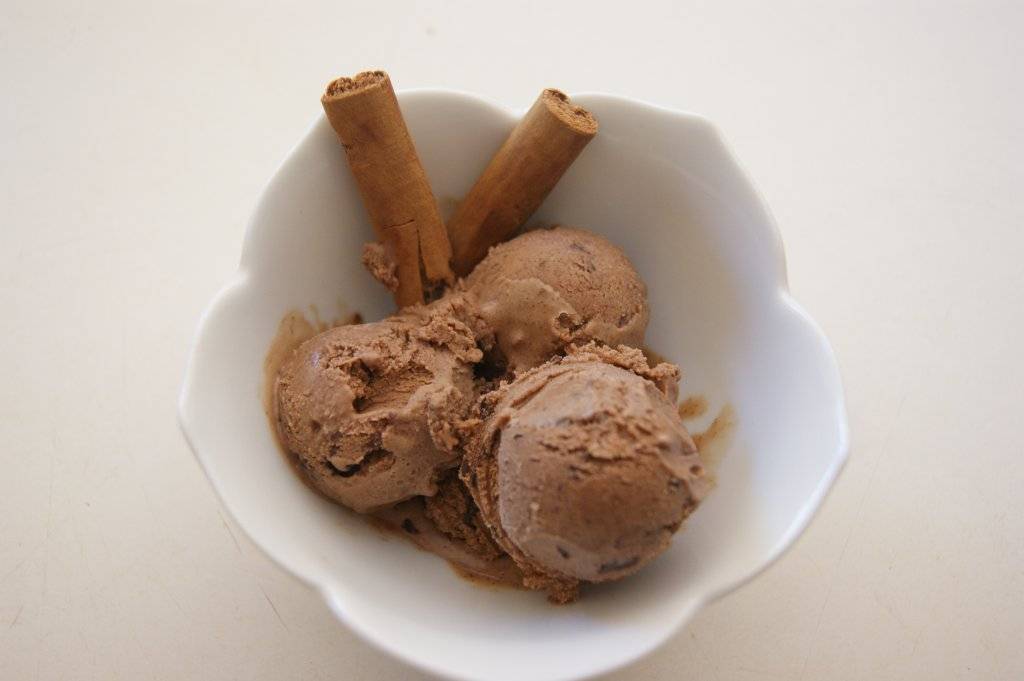 However, when I made the chocolate-cinnamon ice cream for a second time this summer, I was mildly disappointed. It was good, but not as spectacular as I remembered. Last summer, I kept hiding the container in new spots in the freezer so that it wouldn't disappear too quickly. This time, I left it front and center. I knew I wasn't imagining things, because my son, Ruben, felt the same way.
"It doesn't have enough cinnamon," he said. (Which was odd, because I had put 1/4 tsp more cinnamon in this time.)
I revisited my notes, wondering what I had missed, or what I could have done differently. Was it possible, I asked Ruben, that I could have used a different kind of cocoa last year? Natural cocoa instead of organic Dutch-processed?
"You'll have to make another batch to compare, Mom," quoth my most wise and learned child.
Twist my rubber arm, I made another batch the very next day, changing only the type of cocoa powder I used. BINGO! it was a whole new ice cream! THIS was the flavour I remembered! The fruity, slightly tangy chocolate playing against the fruity, slightly spicy Ceylon cinnamon in a flavour-made-in-heaven kind of way. The Dutch cocoa was rich and chocolaty, but completely dull when compared to the party in my mouth brought on by the natural cocoa.
Amazing (I'll say it again) what an impact a small tweak can have on the final taste of a recipe. Amazing.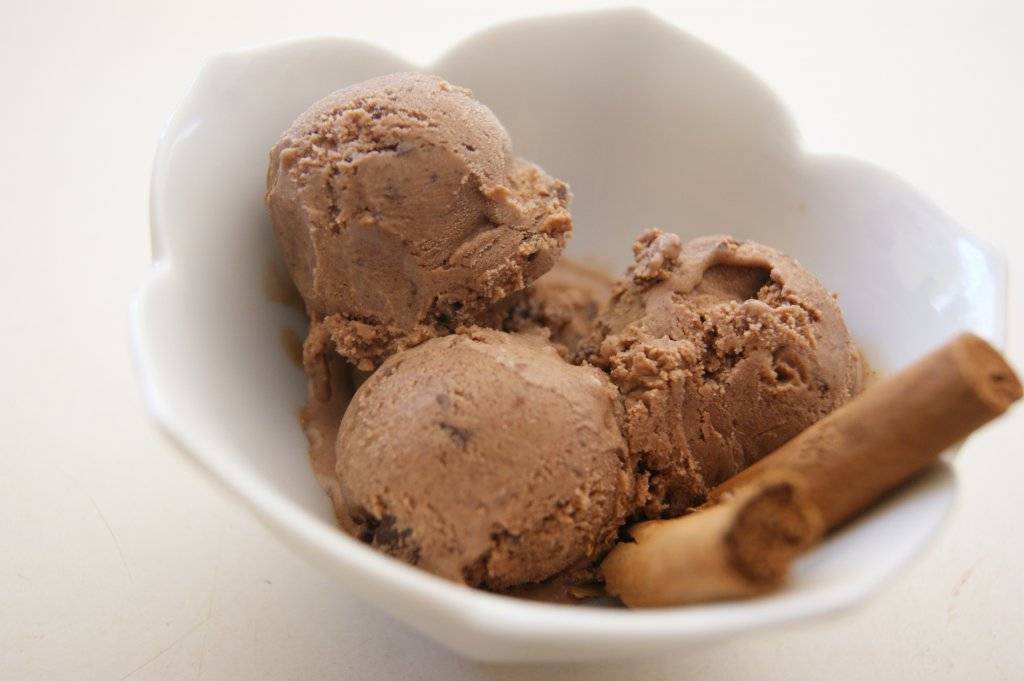 HOMEMADE CHOCOLATE ICE CREAM WITH CEYLON CINNAMON
Makes 5 to 6 cups
The flavour of this ice cream is dependent on the use of true cinnamon (i.e. Ceylon cinnamon) and natural cocoa powder. The use of Dutch-process cocoa and/or standard cinnamon will alter the results (although possibly still tasty).
ingredients
2 oz (54 gm) bittersweet chocolate
1/3 cup (35 gm) natural (non-alkalized) cocoa (i.e. Fry's)
1 to 1-1/4 tsp Ceylon cinnamon (true cinnamon)
1-1/2 cups whole milk
4 egg yolks
1 cup granulated sugar
1/4 tsp salt
2 cups whipping cream
1/2 tsp vanilla
Optional – 4 oz bittersweet chocolate, finely chopped (~1 cup chopped)
instructions
Chop the 2 oz bittersweet chocolate roughly. Place in a medium-large bowl along with the sifted cocoa powder and the Ceylon cinnamon. Set aside.
Mix together the milk, egg yolks, sugar, and salt in a small pot. Be sure to use a pot with a heavy bottom. Whisk well to combine. Place the pot over medium-high heat and cook, whisking constantly, until steam starts to rise from the top. (It is very helpful to use your flat whisk for this and the next part). Reduce heat to medium or medium-low and cook, whisking constantly, until the mixture is slightly thickened (coats back of the spoon) – about 175 F on an instant-reading thermometer. Immediately pour mixture through a sieve into the bowl with the chocolate, cocoa, and cinnamon. Whisk well until combined and smooth.
Pour in the whipping cream and vanilla and mix again. Transfer the mixture to a storage container or two jars and place in the refrigerator for at least 4 hours to chill completely. Mix well again before freezing.
Freeze mixture according to manufacturer's directions in an ice cream maker (I use my trusty Cuisinart). In the last few minutes of freezing (usually after about 20-25 minutes) pour in the optional chopped chocolate and allow to mix thoroughly. Transfer frozen mixture (it will look like soft-serve ice cream at this point) to a container with a tight-fitting lid and place in the freezer for at least 4 hours to harden before serving.