Buttermilk-Soaked Oatmeal Blueberry Muffins
August 11, 2013
I have a thing for oats. I consider them the best of grains: wholesome, sweetly nutty, easy to cook with, and non-irritating for most digestive tracts. Not surprising, then, that oats feature heavily in my daily life, from my morning bowl of porridge with berries, to my nighttime snack of toasted oats drizzled with honey and cinnamon.
But baking with oats is my favourite. Nothing to me is more tasty than scones nubbly from oats, or cookies toasty with oats.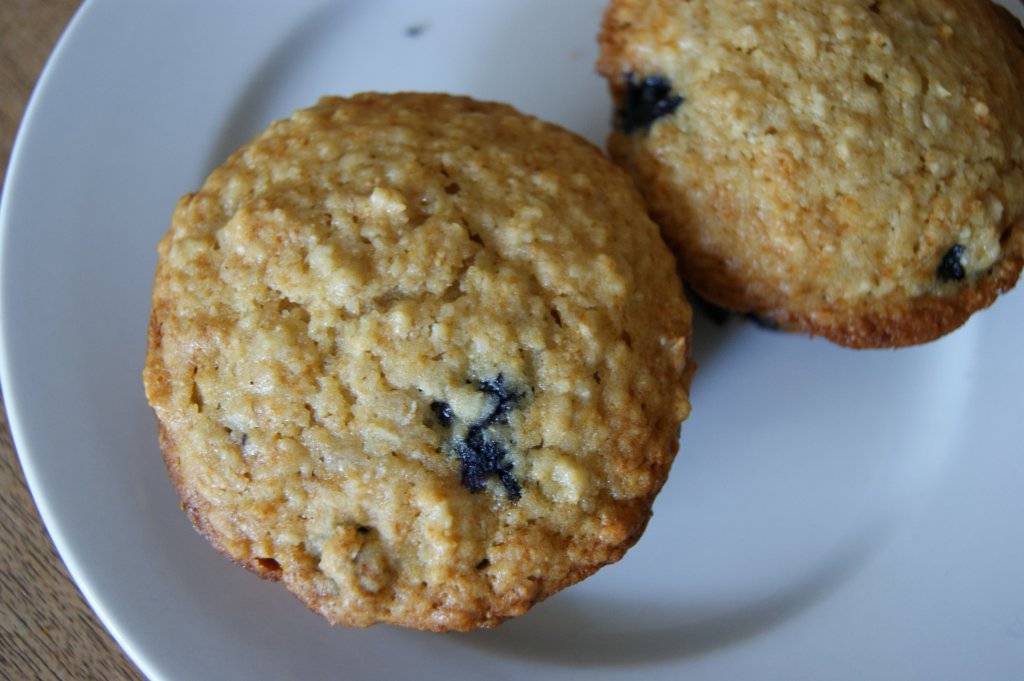 This recipe for buttermilk-soaked oatmeal muffins is one I have been making for years and years. The muffins are moist, nubbly-textured, not too sweet, and happily adaptable to any fruit or nut additions the cook is in the mood for. I've added toasted walnuts in the winter, plumped dried apricots in the spring, and blueberries (BLUEBERRIES!) in the summer.
I was inspired to post this recipe (finally) by finding a similar one on this great food blog. Just the name Buttermilk-Soaked-Oatmeal Muffins sounds delicious, doesn't it? Somehow both comforting and drool-worthy, which is not always easy to manage, let me tell you.
By the time you read this post, I will be camping with my children and their cousins on Cortes Island, but we will be digging into a bag of these very muffins, made with Ruby Red blueberries, possibly as you read this and decide to try this recipe for yourself.
BUTTERMILK SOAKED OATMEAL MUFFINS WITH BLUEBERRIES
Makes 2 dozen.
The overnight soaking of the oats in buttermilk improves the flavour, texture, and digestibility of these tender nubbly morning muffins. A huge hit with my kids!
These muffins freeze beautifully if you can't eat 24 muffins in 3 or 4 days.
ingredients
2 cups old-fashioned rolled oats
2 cups buttermilk
~
2 cups (10 oz/280 gm) all-purpose flour
1/2 cup (2.5 oz/70 gm) whole wheat flour (especially good with sprouted wheat flour)
1 tsp salt
1 tsp baking soda
2 tsp baking powder
~
3 eggs
1/2 cup liquid honey
1 cup light brown sugar (golden sugar)
2 tsp vanilla extract
1 cup unsalted butter, melted and cooled slightly
~
optional additions
finely grated zest of two large lemons (use other citrus or spices, or omit, as desired)
3 cups fresh or frozen blueberries (use other berries, chopped fruits, dried fruits or toasted nuts or seeds, or a combination, as desired)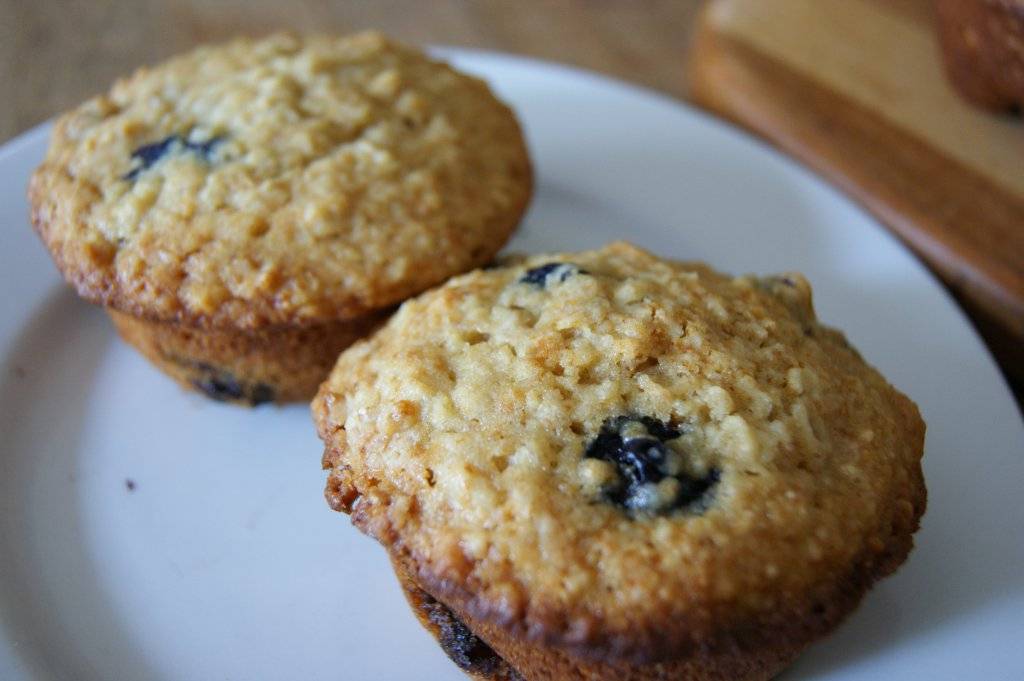 instructions
Mix together the oats and buttermilk in a medium-sized bowl. Cover and set aside for 8 hours or overnight (can be at room temp).
Preheat oven to 375 F. Grease two 12-cup muffin tins and set aside.
In a medium bowl, whisk together the flour, whole wheat flour, salt, baking soda and baking powder.
In a large bowl, whisk the eggs with the honey, light brown sugar, vanilla and grated lemon zest (if using). Carefully whisk in the melted butter until blended. Stir in the soaked oatmeal mixture. Add the dry ingredients and the blueberries (or other fruit), folding with a wooden spoon until just blended – some streaks of dry flour may remain.
Divide batter evenly into the greases muffin cups. Place in oven and bake for 25 to 35 minutes, rotating pans once during baking, until edges are dark golden brown, tops are light golden brown, and tops spring back when lightly touched. Remove muffins from tin and transfer to cooling rack to cool completely.
Enjoy warm or at room temperature, or toasted and slathered with butter the next day.
You May Also Like These Recipes:
Categories:
Baking
,
Baking and Treats
,
Breakfast ideas
,
Camping Food
,
Cooking in Season
,
Cooking with Kids
,
Feature Ingredients
,
Foodgasm!
,
Fruit
,
Kid Friendly
,
Late Summer / Early Fall
,
Local Harvest
,
Locavore Gone Loca
,
Recipes