Spot Prawn Curry
May 14, 2011
I prefer a green curry with seafood, but this is what I had on hand the other night when I came home with my impulse purchase of fresh, amazing, local spot prawns.
Stop me before I go on and on about spot prawns. The local season is so short that I go a little off my head: I frequently spend the month's food budget on a week's worth of meals. Nevermind – the sweet, tender, fantastically delicious spot prawns are worth it. After I have glutted myself on spot prawns with butter, spot prawns with garlic and lemon, spot prawn juice soaked up with crusty bread, I then move on to the amazing Asian way with seafood. It's killer.
You can whip a yummy prawn curry out of your hat as well, with the purchase of some spot prawns and a few easily-found Thai ingredients. What follows if my recipe for quick red curry, one of the star recipes in my Thai Basic cooking class. It uses store-bought Thai curry paste plus some special tips and techniques for absolutely delicious results.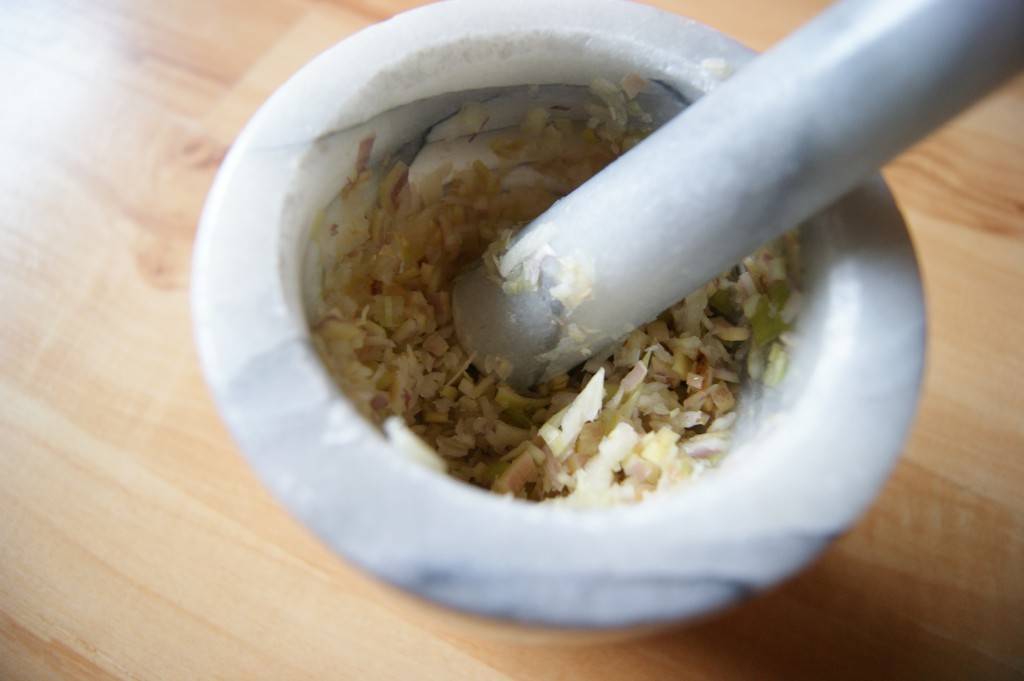 a mortar and pestle: useful, but not necessary for making this curry
Quick(ish) Spot Prawn Curry
Serves 4.
Feel free to subsitute green curry paste for the red, if you like. Green curry is a better match for seafood anyway.
To turn this into a red chicken curry, subsititute 1-1/2 lbs of boneless, skinless chicken thigh or breast, cut bite-sized, for the seafood. Chicken breast can be cooked exactly like the fish/prawns (only maybe a tiny bit longer), but thighs need to be put in about 10 minutes before the vegetables. In all cases, add the protein raw! Do not cook it or brown it first – this will prevent the protein from absorbing flavours from the curry sauce.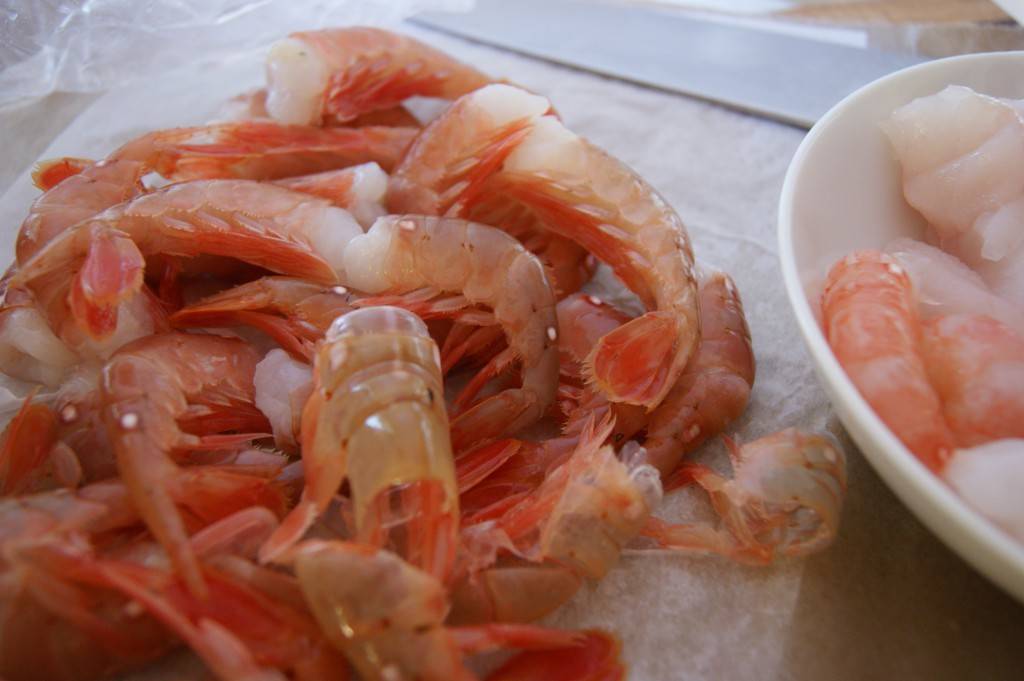 peeling spot prawns
ingredients
1½ Tb rice bran oil (or canola, or safflower, or, or…)
2 Tb Thai Kitchen red curry paste, OR 1 whole can Maesri red curry paste (Maesri is the bomb, by the way. Available in Chinatown)
1½ Tb cored and minced lemongrass* (1 stalk lemongrass)
1 Tb minced fresh or frozen galangal**, if you can find it
1 clove garlic, sliced (use 2 for a chicken curry)
1 400 ml can good quality coconut milk (when you shake the can, you should hear nothing, no liquid sloshing, nada)
2 -3 Tb fish sauce (I like Golden Boy brand)
2 lbs spot prawns, or use a mixture of spot prawns and white fish (I used halibut)
1 red bell pepper, halved, seeded and sliced into pointy wedges
1 baby bok choi, sliced, or 1 small head broccoli, cut into florets (I used local flowering brassica tops)
1 – 2 Tb palm sugar, or yellow sugar
3 keffir lime leaves, sliced***
¼ cup coarsely chopped fresh Thai basil****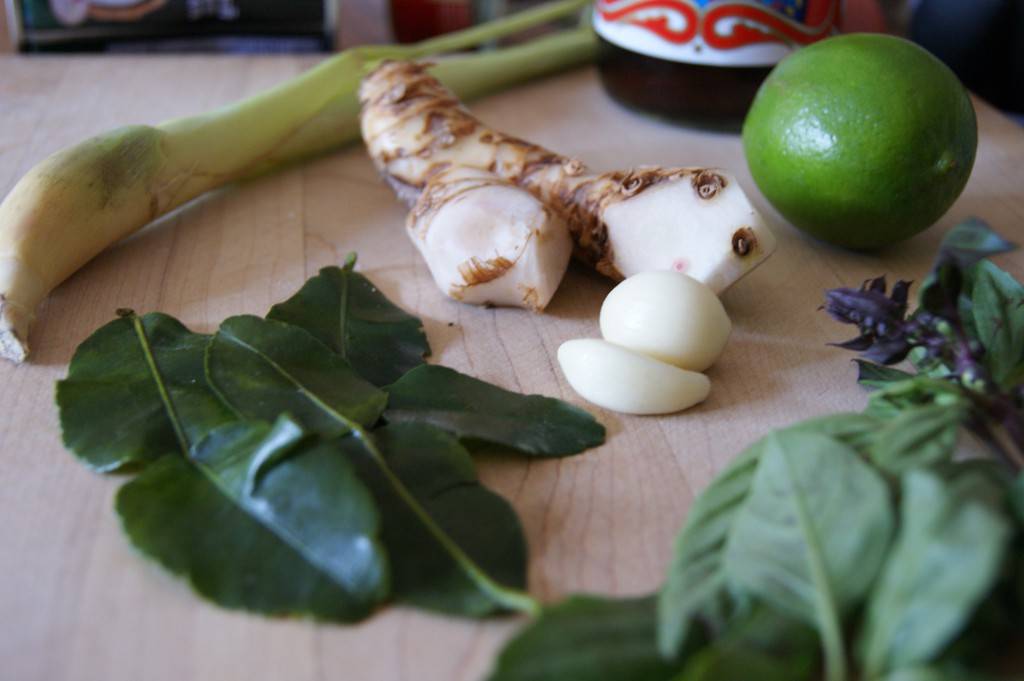 fresh Thai ingredients
*Lemongrass – available fresh at any supermarket.
**Galangal – this is a delicious rhizome, similar in appearance to ginger, but with much paler skin, and pinkish knobs. Not to be confused with young ginger, galangal has a wonderful, aromatic, pine-like fragrance, for which there is no substitute. Galangal can be bought fresh in the spring and summer at the Root Cellar, among other places, or frozen year-round in Chinatown.  Please see my resource page for a full listing of places to find Thai ingredients. Never use dried galangal, and do not use ginger as a replacement.
*** Keffir lime leaves – you can usually find these fresh at the supermarket, in the little plastic packages of fresh herbs. Usually labeled "Lime Leaves". Also available frozen in Chinatown, or fresh at the Root Cellar. Please see my resource page for details.
****Thai Basil – stronger, more licorice-y and peppery. Available in Chinatown, the Root Cellar, or at Alpine Market downtown. Use regular sweet basil in a pinch.
instructions
First of all, put some jasmine rice on to cook while you work on the rest of this.
lemongrass ready for mincing
That little picture there is to show you how lemongrass should look just before you mince it – bublous part only, halved, and core removed.
Using a mortar and pestle, roughly mash the minced lemongrass, the minced galangal, and the sliced garlic with a pinch of salt.  Alternatively, mince everything together as finely as possible on your cutting board, mashing with the back of a spoon, if you like. OR you can put everything in a zipper-lock freezer bag and bash it with a mallet.
Open the can of coconut milk.  It should have separated into a thick spoonable coconut "cream" at the top of the can and a thinner coconut water underneath.  Scoop out all of the thick cream into a liquid measuring cup, leaving the thinner water behind in the can. You should have 200 to 250 ml (1 cup) of thick coconut cream. If not, open a second can of coconut milk and scoop the thick milk off it until you have enough thick coconut milk to proceed. Reserve the thin watery coconut milk for another use.
Heat a large saucepan over medium heat.  Add the oil and swirl to coat the bottom of the pan.  Add the curry paste and the mashed or minced lemongrass mixture.  Sauté, stirring constantly, for about 30 to 45 seconds, then add 2 tablespoons only of thick coconut cream.  Continue to cook, stirring, until the oil separates from the coconut milk and most of the liquid has evaporated.  The curry paste should smell fragrant, but not burnt. This is the best picture I could get of the oil separation (come to my cooking class if you want to see it better :))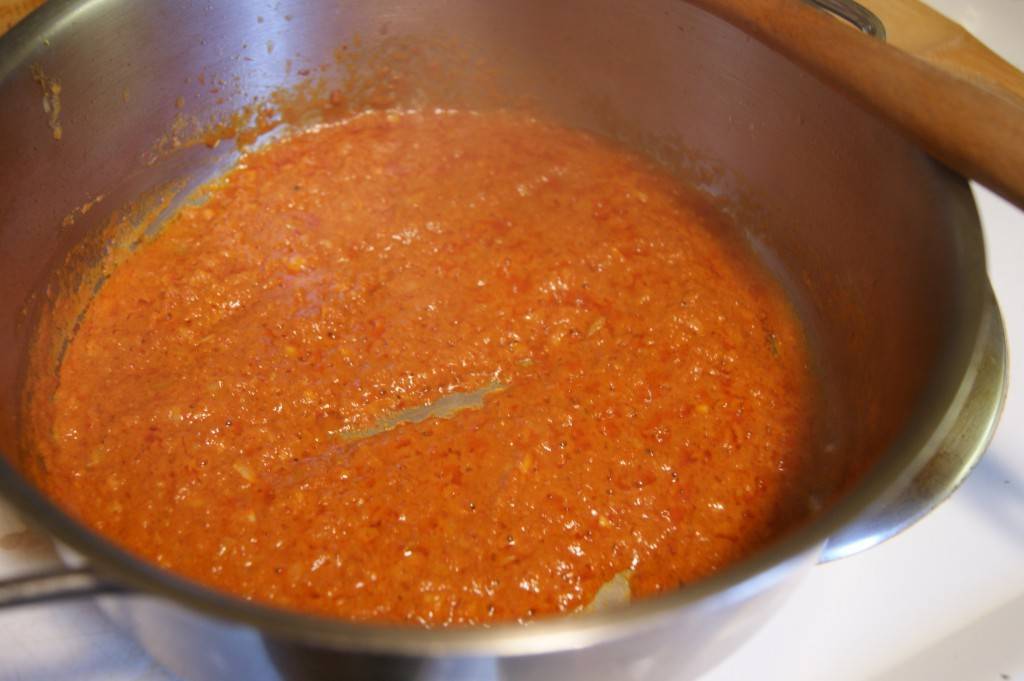 oil separation (to bring out the flavour of curry paste)
Now add the rest of the thick coconut milk and bring to a gentle simmer.  The coconut milk should not boil or it will separate. Let the mixture simmer very gently, or even leave it sit off the heat, while you prepare the prawns and vegetables. Peel the prawns, leaving the tails on for pretty effect, if you like (I do not like – too hard to peel that way, and too hard to eat).  Cut the halibut or other white fish into 2cm x 2cm chunks. Cut the veggies as indicated in the instructions
Add the vegetables to the curry sauce and simmer gently, covered, for about 5 to 6 minutes. Add the fish sauce, the prepared seafood, the keffir lime leaves, and the palm sugar to the pot and bring to a gentle boil. Reduce heat and simmer very gently, covered, for about 3 to 4 minutes, stirring occasionally, until seafood is just cooked through. Don't over cook it, or the prawns will get tough and the fish will fall apart. Taste to adjust seasonings. You may need more fish sauce (salt) or palm sugar (sweet). Sprinkle the Thai basil over the top and serve immediately, with steamed jasmine rice.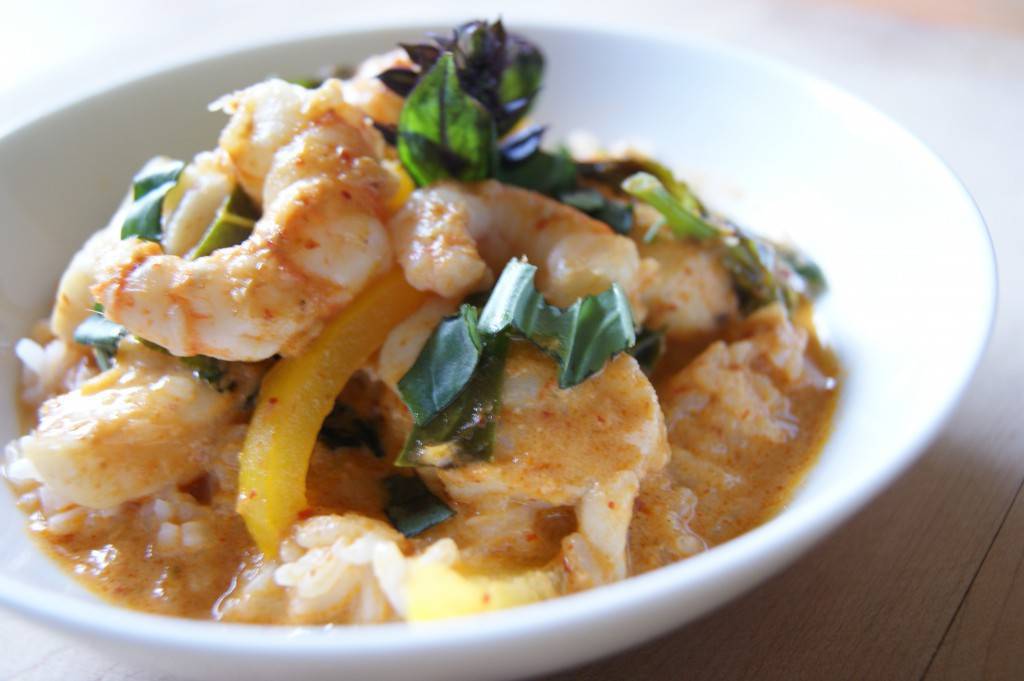 spot prawn curry with jasmine rice
Categories:
Asian
,
Asian Foods
,
Cooking in Season
,
Dinner Solution
,
Early Spring
,
Essential Thai
,
Feature Ingredients
,
Fish and Seafood
,
Foodgasm!
,
Heidi's How-To
,
Late Spring / Early Summer
,
Local Harvest
,
Locavore Gone Loca
,
My Life in Food
,
Quick and Dirty
,
Recipes
,
Technique technique technique
,
Thai
,
Thai Ingredients