Salted Fermented Soy Bean Sauce
January 22, 2014
We make a serious about-face today, from the lovely modern health food of homemade almond milk to the not-so-pretty ancient seasoning of Asia. Salted Soy Beans, more commonly known as Yellow Bean Sauce or even Fermented Bean Paste, is essential to the cuisines of China and South East Asia. Salted Bean Sauce may not look like much, but its complex and salty umami flavour packs a delicious punch.
I talk glowingly about salted soy beans (SSBs) in my Thai cooking class and on my Culinary Tour of Chinatown. I try not to say "You MUST own this to be able to cook authentic-tasting recipes!" because I don't want to be a self-righteous Asian food nerd and scare people away. But I sometimes want to, very badly, yell, "BUY THIS NOW! YOU WILL THANK ME LATER!"  SSBs add so much flavour and taste so good and last so long in the fridge!
Similar fermented soy bean products are used throughout Asia, and can sometimes be substituted one for another in a pinch. In a PINCH, mind you. Imagine that fermented soy bean products are as diverse as cheeses, and you will have some idea why you can't swap them around willy nilly.
That said, the closest flavour I can liken SSBs to (that most of you will be familiar with) is miso paste, and I often recommend in classes and tours that folks use miso paste as a substitute if they don't want to purchase another condiment to clog up their fridge.  Then I sneakily give them one or two delicious recipes that call for Salted Soy Beans/Yellow Bean Sauce, and cross my fingers that folks will try some.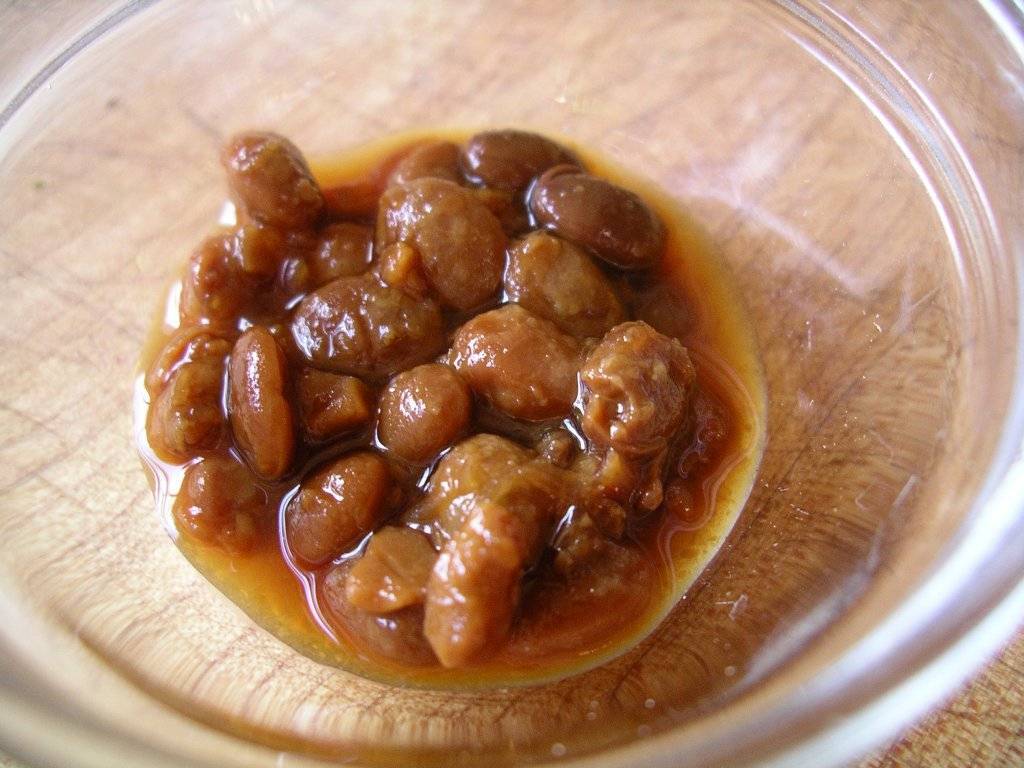 My favourite brand is Yeo's Salted Soya Beans – the beans come whole in their yummy thick brine, which gives me the option of using them whole, crushed, or pureed (some recipes call for different consistencies). Many recipes will combine SSBs with other pungent ingredients such as chiles, garlic, and ginger.
Famous Thai recipes that rely on SSBs are Lat Na (aka Rad Na) and Khao Man Gai. One of my personal favourite uses for Salted Soy Beans is Thai Stir-Fried Greens with Garlic, which I have blogged about before. In Chinese cooking, SSBs can be found most often in Northern-style cuisine, which runs to heartier fare, wheat-based dumplings and noodles, and lots of pickled and preserved foods. I love Chinese salted soy beans cooked with ground pork and ginger to serve with pillowy egg noodles. And I've included the recipe for you to try!
You can find a variety of Salted Soy Beans/Yellow Bean sauces (including Yeo's) in Victoria's Chinatown at Fisgard Market, in the sauce/condiment aisle, about half way down.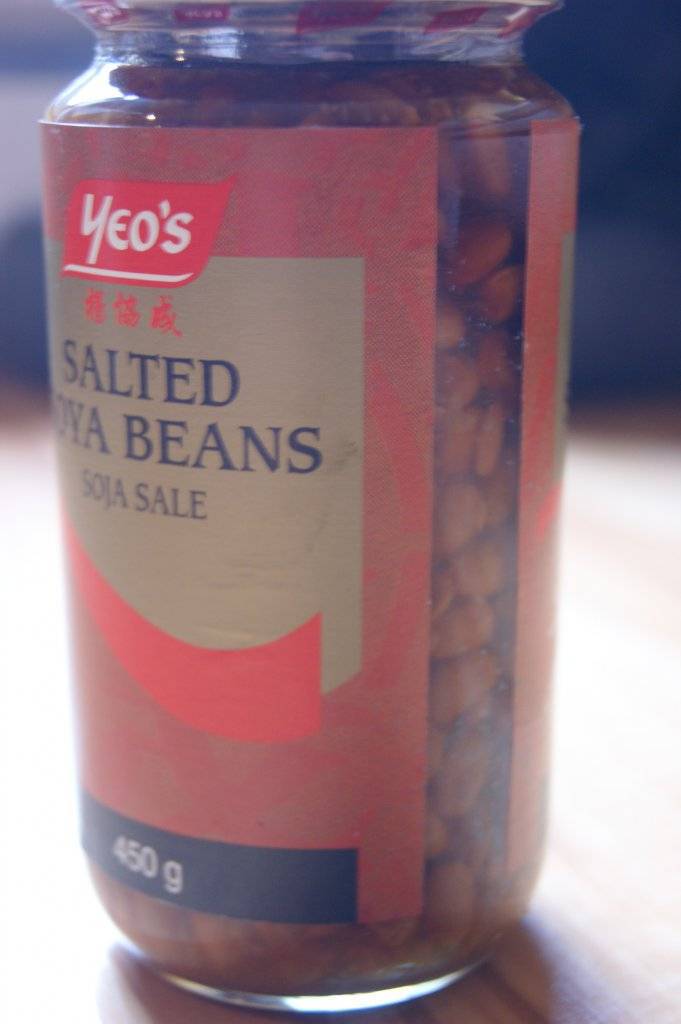 Now, on to the real reason you are here, I am sure: THE COOKING CLASS GIVEAWAY! Remember, there will be a chance to win every Thursday and Monday of the next two weeks, so keep checking back. To recap: Rancho Vignola has stepped up once again to sponsor my business activities, this time by covering 50% of the cost of one of my Moroccan cooking classes. What this means for you, dear readers, is that I will be selling twelve spots at a Moroccan cooking class for half-price! That's $45 for a full three-hour hands-on cooking class, and includes a take-home recipe booklet and full delicious meal.
The class will be held on Sunday, February 16th, from 5 pm to 8 pm, at the lovely teaching kitchen of The London Chef in downtown Victoria. For a full description of the class, please visit my website cooking class page (scroll down a bit for the "Delights of Morocco" description.)
GIVEAWAY RULES:
1. You are entering to win a discount on a Chef Heidi cooking class. Her classes are normally valued at $90. Draw winners will pay only $45.
2. No purchase necessary to enter the draw, but if you win the discount, you will be expected to pay the remaining 50% value of the cost of the cooking class – in this case, $45 plus GST per person.
3. Two discounted cooking class spots will be available for a draw each Thursday and Monday for the next three weeks. That means there are 6 chances to win!
4. Enter the draw by commenting on the blog post or on my facebook fanpage that day. A new blog post will go up every Monday and Thursday for the next three weeks. Each draw will last for 24 hours, after which I will close comments and pick a winner by random draw.
5. The winner will have the choice to buy both discounted spots, OR to buy only one spot, and I will pick a second winner by random draw.
6. This discount giveaway is open to any Canadian or U.S. resident who can make it to Victoria for the date of the class (Feb 16th, 2013).
7. This discount cannot be applied to any other cooking class. It applies only to the Rancho Vignola sponsored Moroccan cooking class offered Feb 16th, 2013.
PHEW! Now that that's all over and explained, let me just give you that recipe. And don't forget to post your comments here or over on my facebook fanpage for your chance to WIN the discount!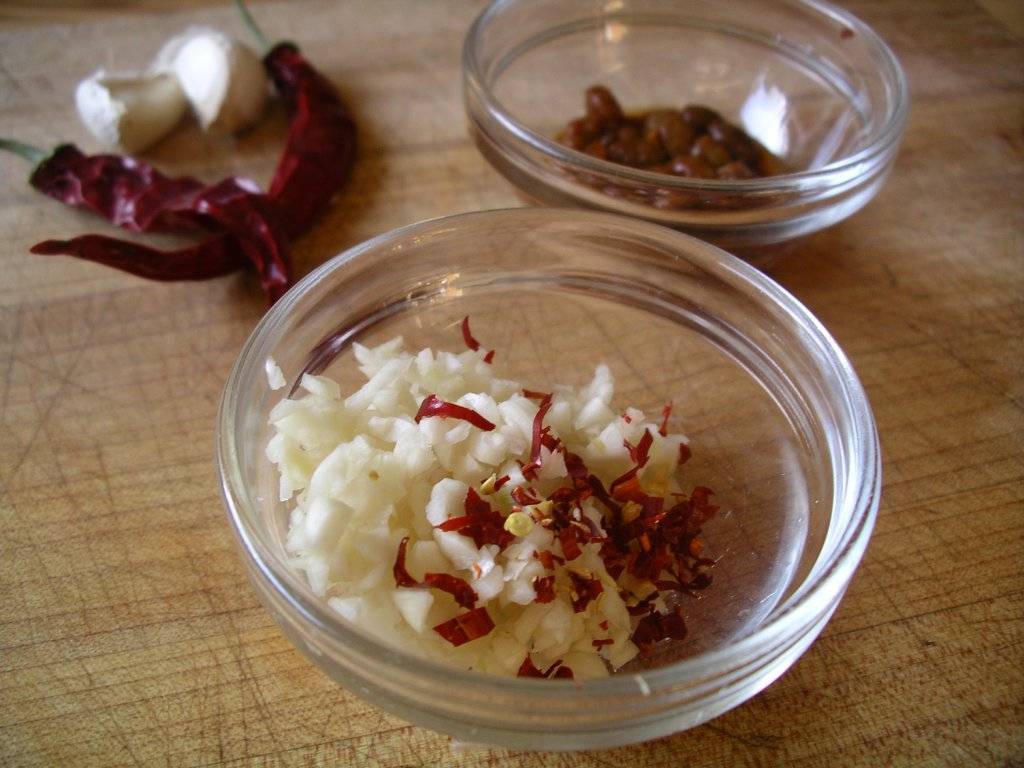 CHINESE PORK SAUCE WITH EGG NOODLES
Serves 4
Kind of like a Chinese-style pasta sauce, this is very easy and quick to make. I often add sautéed or stir-fried Chinese cabbage or greens to the sauce and noodles for a more complete meal.
ingredients
1 pound ground pork
2 to 3 Tb peanut or grapeseed oil
¼ cup minced fresh ginger
3 Tb salted soy beans
1 to 2 Tb sambal oelek, or Chinese chile paste
1 tsp brown sugar or raw sugar
½ cup sliced scallions
1 tsp roasted sesame oil
¾ lb fresh egg noodles or ½ lb dried
instructions
Place the salted soy beans in a bowl and mash lightly with a fork or the back of a spoon. Add the sambal oelek, or Chinese chile paste, and the sugar. Stir to mix well.
Heat a large sauté pan over medium-high heat. Add the oil and swirl to coat bottom of the pan. Add the ginger and stir fry until fragrant, about 20 to 30 seconds. Add the pork and stir fry for 3 minutes, until pork meat separates into grains and loses its pink colour. Add the salted soy bean mixture and cook for 3 to 4 minutes more. Stir in the scallions and immediately turn off the heat.
Meanwhile, bring a large pot of water to the boil. Add the noodles and cook, stirring occasionally to help separate the noodles, until done to your liking, 3 to 5 minutes for fresh noodles, 7 to 10 minutes for dried. Drain the noodles well.
As soon as they are drained, add the noodles to the sauce mixture. Drizzle in the sesame oil and stir everything together well with tongs or two wooden spoons to combine the flavours and keep the noodles from sticking together.
Serve immediately, with some stir-fried Chinese cabbage or greens on top or on the side.