Chinese Style Eggplant with Roasted Tofu
September 13, 2012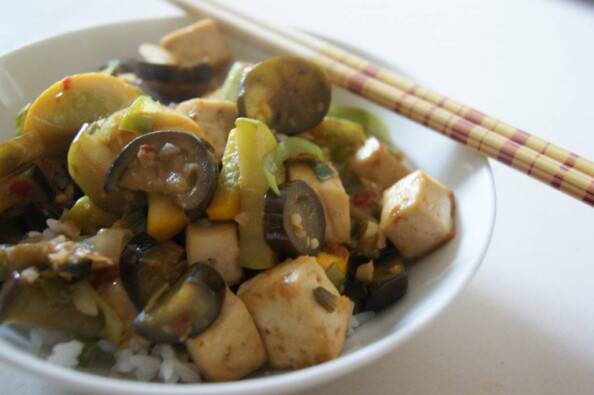 I am posting this recipe for two reasons:
1) It's eggplant season right now and people, I've noticed, need help with eggplant ideas.
2) People also need help with tofu. And this post includes the hassle-free, the non-stick, the delicious, and I mean delicious, recipe for Crispy Roasted Tofu.
My roasted tofu recipe might be one of the most popular things I teach in my cooking classes. Well… It's certainly one of the most useful, applicable across a variety of meals and recipe types. I know that I hear many positive comments about it from returning students. For example:
"My husband will actually eat tofu now!" and
"It's so much easier than what I was trying to do before." and
"I use that tofu recipe all the time."
The first most important thing about making good Crispy Tofu is to buy the right brand of tofu. Yes, they do taste different. I used to teach a cooking class called "Introduction to Tofu" and held a taste test of different brands of medium tofu. Participants were always amazed at how different the tofu brands were from one another – some were creamy and nutty, some were mushy and bland, some were mealy and bitter. My tofu preferences have changed over the years, but my current favourites are Superior Tofu and Soyganic from Sunrise.
The second most important thing about making good Crispy Tofu is to use the right firmness. Please, let's just collectively throw away our firm and extra-firm and pressed tofu. Excellent, thank you. Let's stick with the smooth and nutty medium or medium-firm tofu. This roasting method will take care of any difficulties normally faced with trying to stirfry this type of tofu. You will have it all: nice flavour, nice texture, ease of use.
Even thought my kids can (and will) eat roasted tofu plain as a snack, I generally use it as part of another dish, usually one with ample sauce, since – I admit it – even Roasted Tofu is kind of bland. I especially like to use it in spicy Thai noodles, sweet hoisin stirfry, miso soup, and now, with my new favourite veggie stirfry, yummy Chinese eggplant.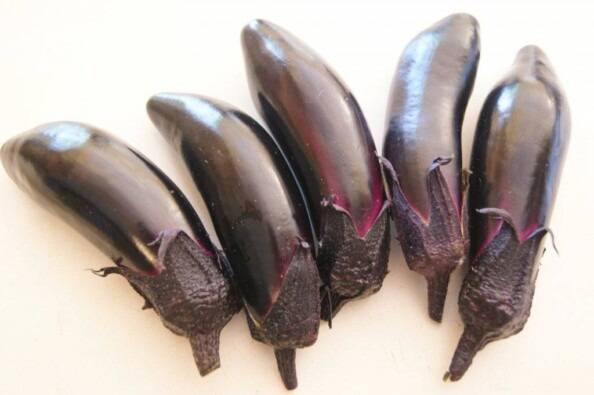 This Chinese Style Eggplant recipe comes from one of my favourite food blogs, The Bitten Word. (Their tagline? "Resolving to put our food magazines to use". Now why didn't I think of that?) Their many and various eggplant recipes are all delicious, but the Chinese eggplant recipe was a standout. And also, they learned how to make it while at a cooking class in China. Sold.
I made the eggplant recipe as a side dish only once before I decided to turn such deliciousness into a full meal by adding roasted tofu. The only change to the eggplant recipe in that case is to double all the sauce ingredients (everything except the eggplant and oil) to have enough flavour to accommodate the addition of the tofu. I also played around with a 50/50 eggplant/zucchini split, which was good, but the sauce definitely matched better with eggplant.
Although this was one of the the times when I made dinner with no thought for the kids' food preferences (sucks to be them, I know), I thought I would provide the Kid Rating anyway for interest's sake.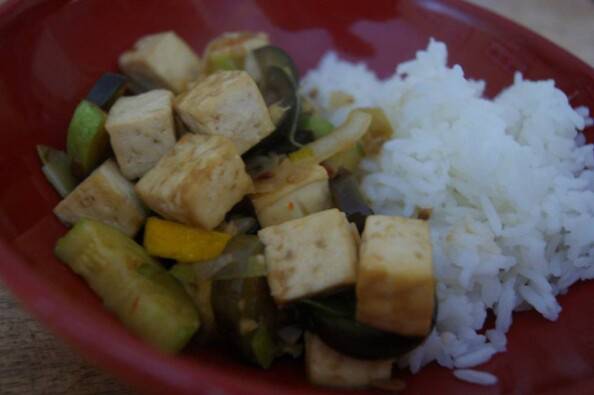 Kids' meal version: high tofu-to-eggplant ratio and stir-fry kept separate from the rice
KID-RATING (two boys, ages 11 and 7-1/2)
Roasted Tofu – yes, please, Mom!
Eggplant – we don't serve eggplant that often so the boys approached it as something new. The 11-year-old ate about half of his, voting it "OK". The 7-year-old said (and I quote) "This is the yummiest EVER!" but then only ate two bites. When pressed, he said that the texture was strange and that's why he didn't want to eat it, even thought it tasted really yummy.
Chinese Sauce, plus flavour in general – they both loved it, so I may try the sauce again with some different veggies for them.
That kind of rating from the kids for a new food is pretty good, I say.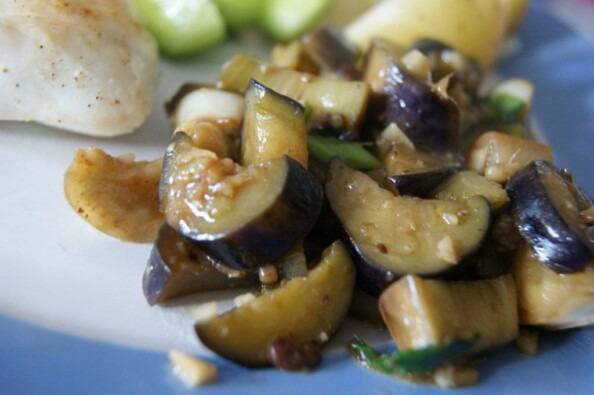 Chinese Style Eggplant
Adapted from The Bitten Word
Serve 4 as a side dish.
To turn this into a main-dish recipe, double all the ingredients except the oil and the eggplant, and add one recipe of Roasted Tofu when you add the oyster sauce mixture.
ingredients
1 lb eggplant, preferably Asian eggplant
4 large cloves garlic
4 tsp minced fresh ginger
4 Tb rice bran oil, divided
1 tsp chinese salted black beans
1 tsp dry sherry
1/2 tsp chili paste, or more, to taste
1 Tb oyster sauce OR Lee Kum Kee Vegetarian StirFry Sauce
1/2 cup water or broth
2 green onions, sliced thin
instructions
Chop the salted black beans roughly and place in a little bowl or ramekin. Cover with the sherry and soak while you prepare the rest of the ingredients.
Trim and slice the eggplant into slices about 1 cm thick. I usually cut the eggplant lengthwise first, so the slices are shaped as half-moons, but if the eggplants are very thin, you can slice them into coins.
Have everything ready to go before you start the stirfry. The garlic and ginger can be put together in a small bowl; the oyster sauce and chili paste in another; the black beans and sherry in another; the green onions on their own.
Heat a large skillet or wok over high heat. Add 2 -1/2 Tb of the oil and heat until shimmering. Add the prepared eggplant and cook, stirring constantly, until the eggplant appears slightly softened and you see a few brown spots, about 2 minutes.
Clear a space in the middle of the wok or skillet, add the remaining oil along with the garlic and ginger. Stir and fry these aromatics just in the middle of the pan until they are fragrant, about 30 seconds. Add the black bean mixture and stir everything together (garlic, ginger, eggplant, black beans).
Add the oyster sauce mixture and the water or broth. (This is where you would add the roasted tofu if you were making this a main-dish meal.) Stir well to combine. Let simmer, stirring frequently, until eggplant is softened (but not mushy and disintegrated) and liquid is mostly absorbed (and tofu, if using, is heated through). Stir in green onions and serve immediately.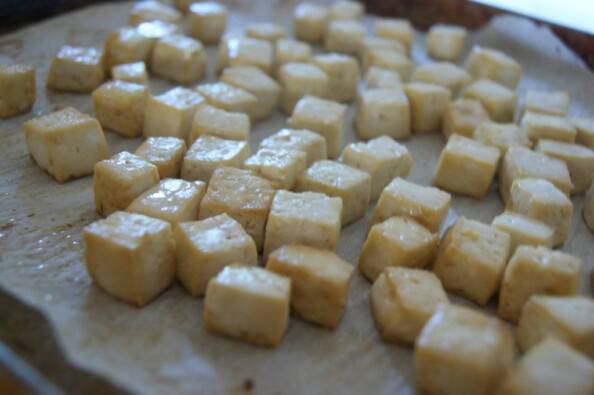 Crispy Roasted Tofu
Serves 4 in a stir fry
A favourite recipe of my cooking classes students and my children, this will turn many a confirmed tofu hater into someone who will enjoy eating tofu.
ingredients
1 pound (about 1-1/2 blocks) medium or medium-firm tofu, Superior or Soyganic brands
1 Tb toasted sesame oil
½ tsp salt
instructions
Preheat oven to 400°F.  Rinse and drain tofu.  Slice into small cubes.  Place on a parchment-lined baking tray.  Drizzle with the 1 Tb sesame oil and sprinkle with the salt.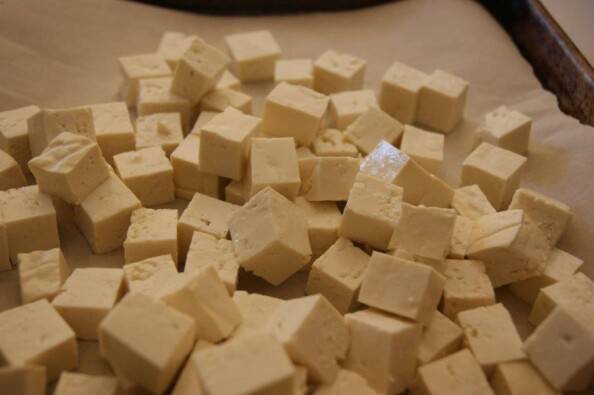 Use the edges of the parchment to gently lift, flip and turn the tofu around so to coat each piece as evenly as possible with the oil and salt.  Lay the parchement flat again and use your hands to gently spread out the tofu into an even layer, with no tofu pieces touching each other, if possible.
Place in the oven, on the bottom shelf, and bake for 20 to 30 minutes, rotating the tray once during cooking, until the tofu is light golden and turning crispy in spots.  Do not over-cook. The tofu will dry up and shrivel once it cools if you over-cook it. Remove from oven and set aside.
Eat as a snack, with or without a dipping sauce, or use in a stir fry or noodle dish. Roasted Tofu is ready to eat and ready to use. It can be kept in a sealed container in the fridge for up to 4 days.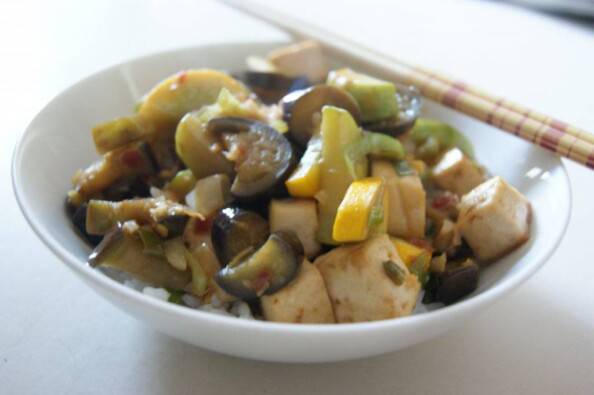 Categories:
Appetizers
,
Asian
,
Asian Foods
,
Asian Vegetables
,
Cooking in Season
,
Dinner Solution
,
Fall / Winter
,
Feature Ingredients
,
General
,
Heidi's How-To
,
Late Summer / Early Fall
,
Local Harvest
,
Locavore Gone Loca
,
Recipes
,
Sides
,
Technique technique technique
,
Vegetarian