Mapo Tofu | Best Beef Stirfry | Chinese Cookbook Giveaway
September 9, 2016
Two excellent Chinese recipes for the Mid-Autumn Festival, these full-flavoured yet accessible dishes will surely make it into your regular rotation. Read on for my full cookbook review and detailed recipes.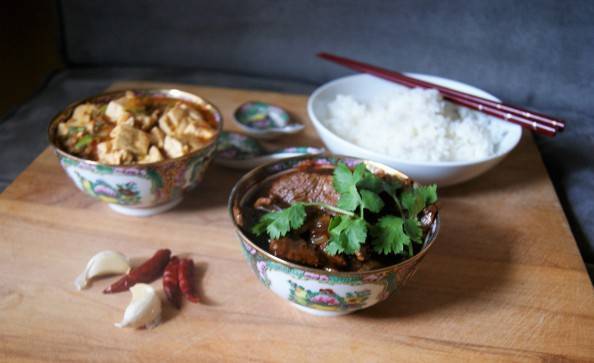 UPDATE: COOKBOOK GIVEAWAY NOW CLOSED
[Disclaimer: I was given a copy of the cookbook Phoenix Claws and Jade Trees by the publisher Clarkson Potter for the purposes of this review and giveaway, but all opinions are my own.]
Filed under super interesting things I learned this year: the Mid-Autumn Festival is the second most important celebration after New Year in the Chinese holiday calendar. The celebration involves family members gathering for a big feast on the harvest moon (falling this year on September 15th).
This event combines all of my favourite things: cooking celebratory foods, feasting, family gatherings, and fun food events in September.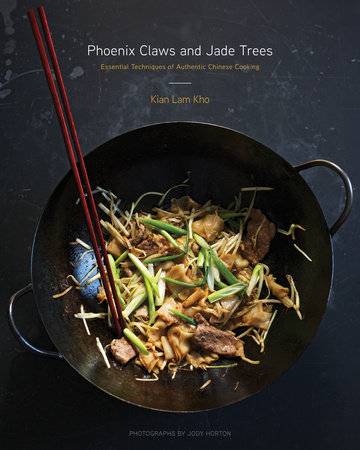 Cookbook Review
In preparation for this awesome new-to-me holiday, I delved into a comprehensive Chinese cookbook: Phoenix Claws and Jade Trees by Kian Lam Kho.
This cookbook honestly blew me away. I did not think there could be any more comprehensive book on Chinese ingredients than Asian Ingredients by Bruce Cost, but Phoenix Claws may prove me wrong. It is in-depth, well-explained, gorgeously photographed, with a wonderful touch of whimsy that brought the culture of Chinese cuisine to life for me.
Chapter headings like "Harnessing the Breath of a Wok" and "Enriching with Smoke" played against rigorous technical descriptions of (for instance) the five main types of stir-frying. From my readings and recipe testings of his cookbook, I feel that the author provides excellent guidance for those new to Chinese cooking, yet at the same time brings excitement and challenge to someone, like myself, who is already familiar and comfortable with a range of Asian ingredients and cooking techniques.
For the purposes of this review, I tested several recipes in the book. I found them to be very easy to follow, with precise and accurate instructions. All the recipes turned out well, and I am posting two of them below. In order to give as honest a review as possible, I chose to post recipes that represented opposite feelings: one that I found to be an absolute winner, and one that could (in my opinion) do with a few tweaks.
That said, this cookbook so far delivers in all the respects that I look for in a good cooking manual: well-crafted recipes, easy-to-follow instructions and descriptions, and an inspirational writing style. The author is obviously excited by his chosen subject!
In exchange for this review, Clarkson Potter will send one of my readers a copy of the cookbook!! Full giveaway rules and description after the recipes.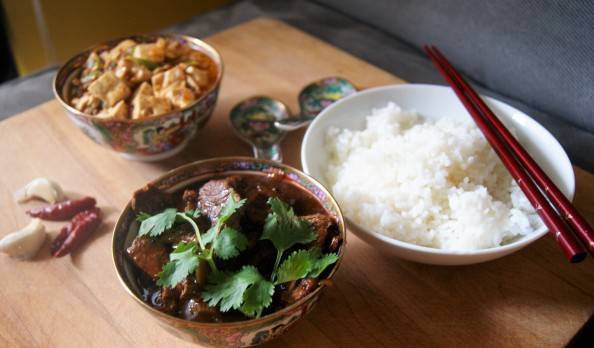 BEST BEEF STIR FRY (STIR-FRIED BEEF WITH BLACK PEPPER)
Serves 4.
This recipe was a stand out! Will make a again, for sure, and will likely make it into my regular rotation. Delicious!
The beef stir fry had a Western twist with the onions and black pepper, but still a definitively Chinese flavour profile from the oyster sauce, dark soy, and ginger.
Heidi Tweaks: I would reduce or leave out the black pepper next time, only because the high amount used in this recipe irritated my stomach.
I would also reduce the amount of oil used.
The sauce was very flavourful and very ample – in my opinion this could easily extend to a full pound or more of steak, plus some green vegetables if desired. I would also be interested to try this with a cheaper cut of steak, such as strip loin or sirloin.
Velveting Mixture
15 ml (1 Tb) Shaoxing cooking wine (I used dry sherry as recommended)
5 ml (1 tsp) soy sauce
5 ml (1 tsp) tapioca starch
340 g (12 oz) beef tenderloin, cut against the grain into 1/8-inch slices
Sauce
30 ml (2 Tb) oyster sauce (my preferred brand is LKK Premium)
15 ml (1 Tb) dark soy sauce
30 ml (2 Tb) Shaoxing cooking wine (or dry sherry)
5 ml (1 tsp) sugar
80 ml (1/3 cup) beef stock (I used chicken stock)
10 ml (2 tsp) tapioca starch
125 ml (1/2 cup) vegetable oil
6 thin slices fresh ginger
2 garlic cloves, thinly sliced
1 medium onion, cut into 1/8-inch thick slices (I halved the onion first)
15 ml (1 Tb) black peppercorns, coarsely cracked
Fresh cilantro sprigs
Instructions
In a bowl, combine all the ingredients for the velveting mixture and mix well. Add the beef and mix well. Let marinate for 20 minutes.
Mix the sauce ingredients together in another bowl.
Heat the vegetable oil in a wok (I used a large skillet) over high heat until it begins to shimmer, about 350 F. Add the beef to the wok and quickly stir fry for about 1 minute, until the beef is 3/4-done or the exterior has turned brown. Remove the beef from wok (with slotted spoon) and place it in a skimmer (or sieve) set over a bowl to drain off the excess oil. Pour the oil out of the wok into another bowl, and quickly rinse the bottom of the wok, scraping off any residue that's stuck there. (I actually kept the beef residue in my stir-fry – that is powerful umami in the form of a fond and it deglazed quite nicely once I added the sauce ingredients.)
Dry the wok and return it to the heat. Pour in 2 tablespoons of the reserved vegetable oil (from cooking the beef) to the wok. Add the ginger, garlic, and onion to the wok. Stir-fry until fragrant, about 30 seconds. Return the beef to the wok and add the black peppercorns. Stir-fry for about 15 seconds, then add the sauce mixture. Cook until the sauce thickens, about 2 minutes. Serve garnished with cilantro springs.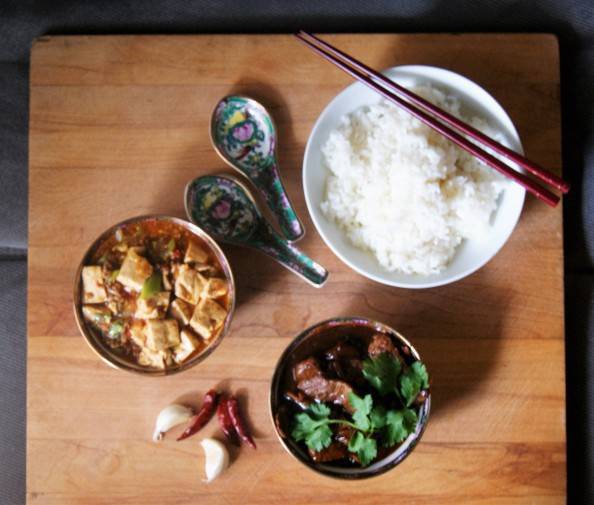 MAPO TOFU
Serves 6.
This was very good, but I would make it again only with significant tweaks. This has nothing to do with the quality of the recipe, and everything to do with my personal taste.
Heidi Tweaks: First of all, I do not like Sichuan peppercorns, despite having tried to like them over 20 years, so I would cut way down or leave them out. (Making it, I know, not really Mapo Tofu, but more like a Mapo-inspired Tofu. I can live with that.)
Secondly, I found this way too spicy for my taste, so I would adjust the spices down (see above).
Lastly, I was missing the garlic. The only allium called for in this recipe are Chinese leeks, which are hard to come by, even in Chinatown. I would make this again with minced cloves of garlic, and garlic chives for garnish.
On the plus side, this recipe uses ample amounts of Chinese fermented bean, which is one of my favourite condiments EVER. Must have in any kitchen!!!
Ingredients
450 g firm tofu, cut into 1/2-inch cubes (I used medium tofu, Superior brand – my reasons described eloquently here)
pinch of salt
15 ml (1 Tb) vegetable oil
113 g (4 oz) lean ground beef (I used ground pork because that's what I prefer in Chinese cooking)
Chile Bean Paste Oil
60 ml (1/4 cup) vegetable oil
15 ml (1 Tb) minced scallion whites
15 ml (1 Tb) minced ginger
15 ml (1 Tb) Chinese red chile powder (I ground dried Chinese chiles in my spice grinder)
2.5 ml (1/2 tsp) Sichuan peppercorn powder (I ground them in my spice grinder)
30 ml (2 Tb) Sichuan chile bean paste (I used this one but there are many brands available)
15 ml (1 Tb) fermented black beans, coarsely chopped
Sauce
180 ml (3/4 cup) chicken broth
30 ml (2 Tb) Shaoxing Cooking wine (I used sherry)
15 ml (1 Tb) soy sauce
10 ml (2 tsp) tapioca starch
2 Chinese leeks, cut crosswise on the diagonal into 1/2-inch thick slices
Instructions
Put the tofu in a medium saucepan and add 5 cups of water and the salt. Bring water to a boil and then cook gently over medium heat for 5 minutes. Turn off the heat and let the tofu sit in the water.
Heat a wok (I used a large skillet) over high heat until a droplet of water sizzles and evaporates immediately upon contact. Swirl the vegetable oil around the bottom and sides of the wok to coat it evenly. Add the ground beef and stir-fry for about 3 minutes, or until the beef had lost its pink colour and had browned slightly. Remove beef from the wok and transfer to a bowl.
To make the Chile Bean Paste Oil, heat the vegetable oil in the wok (or skillet) over medium heat, until it is just starting to shimmer. Add the scallion whites and ginger to the wok and stir-fry for about 30 seconds. Add the chile powder and Sichuan peppercorn powder and stir fry about 30 seconds, or until the oil has turned red. Add the chile bean paste and fermented black beans, and stir-fry for another 30 seconds.
Drain the tofu and add it to the wok. Return the cooked ground beef to the wok. Stir in all the sauce ingredients. Simmer over medium heat about 3 minutes, until the tofu has absorbed the flavours (I found that I needed a bit more stock, and that I simmered it for 5 to 7 minutes).
In a small bowl, mix the tapioca starch with 2 Tb of water to make a slurry. Stir it into the broth and cook until the broth has thickened, about 1 minute. Add the leek slices and simmer about 30 seconds more, until they just turn bright green (I did this for 2 minutes). (I also added a bit of salt at the end).
COOKBOOK GIVEAWAY RULES
This giveaway is open to all residents of Canada who are 18 years of age or older. No purchase necessary to enter.
Enter the Giveaway in any of the following ways: comment on this blog post, like my facebook page, or tweet to @chefheidifink with the hashtag #pheonixclawscookbook
Giveaway will run from September 9th to October 2nd at 12:00pm. Winner is chosen at random.
Winner will be contacted via email and given 48 hours to respond. If not, a new winner will be chosen. Email addresses and personal information will never be shared with a third party.
Prize value is approximately $35 CDN. Prize provided by book publisher Clarkson Potter
ABOUT KIAN LAM KHO
Kian Lam Kho is a food writer, cooking teacher and food consultant specializing in Chinese cuisine. He is the creator of the James Beard Foundation Awards nominated Chinese home cooking blog Red Cook, and his first cookbook on Chinese cooking techniques, Phoenix Claws and Jade Trees: Essential Techniques of Authentic Chinese Cooking, is the recipient of the Julia Child First Book Award from IACP (International Association of Culinary Professional) in 2016. he was the consulting chef in menu concept for restaurants such as Lotus Blue in Soho, NYC. He lives in New York City and teaches Chinese cooking at the Institute of Culinary Education and the Brooklyn Kitchen. He appears regularly as speaker and discussion panelist on Chinese cuisine and its history. He is also a frequent guest chef at various restaurants.
You May Also Like These Recipes: