Anna's Korean Green Beans
August 29, 2015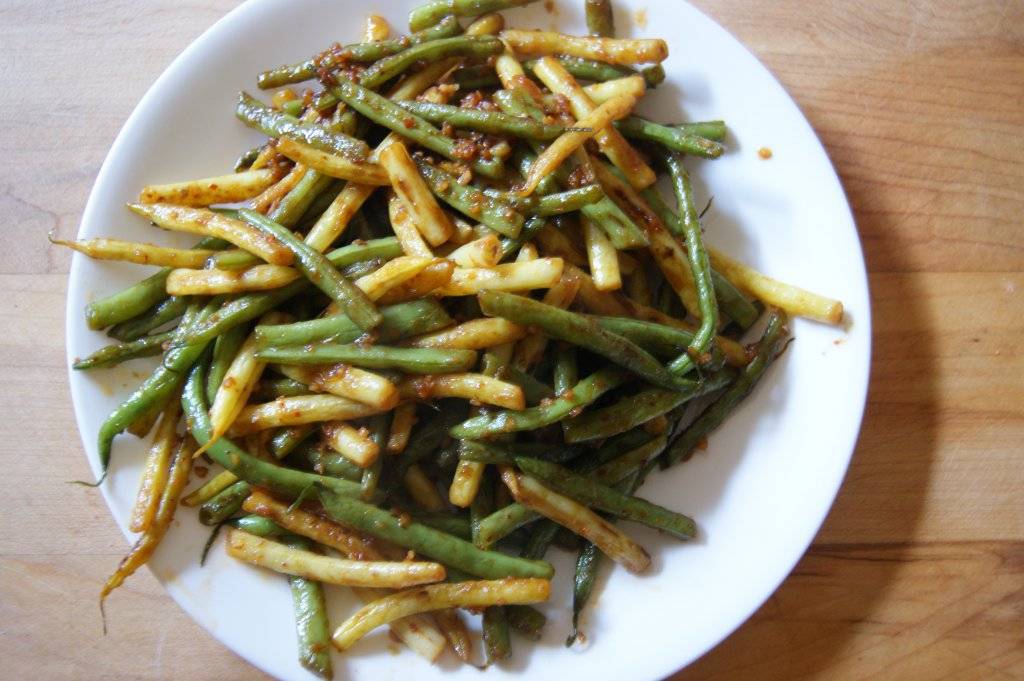 I have not yet managed to create a green bean dish that elicits the sighs of bliss, the groans of satisfaction, and the inevitable requests for the recipe that my friend Anna's Korean green beans have. Yes, I very much like my recipes for garlic dill runner beans, or Nonna's green beans. But nothing compares to these.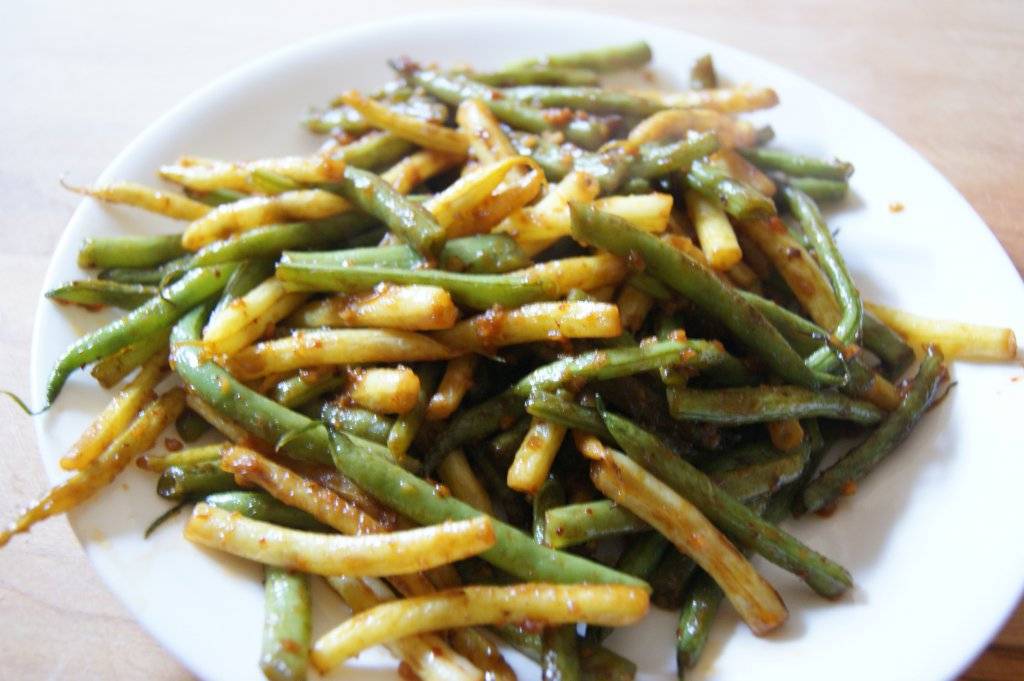 I'm not one to feel bad for being out-cheffed by my very own friends. Rather, it's a favourite experience of mine: someone feeds me delicious food that I didn't have to cook myself, and I get to learn a thing or two in the process.
Anna makes this recipe frequently, usually for large dinner parties, and everybody, and I mean every. single. person. asks for the recipe. Her Korean green beans are that good. Of course, Anna, being a natural cook, doesn't use a recipe. She provides a very loose guideline, and best of luck to the rest of us.
So, I made it my mission this month to translate Anna's guidelines into a specific recipe. Which meant I had to eat Korean green beans many times, a hardship I was willing to endure for the sake of my blog readers. I don't know if my recipe has the exact je-ne-sais-quoi of Anna's cooking-by-feel Korean green beans. But I do know that this recipe is very good. So good that I've heard sighs of satisfaction and requests for the recipe.
Anna's Korean Green Beans
Serves 4
These beans are a little bit spicy, but can be adjusted to suit your taste by either increasing or decreasing the amount of red chili flakes. The white vinegar is closest supermarket option in colour and taste to Korean vinegar – crisp, clean, and tangy. Rice vinegar is acceptable in a pinch.
ingredients
1 lb green or yellow wax beans, or a mixture
2 Tb cooking oil, either rice bran, safflower, or peanut oil
1/8 tsp salt
a few tablespoons of water, if necessary
4 – 6 cloves garlic, peeled and finely minced
1/2 tsp red chili flakes, or to taste
1-1/2 Tb soy sauce, or more, to taste
1-1/2 Tb white vinegar, or more, to taste
instructions
1. Cut the stem end off the beans. Smaller beans can be left whole, and larger beans can be cut in half. Alternatively, cut all the beans into 2 cm lengths. Place in a bowl.
2. Have all the ingredients prepped and measured into bowls or ramekins before you start cooking.
3. Heat a large skillet over medium-high heat. Add 1 tablespoon of the oil and swirl to coat bottom of pan. Add the prepared beans and the salt, and cook, stirring, for at least a minute. Cover the pan and continue to cook, stirring frequently, until beans are browned in spots and crisp-tender. You may need to turn down the heat as time goes on, and you will probably need to add a few tablespoons of water to the pan to prevent burning and speed the cooking process. This will depend on the size of your pan and the strength of your stove.
4. Once the beans are browned in spots and crisp-tender, clear a spot in the middle of the skillet, add the second tablespoon of oil and then add the chili flakes and garlic to this oil. Saute until fragrant, about 10 seconds, and then stir everything well to incorporate the garlic and chili flakes evenly with the beans. Make sure everything is well-mixed and the beans are coated with fragrant garlic. This will take about a minute, which should be enough time for the garlic and chili flakes to finish cooking.
5. Now add the soy sauce and white vinegar. It should sizzle on contact. Stir to incorporate evenly with the green beans. Taste a bean and add more soy sauce (salty taste) or vinegar (tangy taste) as you desire. Serve beans immediately.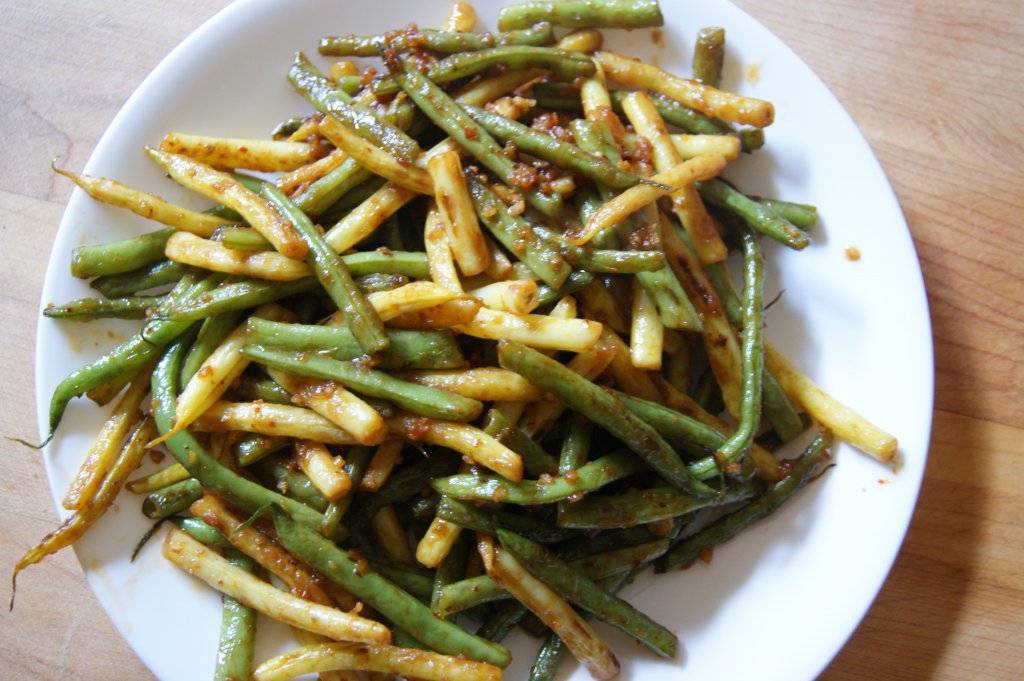 You May Also Like These Recipes:
Categories:
Appetizers
,
Asian
,
Asian Foods
,
Asian Vegetables
,
Cooking in Season
,
Dinner Solution
,
Feature Ingredients
,
Foodgasm!
,
Heidi's How-To
,
Late Summer / Early Fall
,
Local Harvest
,
Locavore Gone Loca
,
My Life in Food
,
Quick and Dirty
,
Recipes
,
Sides
,
Simple Summer Meals
,
Vegetarian