The Simple Recipe that my Family Thinks is All Gourmet
August 30, 2012
Since I have started documenting my simple summer meals, I realize that I make Crispy Broiled Chicken quite frequently. It's so common around here and so well-loved that I've even posted about it once before.
I make Crispy Broiled Chicken because it guarantees super-crispy skin and moist meat on the very same piece of bird. It's my favourite method for cooking chicken, and especially for cooking chicken wings. Crispiest, tastiest, salt-crustiest wings ever.
I recently showed this wing-cooking method to my sister, who was intensely dubious by the lack of any honey-garlic marinade. In fact, I think she even used the words "that's lame." But after her son chose my cold chicken wings over popcorn for family movie night she publicly declared (on facebook):
"I don't know why I even bothered to argue, but for the record, I would like to officially declare that my sister, Chef Heidi Fink, is infinitely wiser than me when it comes to cooking. The chicken wings were by far superior when done her way *hangs head in defeat, while rubbing full belly*"
I am writing this whole post just to use that quote, actually. How often do sisters admit they are wrong and you are right? Victory is very sweet.
The other reason I like to make Crispy Broiled Chicken is that it practically cooks itself while you are busy cleaning up the kitchen, preparing some accompanying vegetables, or reading a novel on the loveseat you placed in the dining room for just this purpose. Although the chicken takes about 45 minutes to cook, any hands-off cooking like that is easy in my books.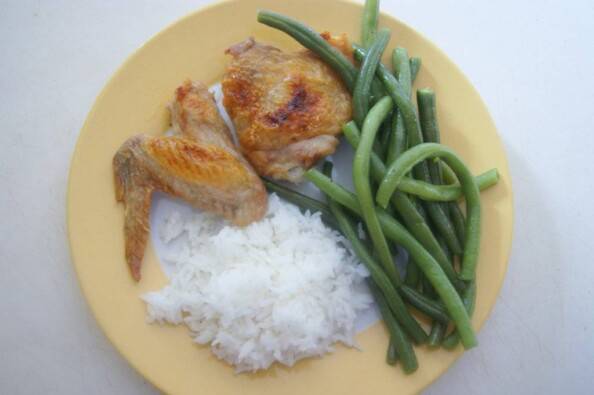 Crispy Broiled Chicken, steamed jasmine rice, Nonna's green beans
This meal was simpler than all the other summer meals I have blogged about so far. As such, it represents the most common type of meal we make: simple meat or fish, rice or quinoa, one vegetable.
However, I want to make special mention of the green beans. This is a recipe (if you can even call it a recipe) that my husband learned from his Italian Nonna: perfectly steamed green beans, fruity extra virgin olive oil, sea salt, fresh ground pepper. In a word, perfect.
KID RATING (two boys, ages 7 and 11, plus three cousins who ate the chicken only, ages 13, 10, and 6)
Crispy Broiled Chicken – always a hit, loved by all the kids in my test group, and the kids will eat all parts not just the breasts
Steamed jasmine rice with butter or coconut oil – likewise always a hit
Nonna's Green Beans – loved by 11-year-old, but eaten very grudgingly by 7-year-old
Crispy Broiled Chicken
Serves 4 to 6
I have posted already about this recipe here. But I have made a few amendments since then, especially with the timing.
ingredients
4 lbs bone-in, skin-on chicken parts (either cut from a whole chicken, or use thighs and drumsticks, or wings)
sea salt
instructions
Preheat oven to 400 F. Make sure the top rack is in the lower-middle position. Find a backing sheet or broiler pan with low sides. Cover with parchment.
Place the chicken pieces (usually: two thighs, two drumsticks, two whole breasts, and two full wings OR four thighs and four drumsticks) on the prepared baking sheet. Sprinkle the chicken generously on both sides with salt. Arrange the pieces so that they are skin side down and so they are not touching each other.
Place chicken in the preheated oven. Bake chicken for about 25 minutes or so. Rotate the pan front to back. Use tongs to flip the chicken skin side up. Now, turn the broiler on high or 400 F. On most ovens, this will have the affect of turning off the bottom element, which is what you want. Don't move the rack or anything. Keep the chicken on the lower-middle rack. It should be at least 12 inches away from the broiler. Keep cooking for 10 to 25 minutes more, until the skin is nice and golden brown and crispy, and the chicken is juicy and cooked. Bigger parts will take more time to cook than smaller ones. I find it's best with this recipe to over-cook rather than under cook. The meat (especially the dark meat) will only get more tender and the skin more crispy.
Very Important for wings and drumsticks: I flip these several times during the second half of the cooking to crisp the skin evenly.
For all chicken parts: if you want even crispier skin, you can move the rack up the highest spot, right under the broiler and broil for a a minute or two right at the end.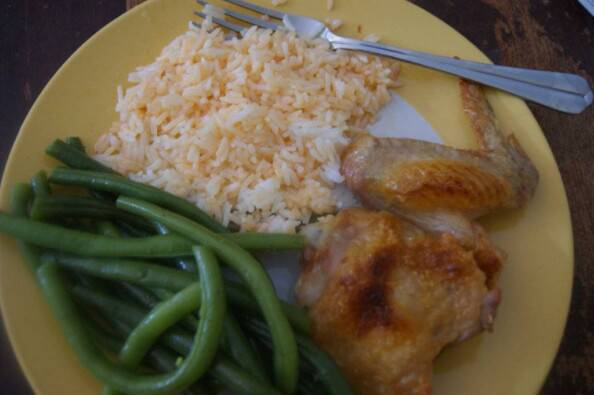 My Crispy Chicken meal after I have added Bali Sun coconut oil and Frank's Hot Sauce to my steamed jasmine rice
Nonna's Green Beans
Serves 4
This yummy dish defies formal recipe writing, but I am writing it up anyway because it's so good. It pays to use a really good quality olive oil for this dish.
I prefer boiling the beans to steaming them because boiling tenderizes the beans nicely.
ingredients
1 to 1-1/2 lbs farm fresh green beans
sea salt to taste (you can use fleur de sel for the finishing step)
freshly ground black pepper
1 Tb fruity and flavourful extra-virgin olive oil
instructions
Trim the green beans. I usually just cut the tops (stems) off and leave the tails, but you can trim both ends if you like. I also like to leave the beans long but feel free to cut them into shorter lengths. Adjust the cooking time, though, if you cut them short.
Bring a large pot of water to a boil. Add 1/2 tsp salt. Drop in the prepared green beans and stir. Return to the boil, reduce heat to medium and simmer beans for several minutes, until tender with a bite of crispness, and still nice and green. Depending on the type, age, and size of your beans, this can take anywhere from two minutes to twelve minutes. Drain in a sieve and let sit for about 10 seconds to steam off excess moisture.
Place warm dry beans in a serving boil. Sprinkle with olive oil, salt and pepper and use tongs or a spoon to mix well. Serve immediately. Leftovers can be mixed with lemon juice and herbs for a cold salad snack.
Categories:
Cooking in Season
,
Cooking with Kids
,
Dinner Solution
,
Foodgasm!
,
Gluten Free
,
Heidi's How-To
,
Kid Friendly
,
Late Summer / Early Fall
,
Local Harvest
,
Locavore Gone Loca
,
Meats
,
My Life in Food
,
Quick and Dirty
,
Recipes
,
Sides
,
Simple Summer Meals