Apricot Dumpling Crunch
August 21, 2010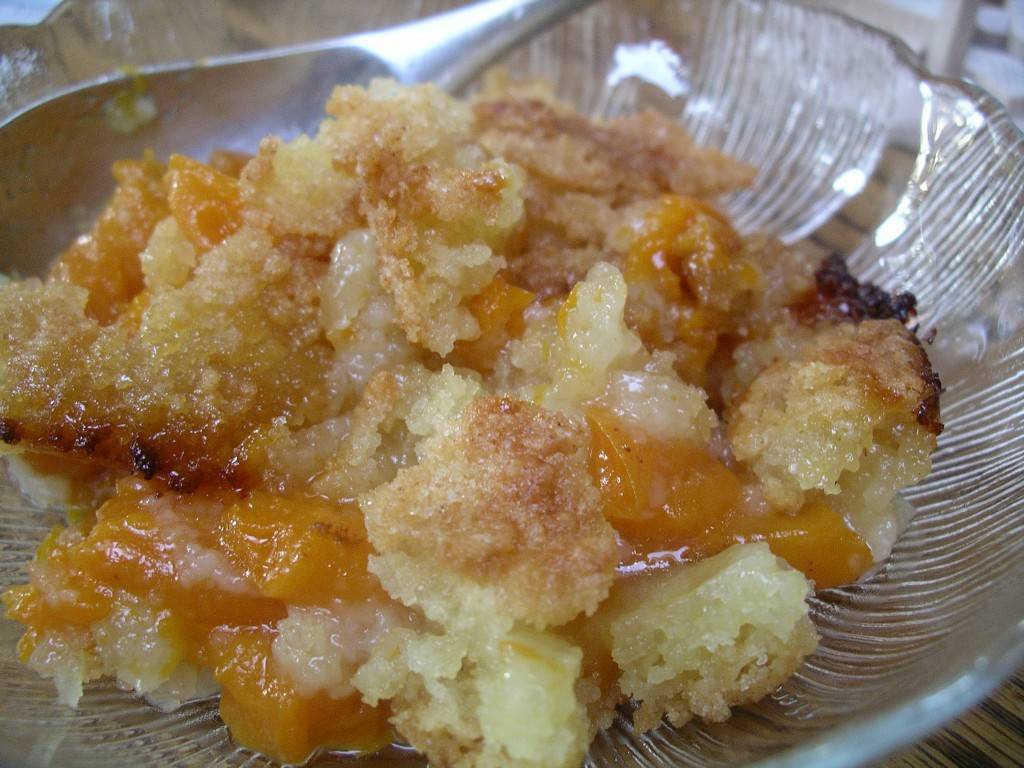 This is kind of like a fruit crisp, except better. It's unique in both texture and flavour, without all those nuts and flakes that sometimes take away from the pure fruit-and-topping experience. Make it today and enjoy a delicious buttery dumpling-crossed-with-cookie topping over juicy tart apricot* filling. Mmm mmm!
I found the original version of this unusual recipe in my tried-and-true copy of The Good Cook: Fruits. I fell in love with the old-fashioned feel of the recipe and the taste of its cookie-style topping cooked to dumpling-like softness in flavourful fruit juices. Every bite is both comforting and addictive, a combination of soft and firm, sweet and tart, crunchy and juicy.
I have tinkered with the recipe quite a bit, but the basic technique I haven't changed.  Like I said, it's an unusual recipe. But that's what makes it so damn delicious.
*Also fantastic with prune plums!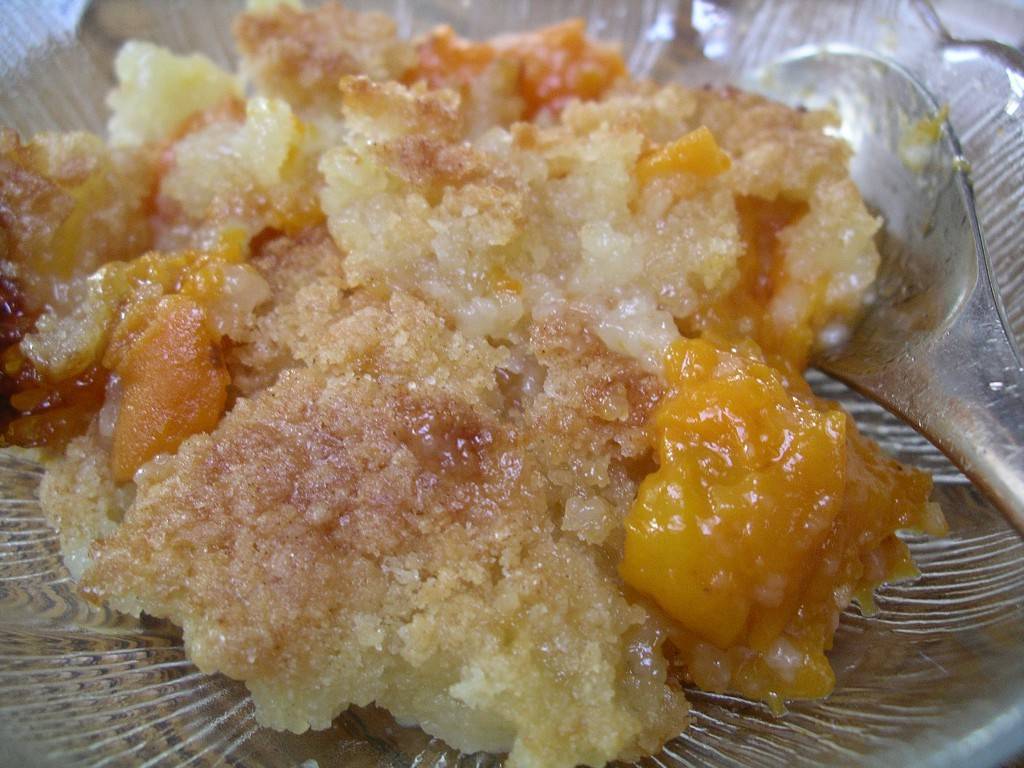 Apricot (or Plum) Dumpling Crunch
Makes one 9 x 13 inch pan, to serve 8 to 12 people
Fruit Filling
32 whole ripe apricots OR prune plums, pitted and cut into eighths (about 8 cups chopped apricots)
1/4  to 1/2 cup granulated sugar
Crunchy Topping
1 -2/3 cups flour (you can use a mixture of all-purpose and whole wheat, if you like)
1 tsp baking powder
1/4  tsp salt
1 cup granulated sugar
1/4 cup light brown sugar or panela sugar (or use more granulated sugar)
2 large eggs
1/4 tsp almond extract or 1/2 tsp vanilla extract
3/4 cup unsalted butter, melted
Preheat oven to 350 F.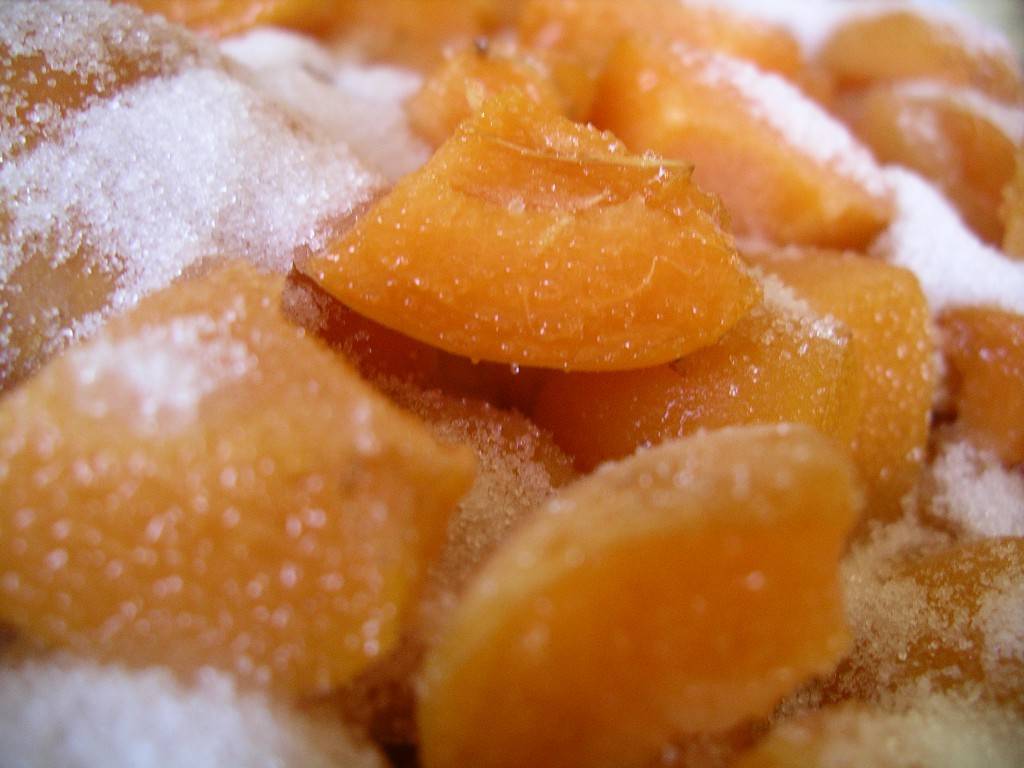 Filling
Place the apricots in a 9 x 13-inch glass pan (lasagne pan). Sprinkle with sugar and stir to mix. I sometimes make this in two 8×8-inch glass pans for more even cooking.
Topping
In a large bowl, whisk together the flour, baking powder, salt and two sugars until evenly mixed.
In a small bowl, beat the egg(s) until evenly-coloured. Add the almond or vanilla extract, if using, and beat again to mix evenly.
Pour the egg mixture into the dry mixture and use a fork or your hands to mix the two into a crumbly pile. (See isn't that strange?!) I find I have to use my hands for this one, otherwise the egg likes to clump up too much. You should have a crumbly mixture with crumbles somehwat bigger than sand (see below).
Assembly
Sprinkle the crumbly flour-egg mixture over the prepared apricots, making sure to scatter it evenly over the top. Slowly pour the melted butter over the topping to cover it as evenly as possible (a few dry spots will remain – see below). (Even more strange, right? But trust me, it will be delicious!)
Place the pan into the oven an bake for 45 to 55 minutes, rotating the pan once during the cooking time, until the topping is golden brown and crispy-looking, and the apricots are bubbling up all juicy and tender, like so:
Remove from oven and let cool on a wire rack for a bit. Serve warm or at room temperature, on its own or with some whipped cream. Yow-za!