Blueberry Buckle Bars with Lemon
August 12, 2012
I made my first blueberry buckle last August, the same day that I picked up 110 pounds of blueberries from a local farm. The buckle was buttery and dense, like a pound cake, loaded with berries, and topped with a sweet streusel. We enjoyed it but, as always when we eat these kinds of things, I thought the buckle had too much cake for the amount of berries involved. I always want more fruit, and this time I also wanted more streusel.
So I revisioned the recipe, imagining the dense cake as a base to hold deliciously absurd quantities of berries and streusel. I had in mind something like blueberry-packed variation on a date square.
See that? Doesn't it look SO good?! I had a dessert vision.
After trying out only a few variations on streusel types and berry quantities, it worked! Let this be a lesson to you in never giving up the Dessert Dream. No matter how much extra fruit and crazy toppings you want to include, you can always make it work.
After making this recipe a few times now I have decided that what I like most about Blueberry Buckle Bars is that they pull double duty. Simple enough for a snack with coffee or in a lunchbox, but delicious and buttery enough to serve as a dessert (especially with some ice cream!)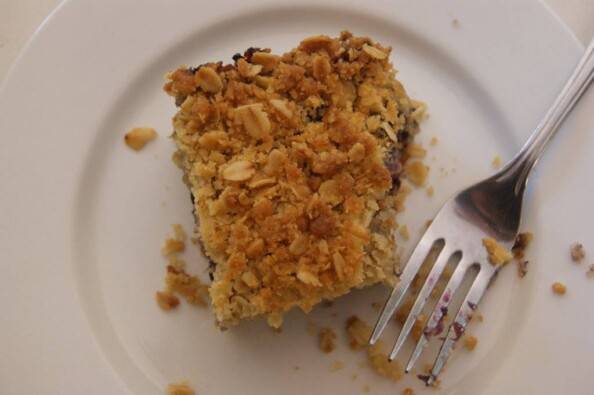 BLUEBERRY BUCKLE BARS WITH LEMON
Serves 8 to 10.
A cross between a date square and a blueberry buckle (yellow cake), these buckle bars are a heavenly treat. Serve as a brunch/lunch treat or a simple summer dessert with ice cream.
This recipe is best when made with fresh blueberries; if using frozen berries, bake the cake for at least 20 minutes longer, shielding the topping from burning by covering the bars with a long piece of foil.
Streusel Topping
1½ cup all-purpose flour (7½ oz)
1 cup packed light brown sugar
2 Tb granulated sugar
1/3 tsp salt
1 -1/2 cups old-fashioned rolled oats
finely grated zest from 1 lemon
3/4  cup + 2 Tb unsalted butter, softened but still cool
Cake Base
1½ cups all-purpose flour (7½ oz)
1½ teaspoons baking powder
2/3 cup unsalted butter, softened
2/3 cup granulated sugar
½ teaspoon salt
Finely grated zest from 2 lemons
1½ teaspoons vanilla extract
2 large eggs, room temperature
Berry Middle
5 cups fresh blueberries (20 ounces), picked over
Instructions
Preheat oven to 350 degrees. Butter an 9 x 13-inch pan. Feel free to line bottom with parchment or waxed paper as well.
To make the streusel: Mix flour, both sugars, salt, lemon zest and oats together until completely blended and no brown sugar lumps remain. Add butter and mix (either with your hands or a beater on low speed) until completely blended and mixture looks lumpy. Set aside
Whisk flour, baking powder and salt together in small bowl to combine. In a separate bowl, cream together the butter, sugar and lemon zest until light and fluffy. (Do this either with a wooden spoon or with an electric mixer.) Beat in vanilla until combined, and then add eggs one at a time. Gradually add flour mixture, beating until flour is almost fully incorporated. Scrape bottom and sides of bowl with a rubber spatula, mixing until no flour pockets remain and batter is homogeneous; batter will be very heavy and thick.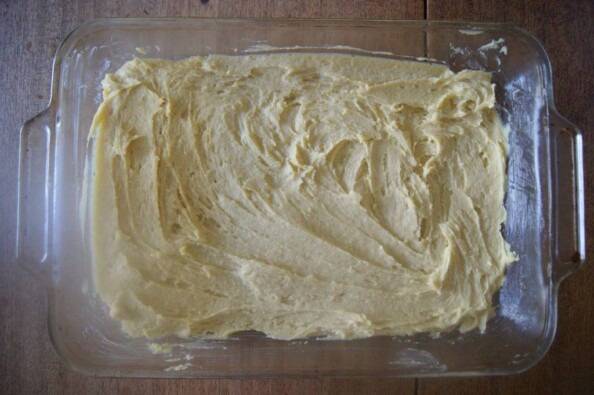 Transfer batter to prepared pan. Spread batter with rubber spatula, using a pushing motion, until the batter gets evenly to pan edges. Smooth the surface as best you can.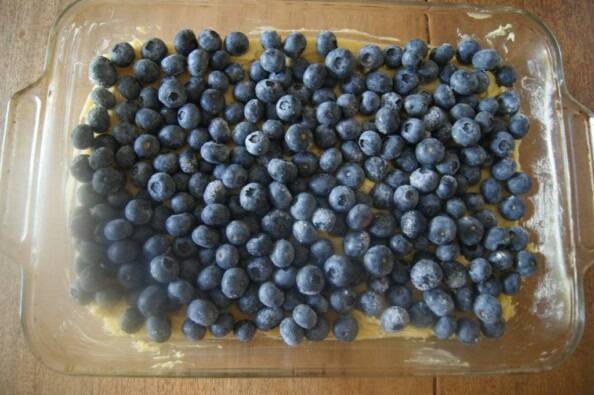 Sprinkle berries evenly over batter to cover it entirely with berries. Push or pat the berries every very gently to make sure they are anchored into the batter a bit. Sprinkle berries evenly with streusel topping and pat down gently.
Place pan in the oven. Bake for 25 minutes; rotate pan back to front. Continue cooking 25 to 30 minutes more, until streusel is deep golden brown and toothpick or wooden skewer inserted into center of cake comes out clean. If using frozen berries, the buckle will need to be left in about 20 minutes longer. in this case, cover the top with foil to prevent the streusel from burning.
Remove cake from oven and cool on wire rack until just warm or room temperature, at least 1 hour. Cut into squares and serve. Serve slightly warm or at room temperature.
Buckle bars can be kept for up to two days. Keep loosely covered with plastic wrap – enough so that the bars don't dry out, but not airtight otherwise the topping will get soggy.