Fire's Love, My Favourite Hot Sauce
October 26, 2010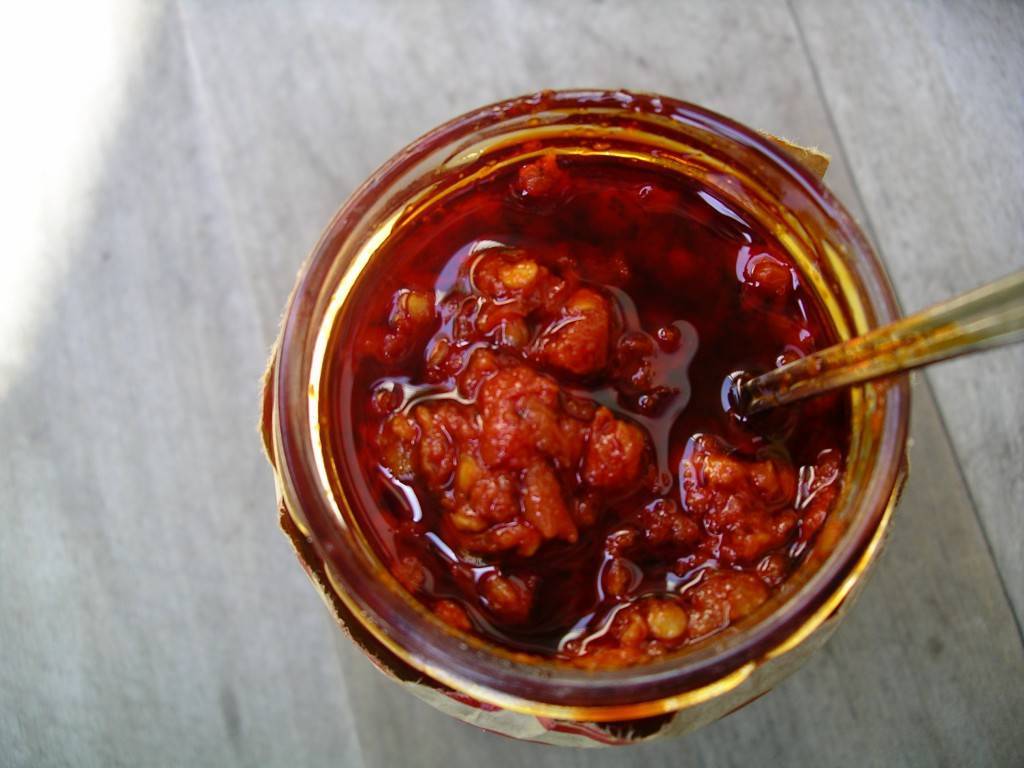 This post is for all of you out there who don't like hot sauce that this a) too vinegary, b) too flavourless and c) too hot.
I am a big fan of hot sauce, myself (and I even like the vinegary ones) but I do not like hot sauce that sacrifices flavour for screaming heat. Blech. For me hot sauce is as much about the rich chili flavour kick as it is about the tingling mouthfeel. For that reason, I like a hot sauce to be 'mild' enough so that I can really taste it, and flavourful enough so that I will really want to taste it.
There are several that meet my stringent hot sauce standards, but none so delicious as Fire's Love, otherwise known by its original name Fuoco d'Amore, and sometimes translated to 'Fire of Love'. (Either way, it sounds great, doesn't it?)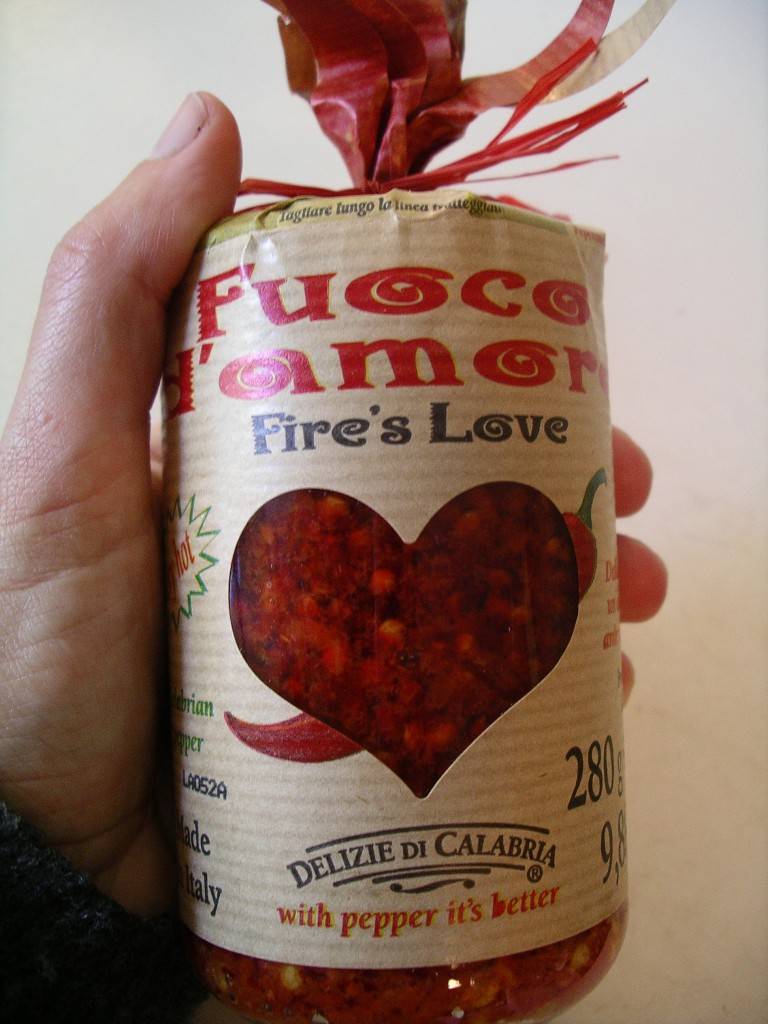 Made from a special variety of hot-and-sweet Italian pepper, roasted and blended with olive oil, Fire's Love tastes like an intensely rich roasted sweet pepper with an insanely pleasurable amount of chili heat. It is quite hot, but not so hot you can't enjoy the sweetness and flavour of the roasted chili. Also, there is no vinegar involved, only peppers, oil, and salt.
Fire's Love is thick and pasty, perfect for spreading, dipping and blending. I use it in all kinds of ways (scroll down to see) and almost every day. You can buy it at Choux Choux and at Charelli's. Keep it in the fridge, and make sure there is a film of oil covering the top of the chili paste (top the oil up, if you have to, by pouring some of your own olive oil in the jar).
Now for a few of the ways in which I use the delicious Fire of Love: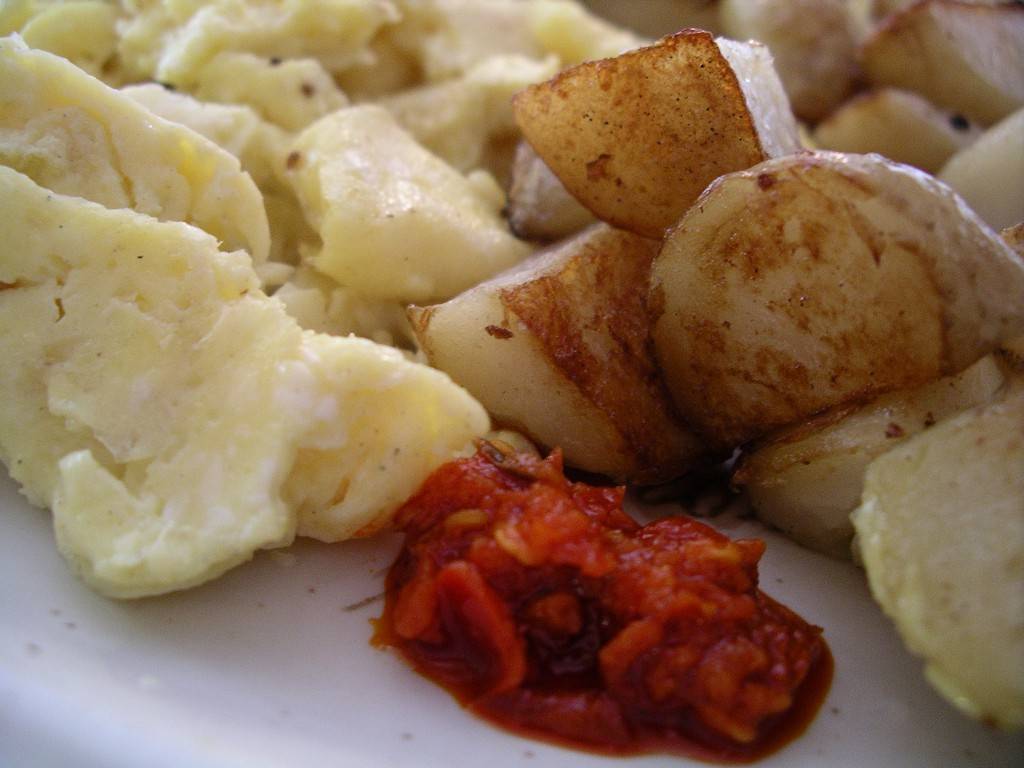 Fire's Love with potatoes and eggs (I have this as a meal more often that a Chef should admit)
Fire's Love on avocado toast for a quick lunch. (Speaking of lunch, Fire's Love is also to die for on Tuna Toast, Salmon Toast, Egg Salad Sandwiches, and even Peanut Butter Toast)
Fire's Love with ketchup on a burger bun. Top with burger patty of choice – beef, chicken, fish, veggie. 
Fire of Love ideas for which I have no photos:
-Mixed with butter on top of wild rice blend (again, also awesome with other grains, or on mashed potatoes)
-As a dip for roasted yam fries – this is killer! (For a less spicy dip, you can mix it with ketchup)
-On or in grilled cheese sandwiches or cheese toast
-Mixed into thick yogurt for a delicious side to all kinds of things, including baked potatoes, grilled meats, and roasted tofu
-A lovely addition to pizza or pizza toast
-A final kick to that pasta with garlic, broccoli and goat cheese
Really, Fire's Love is good anywhere you would want to use hot sauce. But remember, it is not thin and vinegary, so it doesn't match as well with Asian foods as Sambal Oelek does. Not to say that you can't use it, but it is a different type of thing: rich and sweet and slow-burning as opposed to sharp and spicy. Now get out there and try some. YUM
UPDATE – after I posted this, I discovered that Choux Choux was out of Fire's Love. Devastation! I've since checked with them and it looks like they will have a new shipment in before Christmas. And I've also since discovered that Fire's Love is available at Charelli's Cheese Shop and Deli and they do have some in right now.