International Food Bloggers' Conference Roundup
September 25, 2013
Saturday night, two days in, and I could not take one more bite of the perfect cassis ice cream at my table. My stomach was sore, my phone's ruinous U.S. roaming charges were looming, my pictures weren't turning out anyway, and… and…
A moment later, a photo of me taking a picture of my tablemates taking photos of our food showed up on the main page of Urbanspoon and we all Laughed Out Loud. I relaxed and instantly found that I did, indeed, have room for cassis ice cream and even room for bread pudding heaven with one bite of caramel-and-rum-soaked goodness. Sigh…
Welcome, my friends, to the Event that was IFBC 2013. Yes, the International Food Bloggers' Conference, where all good foodies go to find the extra room in their stomachs. We experienced moments of absolute taste bliss paired with incredible stimulation overload, learning sessions crammed with more information than we could immediately process and gift suites piled with more free food samples than we could conceivably carry. Three hundred bloggers, dozens of sponsors, back-to-back workshops, meals, and events, all in the Emerald City of Seattle.
It was, in a word, EPIC.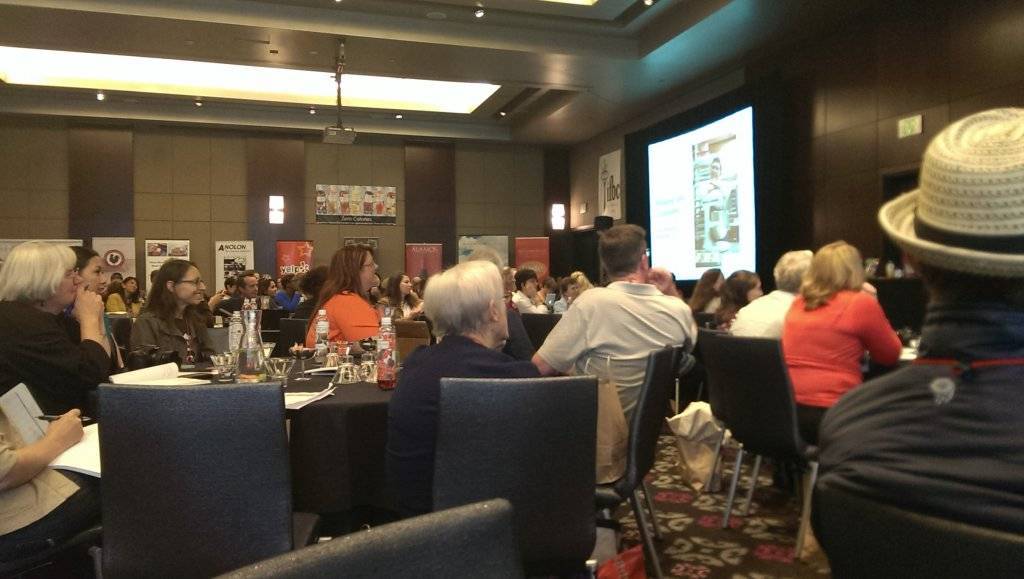 300 bloggers in one room
Having never been to a conference of this type before, I was not prepared. Neither for the level of food excellence nor for the numbers of sponsors wanting us to sample their products. Not for the sight of 300 bloggers in one room. And I was definitely not prepared for Sipping Caramel with Mescal.
(I am not making this up! One of the many, many, amazing food experiences of the weekend, Sipping Caramel was just that – homemade caramel thinned to sipping consistency with light cream and enough mescal to add a slight boozy smoky hit of perfection. To. Die. For. Thanks Hotcakes! And, seriously, I am not even sure that was my favourite food of the conference!)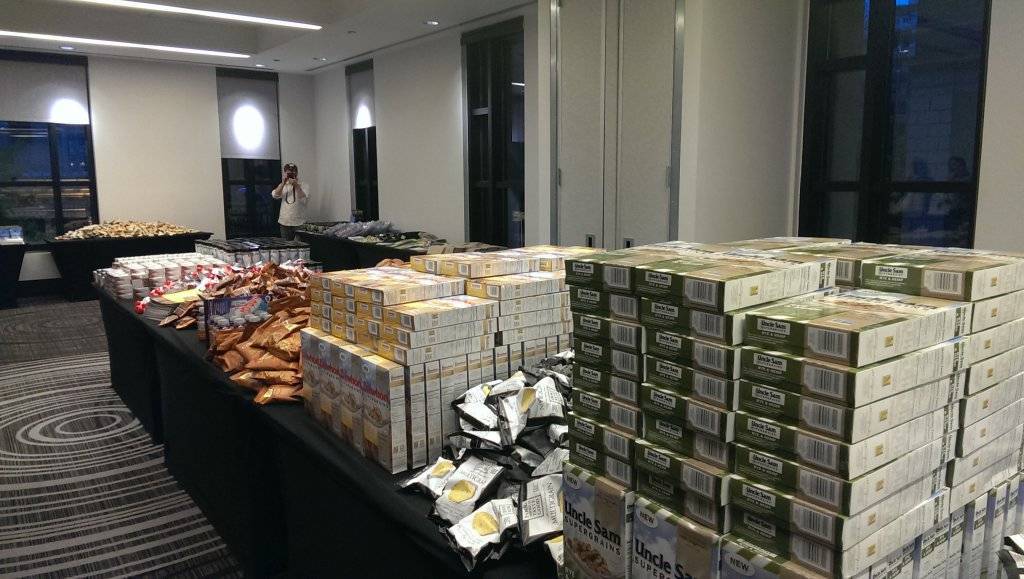 One half of the Gift Suite
Then, there was Dorie Greenspan. Her keynote speech was perfect: down-to-earth and dreamy, funny and heartfelt, and just spoke to me on my own level of food-love. I refrained from asking her to marry me, but I did go out into the wet streets of Seattle to buy a second copy of her cookbook so that I could get her sign it (WHY did I not think to bring mine from home?!). This was, in the end, an unsuccessful endeavor, but I think my only one of the weekend.
Fresh fruit cupcakes by Cupcake Royale
If success is measured in amount of food eaten, or on levels of meal deliciousness, I was enormously successful. It seemed as though every time I turned around, we were being presented with another amazing meal. Stand-outs for me were the taco lunch by Chipotle, the Taste of Seattle restaurant showcase, the 100% organic and local breakfast by Pastry Smart, the Alaskan Seafood showcase, and the Urbanspoon Seattle surprise supper (where our group ate at Marjorie Capitol Hill, the purveyor of the aforementioned heavenly bread pudding and cassis ice cream). And if it sounds as though I just indiscriminately listed every meal of the conference, then you have definitely never been to IFBC.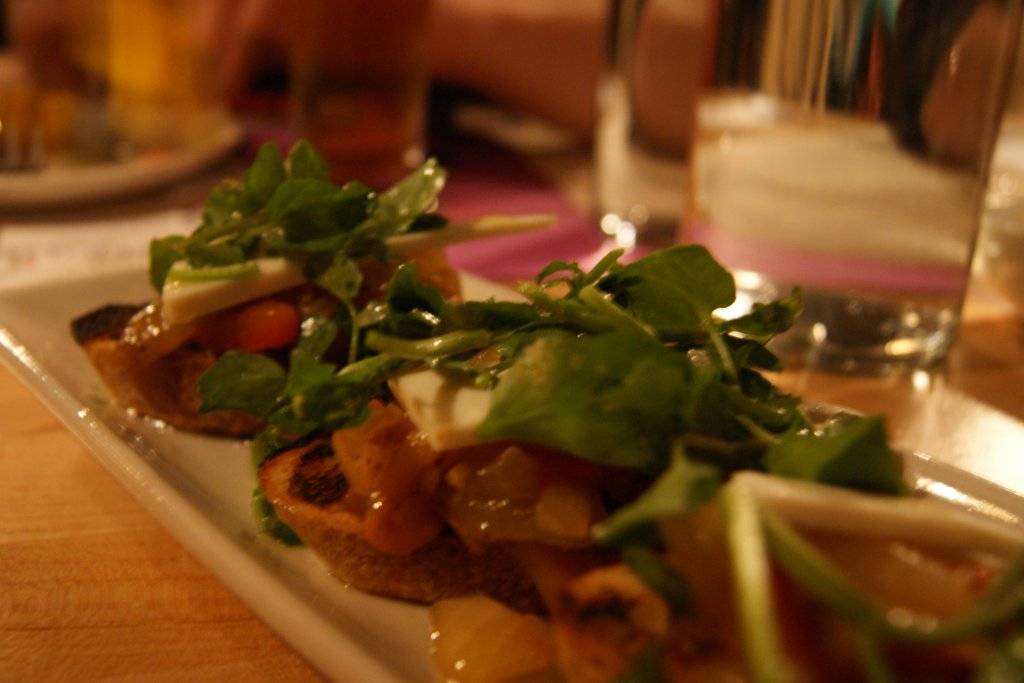 Bruschetta at Marjorie
Now, if success is measured in numbers of people met or amount of important information gleaned, again, I won. I won! I personally met and hung out with over 50 bloggers and at least a dozen excellent food company reps. I learned more than I ever wanted to know about building web traffic and more than I will ever need to know about food photography and marketing from the famous Andrew Scrivani (food photographer for the New York Times).
Finally, if success is measured in fun and action, well, boy, I am a CHAMP. I barely paused for breath between Fresh Bloggers event hosted by Cupcake Royale, the early morning trips to Pike Place Market, the live food blogging session hosted by Amazon, the visiting with old friends and new, the frantic photo-sharing and tweeting, the uproarious laughing at the improv story-telling and writing workshops, and the late-night chit chat with my roomie Gwen, of Devour & Conquer.
Organic Farm Stand at Pike Place Market
I guess you could say that I enjoyed myself and that I got my money's worth. I guess. :)
One of the things I appreciated most about the conference was the focus on organic and sustainable foods. Top marks in this regard go to Pastry Smart, a company I had never heard of before but now wish had a location in Victoria. All the ingredients for all of their products are certified organic, fair-trade, and humane. (Aside: I did not even know there was humane certification for food until the Pastry Smart talk over Saturday breakfast). More than the ethics of their products was the quality. Never have I had such creamy yogurt, such tender and flavourful ham, such ripe strawberries. The quality and breadth of that breakfast blew me away.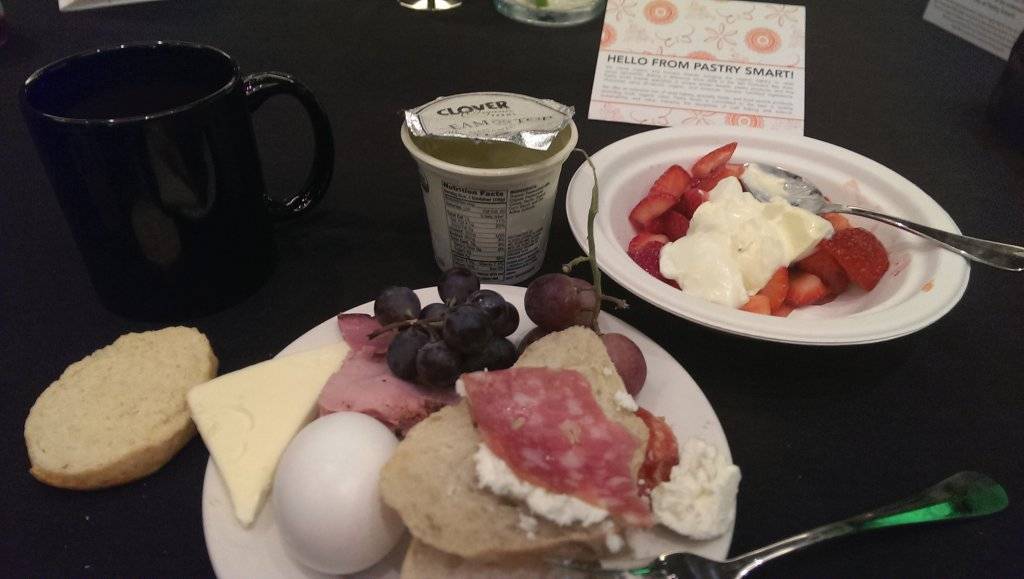 A small sample of the outstanding Pastry Smart breakfast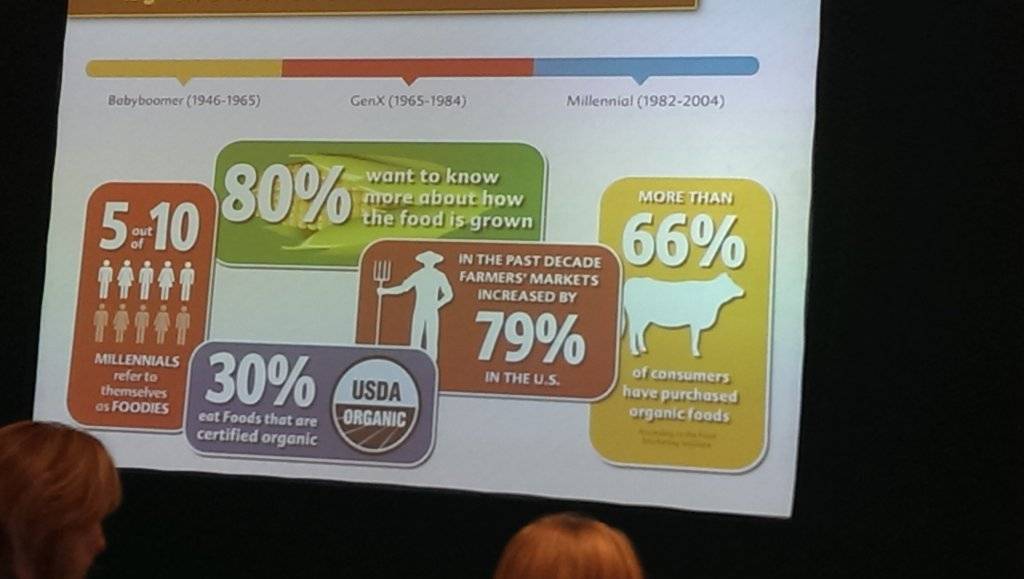 Discussions about sustainable and humane foods at the Pastry Smart breakfast.
Next, the Taste of Seattle Showcase and the Alaskan Seafood Showcase. In both instances, I was expecting a light snack, and instead was absolutely stuffed with an array of spectacular dishes.
The Taste of Seattle was almost Feast-of-Fields-like in its awesomeness, but I only had to compete with 300 (instead of 1000) others for the 'tastes'. The sushi bar put on by the W Hotel restaurant was exceptional. Fresh-fresh salmon and tuna, delicious spicy rolls, and an avocado roll. Also kudos to Ethan Stowell's restaurants: fried green olives (amaaazing), marinated octopus salad, heirloom tomatoes with fresh Mozzarella di Buffala, and my first taste of lardo. Purple potato gnocchi with pork belly served by the Alamos winery. Grilled Asian eggplant with crispy doufu skin by Monsoon. Sorghum salad with spicy roasted chickpeas by Bob's Red Mill… Stop me before I wax boring. The Taste of Seattle was also where I tried the dreamy sipping caramel… three times. Seriously, everything was top notch.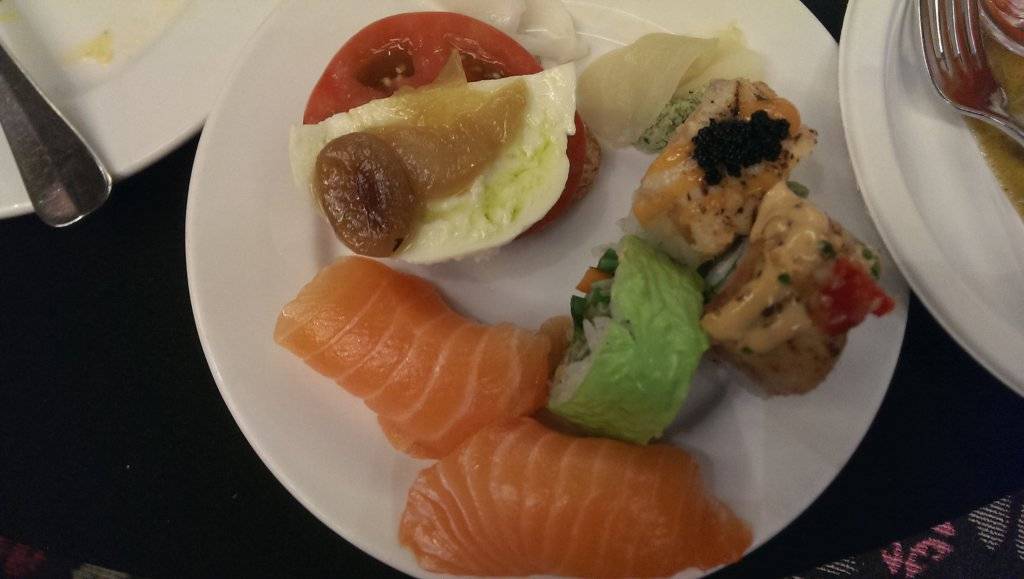 A small taste of a Taste or Seattle: W Hotel sushi and Ethan Stowell's heirloom tomatoes with mozzarella di buffala
Alaskan-fished seafood is awesome, as us BC folk already know. At their seafood showcase, I was thrilled to enjoy a bacon-wrapped-scallop slider, with an extra on the side, several pieces of yummy 'corn-dog' fish and chips, a seafood quesadilla, and smoked salmon and smoked sablefish!! Not a word of a lie. But I did have to laugh when several Seattleites asked me if I can get Alaskan seafood up in BC. :)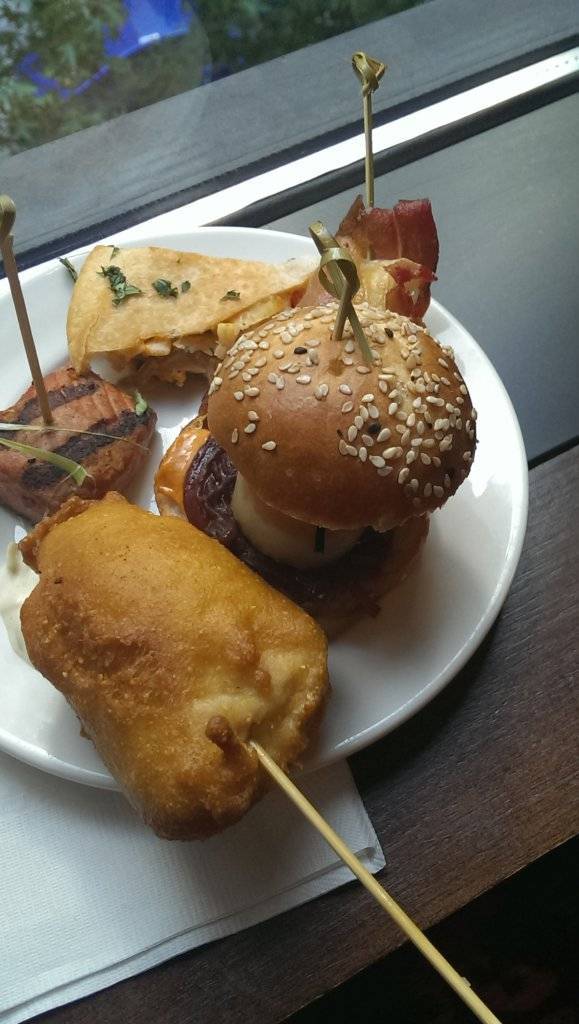 Alaskan Seafood showcase!
Finally, I can't close without mentioning our incredible meal at Marjorie. Our Saturday supper was hosted by Urbanspoon, who randomly placed bloggers in groups of 10 to attend a 'mystery' restaurant and enjoy an extensive tasting menu. (Can I just take a moment to say: what a GREAT idea! And huge kudos to Urbanspoon for pulling that off!)  Our group lucked out with Marjorie on Capitol Hill.
salad of local green, lime and cumin
We enjoyed a 12-course tasting menu of all local and seasonal ingredients – as you know, that is right up my alley. Every dish was delicious, from the delicate local greens with cumin and lime, to the perfectly cooked halibut served on fresh cranberry beans.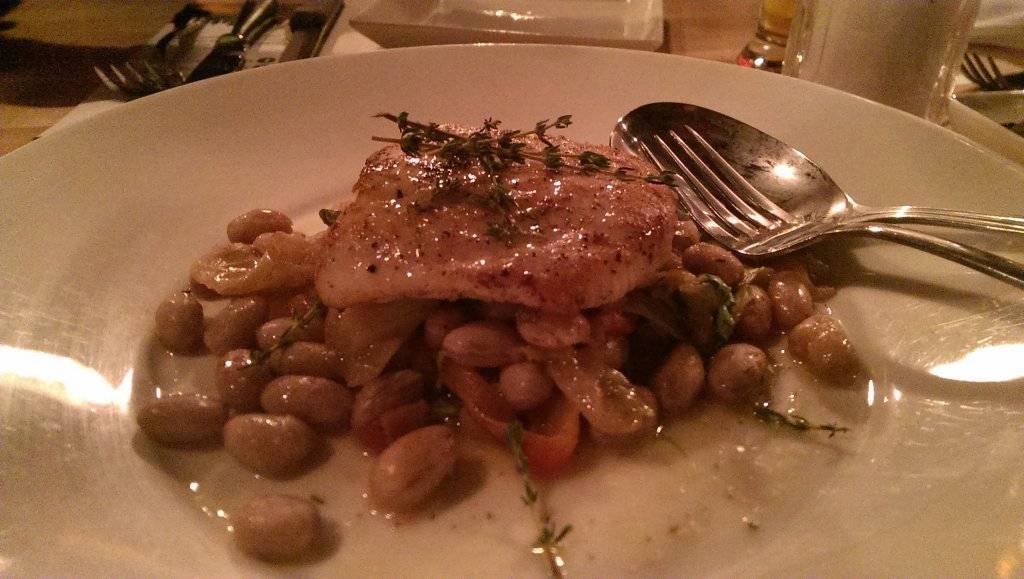 Thyme-infused halibut with fresh cranberry beans
Even my mocktail was a cut above what is usually given out to non-drinkers: ginger-infused coconut water with fresh lime. At one point during the meal, a fellow blogger and experienced cook said, "You can taste the labour." Say no more.
Mocktail of awesomeness
Further details to come soon about the products we tested during the live-blogging session and about a Facebook giveaway of some of the swag I brought home with me. Stay tuned!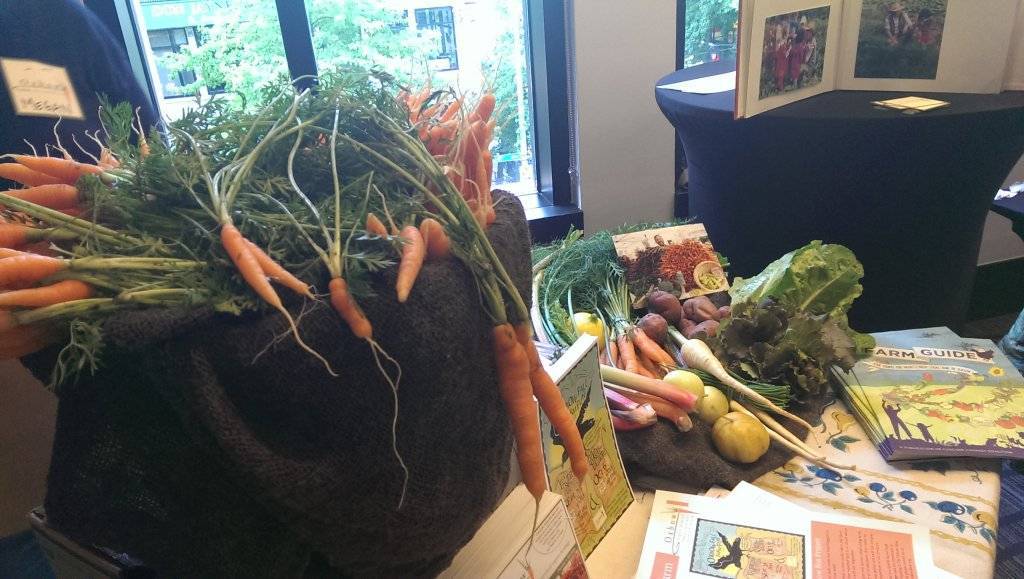 Local seasonal produce from Oxbow Farm at one of our tasting Expos.