Vote for Me! (Please and Thank you)
February 21, 2011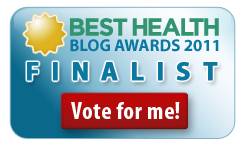 I am pretty excited these days. My blog has been nominated for two (2!) different blog awards! One award for the Best Mom Food Blogger at babble.com and another for Best Health Blog Awards in the 'Eat Well' category. Please excuse me while I make an excited shriek.
!!!!!!!!!!!!!!!!!!!!!!!!!!!!!
Ok, I'm all better now. But if you feel inclined to make me even more happy and excited, or to possibly make me shriek again (but not within ear shot, I promise), please vote for me.
Best Mom Food Blogger at babble.com (only one vote per computer)
Best Health Blog (vote EVERY DAY!)
Thanks to everyone who has supported me and read my blog and enjoyed it. Thanks especially to the folks who nominated me for these awards!