Cauliflower with Indian Spices
February 18, 2011
In this delicious winner of a recipe, tender pieces of cauliflower are infused with Indian spices and finished with lemon and cilantro. This makes for a wonderful side dish to any meal.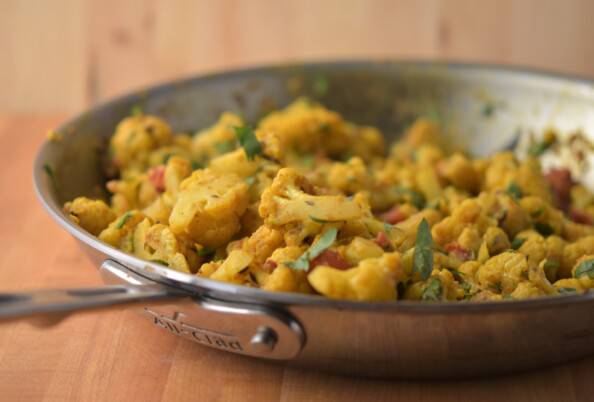 These are some of the comments I heard last night from cooking class students as they ate this cauliflower dish:
"It's soooooo good!"
"It's just so fresh."
"My kids would eat this."
"I'll never boil cauliflower again."
I felt then that I had been depriving my faithful blog readers of a really good and really simple recipe for a nutritious winter vegetable. Crisp florets of cauliflower sauteed to succulent yumminess in a perfect mixture of nutty Indian spices. Slightly spicy, slightly tangy, mouth-dancing, delicious. One of my favourites, for sure.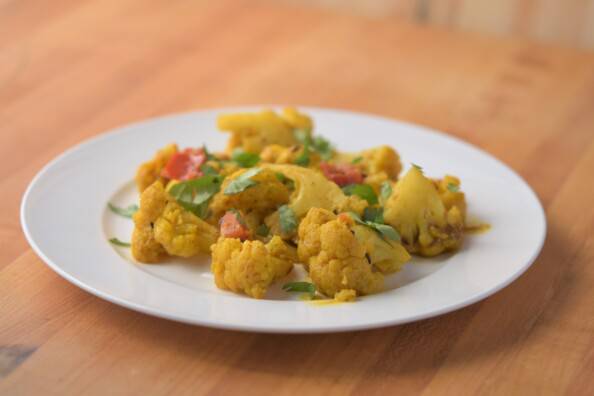 Also today, I realized that in a year of blogging I have not yet posted an Indian recipe (!), even though Indian cooking is my specialty. I've got to get my act together here!
So here it is: my first Indian blog post: Spiced Cauliflower. My kids eat it, my husband loves it, my cooking class students are in raptures over it. Really, really good.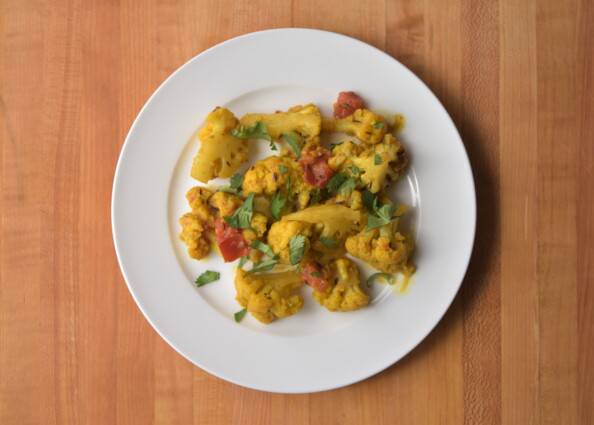 EXTRA-YUMMY SPICED CAULIFLOWER

Serves 6 to 8
This delicious winner of a cauliflower recipe taste great as a side with either Indian or Western meals, and both vegetarian and meat-based meals. Although the ingredient list is long, this dish is simple to make and cooks in less than 10 minutes (20 minutes total prep/cook time).  My cauliflower-hating child will actually eat a portion of this, and my cauliflower-loving child will eat the whole recipe, if you let him.
I originally adapted this from Madhur Jaffrey's 'A Taste of India'.
dry spice mix
¼ tsp (1 ml) ground cumin (I grind my own, for freshness and flavour)
2½ tsp (12.5 ml) ground coriander (ditto)
1 tsp (5 ml) ground turmeric
¼ to ½ tsp (1 to 2 ml) cayenne pepper
1 tsp (5 ml) green mango powder (amchoor)* OR 1 tb (15 ml) fresh lemon juice
1 tsp (5 ml) salt
ingredients for cooking part
1 large cauliflower (about 2 lbs / 1 kg), trimmed and cut into ¾-inch florets
1 Tb (15 ml) grapeseed oil
1 tsp (5 ml) whole cumin seeds
8 fresh or dry curry leaves (omit, if you can't find any)
3 Tb (45 ml) ghee or butter
1 Tb (15 ml) finely minced fresh ginger
dry spice mix (above)
1/3 cup (80 ml) water
1 cup (250 ml) diced fresh tomato
ingredients for finishing
¾ tsp (4 ml) garam masala
1/3 cup (80 ml) chopped fresh cilantro
*Amchoor is a powder made from dried green mango slices and it is available at any Indian or Middle Eastern market. It is fruity and tangy. If you can't find any, or don't want to, substitute 1 Tb fresh lemon juice, added at the end with the garam masala and cilantro.
instructions
Dry spice mix: In a small bowl, mix together the ground cumin, ground coriander, turmeric, cayenne, amchoor, and salt. If you don't have amchur powder, leave it out – you will be using the 15 ml lemon juice at the end.
Cooking part: In a large saute pan with a heavy bottom (I use a 12-inch saute pan), heat the oil medium-high heat. Add cimun seeds and let sizzle for 10 seconds. Now add the curry leaves and ghee or butter. As soon as the ghee or butter melts, add the ginger. Saute the ginger until fragrant and starting to go a bit golden. Add the dry spice mixture and sauté for about 15 seconds – enough to release the fragrance, but not enough to burn the spices.
Immediately add the cauliflower. Stir well to coat the cauliflower with the spices. Add the water. Bring the mixture to a boil, then reduce the heat, cover, and let cook gently until the cauliflower is cooked through, about 8 to 10 minutes. You will have to stir several times during this process. When the cauliflower is close to being cooked, add the tomato, stir, and remove the lid to let the remaining liquid evaporate and the tomatoes soften in the last two minutes of cooking.
When cauliflower is cooked, stir in the garam masala and the cilantro and stir to combine. (This is where you would add the lemon juice, if using it as a substitute for amchoor). Serve immediately. This also tastes really really good packed into a lunch the next day, with some whole wheat pita or naan and some yogurt on the side.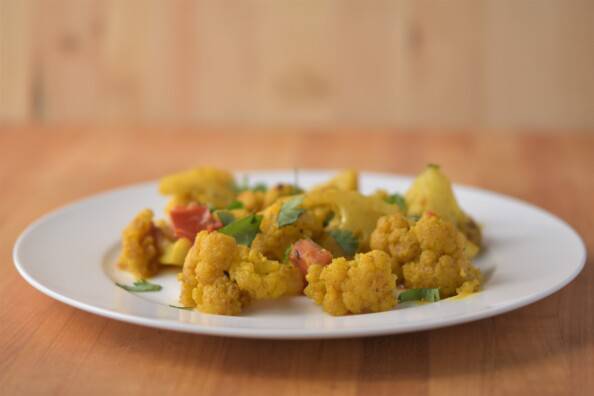 You May Also Like These Recipes:
Categories:
Appetizers
,
Asian Foods
,
Cooking in Season
,
Dinner Solution
,
Fall / Winter
,
Feature Ingredients
,
Foodgasm!
,
Heidi's How-To
,
Indian
,
Quick and Dirty
,
Recipes
,
Sides
,
Spices
,
Vegetarian