Olive Oil Tasting
February 20, 2012
"Operation Use-It-Up" has lost some momentum these last three weeks – weeks in which more food made it into my freezer than came out of it. Sigh… However, I will persevere. In the meantime, let's check out this fun thing I did at a cooking class two weeks ago.
AN OLIVE OIL TASTE TEST! I cracked open six different bottles of extra-virgin olive oil and conducted a taste test extraordinaire. We tasted each oil raw, with small bites of baguette in between to cleanse our palates. I've often done olive oil tastings in cooking classes, but this taste test was special for me. It included two of my favourite olive oils, two that had been brought back from Europe, and two new ones that I had never tried before (bought in Victoria at Ottavio's) and all together, the oils respresented 5 different olive-growing regions. The oils were: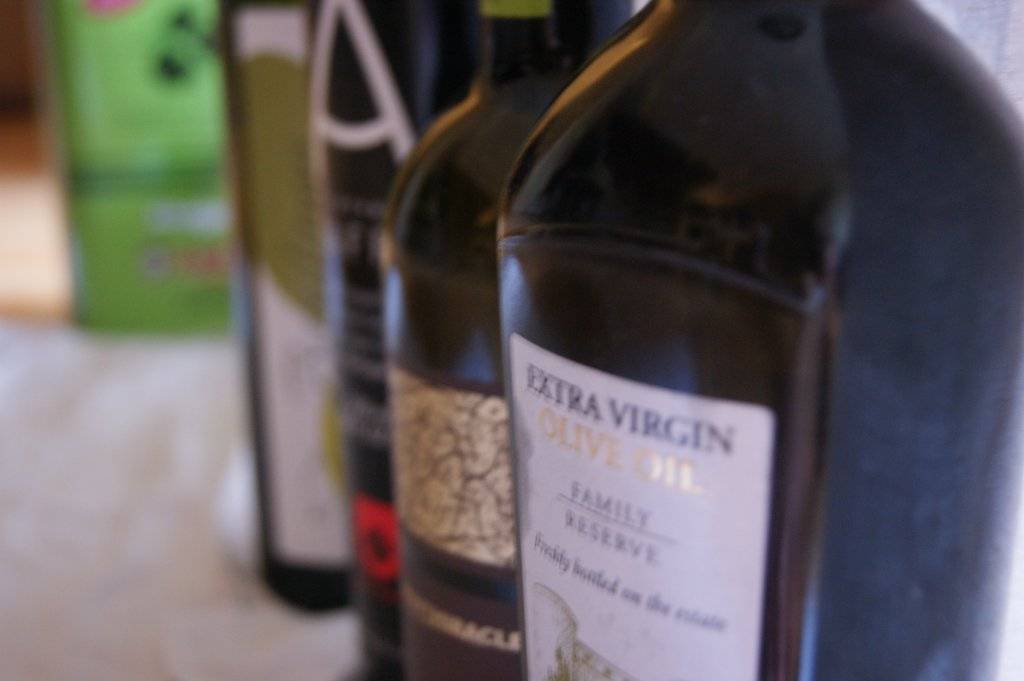 ABEA, from Crete – sold in Victoria at Ottavio, Lifestyle Markets, Blair Mart, and various other locations ($40 for 3 litres)
Basilippo, from Spain – sold in Victoria at Ottavio ($27 for 500 ml)
Castillo de Canena from Spain (Andalusia) – sold in Victoria at Ottavio ($36 for 500 ml)
Safra Vintage from Cooperative de Casa Branca, Portugal (a gift from my parents, who came back from Portugal last summer)
Enotria, which I purchased in Cortona, Umbria, Italy (6 Euros for 500 ml)
Desert Miracle, from Morocco – sold in Victoria at Ottavio ($23.50 for 500 ml)
(aside: I was told, while in Morocco, that Moroccan olive oil never leaves the country, so I was very excited to be able to buy this)
If you have never been been to an olive oil tasting before, you may be surprised to learn how very different the oils taste. Some olive oils are peppery and sharp, some are mellow and buttery, some are grassy and herbaceous, and some "sting your mouth", as my 10-year-old likes to say. From the various oil tastings that I have attended and hosted, I have learned that it is definitely worthwhile to spend money on good olive oil, but only if it is an oil that you love. For example, the most expensive oil I have ever tasted cost $100 for 300 ml and was bitter and disgusting (in my opinion). But at the same tasting, I fell absolutely in love with Basilippo from Spain and since then have made sure to have some always on hand.
If you want to try a variety of olive oils, Ottavio Deli in Oak Bay offers an Estate olive oil tasting at least once a year. I also sample usually three olive oils in two of my cooking classes: Mediterranean Vegetarian and Delights of Spain & Morocco. Or you can cut to the chase and read the rest of this blog post.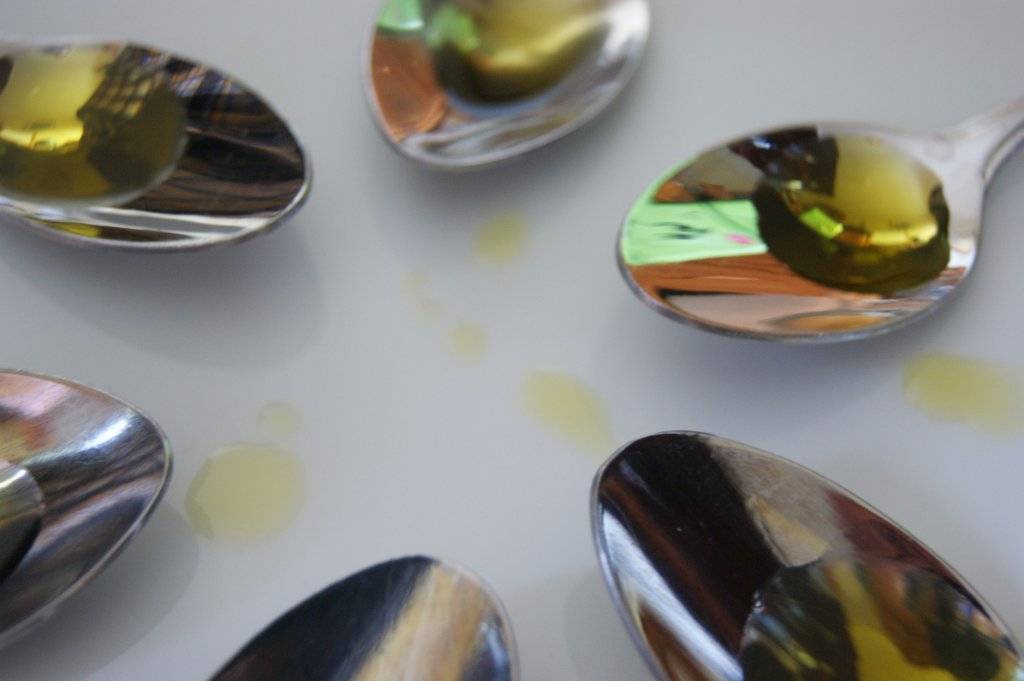 Results:
Interestingly, the most expensive oil (Castillo de Canena) was the lest favourite – it was grassy and sharp with quite a bit of bitterness mixed in with its fruity flavours. The favourite oil was definitely Desert Miracle from Morocco – it was buttery, smooth, mellow, almost caramely.
To tell the truth, these results say quite a bit about the limits of a raw oil tasting. Olive oils that taste delicious on their own might not stand up so well to the more agressive flavours of a vinaigrette, for instance. So take the following flavour breakdowns with a grain of salt and try to imagine how each would play out in a recipe, or on your taste buds. A smooth buttery oil could be delicious drizzled on simple grilled veggies, or soaked up with rustic bread. A sharper, fruitier oil might play well with vinegar or drizzled on top of pasta just before serving. A bitter oil might taste fabulous drizzled on beans or greens. Or not.
Desert Miracle – smooth, mellow, buttery, hints of caramel, sharp at the back of your throat
Basilippo – mellow but very fruity with a fresh-olive kind of taste
Enotria – very fruity and full-bodied, nice green colour
Safra Vintage – buttery and thick, grassy flavour with a hint of wine
Abea – fruity and slightly smoky with a mild peppery aftertaste
Castillo de Canena – grassy, sharp, bitter, slightly fruity
After the tasting I can say that I will continue to buy ABEA as my all-purpose cooking/eating oil (it tastes good and is much cheaper than the rest), I will make sure to keep both Basilippo and Desert Miracle always on hand. I wish my parents had brought me more than one bottle of that Portuguese oil. And I wish I had brought more oil back from Italy!
I guess this shows how much of a fat tooth I have :)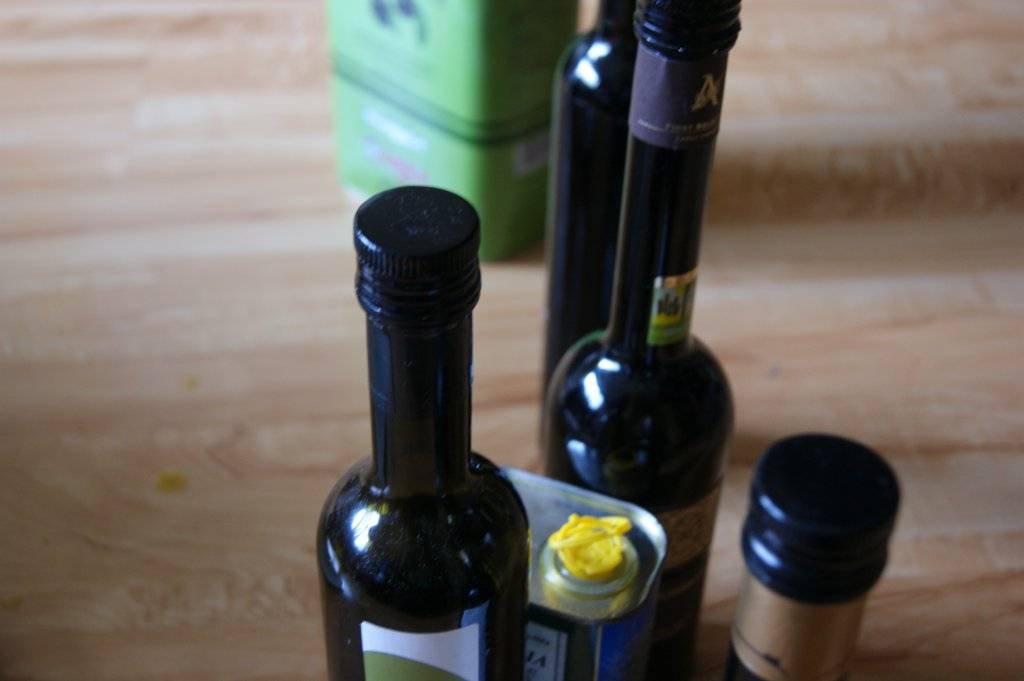 PS I just need to get this off my chest. I have been wanting to say this publicly for years: Rachel Ray did not invent the term EVOO for Extra Virgin Olive Oil. We were using EVOO at ReBar for years before anyone had ever heard of RR, as I am sure were many other chefs and cooks in many other places. Phew, ok, thanks for listening.