A Simple Lunch
June 14, 2011
In honour of how crazy-busy my life is right now, and how crazy it will continue to be for the next few weeks, I want to share a 'recipe' for a favourite lunch of mine. A very simple lunch, but one that tastes like an indulgence.
This lunch started with a trip to Salt Spring Island. Not so simple, I know, but hear me out. In case you did not already know, I will be teaching a hands-on cooking class for the upcoming IGNITE Retreat, otherwise known as a fantastic weekend getaway. (Yes, there is still space left on the retreat.) A couple of weeks ago, I went with some of the other facilitators to visit our retreat location on Salt Spring Island. Not only was Stowel Lake Farm breath-takingly beautiful, with homey wood-and-cob buildings to match, it was located a short jaunt down the road from the wonderful Salt Spring Island Cheese Company. Of course we had to pay them a visit, too.
And that was the start of my new favourite lunch.
While I was at the cheese farm, I picked up some of their Absolutely Fresh soft goat cheese. That's FRESH, as in the cashier had to get into scrubs to go back into the cheese-making facility and scoop my cheese out of the stainless-steel tub. For non-Salt Spring Islanders, SSICC soft goat cheese is available at almost every supermarket in town, usually in the fancy cheese deli section. While the supermarket cheese won't be Absolutely Fresh, it will be absolutely delicious.
At the cheese farm, I also sampled and immediately purchased a raspberry-cardamom jelly made by Artisan Edibles. My only words about this jelly: TO DIE FOR.
Other words: can be used for both savoury and sweet applications. My mind is still buzzing with dozens of possiblilities (layer cake? duck? crepes?). Too bad I ate it all already.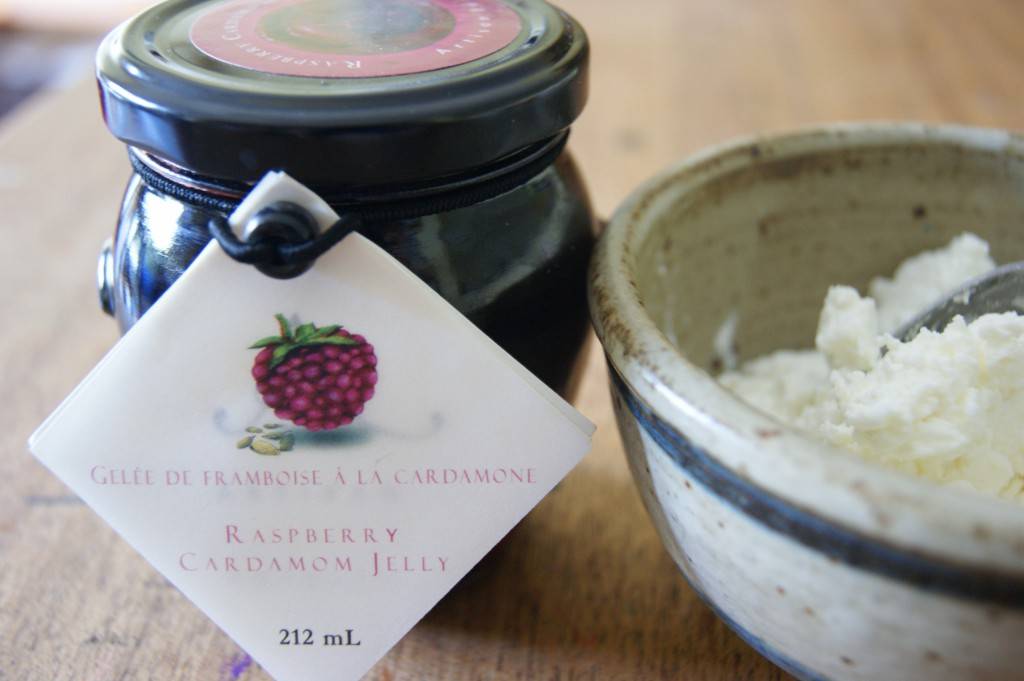 Luckily, I found out that Artisan Edibles products are available at dozens of locations in BC and across Canada, including at least a dozen just in Victoria, or I might have made a special trip back to Salt Spring just to buy more jelly. (PS – This was my first time trying something from AE, but it won't be my last.)
Anyway, after I came home I immediately married my new favourite cheese with my new favourite jelly on some old favourite Three-Seed Bread from WildFire Bakery and voila! My new favourite lunch was born. I ate this every day for at least two weeks (I did have to run out and top up the goat cheese supply from time to time). It is just so good.
A Simple Lunch
Serves 1.
Recipe may be multiplied many times.
ingredients
2 slices three-seed bread from WildFire, or whole wheat bread from Fol Epi, or bread of equivalent deliciousness
2 tsp unsalted butter
4 to 6 Tb fresh soft goat cheese (Salt Spring Island is a current favourite)
2 Tb or so of raspberry-cardamom jelly (made by Artisan Edibles)
instructions
Lightly toast both slices of bread. Remove from toaster and immediately spread one teaspoon of the butter on each slice of bread. Spread 2 to 3 Tb (or more) soft goat cheese of each slice of bread. Top goat cheese with a generous tablespoon or so of jelly and spread around. Place prepared toasts on a plate and eat. And enjoy!