Chiwda: Indian-Spiced Street Food Snack Mix
December 8, 2014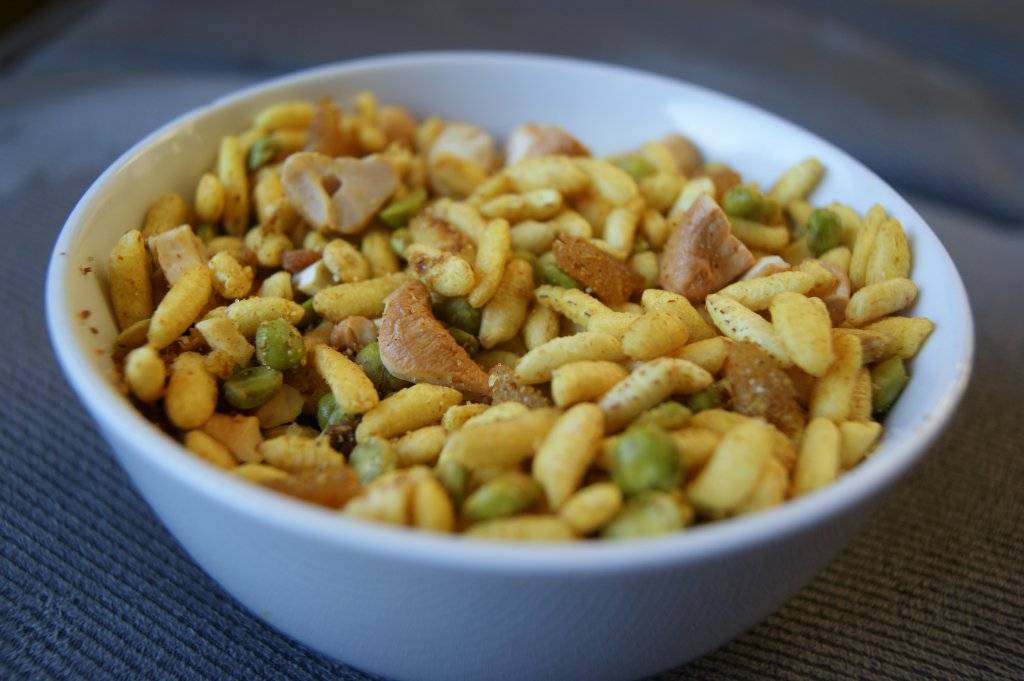 With all the party invites, out-of-town guests, and visiting that goes on this month, we all need a little snacky snack to keep the hordes happy until the real food comes out. Or, in this case, maybe instead of  the real food.
Enter my take on Chiwda (pronounced CHEW-Da): this Indian-spiced snack mix tastes mildly delicious at first, but the flavour lingers and builds with every bite until you feel as though you have a party in your mouth. At which point, you don't want to taste anything else while the Chiwda is on the table.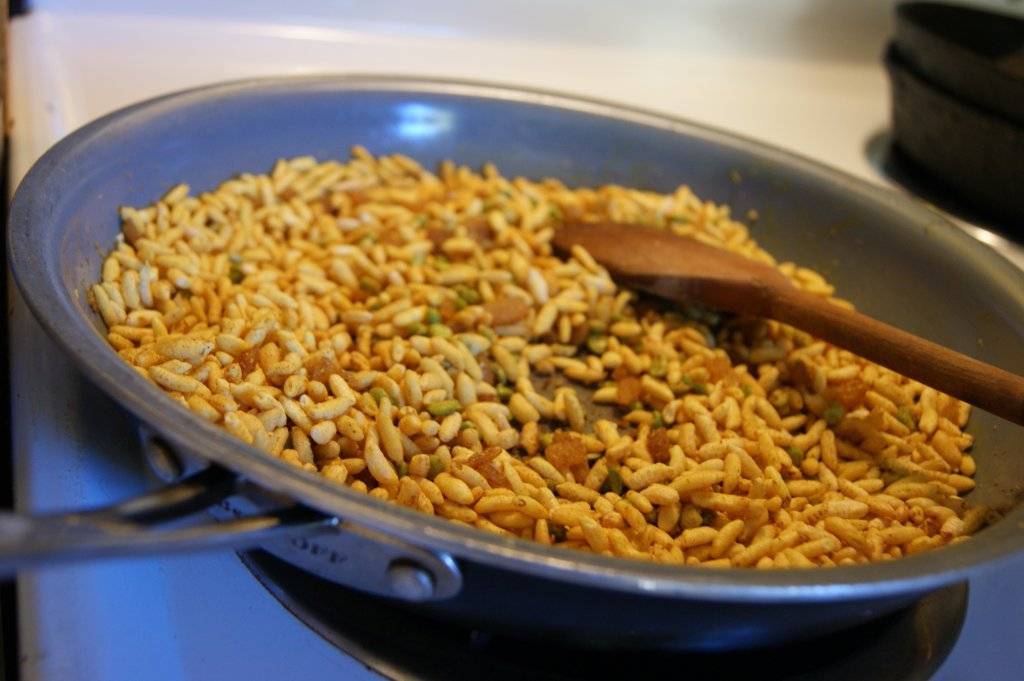 Chiwda is easy to make, lasts up to one week in a sealed container, and has the wow factor of being unexpected and unusually delicious. Which makes Chiwda, in my opinion, the perfect snack for holiday nibblies.
Or for movie night, instead of popcorn.
As an aside, that sign above is what my kids had to say about Chiwda :)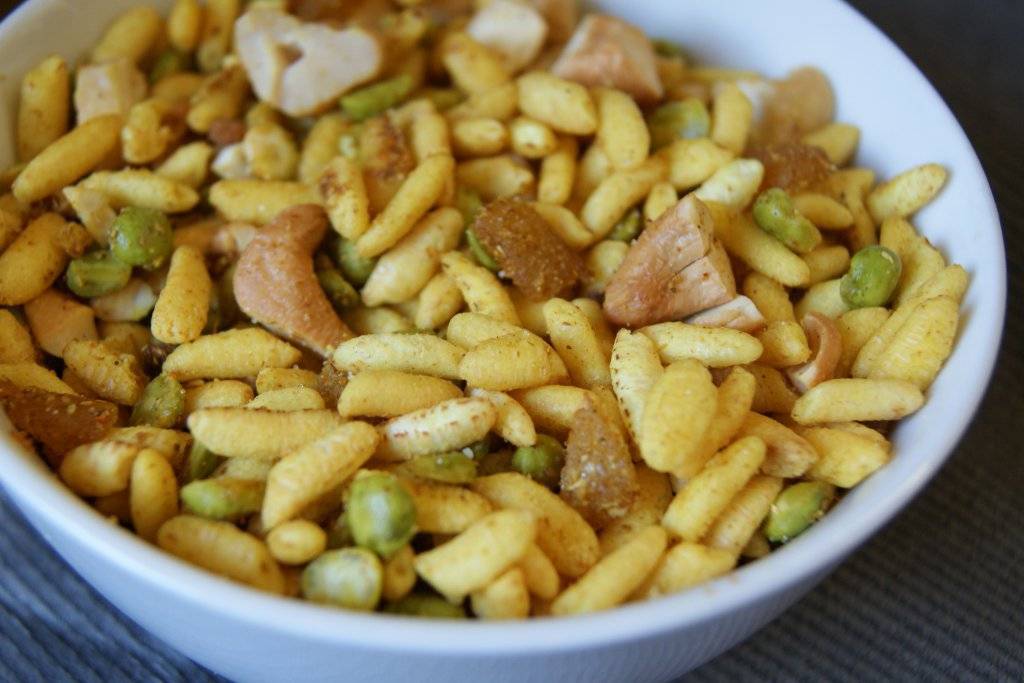 PUFFED RICE CHIWDA
Makes 4 cups
This addictive snack mix is easy to make and fun to eat. Chiwda can be made up to one week in advance and kept in an airtight container until ready to serve.
Puffed rice can be found in the cereal aisle of most grocery stores, usually with the organic cereals.
ingredients
3 Tb green split peas
1 tsp cumin seed (or 1 tsp ground cumin)
2 tsp coriander seed (or 1 tsp ground coriander)
¾ tsp turmeric
¼ tsp cayenne, or more, to taste
¼ tsp asafetida* (found in Indian or Middle Eastern shops. Omit if you can't find it)
¼ tsp ground black pepper
6 Tb oil
1-1/2 tsp minced fresh ginger
1/4 cup chopped candied ginger (use scissors to snip ginger into raisin-sized pieces)
2½ cups puffed rice (Found in the cereal aisle. NOT rice crispies!)
3/4 tsp salt
1-1/4 tsp raw or golden sugar
2/3 cup roasted peanuts or cashews, or a mixture of both
*Asafetida is a truffle-onion-scented plant resin used in Indian cooking. It can be purchased at any Indian or Middle Eastern shop, or at the Market on Yates.
instructions
Rinse the split peas and drain. Place them in a small bowl, cover with hot tap water and let soak for at least an hour, preferably 3 hours. Drain well and pat dry as best you can. This can be done the day before.
Grind the cumin and coriander seeds to a powder in a coffee grinder or spice mill (no need to toast the spices first). Alternatively, use pre-ground cumin and coriander. Dump the ground coriander and cumin into a small bowl and mix in the turmeric, cayenne, asafetida, and black pepper.
Have everything measured and ready in a place close to the stove. Heat a large sauté pan over medium-high heat. Add the oil and heat until the oil is hot, but not smoking. Add the soaked and drained split peas and fry, stirring occasionally, until the peas have stopped "frothing" (making the oil bubble madly), about 2 to 3 minutes. While the peas are cooking, turn the heat down to medium-low.
After the peas are done, add the chopped fresh ginger and stir two or three times. Add the candied ginger and stir once and then add the ground spice mixture. Stir the spice around for about three or four seconds, no more, and immediately add the puffed rice, stirring quickly until the rice is coated with spices.
Keep cooking for at least five minutes, stirring almost constantly, until the rice is crispy and everything is evenly coated with spices. You may have to turn the heat down to prevent the spices from burning a. In the last minute of cooking, stir in the nuts, the salt and the sugar. Stir well. Remove to a bowl and let cool. Eat warm or at room temperature. Leftovers, once completely cooled, can be stored in an airtight container for up to 1 week.