Defending Our Backyard with the Island Chefs' Food Fest
May 31, 2011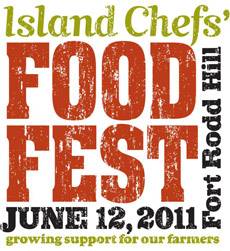 I have to start this post by conveying how devastated I am, how crushed to the very dust, because I am unable to attend the Island Chefs' Food Fest this year. It's pretty much my favourite food festival on Vancouver Island – the best food ever, all local, prepared with seasonal flavours by the uber-talented members of the Island Chefs' Collaborative (of which yours truly is a member – ahem.) The ICC Food Fest comes with a whole Vegetarian Tent (!), beverage pairings out the yin-yang, and, of course, lots of help from our awesome local farmers.
I was happy and proud to be a contributing member of the festival last year, but I think I missed the meeting where the ICC members voted to have the festival (aka Defending Our Backyard) moved back two weeks this year, to exactly interfere with my annual getaway in Tofino!
I so would have voted that one down.
I love this festival more than many things, but not more than a sanity-saving retreat with friends. So I won't be there. But you definitely should be. Aside from all the awesomeness listed above, the ICC Food Fest is located at Fort Rodd Hill, which is a fascinating National Historic Site. The site will be open, with costumed tour guides on hand to tell you all about the hidden cannons, the typical soldier's diet, the underground rooms, and all that great stuff. In the festival proper, there will be children's activities, farm stands, musicians, and information booths on every topic from composting to ethical harvesting of seafood.
Have I mentioned all the food? Drool…. Oh, yeah, I have.
Best yet, proceeds from the festival will go to support our small farm grant program.  Tickets are super affordable for a festival of this caliber: $50 for an individual and $100 for a family. Please visit Cook Culture or Charelli's to buy tickets, or purchase them directly from the ICC website.
And, please, let me know how it goes.