Rhubarb Custard Bars
May 25, 2011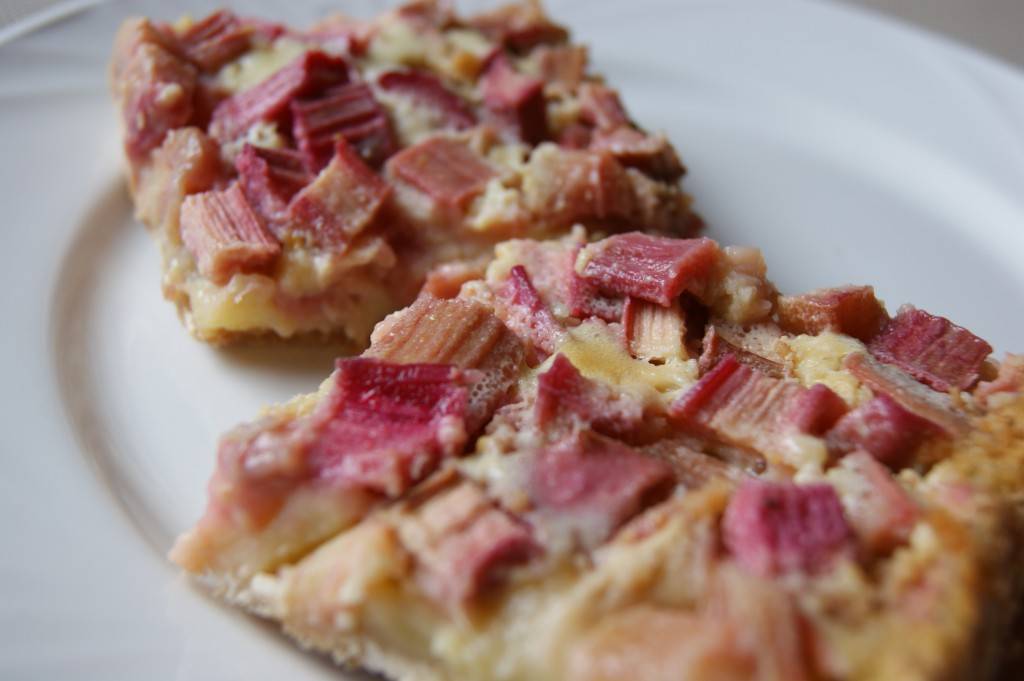 Rhubarb season just got even more delicious. All because of this great recipe.
Rhubarb Custard Bars are awesome:  such a crisp nutty crust married to a sweet, smooth, sliceable custard, and filled to bursting with tart pieces of rhubarb. Excuse me while I drool.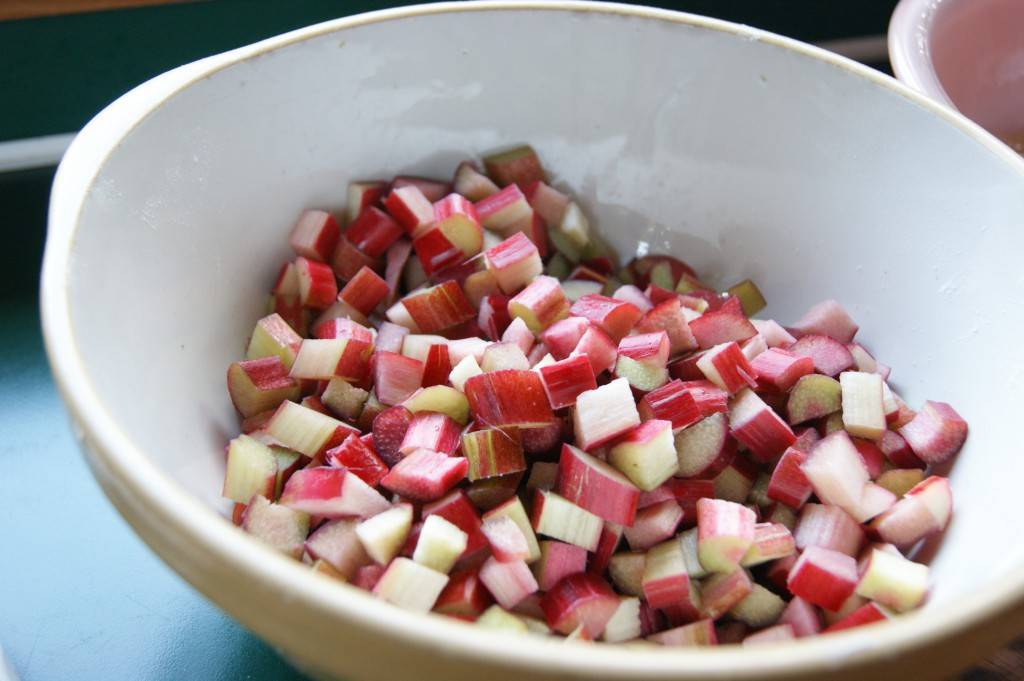 I'd love to claim this recpe as my own. But, while I have tweaked it a little, original recipe honours must go to Ciara Dooley of Kildara Farms. She gave me this recipe almost 10 years ago and I have been using it ever since, a happy and delicious spring ritual. I love rhubarb crisp, too, but this is something different and hand-pie-ish.
My kids call these "Rhubarb Pie Things" (Usage: "Mommy, can I have another Rhubarb Pie Thing? Please? I've only had two!"). I just call them extra yummy.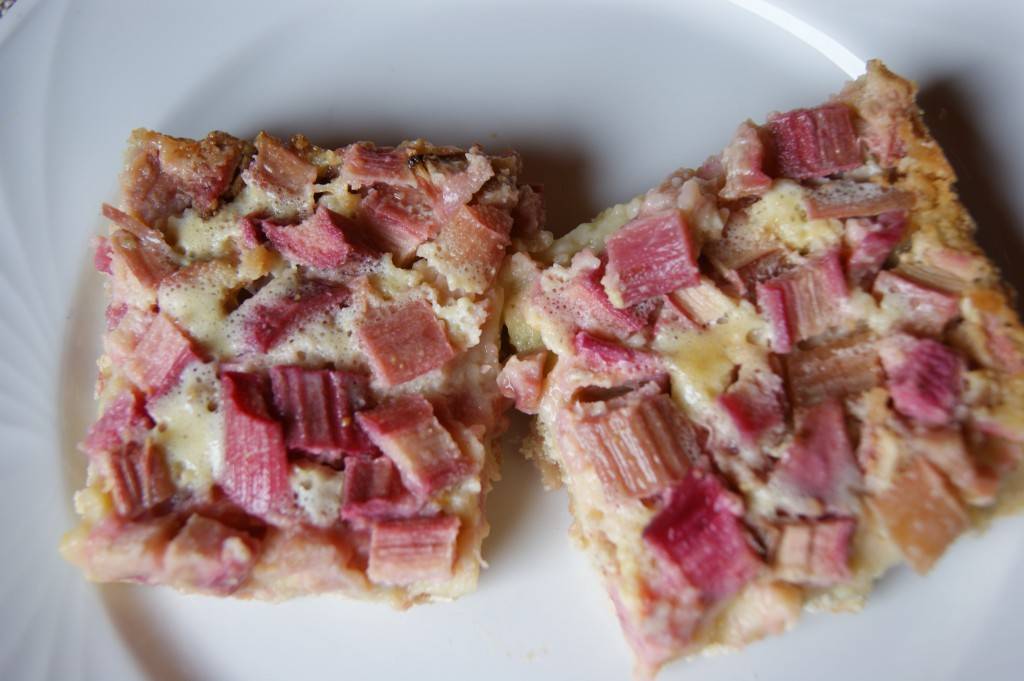 RHUBARB CUSTARD BARS
Makes 18 large bars.
Plan to eat these bars up within two days. If you don't think you can eat them that quickly, cut the recipe in half and bake it in an 8×8-inch square pan.
Crust:
1-1/4 cup all purpose flour
1/4 cup whole wheat flour (try whole wheat cake & pastry flour)
½ cup cool butter
½ cup sugar
¼ tsp salt
Preheat oven to 375 F. Butter the bottom and sides of a 9″ x 13″ (approx) metal or glass pan.
In a large bowl combine all ingredients.  Mix with your fingers until the mixture resembles fine crumbs.  Butter should be completely incorporated. You can use a food processor for this step, if you like.
Press crumbs (not too too firmly, but firm enough) into the bottom of the prepared pan. Press a tiny bit up the sides of the pan as well. Place pan on lower-centre rack of the preheated oven. Bake for about 15 minutes, until golden. Remove from oven and reduce oven heat to 350 F.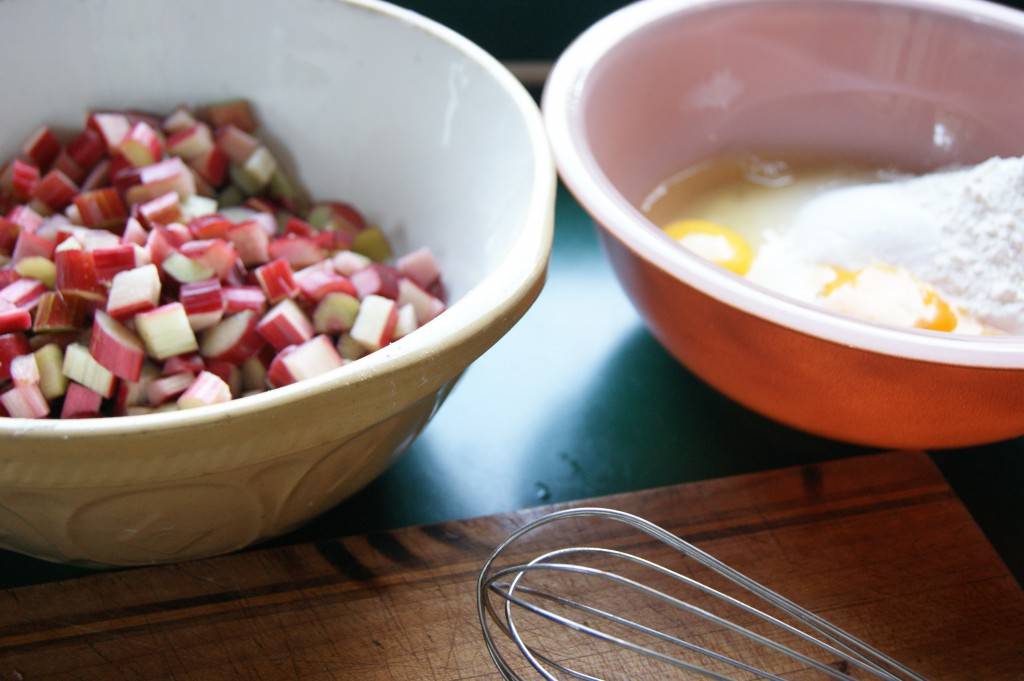 Topping:
1½ cups sugar
3 eggs
5 Tb all-purpose flour
2 tsp vanilla
¼ tsp salt
1/4 cup whipping cream (I have left this out sometimes and the bars are still great)
4 to 5 cups (approx 1-1/2 lbs) diced fresh rhubarb, diced small
While the crust is baking, mix the topping ingredients together.  In a large bowl, mix the sugar, eggs, flour, vanilla, salt, and whipping cream, whisking well to eliminate lumps.  Stir in the diced rhubarb. Once the crust comes out of the oven, pour the topping over it (the crust should still be warm).  Return to the oven and bake for 30-40 minutes, until custard no longer jiggles and toothpick inserted in the middle comes out mostly clean.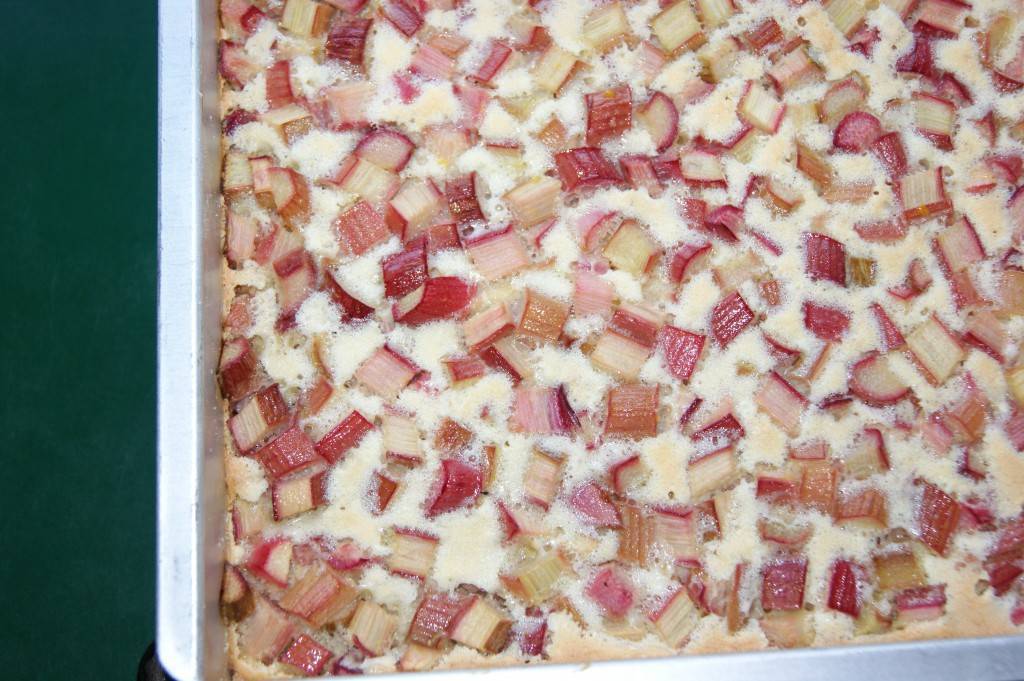 Let cool. Cut into bars.
Note: the first bar is hard to cut, but after that, they should be pretty easy to cut.
Categories:
Baking
,
Baking and Treats
,
Cooking in Season
,
Cooking with Kids
,
Early Spring
,
Feature Ingredients
,
Foodgasm!
,
Fruit
,
Fruit
,
Heidi's How-To
,
Holiday
,
Kid Friendly
,
Late Spring / Early Summer
,
Local Harvest
,
Locavore Gone Loca
,
Pie
,
Recipes