Rainier Cherries
July 19, 2010
I knew them as Queen Anne cherries growing up, but Rainier Cherry seems to be the name of choice in the supermarkets now. Whatever the name, they are my hands-down favourite cherry variety. Seriously YUM. Not only are Rainier cherries a beautiful two-toned yellow/blush colour, they are also intensely tasty, sweet and complex, occasionally with an almost bitter edge. Very very good. I have been wanting to blog about these beauties for a while, and today realized that I should  post about Rainier cherries before anything else this week  – their season is so short that it is almost over!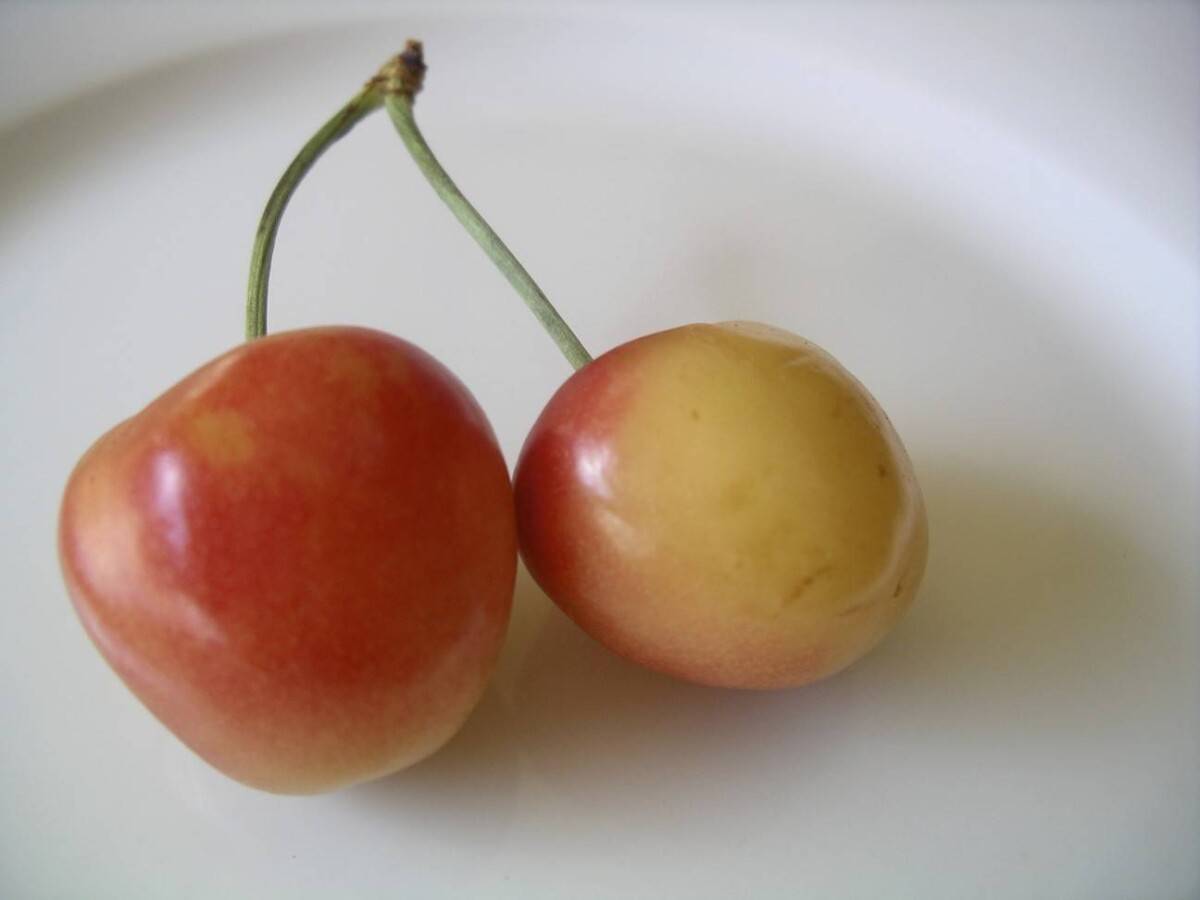 I have had a love affair with yellow cherries ever since I was a child, when we had a tall Queen Anne cherry tree in our backyard, under which a hammock swung. Every July we would gorge ourselves on those cherries, fighting over the ones with the darkest blush (they tend to be sweeter).
But recently, I wondered if I might love Rainier/Queen Annes more than Bings or Lapins simply because of their colour. Rainier cherries look like they shouldn't taste good. I mean, really, yellow cherries? I find it so fun to bite into a strange-looking pale yellow cherry, only to get a delicious cherry taste explosion in my mouth! The sweetness the flavour intensity, the complexity, all seem enhanced.
So last week I held a blind taste-off between Rainiers and Lapins. Myself, my husband and a friend all tasted them side by side, without seeing which cherry was which. The result: it was very close, but Rainier cherries were chosen unanimously as the taste winner. We all felt that they had more complexity of flavour, if not more sweetness. And yet, some Rainier cherries are so intensely sweet they put Bings to shame! Each Rainier you pop in your mouth tastes a little different than the last.
I realized during the taste-off that one of the things I enjoy most about Rainier/Queen Anne cherries is their diversity of flavour. You never know what exactly the next one will taste like. Will it be jammy sweet? Juicy with clear cherry taste? Crunchy with a bitter edge? All you know is that it will be delicious no matter what.
Rainier/Queen Anne cherries are, I admit, pretty expensive. But worth every penny. I urge you to try them at least once. As a treat one day, buy yourself a box of Rainier cherries, rather than that giant muffin or cookie you have your eye on.
As for recipes, this is one of the few fruits for which I eschew recipes. The season for Rainiers is so fleeting and the price tag so high that I find it best just to eat them, snack on them, savour every last sweet yellow cherry while you can. Let yourself do it – just buy them for a treat's sake and enjoy them while they last!