Summer Salad Meal (West Coast Nicoise)
September 7, 2012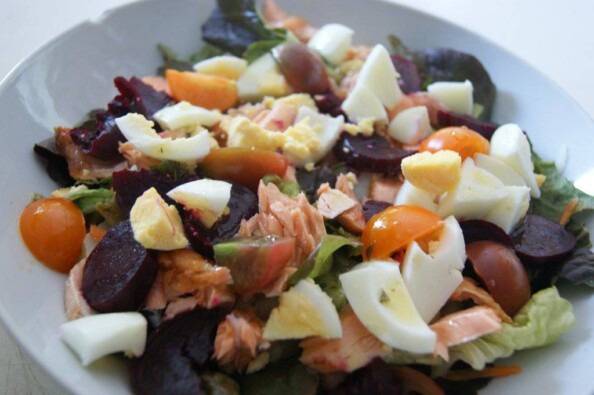 This was my lunch last week.
It was made up of leftovers from the previous day's dinner: salmon, beets, new potatoes and farm market salad. Although this looks like a gourmet and inventive use of leftovers, really it was me being lazy and trotting out something I already make regularly in the summer: the Summer Salad Meal, also known as the West Coast Nicoise.
It's a big and beautiful salad made with a variety of vegetables (some cooked, some raw), a quick-cook protein source (say, boiled eggs and grilled fish) and bound with my very favourite salad dressing in the whole world (recipe below). I like to make mine pretty on the plate, composed like a Nicoise Salad. The other members of my family do what they want – I set the different salad components out on the counter and let each person build their own.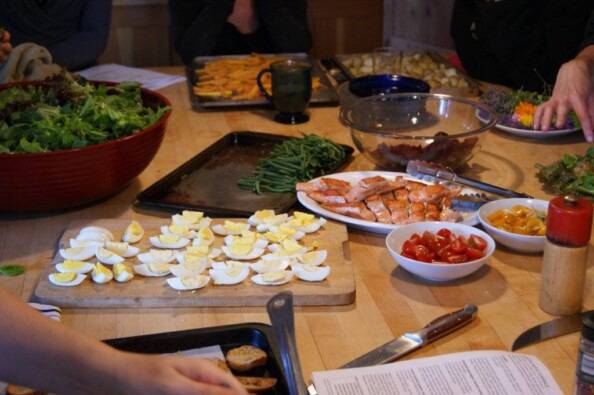 This image is from a cooking class I taught for the Ignite retreat on Salt Spring Island, but the same idea on smaller scale happens at home.
Although this is more labour intensive than my regular summer meals, I love the Summer Salad Meal because you can make all the components in advance. I always make enough for several days. Nothing beats coming home late on a hot day to pull out a delicious ready-to-eat salad in less than 10 minutes.
It works like this:
1) I go to the farmers' market and get all excited about all the different awesome vegetables for sale, so much so that I go overboard and buy too much. This happens all the time. The farmers may as well start setting up outside my house and save all of us the hassle of going to the market. Really.
2) Once I realize that I have way too many vegetables for anything else, I decide to make a kegger of Summer Salad fixings.
3) I hard-boil the eggs and peel them
4) I boil firm vegetables like the beets and potatoes (separately) until tender
5) I trim and steam or lightly boil the softer vegetables, in separate batches if possible, and let cool on a large cookie sheet or two
6) I make the dressing and store in a mason jar
7) I rip up the lettuce, if necessary
8) All components of the Summer Salad Meal go into tightly-sealed containers and in the fridge, ready to assemble at a moment's notice.
9) Extras, like grilled fish, ripe tomatoes, and fresh herbs, I will usually prepare just before serving, but it they can be done in advance if you like.
The only time I ever want anyone to look in my fridge is during Summer Salad week. Hell, that's the only time I ever want to look in my fridge. All those containers lined up with healthy meal fixings – I feel virtuously organized for at least a little while.
Vegetables for Summer Salad Meal can include asparagus, snap peas, baby carrots, green or yellow beans, broccoli, new potatoes, small beets, fingerling potatoes, cauliflower, or any other vegetable that improves with a little water-based cooking. Fresh herbs run the gamut from dill to thyme, and we usually cook salmon for our protein. But high-quality canned tuna makes the grade as well.
Basically, the recipe is so flexible and so forgiving that I always make it during my Summer Local Harvest cooking classes. The students rave and rave about it. I hope this post encourages them to make it again at home.
KID RATING (by two boys, ages 7 and 11)
West Coast Nicoise – They both love it. I am not saying that they will eat every kind of vegetables here (my 11-year-old refuses to eat lettuce, for instance, unless it is on a sandwich) but they love being able to build the salad themselves and pick what they want. Both boys tend to eat more vegetables and salmon this way than they would normally.
Lemon Thyme Dressing – They also both love this, probably since it is one of the few dressings I make that is actually a bit sweet.
SUMMER SALAD MEAL
Serves 1. Easily multiplied
Summer Salad Meal is quite easy to make, especially if you use pre-washed salad greens and canned fish. With a bit of attention to how you cook the vegetables and a homemade dressing, this salad is a delicious, satisfying and nutritious meal, perfect for those sweltering summer nights. To make things easier, everything can be made in advance and the salads assembled at the last minute. All the vegetables can be cool, room temperature, or slightly warm.
NOTE: This recipe makes one large full meal salad for one person. The recipe is very easy to multiply by as many servings as you need. Feel free to substitute any raw or cooked veggie (fresh or leftover) you like for any of my suggestions below.
ingredients
1 to 2 cups clean, dry, ripped lettuce or salad greens
1/2 to 1 cup halved new potatoes or sliced fingerling potatoes
1 cool, peeled hard-boiled egg, quartered
1 ripe tomato, sliced, or a handful of cherry tomatoes
4 oz cooked fresh or canned salmon or tuna OR chicken breast
1 to 2 Tb Lemon-Thyme Vinaigrette (recipes below), or dressing of your choice
¼ cup pitted, chopped kalamata olives OR 1 Tb capers (optional)
AND 2 to 5 veggies from the following list:
-2 small garden carrots, quartered
-a handful of fresh green or yellow beans, trimmed
-1/2 cup broccoli florets
-2 baby beets, boiled and peeled
-1/4 to 1/2 cup stemmed snap peas or snow peas
-a handful fresh asparagus, trimmed and halved
-1/2 cup cauliflower florets
instructions
I usually cook the potatoes in one pot, the beets in another, and the remaining vegetables together in a third pot. The potatoes should be just covered in salted water, brought to a boil and then simmered for about 12 minutes. Do not overcook the potatoes. They should be able to retain their shape. Drain in a colander and spread the potatoes on a cookie sheet to cool.
For the rest of the veggies (except the beets, which should also be cooked separately), bring a pot of salted water to a boil. Add the carrots first and let them cook for a minute or two before adding the green beans. After another minute add the cauliflower. Finally, after two more minutes, add the broccoli, snap peas and asparagus. Basically, the timing goes something like this: carrots-6 to 7 minutes; green beans-5 minutes; cauliflower- 4 minutes; broccoli, asparagus and snap peas-2 minutes. You want the vegetables to be slightly underdone and crisp. Immediately drain the veggies in a colander or strainer and spread on a cookie sheet to cool. DEFINITELY DO NOT SHOCK THE VEGETABLES IN ICE WATER – this makes them waterlogged.
To serve: Cover the entire surface of a plate with an even layer of the lettuce. Drizzle 2 teaspoons dressing over it. Place the potatoes in a pile in the middle of the lettuce and arrange the rest of the vegetables around the plate, either in little piles or in even scatterings. Drizzle 1 tablespoon of dressing over this now. Tuck in the wedges of egg and tomato here and there, then crumble the cooked fish or sliced chicken all over everything. Sprinkle with olives or capers, if desired, and drizzled everything with 1 or 2 more teaspoons of dressing. Add more dressing, to taste. Enjoy!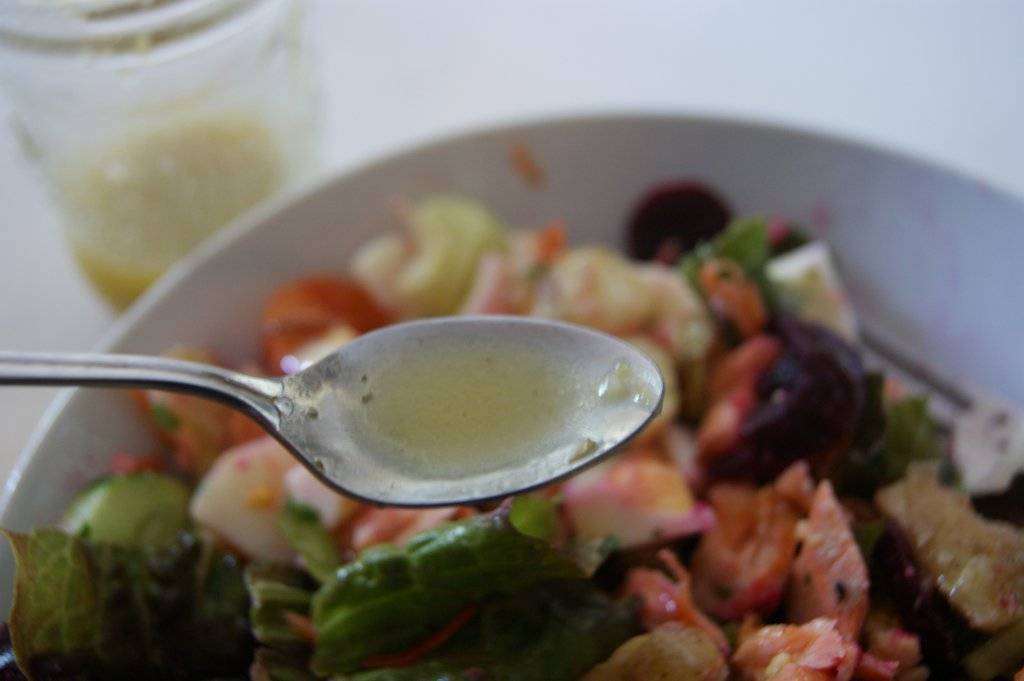 LEMON-THYME VINAIGRETTE
makes about 180 ml
My favourite salad dressing in the whole world!
1 small clove garlic, minced or pressed
1 Tb minced shallots
2 Tb minced fresh parsley
½ tsp minced fresh lemon-thyme or regular thyme
¾ tsp Dijon mustard
½ tsp salt
¼ tsp fresh ground pepper
¼ cup freshly squeezed lemon juice (or substitute 2 Tb local apple cider vinegar)
Grated zest of ½ lemon
1 Tb honey
½ cup + 1 Tb mild and fruity extra virgin olive oil
In a small bowl, whisk together the garlic, shallot, herbs, mustard, salt pepper, lemon juice, lemon zest and honey. Slowly drizzle in the oil, whisking until thoroughly emulsified. Pour into glass jar and refrigerate. This dressing will last up to two weeks. You may have to warm up the dressing for a few minutes before serving – it can solidify in the fridge.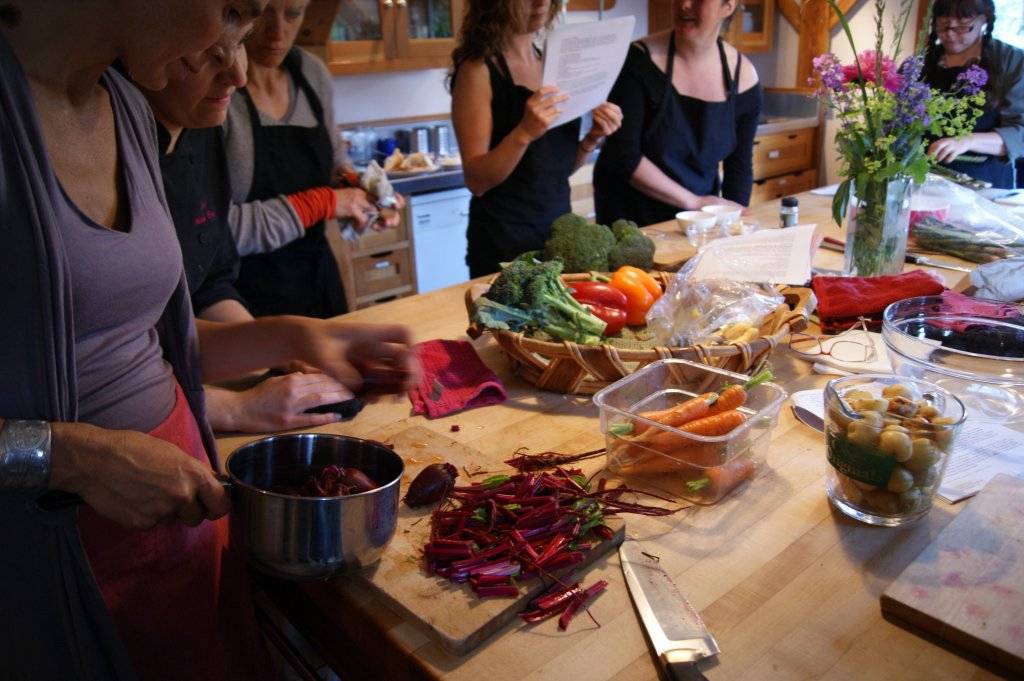 Categories:
Appetizers
,
Cooking in Season
,
Dinner Solution
,
Feature Ingredients
,
Foodgasm!
,
Gluten Free
,
Kid Friendly
,
Late Summer / Early Fall
,
Local Harvest
,
Locavore Gone Loca
,
Lunch ideas
,
My Life in Food
,
Recipes
,
Salads
,
Sides
,
Simple Summer Meals
,
Vegetarian