Bittersweet Chocolate Taste-Off
February 5, 2011
Here's my problem:  I like to use the phrase "business write-off" to justify lots of impulsive food purchases. Like last month, when I bought a whole bunch of new and different baking chocolates that I had seen crop up at the supermarkets. My vague idea was to "try them out sometime", but really, if I could have stopped myself to think about it, I would have remembered that I don't bake much and the last time I bought a new type of baking chocolate to "try", said chocolate sat in my cupboard for two years before I used it.
But the deed was done, and the only way to redeem myself was to actually use the chocolate. And this is what blogs are good for: making me accountable for my random and over-enthusiastic food purchases. So last week, I decided to hold a chocolate taste-off. I wanted to compare all the chocolate brands side by side, both plain and in brownies. And because I needed multiple judges, I planned to bring the brownies to my book club meeting. Everyone was very excited.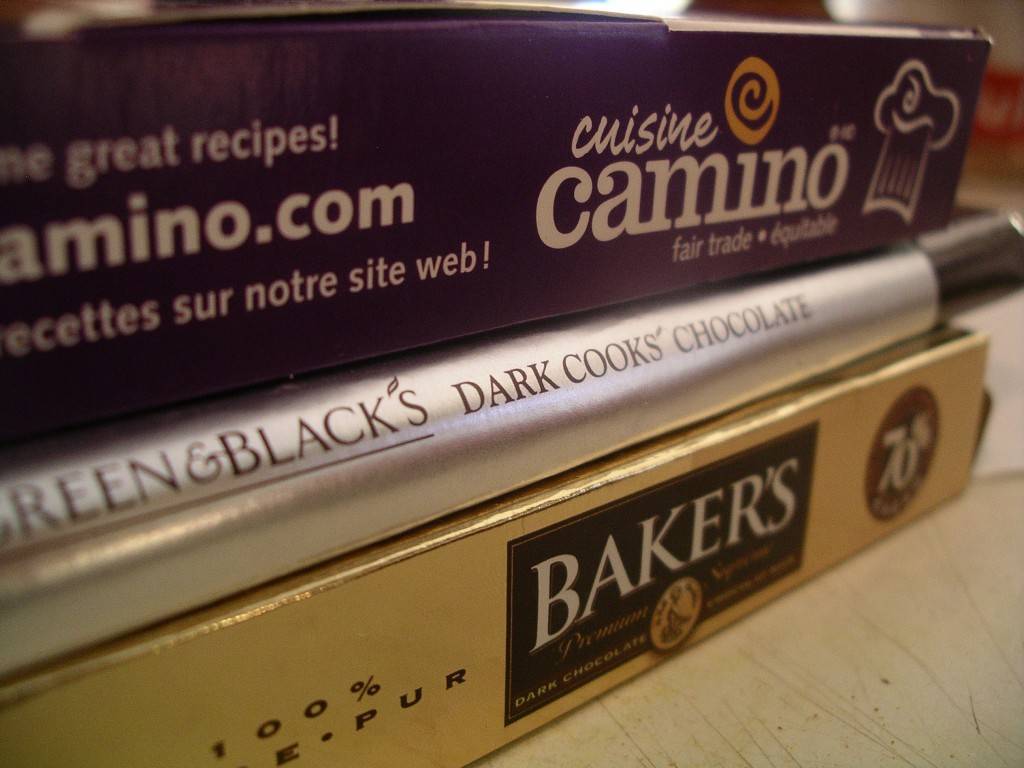 When the testing day came and I looked in the bag holding all this baking chocolate, I saw that my crazy over-purchasing had come back to bite me in my using-it-up-goody ass. I did have 8 varieties of chocolate to try, but not all of similar types. A profusion of sweetened, unsweetened, and bittersweet chocolate, all in different cocoa percentages, greeted me. This huge variation doesn't work for fairness in a side-by-side taste test. Grrrrrrr.
I ended up using only the bittersweet chocolates, of which I had three: Cocoa Camino (71% cocoa), Green & Blacks (72% cocoa) and Bakers Special (70% cocoa). And yes, that means the other 5 boxes of chocolate are still in my pantry. Ahhaa ha ha haaaa…
Another time (I hope).
Most brownie recipes call for unsweetened chocolate, but I had a variation on Nigella Lawson's Triple Chocolate Brownies kicking around. The resulting brownies were eaten by 6 book club members, and assorted family members. Nobody, except me, knew which brownie had which chocolate in it. The plain chocolate was tested by four people before I baked the brownies.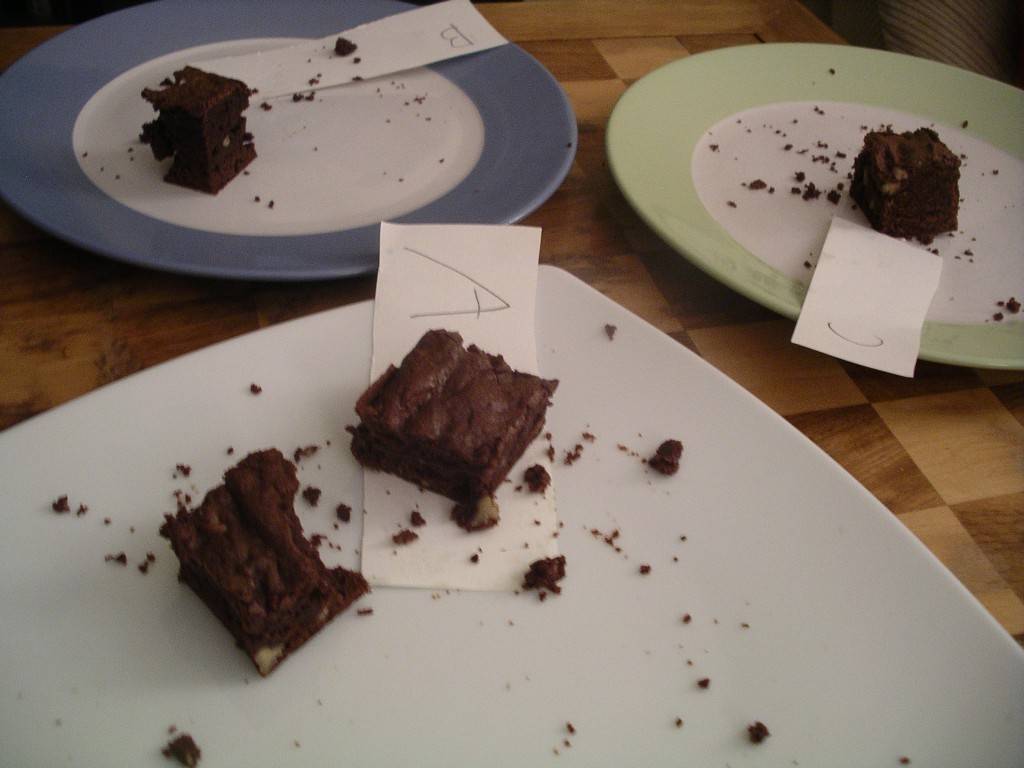 The results:
in the plain chocolate tasting, most of us enjoyed the taste of Cocoa Camino best. It was straightforward and chocolatey, while Green & Blacks was very fruity and Bakers was coffee-like and almost burnt.
BUT, in the brownies, the Cocoa Camino was the least favourite. It was driest, and had the least complexity. Kind of just blah and sweet. However, one person claimed Cocoa Camino brownie as their favourite, saying that it had the nicest and most honest chocolate flavour. That said, everyone felt that they would seriously enjoy this brownie on its own, if it did not have to compare itself to any of the others side by side.
The Green & Blacks brownies were my personal favourite, but only came second overall. Two of us chose G & B as their favourites, and most others liked them second-best. G & B brownies had the most intensity of cocoa flavour, and I loved the complex fruity overtones. In my opinion, these were the only ones that matched the flavour of a brownie made with unsweetened chocolate. But then, I am a cocoa freak.
The big winner, and a huge surprise to me, was the Bakers! I told myself that we were all biased because Bakers chocolate brownies remind us of childhood brownies, that slightly burnt coffee flavour is what we associate with a good brownie. But that didn't really wash since at least two of my testers had never tried brownies until they were adults and one of them liked Bakers best, the other second best. I have to admit, the Bakers brownies were pretty delicious. Nice coffee overtones and complexity.
Of course, these results would have been different if we had tried the chocolates chopped into a cookie, or made into truffles. The main thing I took away from the tasting is that all the chocolates are pretty good and no-one will really notice if you use Bakers over a more expensive boutique one, especially when they are baked into somethng with so much sugar, vanilla, and butter. In the end, I will personally be buying the Green & Blacks, but I think everyone else at the testing feel pretty good about continuing on with their Bakers.
And if you don't see a post in the next six weeks about Seville Orange Marmalade, you can assume I let those go to waste, too. Ahem.
Bittersweet Chocolate Brownies
Makes 16
This recipe is a variation on Nigella Lawson's Triple Chocolate Brownie recipe. I personally prefer brownies made with cocoa, or with unsweetened chocolate, but these will do ;)
ingredients
1/2 cup pecan halves
1/2 cup unsalted butter
6 ounces (170 gm) bittersweet chocolate, chopped
3 eggs, beaten lightly
2/3 cup granulated sugar
1-1/2 tsp vanilla extract
1 cup all-purpose flour
1/4 tsp salt
optional – up to 1 cup dark or milk chocolate chips, chunks, or buttons
instructions
Preheat overn to 350 F. Grease an 8-inch by 8-inch square pan and fit two longs strips of parchment in the pan, each exactly as wide and the pan, with the edges left overhanging. This is to help with brownie removal after they are cooked.
Spread the pecans on a baking tray and place in the oven until toasted and fragrant, about 7 minutes. Remove from oven and let cool. Coarselt chop the pecans and set aside.
In a small heavy saucepan over medium heat, melt together the butter and the chocolate. When melted and smooth, scrape into a bowl and let cool for a bit.
In another bowl, whisk together the flour and salt.
When the chocolate has cooled somewhat, stir in the sugar and vanilla, followed by the eggs. Stir until smooth. Immediately stir in the flour mixture, the pecans, and the optional chocolate chips. Stir with a wooden spoon until everything is blended, but don't over-mix.
Scrape brownie batter into prepared pan and smooth the top. Place pan in the oven and bake for about 25 minutes, rotating the pan once during baking. A skewer poked in the middle should have moist crumbs still attached when you poke it in the brownies between the centre and the sides. Transfer to a rack to let cool. Remove brownies from pan by lifting the 'handles' of the parchment 'sling'. Remove parchment, place brownies on a cutting board and cut into 16 squares. Serve.