Coronation Grape Clafouti
September 19, 2011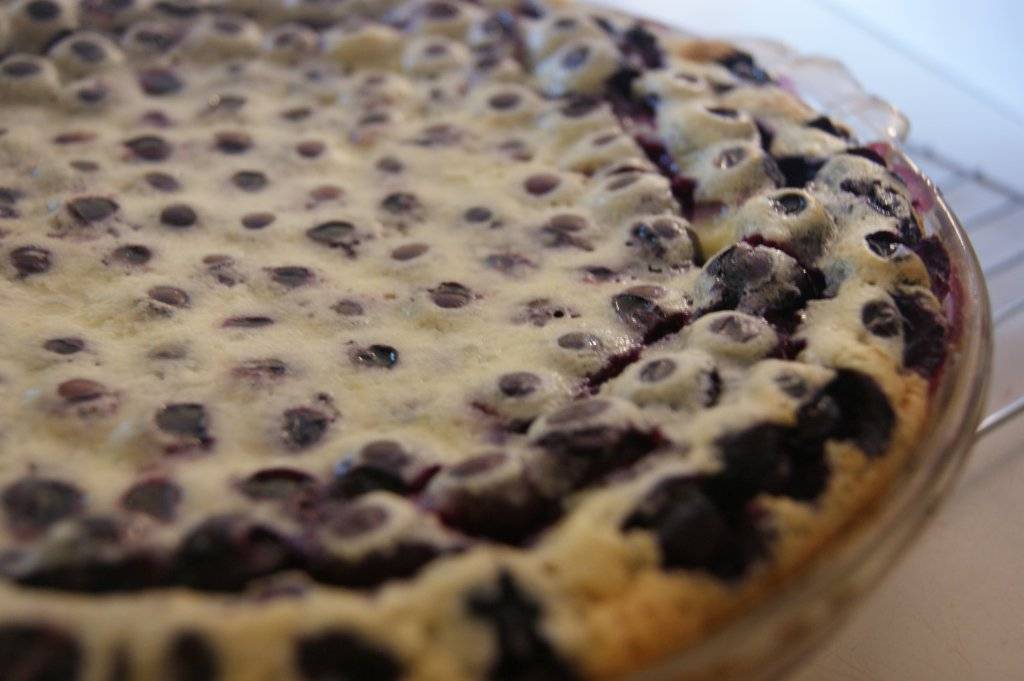 Clafouti is the kind of word, I swear, that chefs love to use to cast a veil of mystery over the simplest of recipes. Actually, I'm only saying this because I made two delicious clafoutis this week and everyone who tasted them said pretty much the same thing:
"A… Cla-footie? I have never heard of a clafouti before."
And here I thought clafouti was a household word! If it isn't, it should be. Clafouti is a French country dessert, something bewteen a custard and a cake, with lots of fruit thrown in. It is made with pantry staples and takes about five minutes to throw together, one hour to bake. The recipe is easy and flexible – throw in any fruit you like, and serve the clafouti warm or at room temperature.
But mainly, clafouti is really, unbelievably good.
Clafoutis are most famously made with sweet cherries. However, my coronation grape version seriously rivals the cherry one for Deliciousness Supremacy, if I do say so myself. Coronation grapes (very similar to concord grapes, except without the seeds) are at the peak of local bounty right now. And, oh my! They are so good when they are cooked! You know that yummy purple grape juice taste? Yeah, but these coronation grapes taste the way grape juice only hopes to taste.
Imagine bursts of delicious purple grape in a lightly sweetened flan-like custard. That's a Clafouti. No wonder it needs a fancy name.
Coronation Grape Clafouti
Serves 8.
ingredients
1 Tb butter
3 cups seedless coronation grapes (or concord grapes)
3 large eggs
2/3 cup granulated sugar
2/3 cup all-purpose flour
1- 1/2 cups light cream (10%)
pinch salt
1 tsp vanilla extract
instuctions
1. Preheat oven to 350 degrees F. Make sure your oven rack is in the middle-lower position. Place a baking sheet on the rack. Butter the bottom and sides of a 9-inch glass pie plate and set aside.
2. Gently pull the grapes off their stems and place them in a large measuring cup. Once you have three cups, cover the grapes with cold water and swish around to gently clean the grapes. Drain off the water. Pour the grapes into the prepared pie pan.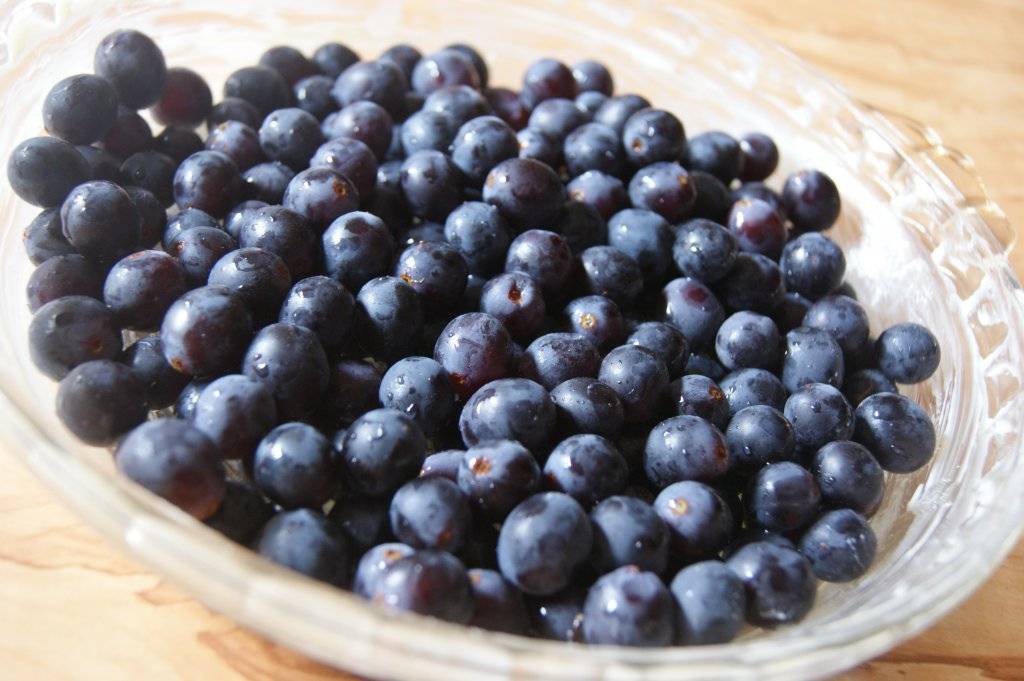 3. In a blender, combine the eggs (without their shells, obviously :)), the flour, sugar, salt, vanilla and cream. Blend until smooth. Alternatively, you can whisk the eggs, sugar and flour until smooth, then add the salt, vanilla and cream and whisk until smooth.
4. Pour the batter over the grapes in the pie plate. Place the filled pie plate in the oven on the preheated baking sheet. Bake for 1 hour, rotating the pan about half-way through baking. Clafouti is done when it is puffed and golden around the egdes and the centre only jiggles very slightly. Let cool for at least 20 minutes before serving.
5. Clafoutis can be served warm or at room temperature.