Fresh Methi, aka Fenugreek Greens
August 30, 2011
Fresh fenugreek is rich, pungent, curry-ish, and gives incomparable flavour to Indian recipes of all kinds.
One thing I have been quietly excited about all summer is that I have been able to buy Methi, FRESH, by the bunch, whenever I feel like it. At the grocery store!
You have to understand that, until this year, methi (aka fresh fenugreek) was the Indian ingredient I was most unlikely to find, ever. I expected to find it (maybe) at an Indian specialty store in Vancouver, or if I manifested really hard, once in a blue moon at the same kind of store in Victoria. But right next to the cilantro at the local Thrifty Foods? Ha.
Fenugreek is my very favourite Indian spice and herb. Fresh fenugreek is so so good. Rich, pungent, curry-ish, fenugreek leaves give incomparable flavour to Indian recipes of all kinds. One of my favourite EVER Indian dishes is methi murgh, chicken cooked in a divine caramelized onion-fresh fenugreek sauce. Another big favourite is methi roti, tender flatbreads made with pureed fenugreek greens as almost the only liquid.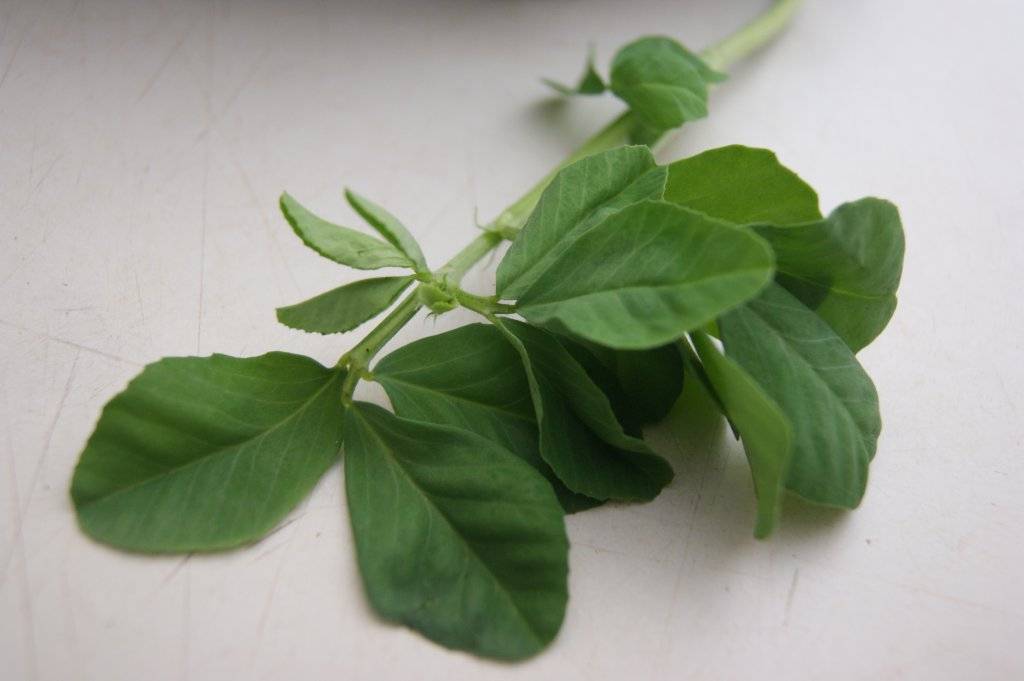 After ten years of having to resort to dried fenugreek leaves, I have been in a positive glut of fresh-methi-buying this year. Every week of the summer has seen me with a bunch or two in my shopping cart. Does it matter that I hold up the grocery line while the clerk looks for the code (always un-findable, no matter how many times I helpfully give them the exact spelling and micro-manage their search through the produce manual) and then calls for a price check (either $0.99 or $1.29, but they never listen to me)? Does it matter that I often let the greens rot in my fridge while I try to find the time to use them? Not at all! The idea that I have the delectable and divine methi murgh, methi roti, or aloo methi at my fingertips at all times has been too much to resist. So I have had temporary methi-buying insanity.
But I worry that I am the only one. Buying methi, I mean. I really want to encourage the grocery stores to keep bringing it in. So that was my pitch, almost two months over due, to go out and buy some of that delicious fresh B.C.-grown methi. Oh, and here is a recipe for methi roti (fenugreek flatbread) – both very good and pretty easy.
Methi is available in season at the Root Cellar and at Thrifty Foods locations.
METHI ROTI (Fenugreek Flatbread)
Serves 4 to 6.
This delicious bread is great on its own, slathered in butter, or served with chutney or lentils. Feel free to substitute spinach, cilantro, or dill (or a mixture) for the fenugreek leaves.
This dough can be made up to three days in advance and cooked as needed. Bring dough to room temperature before cooking. The cooked flatbreads keep in the freezer for up to 6 months.
ingredients
250 ml (1 cup) packed fresh fenugreek leaves (no stems)
80 ml (1/3 cup) water
80 ml (1/3 cup) plain yogurt
30 ml (2 Tb) ghee or vegetable oil
140 g (1 cup) whole wheat flour
140 g (1 cup) all-purpose flour
5 ml (1 tsp) ground coriander
5 ml (1 tsp) sea salt
1 ml (1/4 tsp) ground cumin
1 ml (1/4 tsp) paprika
1 ml (1/4 tsp) turmeric
1/2 ml (1/8 tsp) cayenne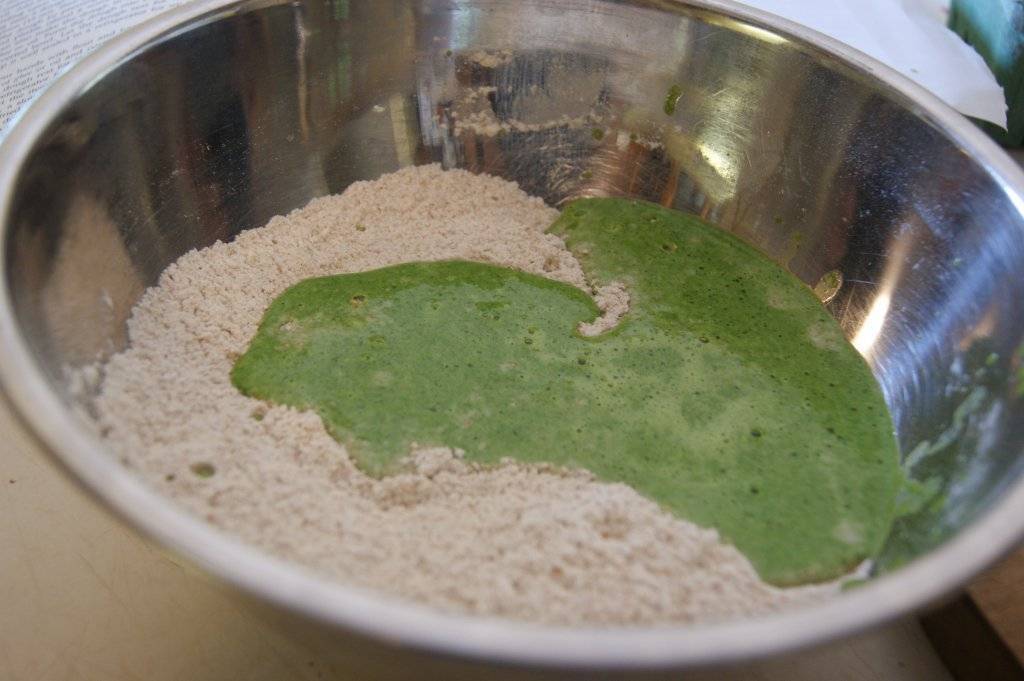 instructions
1. Combine the fenugreek leaves and the water in a small pot and bring to a gentle boil. Remove from heat and let cool.
2. Pour the lightly cooked and cooled fenugreek greens along with all its cooking water into a blender. Add the yogurt and ghee or vegetable oil. Cover and blend until you have a fine green puree.
3. In a medium-large bowl, whisk together the whole wheat flour, the white flour, the salt, coriander, cumin, turmeric, paprika and cayenne. Pour in the green puree and use a spoon to mix well, until a stiff dough forms. You may need to use your hands to get it to mix properly. Add a bit more water, as necessary, to help the dough stick together. It should be a firm dough, but not too too stiff.
4. Turn the dough out onto the counter and knead with lightly oiled hands for about 5 minutes, until dough is smooth and pliable. Set dough aside, covered, to rest at least 30 minutes and up to 3 days. (if leaving the dough longer than 3 hours, place in a zipperlock bag in the fridge until ready to use.)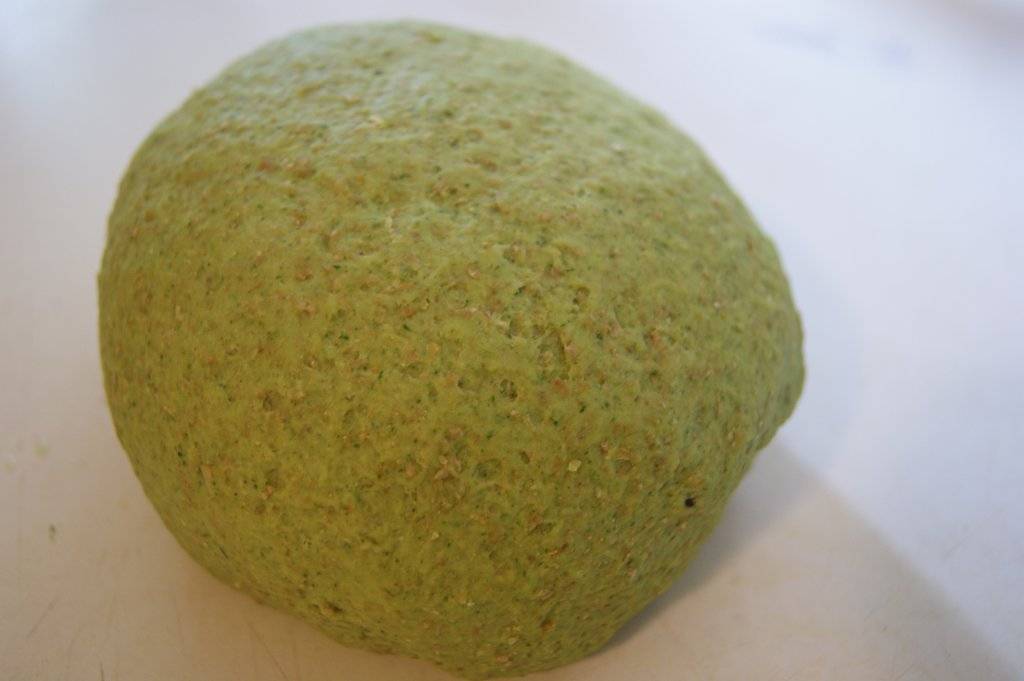 5. Divide the dough into 8 to 12 evenly-sized pieces (depending on how large you want the final breads to be). Roll each into a ball. Cover and let rest for about 20 minutes.
6. On a lightly floured counter, roll each dough ball out into an even circle. If you have divided the dough into 8 balls, they will roll out into circles of about 16 to 18 cm (6 to 7 inches). If you made 12 balls, they will roll into smaller circles, about 10 to 12 cm (4 to 5 inches). While you are rolling, please try to roll out on one side only (without flipping), if possible. Rolling on one side makes it easier to get the breads to puff up later. I usually roll out 4 balls at a time and get those cooking while I roll out the others. But if you are new at this, it might be better to roll out all the dough, stacking them with a layer of parchment paper bewteen each one.
7. Heat a heavy skillet over medium-high heat until hot but not smoking. Be perpared to turn down or otherwise adjust the heat while you are cooking. I like to use my cast iron pans, and I like to have two of them going at the same time. Also, set a cooling rack over a 3rd burner (prop it up with little jar lids so that it is not touching the burner) and turn that burner to medium high as well (if you have a gas burner, you don't need to pre-heat the one with the rack over it).
8. Place a rolled out dough on the skillet. Let cook for about 1 minutes, until it looks opaque. Flip and cook on the other side about 30 to 45 seconds. Have a pair of tongs and a clean plate at the ready. Now transfer to the flatbread to the burner with the rack over it. (if you have gas, turn this burner on now). The direct heat from this burner will cause the flatbread to puff up like an inflated pita. This will only take a couple of seconds. Using tongs, quickly remove the bread from the rack to the clean plate. The bread will deflate, but that is as it should be. Cover with a clean kitchen towel while you make the other breads in the same way.
9. Once the breads are cooked, bring to the table and serve. Feel free to bring butter or ghee with you, for brushing on the breads.
10. Alternate method of making the flatbreads puff up: the gas barbecue! Cook all the breads as described in step 8 in the cast iron pan, but don't put them over a hot burner to puff. Keep breads warm and turn on one burner of your gas barbeque to medium-high. Place 6 breads on the grill rack and watch them puff up (they will take longer to puff here than on a burner). Use tongs to remove them. Repeat with remaining breads and serve immediately.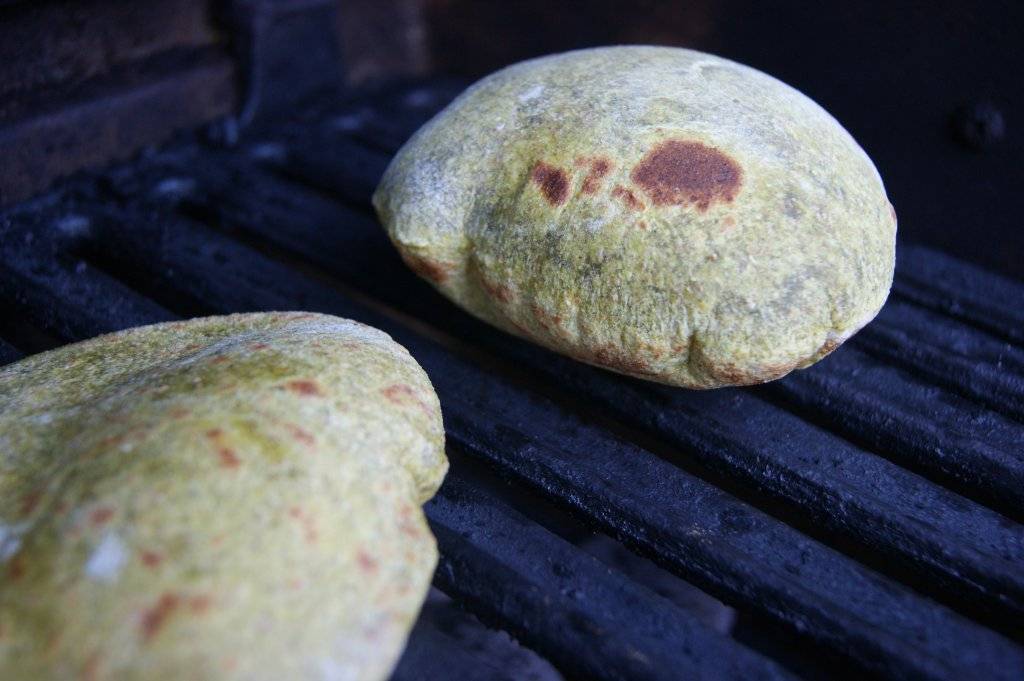 You May Also Like These Recipes:
Categories:
Appetizers
,
Asian Foods
,
Asian Vegetables
,
Baking and Treats
,
Cooking in Season
,
Extreme Foodie
,
Feature Ingredients
,
Foodgasm!
,
Heidi's How-To
,
Indian
,
Late Spring / Early Summer
,
Local Harvest
,
Recipes
,
Spices
,
Vegetarian