Farmers' Market Demo Recipes: Tayberry Cherry Shortcake
July 25, 2013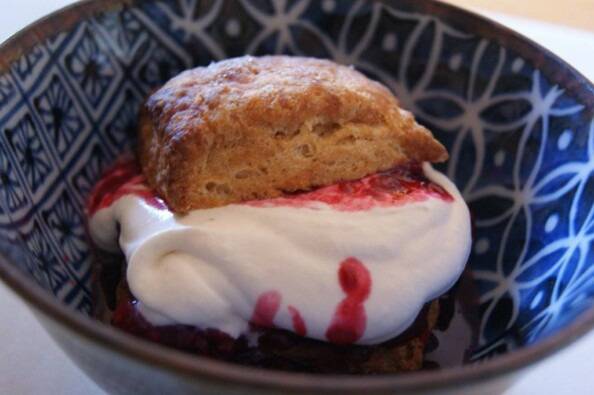 This summer, I have been helping to organize the open air Chef 's Demo Stage at the Moss Street Market. Read all about it in my first post on the subject here.
This post and the one yesterday are for those who were not able to come to my demos, but would still like to try out the recipes. Yesterday's recipe was garlic scapes slow cooked with greens and cheese curds. (I know, right?) Today… today is dessert day.
This second demo recipe came to me via two bursts of inspiration.
The first came in early July, on the drive home from cherry-picking on Oldfield road. I had my bucket of cherries and a large basket of tayberries beside me on the seat, and I spent the drive attempting to double-fist cherries and tayberries (note to self: to do not double-fist-food and drive) and it was a match made in fruit heaven! The lip-smacking combo immediately set my brain whirling with cherry-tayberry recipe ideas. I made first a galette, and later, shortcake. Both drool-worthy.
Second, also in early July, trying to come up with a 'light', seasonal, yet still Indian-inspired dessert for my cooking retreat at Taku Resort, I used a riff on the fantastic Indian dessert kheer – fresh local berries bathed in a cardamom-perfumed cream. Now, that really was inspired.
Matching my tayberry-cherry shortcake with the dreamy cardamom cream has been my best idea all summer! It's definitely the more complicated recipe of the two (I spent significantly more time prepping for the second demo) but possibly more satisfying. Anyway, it's dessert – of course it's worth it!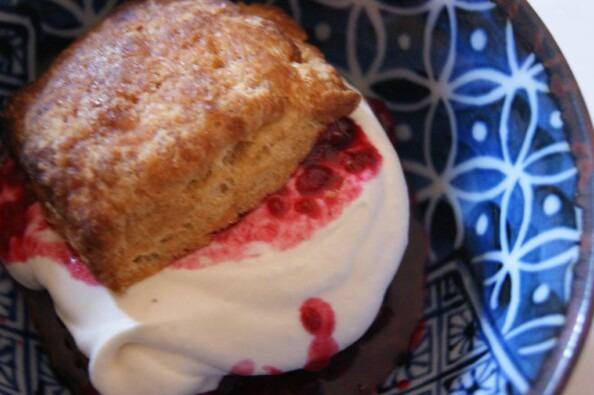 TAYBERRY-CHERRY SHORTCAKE WITH CARDAMOM CREAM
Makes about 12 servings.
I chose this recipe for two reasons: to show off the match-made-in-heaven pairing of tayberries with cherries, and to use the delicious cardamom cream I invented for my recent cooking retreat on Quadra Island.
Cardamom Cream
¾ cup whipping cream (heavy cream)
25 pods green cardamom
3 thin slices fresh ginger
1 Tb brown sugar
¼ to ½ cup white sugar
½ cup crème fraiche or sour cream
Smash cardamom pods in a mortar and pestle until pods are broken and some seeds are crushed. Place in a small pot, along with the ginger and whipping cream. Heat over medium heat until mixture boils; reduce heat and simmer gently, stirring occasionally, for 4 to 5 minutes. Remove from heat, stir in both sugars, and let sit for 10 minutes more.
Strain mixture through fine strainer into a metal bowl. Let cool to room temp, then cover and refrigerate for at least one hour, until very chilled.
Remove mixture from refrigerator and scrape into a standing mixer fitted with the ship attachment. Add crème fraiche. And stir well. Taste mixture to see if it is sweet enough; if not, add more sugar. Whip until stiff peaks form; do not over beat. Cardamom cream can be made up to three days in advance. Stir well before serving.
Shortcake
1½ cups (7.5 oz/210 gm) all-purpose flour
½ cup (2.5 oz/70 gm) whole wheat flour
½ tsp salt
2-½ tsp baking powder
½ tsp baking soda
4 Tb sugar, plus more, for sprinkling
½ cup (4 oz/112 gm) cold butter
1 cup to 1-1/4 cup plain yogurt
Preheat oven to 425°F. In a medium bowl, whisk together all the dry ingredients. Using your fingers, two butter knives, or a pastry blender, cut cold butter into the dry ingredients until the mixture is crumbly, with pieces of butter no bigger than a small pea. Quickly stir in the yogurt until mixture holds together.
Turn dough out onto floured counter and gently pat into a disk about ½-inch thick. Fold dough over itself into thirds, and then pat or roll out again into a disk about ½-inch thick. Cut with round 2-inch biscuit cutter. Place biscuits on an ungreased cookie sheet. Sprinkle the tops of the biscuits evenly with the remaining sugar.
Bake in the preheated oven about 12-16 minutes, until golden. Remove to a wire rack to cool. Shortcakes can be made up to 2 days in advance.
Berry Filling
2 pints (4 cups) tayberries*
2 pints sweet cherries (3 cups pitted)**
1/2 – 3/4 cup granulated sugar, to taste
* Substitute raspberries, loganberries, or blackberries, if desired.
** Substitute 3 cups of any fresh berry – use more tayberries, or sub in raspberries, blackberries, blueberries, etc.
Wash tayberries, and stem , if necessary. In a small pot, combine tayberries with a little bit of water (a few tablespoons). Cover and heat until the fruit releases its juice. Remove cover, add sugar, and bring to a boil. Simmer for 2 to 5 minutes, until berries have mostly broken down and released all juices and the sugar has dissolved. Pour berry mixture into a bowl and let cool for about 10 to 20 minutes.
Meanwhile, use a cherry pitter or knife to pit the cherries. Cut pitted cherries into halves or quarters, depending on teh size of the cherries.
Once the tayberry mixture is cool to the touch, add the pitted and sliced raw cherries. Stir well to mix. Taste and add more sugar, if you like. Filling can be made up to 3 days in advance.
ASSEMBLY
Cut each shortcake biscuit in half crosswise. Place each bottom on an individual dessert plate. Spoon a generous portion of berries with their sweet juice onto each biscuit bottom, and then dollop on some whipped cardamom cream. Top with biscuit tops, and decorate each top with a little dollop of whipped cream and one berry. Serve immediately.