Mint Chocolate Butter Crisps – Happy Holidays!
December 24, 2012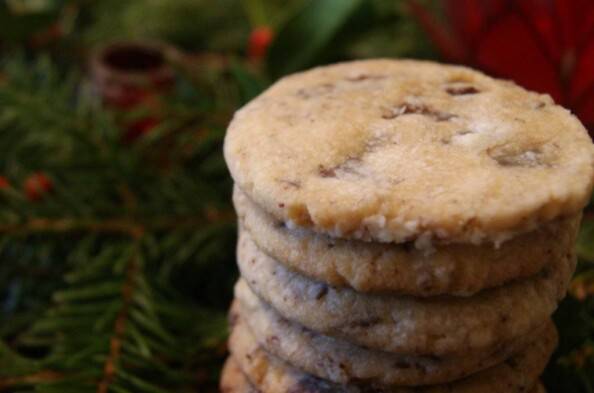 I have had many friends and clients ask me to post this recipe so that they can Pin It and "never lose track of it again"!
I get it. This is the one cookie I make without fail. I almost got away without it this year, but this morning – Christmas Eve – I woke up and realized that Christmas wouldn't be right without my mint chocolate cookies. So I spent the morning baking in Christmassy bliss: chopping chocolate, creaming butter, and licking fingers to the sounds of 'Cool Yule'.
(I have since spent the afternoon fending off little hands, trying to make sure that some of the four dozen will actually survive until tomorrow!)
I published this recipe several years ago in the holiday issue of EAT Magazine, which is why so many of my clients know about it. It's very simple, deliciously Christmassy and enjoyed by young and old. Although it's late to get this going for Christmas this year, keep it in mind for next Christmas. Even Pin It, if you like :)
On this Christmas Eve, I wish everyone a very happy holiday season and a healthy 2013!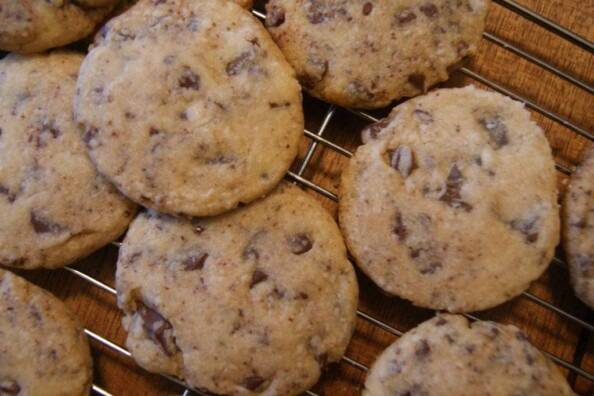 MINT CHOCOLATE BUTTER CRISPS
Makes about 4 dozen.
Delicious melt-in-your mouth buttery cookies with a refreshing hit of mint-chocolate. These cookies keep well, in an airtight tin, for 2 weeks.
ingredients
2-¼ cups (325 gm) all-purpose flour, sifted before measuring
½ tsp salt
1-¼ cups (285 gm) unsalted butter, softened
1 cup (125 gm) icing sugar
2 tsp vanilla extract
1-½ cups (225 gm) mint-flavoured chocolate chips OR finely chopped high-quality mint-flavoured dark chocolate (my preference is for Lindt Intense Mint chocolate bars)
instructions
Preheat oven to 325 F.
Whisk together the flour and salt.  In a separate bowl, cream the butter.  Sift in the icing sugar and beat into the butter until light and fluffy.  Beat in the vanilla.
Add the dry ingredients to the creamed mixture in two parts, beating well after each addition.  Stir in the chocolate chips or chopped chocolate.
Roll pieces of the dough into ¾" round balls.  Place on a lightly greased or parchment-lined cookie sheet.  Using a bottom of a drinking glass which has first been dipped in icing sugar, flatten each dough ball into rounds about 1 ½" to 2" in diameter.  Bake for 12-15 minutes, until light golden around the edges.  Remove to cooling racks to let cool.