Dinner Blues and some tasty Crispy Broiled Chicken
September 2, 2010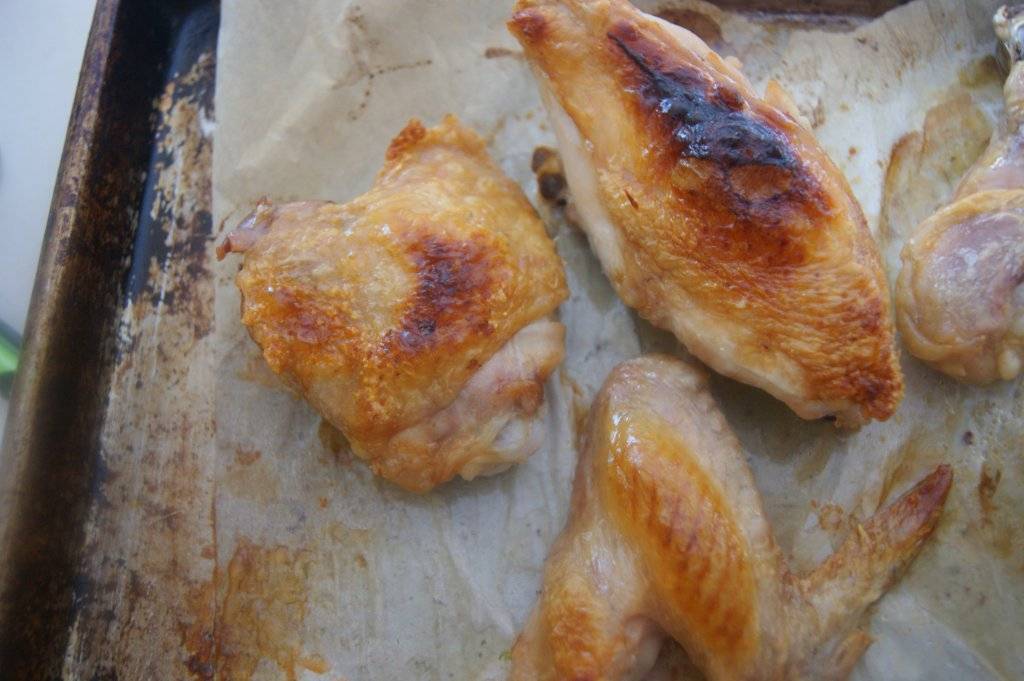 Tonight is a good example of how things don't always go smoothly in Chef Heidi's kitchen.
It was a case of the age-old question:  "What's should I make for dinner?". Or, in my case, "WTF?! Again?! Ug, do I have to do this every night? And with what, exactly?"
Yes, even us fabulous chefs run up against the brick wall of combined boredom, apathy, fatigue, lack of inspiration, and lack of supplies. Sometimes I want the children and hubby to go away so that I can eat a piece of toast and a chocolate bar in peace, and not have any dishes to clean up either. Sound familiar?
One advantage to being a chef is that the cheffy-foodie part of my brain continues to work even when the rest of me is feeling sorry for myself. This evening, Cheffy-Foodie-Brain started to make suggestions, such as:
#1 "Do something with those chicken legs that you have been avoiding for two days."
Also #2 "You do have some jasmine rice in the cupboard right there. That only takes 20 minutes to cook"
and #3 (my favourite) "Who cares if you don't have any vegetables? Make up a fruit plate, chuck those last four carrot sticks on it, and call it dinner."
Which is how we ended up sitting down to a not-bad meal – actually, who am I kidding? – a super tasty meal of crispy broiled chicken, steamed jasmine rice with butter and hot sauce, and some yummy first-of-the-season apple pieces. This meal covered all the the nutrient bases, was ready in thirty minutes, and everyone liked it. Despite my resentment today of anything relating to kitchens and children's appetites, Cheffy-Foodie-Brain pulled me through. (Thank you, C-F-B!)
Afterward, it occurred to me that I need to post a recipe for this meal. Or for the chicken part anyway, since the broiler trick is so great. Because we all need a 30-minute kid-friendly high-protein meal in our back pocket.
UPDATE: I have updated (and added more detail) to the recipe here.
Simple Crispy Broiled Chicken
Serves 4
Despite this being a super quick meal, this recipe makes some of the yummiest chicken ever. The skin is always perfect, and the meat is never dry, and my kids always like it.
Ingredients
4 chicken legs (thighs and drum sticks), preferably organic or free-range – these birds usually have tastier, juicier meat. Also, you can use whole wings, too, if you have them.
salt and pepper
baking sheet (like a cookie sheet, but it must be something with low sides)
parchment paper
Instructions
Place oven rack in lower-middle position and turn the oven to 400 F. Cover the baking sheet with parchment paper.
Separate the thighs from the drumsticks by using a sharp knife to cut between the joint. (You can also get a butcher to do this before you bring the chicken home, or buy the legs already jointed).  Place the chicken pieces, skin side up, on the prepared baking sheet. If the chicken skin seems very thick and fatty, make 2 shallow slashes in the skin of each piece of chicken. (I usually skip that part – when I make this, it is because I am not in the mood to cook, so skin-slashing is out). Sprinkle the chicken generously with salt and pepper (don't skimp). A little garlic and rosemary would not be remiss either, but again, when I am making this, I am not in the mood to muck around with herbs and crap like that.
Place chicken in the preheated oven. (This is when you start the rice: 1 cup rice to 1 1/2  cups water). Bake chicken for 20 minutes or so. Rotate the pan front to back. (This is when you remove the rice from the heat, but keep the lid on and don't disturb till dinner).
Now, turn the broiler on high. On most ovens, this will have the affect of turning off the bottom element, which is what you want. Don't move the rack or anything. Keep the chicken on the lower-middle rack. It should be at least 12 inches away from the broiler. Keep cooking for 10 to 15 minutes more, until the skin is nice and golden brown and crispy, and the chicken is juicy and cooked. Bigger thighs and drumsticks will take a bit more time (up to 10 minutes more), another reason to go for the slightly smaller free-range birds. While chicken is cooking, cut up vegetables and/or fruit.
Get out the butter, hot sauce, BBQ sauce, soy sauce, or whatever condiment(s) are necessary for your family's enjoyment of plain rice and chicken. Sit down and eat.
And there you have it, Quick-and-Dirty-I-Don't-Want-To-Cook-Dinner dinner at Chef Heidi's house.
Categories:
Cooking with Kids
,
Dinner Solution
,
Feature Ingredients
,
Food Philosophy
,
Heidi's How-To
,
Kid Friendly
,
Late Summer / Early Fall
,
Local Harvest
,
Meats
,
My Life in Food
,
Quick and Dirty
,
Recipe Rehab
,
Recipes
,
Technique technique technique