Kumquat Marmalade Recipe
February 18, 2017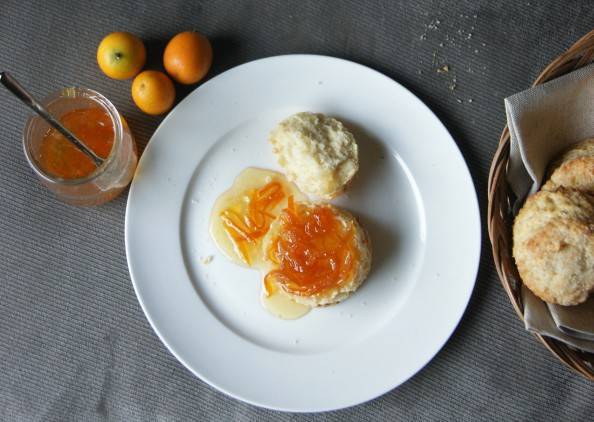 {Disclaimer: this post has been sponsored by Rancho Vignola. Readers will have a chance to enter a half-price cooking class giveaway today! Details at the end of this post! LAST WEEK'S WINNERS ANNOUNCED BELOW}
Many, many years ago, when I was first learning to make jam and preserves, I saw a basket of kumquats in the produce market near where I lived. Always willing to try a new food, I bought the crazy little fruits; later that day I made marmalade with them.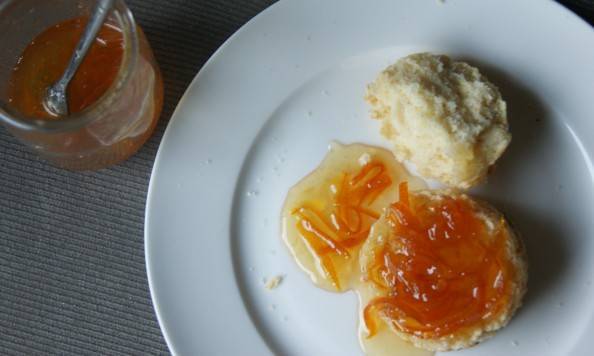 I remember that the kumquats were finicky to deal with, and that I hadn't bought enough to make the quantity of marmalade that I had hoped for. But I also remember that it was the BEST marmalade I had ever tasted.
Kumquat marmalade was very aromatic, only slightly bitter, a perfect balance of tart and sweet, with an incomparable flavour. Much like quince, the labour of dealing with the fruit is well worth it. The jars were eaten up in no time, on toast, on ice cream, by the spoonful. . .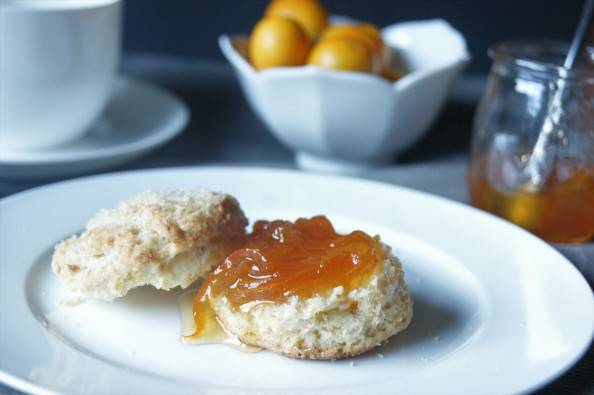 It was at least a decade before I found both kumquats and the time to make their finicky marmalade again. I'm thankful that this dark age of kumquat-marmalade deprivation has passed for me. It was very hard to live without; kumquat marmalade is really that good. I would venture to call it the gateway marmalade: sophisticated enough for the marmalade lover, but mild enough for a marmalade fearer.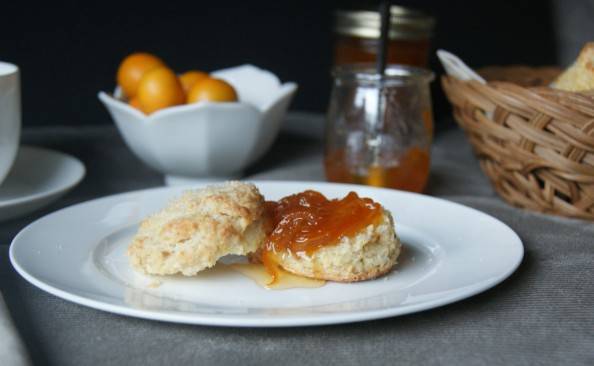 If you want to make this recipe (worth it, I promise!) know that you will spend much time on slicing these tiny fruits and picking out their multitudinous seeds. However, once that is done, the rest is very easy. By the way, if you want the biscuit recipe (look at that beauty in the photo!) I use the one from my strawberry shortcake blog post.
I found kumquats in abundance this year at The Root Cellar, and at Fisgard Market in Chinatown. I am sure they are available elsewhere, too.
Now, ON TO THE COOKING CLASS DISCOUNT GIVEAWAY! (Recipe below the contest details)
Last week's winners are: Kathryn Anderson and Barb Bond from the blog, and Paula Marchese and Julia Trachsel from my facebook fanpage.
My friends, fans, and loyal blog readers, Rancho Vignola has stepped up once again to sponsor my business activities, this time by covering 50% of the cost of one of my cooking classes. What this means for you, dear readers, is that I will be selling twelve spots in my newest cooking class, Flavours of the Exotic, for half-price! That's $50 for a full three-hour hands-on cooking class, and includes a take-home recipe booklet and full delicious meal.
The class will be held on Saturday, February 25th, from 6 pm to 9 pm, at the lovely teaching kitchen of The London Chef in downtown Victoria. Here is a full description of the class:
FLAVOURS OF THE EXOTIC (Vegan/Vegetarian)
World cuisine is known for its explosions of flavour, its liberal use of fresh produce, and its cooking techniques that make even simple ingredients taste spectacular. What are the secrets? In this class, I will de-mystify the ingredients and techniques needed to create mouthwatering vegetables, grains, fruits, and legumes. Borrowing inspiration from Asia, North Africa, Central America, and beyond, we will walk away with a better understanding of how to cook well and stay healthy, with a collection of recipes that will WOW our friends and family. Vegan/vegetarian friendly, but techniques learned in class will apply to omnivore cooking as well.
What is being given away here is a 50% discount. You are entering to win a Chef Heidi cooking class, normally valued at $100, for only $50.
Bonus: Rancho will be providing some of their new-crop nuts and dried fruits for our class menu!
GIVEAWAY RULES:
1. You are entering to win a discount on a Chef Heidi cooking class. Her classes are normally valued at $100. Draw winners will pay only $50.
2. No purchase necessary to enter the draw, but if you win the discount, you will be expected to pay the remaining 50% value of the cost of the cooking class – in this case, $50 per person.
3. Four discounted cooking class spots will be available for a draw each time I post for three weeks. That means there are 3 chances to win!
4. Enter the draw by commenting on the blog post or on my facebook fanpage that day. A new blog post will go up every Sunday for three weeks. Each draw will last for 48 hours, after which I will close comments and pick the winners by random draw.
5. This discount giveaway is open to any Canadian or U.S. resident who can make it to Victoria for the date of the class (Feb 25th, 2017).
6. This discount cannot be applied to any other cooking class. It applies only to the Rancho Vignola sponsored vegetarian cooking class offered Feb 25th, 2017.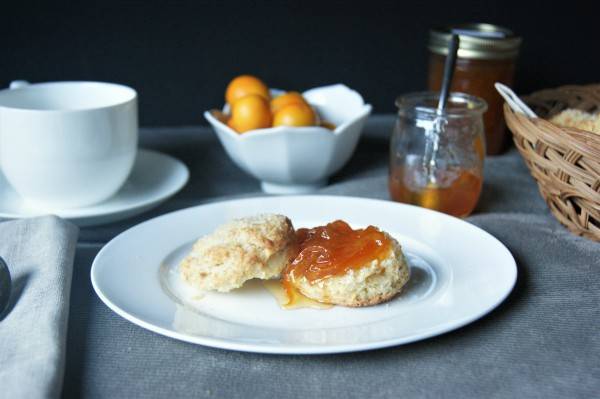 KUMQUAT MARMALADE RECIPE
Makes 8 X 250 ml jars
This kumquat marmalade is SO GOOD. Delicious perfume, aroma, and flavour, with a slight bitter / tart edge, and a beautiful bright colour! In my personal opinion, kumquat marmalade is the best of all marmalades. Definitely worth the extra labour involved with cutting these tiny, seedy fruits.
ingredients
3 lbs (1360 g) whole orange kumquats
water
sugar
fresh juice from 3 to 4 lemons (approx 6 to 8 Tb)
instructions
Divide the kumquats into two even piles of about 1-1/2 lbs each pile. Have two pots ready: a large pot and a medium pot.
With kumquat pile #1, cut them in half lengthwise, pick out the seeds as best you can (some will be nestled deep within and are easier to pick out while you are slicing). Place these seeds in the medium pot. Take the seeded kumquat halves and slice them very thinly crosswise, picking out any additional seeds as you go. Place these prepared kumquats (and any juice collected on the cutting board) in the large pot.
With kumquat pile #2, cut them in half lengthwise, and pull out the fleshy middle parts off of the skins (this should be quite easy to do). Put the fleshy middle parts (no need to cut them further) in the medium pot with the seeds. Take the kumquat skins and slice them very thinly crosswise, and place them in the large pot with the other sliced kumquats.
Right now, you should have a big pot holding sliced kumquats + sliced kumquat skins AND a medium pot holding seeds + fleshy middle parts.
Now add water to the large pot, enough water to just cover the sliced kumquats. Bring to a boil over high heat, skimming any foam that rises to the surface, and reduce heat and let simmer gently for about 60 to 90 minutes, until the kumquat skins are cooked through and the white parts are translucent. Add water to this pot as necessary, so the level doesn't drop too low. (But it's ok if the volume is a bit lower when you finish than when you started.)
MEANWHILE, add 3 cups of water to the medium pot with the seeds and fleshy inner parts. Bring to a boil over high heat, reduce heat and simmer gently for about 1 hour. Strain the seeds, etc, out of this, keeping the liquid and discarding the solids.
When the large pot has cooked long enough, turn off the heat, add the strained liquid from the medium pot and stir well. Now, measure all this. I measure by scooping the kumquat mixture out with a measuring cup into a large bowl. You will have approx 8 cups of fruit mixture, give or take a cup. Return this mixture to the large pot, remembering how many cups you have. For every cup of fruit mixture, add 3/4 cup of sugar. Stir well to dissolve, and add the lemon juice. Taste the mixture now. If it is not sweet enough, add more sugar to taste (up to 1/4 cup additional sugar per cup of kumquat mixture that you measured earlier).
Once the sweetness and tartness has been adjusted to suit, get ready to finish the marmalade! If you are going to be canning this, make sure you have sterilized jars and lids ready, your boiling water bath ready with hot water, and your thermometer ready to take a reading (or a few small plates in the freezer – a time honoured jam-testing trick).
Bring sugar-kumquat-water mixture to a full rolling boil, stirring to dissolve the sugar completely. Boil, stirring occasionally, until the marmalade reaches the gel point (220 F / 105 C) about 20 to 40 minutes. Start testing at the 20 minute point, and test frequently thereafter. If you don't have a thermometer, drip a small amount of marmalade on a frozen plate. Run your finger across the surface of the blob of marmalade on the plate. If the skin formed on the surface wrinkles, your marmalade is ready.
I have found that the marmalade usually takes about 20 minutes, sometimes even less, BUT I also prefer my jams and marmalades on the loose side. I don't like a firm gel. This likely comes from growing up (and later learning to make jam) with an absence of commercial pectin. However, kumquats have pectin in ample supply, so if you like a firm set on your jam, boil long enough to make it so.
Fill your jars and process according to manufacturers directions. Let cool on a folded towel for 24 hours before testing the seals and storing the jars.
If you have any excess marmalade that didn't fill a canning jar, place the partially-filled jar in the fridge and eat within three months. Ditto any jars that didn't seal.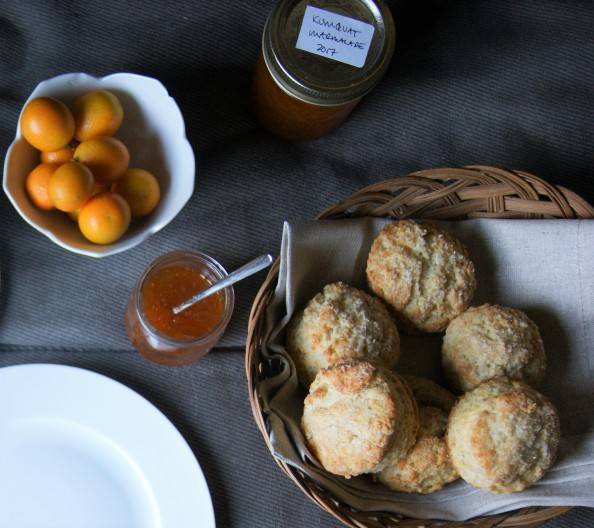 You May Also Like These Recipes: