The Best Dessert in the World
July 4, 2010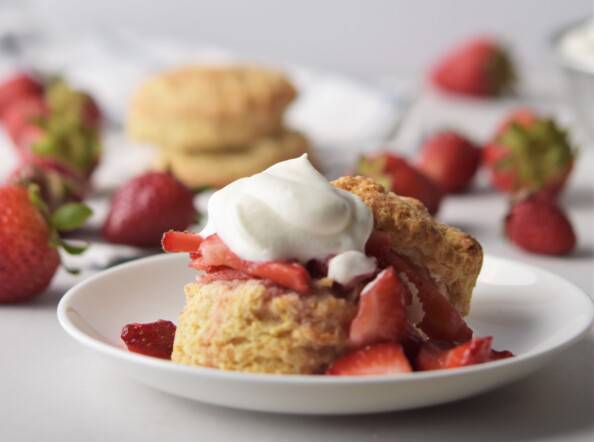 A few years ago, an email circulated among my friends asking us to pick our favourite dessert from one of 10 choices. The point was to find out what kind of personality we had based on our dessert preferences. A simple bit of fluff, but I did find the results telling. Not one of my friends chose the actual best dessert in the world, despite its presence on that list of 10 dessert choices. This told me less about my friends' personalities and more about the sad lack of real homemade strawberry shortcake in this world.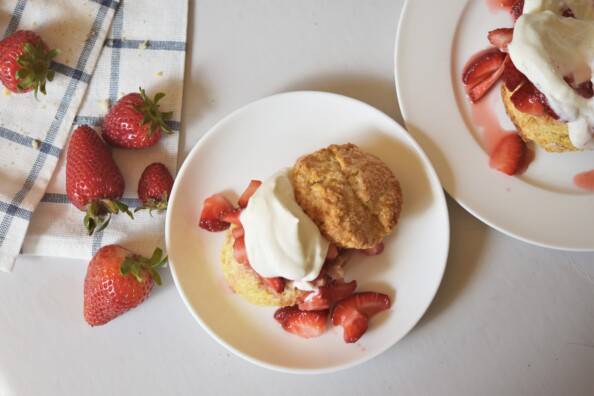 I've seen a lot of soggy sponge cake and flavourless sickly sweet berries desecrating the name of strawberry shortcake. Honestly. It's probable that my friends had never had a great strawberry shortcake, one made with a homemade buttery biscuit and freshly picked sweet local berries. The inspired flavour combination of luscious cream, ripe berries and toasty biscuit is an absolute dream match, right up there with tomatoes and basil, or garlic and butter, or steak and black pepper.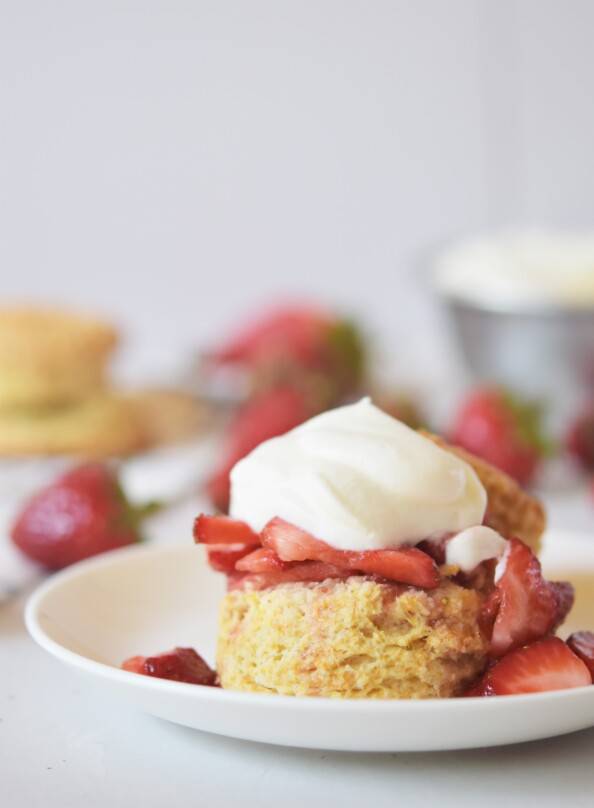 So, I hope to change all this by example. I want to wow and excite everyone with this simple yet spectacular dessert. I plan to make and eat strawberry shortcake as long as the local strawberry season lasts. I will have friends over to share. I will make some raspberry and blueberry and peach variations while I am at it. And I am about to post my recipe for super specatular extra-yummy homemade strawberry shortcake. Now is the season! Seize and enjoy!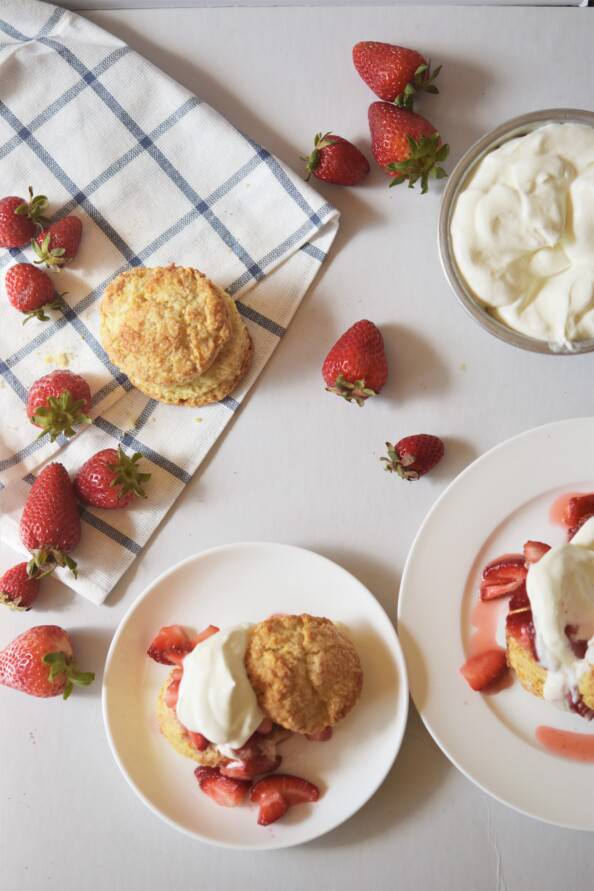 FRESH STRAWBERRY SHORTCAKE
Makes 8 to 12 servings
This simple and delicious summer dessert is made in three parts and assembled at the last minute to maintain freshness.  The individual parts can be made in advance.
Shortcake
210 g (1½ cups) all-purpose flour
70 g (½ cup) whole wheat flour
2.5 ml (½ tsp) salt
10 ml (2 tsp) baking powder
1 ml (¼ tsp) baking soda
75 ml (5 Tb) sugar, divided
114 g (½ cup) cold butter
250 ml (1 cup) plain yogurt
Preheat oven to 400°F.
In a medium bowl, whisk together all the dry ingredients, using 3 to 4 tablespoons of the sugar, and reserving the remaining sugar. Cut cold butter into the dry ingredients until the mixture is crumbly, with pieces of butter no bigger than a small pea.  Quickly stir in 1 cup of yogurt until mixture holds together. It may still have a few crumbles not mixing properly
Turn dough, extra crumbles and all, out onto floured counter and gently knead together by first patting the dough into a disk about 1 cm thick and then folding over on itself. Turn dough one-quarter turn and pat out to 1 cm thickness again, then fold again. Do this several times, until the crumbles have all incorporated into the dough.  This folding technique also helps to create fluffy layers.
Pat dough out into a circle about 1-1/2 to 2 cm thick. Cut with round biscuit cutter (use the 2-inch or 3-inch size).  Place biscuits on an ungreased cookie sheet.  Sprinkle the tops of the biscuits evenly with the remaining sugar.
Bake in the preheated oven about 12-15 minutes, until golden. Remove to a wire rack to cool.
Strawberry Filling

1.5 to 2 litres (6 to 8 cups) fresh local strawberries (if you can, go out to Oldfield Orchard and pick some of the lovely Rainier Strawberries they have)
150 g (3/4 cup) granulated sugar, or more, to taste
Wash the berries and drain gently. Stem and hull the berries, if necessary. Place three cups of the berries in a large bowl and mash with a potato masher or fork. Slice the remaining 5 cups of berries into the bowl with the mashed berries. Sprinkle with the sugar and stir well. Let sit for about 20 minutes, until the berries are juicy (sugar draws the juice out of the berries)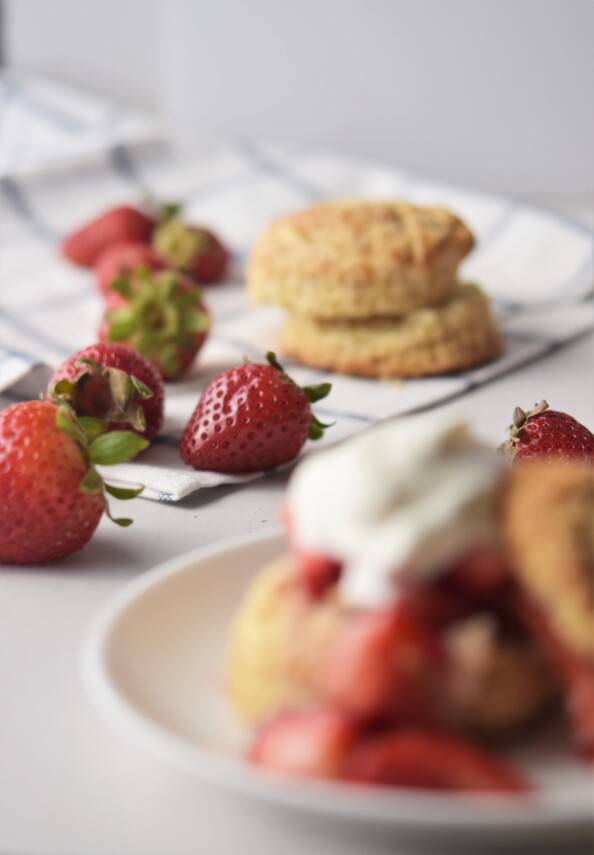 Whipped Cream

500 ml (2 cups) whipping cream, chilled
15 to 45 ml (1 to 3 Tb) granulated sugar – optional
5 ml (1 tsp) vanilla extract – optional
I prefer unsweetened, unflavoured cream myself. I think it has a clearer flavour and lets the berries shine. But if you prefer the sugar and vanilla, then for sure use them.
Use a large chilled bowl to whip the cream.  The cold will make the cream whip up faster.
Pour the cream, sugar, and vanilla extract into the bowl.  Use a hand held electric mixer or a balloon whisk to whip the cream.  Whip until the cream has thickened and makes soft peaks. (Alternatively, use a standing mixer such as Kitchen-Aid)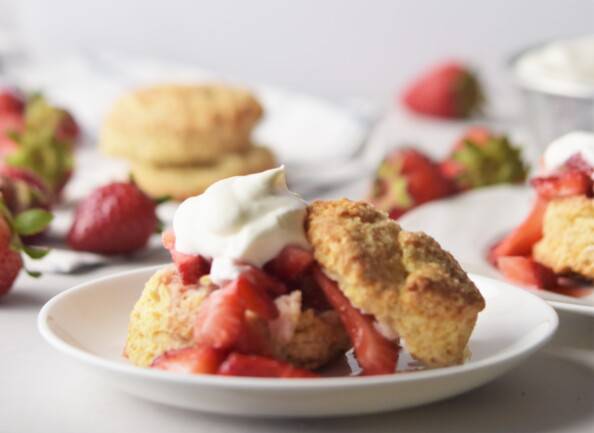 Assembly
Cut each biscuit in half crosswise.  Place each bottom on an individual small plate.
Spoon a generous portion of berries with their sweet juice onto each bottom.
Next, dollop on some whipped cream over the strawberries on the bottom biscuit. Top with biscuit tops, and decorate each top with a little dollop of whipped cream and one berry. Serve immediately. And enjoy!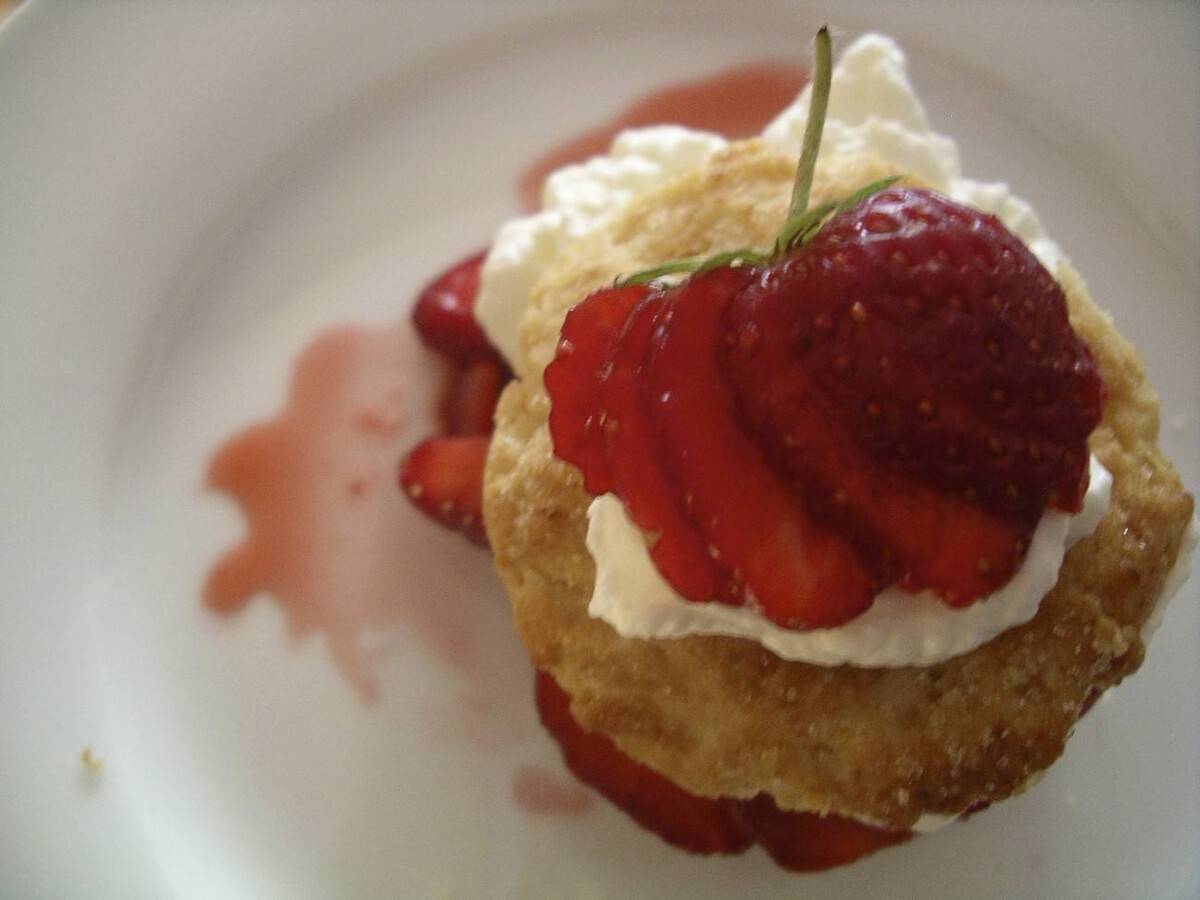 You May Also Like These Recipes:
Categories:
Baking
,
Baking and Treats
,
Cooking in Season
,
Feature Ingredients
,
Foodgasm!
,
Fruit
,
Fruit
,
Kid Friendly
,
Late Spring / Early Summer
,
Local Harvest
,
Locavore Gone Loca
,
Recipes
,
Taste Test
,
Technique technique technique