Pasta For a Winter's Night
December 29, 2010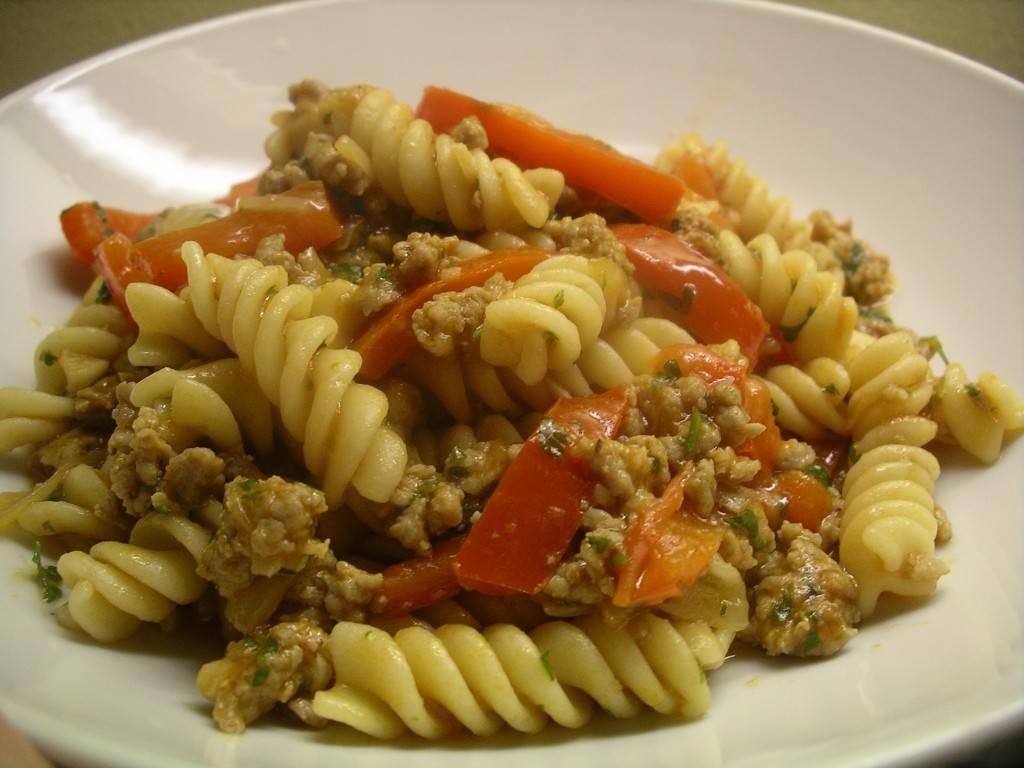 This is about the time in the winter holiday when even turkey soup has palled. We need something different, maybe spicy, maybe with some fresh vegetables.  So I wanted to write something that was not about the inventive use of turkey leftovers. Please, no more.
(Not to waste the turkey: I like to freeze the meat and gravy after one round or two of leftovers and save it for another night [say, a month away] when I will really enjoy it.) 
Tonight I will be cooking up my favourite pasta dish. This is one I make frequently in the fall and winter months and right now it's calling my name. I love the rich piquancy of the sausage meat playing against the sweetness of the peppers. It's a bit spicy, completely delicious and totally satisfying.
PASTA SHAPES WITH SAUSAGE AND PEPPERS
Serves two to four.
Feel free to substitute chopped roasted peppers for the raw peppers in the recipe. If using roasted peppers, add them with the sausage meat and proceed with the recipe as written.
4 Tb extra-virgin olive oil, divided
1 large onion, quartered and sliced thinly
1 large or two small bell peppers (red, yellow, or orange)
1/2 tsp salt, or more, to taste
4 hot or mild Italian sausages, casings removed, meat crumbled (I use Galloping Goose sausage or the ones from Choux Choux)
4 cloves garlic, minced
½ cup canned crushed tomatoes OR 1 cup chopped whole peeled tomatoes (canned or fresh)
1 to 2 Tb tomato paste
¼ cup minced fresh parsley, fresh basil or combination
½ lb dry rotini pasta, or other chunky shape
Grated cheese to taste (parmesan, asiago, or goat feta)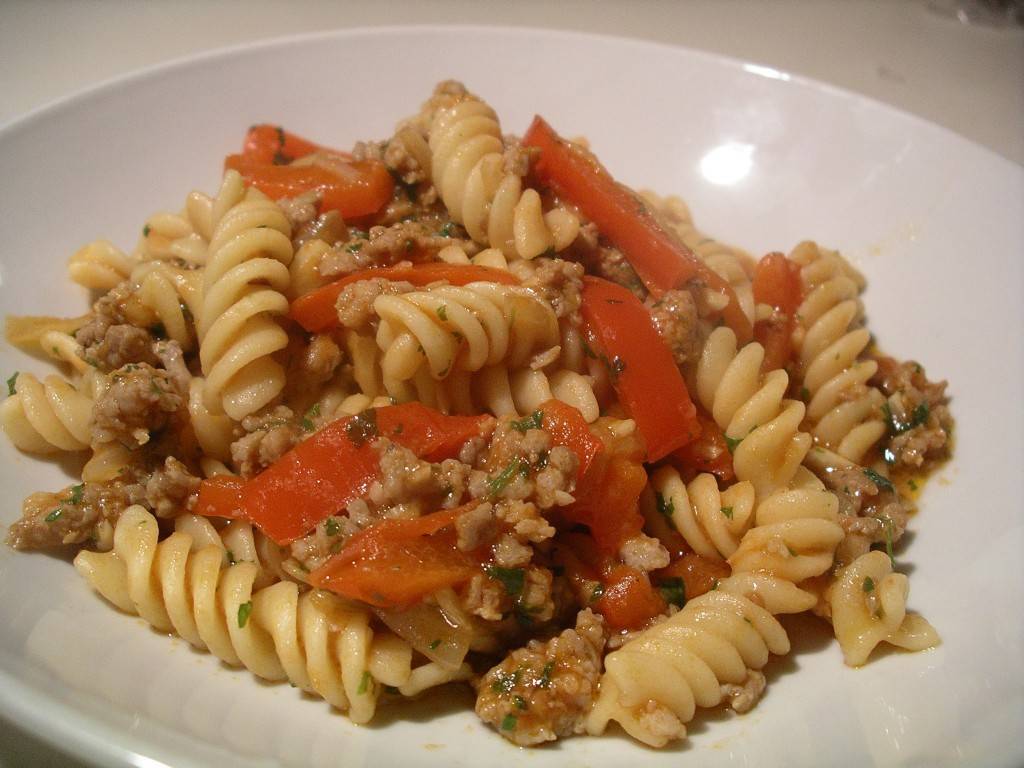 Bring 2 quarts of water to a boil in a large pot.   Add 2 teaspoons of salt and the pasta.  Stir frequently in the first minute of cooking to prevent the pasta from sticking together.  Cook about 8 minutes, or until done to your liking.
Meanwhile, prepare pepper.  Cut in half through the stem end.  Remove the stem, seeds and inner white membranes (these are bitter).  Cut pepper half in half again lengthwise, and now cut each piece crosswise into thin strips.  Set aside.
Heat a large sauté pan over medium-high heat.  Add 2 tablespoons of the oil and heat.  Add onion and sauté, stirring frequently, until onion has softened slightly, about 2 minutes.  Now add the sliced peppers and the salt.  Sauté, uncovered, for about 4 minutes, stirring occasionally, until peppers and onions are quite soft, but not mushy.  It's ok if they turn brown in spots.  Add the sausage meat and the garlic.  Turn down heat to medium.  Cook and stir for about two minutes, until sausage loses its pink colour.  Add the tomatoes and tomato paste (use however much or little as you like) and simmer for a couple of minutes.  You may cover the pan, if you like.  If at any time in this process, the peppers and sausages seem as though they are burning, you may add a little water to the pan and turn down the heat.  Taste for seasoning and add more salt, if necessary. Turn off the heat.
When the pasta is done, drain (don't shake the strainer – some water clinging to the noodles is beneficial to the sauce) and add to the pan with the sausage mixture.   Sprinkle in the fresh herbs, and the remaining 2 Tb of olive oil and stir well to thoroughly combine.  Serve immediately, with a sprinkle of cheese over each serving.