Biscotti with Pistachio, Dark Chocolate, and Red Chili
February 5, 2017
{Disclaimer: this post has been sponsored by Rancho Vignola. Readers will have a chance to enter a half-price cooking class giveaway today! Details at the end of this post!}
I have been making homemade biscotti for many years: always at Christmas time, and always to give away as gifts. . .  leaving me with the smaller end bits of biscotti to eat, and (I'm not ashamed to admit) the chunky crumbs from the bottom of the cookie tin.
I decided this year to make some biscotti just for myself, and while I was at it, to make a entirely new flavour. All for me.
Playing around with flavour combinations, I reminded myself that in biscotti, as in life, there can never been too much chocolate. So chocolate was a must. And as soon as I decided on dark chocolate, the rest of the recipe idea fell into place. Raw pistachios and sweetly spicy red chili seemed just exactly what I was craving with some dark chocolate to dip into a cup of steaming tea or coffee.
I only needed to test the recipe once. My classic biscotti formula adjusted to include pistachio, chopped bittersweet chocolate, and freshly ground red chili was bursting with flavour, heat, and complexity right from the first bite. And of course, using super fresh Rancho Vignola products (their pistachios and their dark baking chocolate domes) only made everything better.
BUT it never hurts to test something a second time, right? Especially when it allowed me another three dozen delicious biscotti to eat? All for me!!
Next year, I'm putting myself on my Christmas biscotti list ;)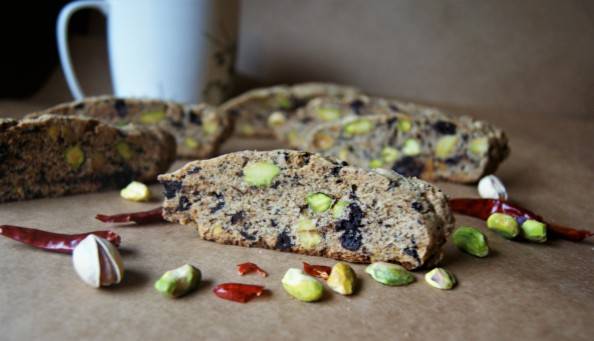 Now, ON TO THE COOKING CLASS DISCOUNT GIVEAWAY!
My friends, fans, and loyal blog readers, Rancho Vignola has stepped up once again to sponsor my business activities, this time by covering 50% of the cost of one of my cooking classes. What this means for you, dear readers, is that I will be selling twelve spots in my newest cooking class, Flavours of the Exotic, for half-price! That's $50 for a full three-hour hands-on cooking class, and includes a take-home recipe booklet and full delicious meal.
The class will be held on Saturday, February 25th, from 6 pm to 9 pm, at the lovely teaching kitchen of The London Chef in downtown Victoria. Here is a full description of the class:
FLAVOURS OF THE EXOTIC (Vegan/Vegetarian)
World cuisine is known for its explosions of flavour, its liberal use of fresh produce, and its cooking techniques that make even simple ingredients taste spectacular. What are the secrets? In this class, I will de-mystify the ingredients and techniques needed to create mouthwatering vegetables, grains, fruits, and legumes. Borrowing inspiration from Asia, North Africa, Central America, and beyond, we will walk away with a better understanding of how to cook well and stay healthy, with a collection of recipes that will WOW our friends and family. Vegan/vegetarian friendly, but techniques learned in class will apply to omnivore cooking as well.
What is being given away here is a 50% discount. You are entering to win a Chef Heidi cooking class, normally valued at $100, for only $50.
Bonus: Rancho will be providing some of their new-crop nuts and dried fruits for our class menu!
GIVEAWAY RULES:
1. You are entering to win a discount on a Chef Heidi cooking class. Her classes are normally valued at $100. Draw winners will pay only $50.
2. No purchase necessary to enter the draw, but if you win the discount, you will be expected to pay the remaining 50% value of the cost of the cooking class – in this case, $50 per person.
3. Four discounted cooking class spots will be available for a draw each time I post for the next three weeks. That means there are 3 chances to win!
4. Enter the draw by commenting on the blog post or on my facebook fanpage that day. A new blog post will go up every Sunday for the next three weeks. Each draw will last for 48 hours, after which I will close comments and pick the winners by random draw.
5. This discount giveaway is open to any Canadian or U.S. resident who can make it to Victoria for the date of the class (Feb 25th, 2017).
6. This discount cannot be applied to any other cooking class. It applies only to the Rancho Vignola sponsored vegetarian cooking class offered Feb 25th, 2017.
BISCOTTI WITH PISTACHIO, DARK CHOCOLATE, AND RED CHILI
makes about 3 dozen.
These biscotti with raw pistachio, chopped bittersweet chocolate, and freshly ground red chili are bursting with flavour, heat, and complexity right from the first bite; perfect for dipping in a steaming mug of hot cocoa, tea, or coffee.
ingredients
2 ½ cups all-purpose flour
1 tsp baking powder
¼ tsp baking soda
¼ tsp salt
1 tsp ground chili (I use a milder chili, like Cascabel or New Mexico; if using a spicier chili, like cayenne, use half the amount)
¼ cup butter, melted
2 eggs
2 egg whites
1 cup white sugar
1 tsp vanilla extract
1¼ cup raw shelled pistachios
1 cup chopped dark chocolate (semi sweet or bittersweet)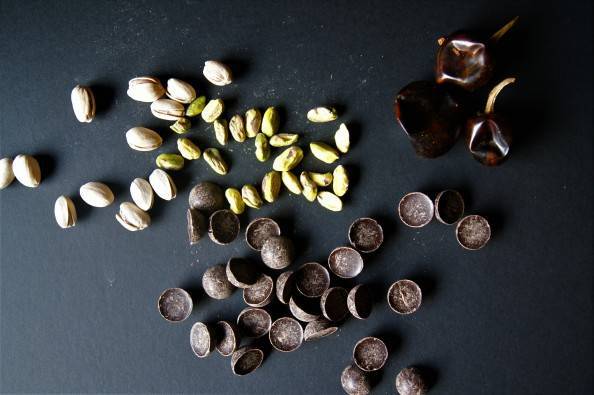 instructions
Preheat oven to 325° F. Line a large sheet pan or cookie sheet with parchment paper.
In a large bowl, whisk together the flour with the baking powder, soda, salt and ground chili. In the bowl of a standing mixer fitted with the paddle attachment, beat the eggs and egg whites until foamy. Add the sugar and beat until thick and creamy. Beat in the vanilla extract, melted butter, pistachio, and dark chocolate.
On low speed, stir the flour mixture into the wet ingredients, mixing well to combine. Divide the dough in two and place them about 4 inches apart on the parchment-lined baking sheet. Shape each into a smooth, flat-topped log about 1½ inches wide and about 15 inches long.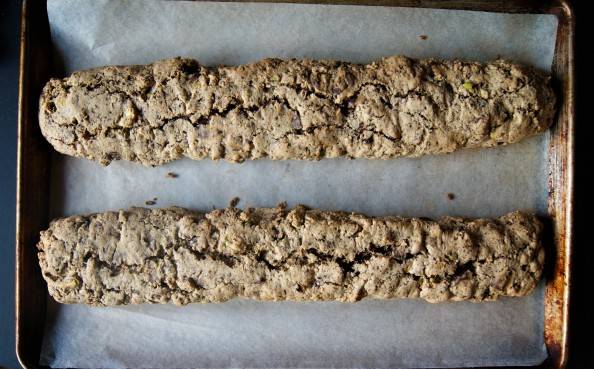 Place in the preheated oven and bake for about 25 to 30 minutes, until they feel firm to the touch. Remove from the oven and let cool for 15 minutes. Turn down the oven to 275°F. Place logs on a cutting board and slice on the diagonal into ½ inch slices. Arrange the slices upright on the baking sheets, leaving a bit of room around each for air circulation, and bake them again for 20-30 minutes.
Let the biscotti cool on wire racks. Store in air tight containers. Their flavour will improve in a few days. They will last about a month if nobody eats them first!
You May Also Like These Recipes: