The Winter Squash Taste-Off
November 7, 2010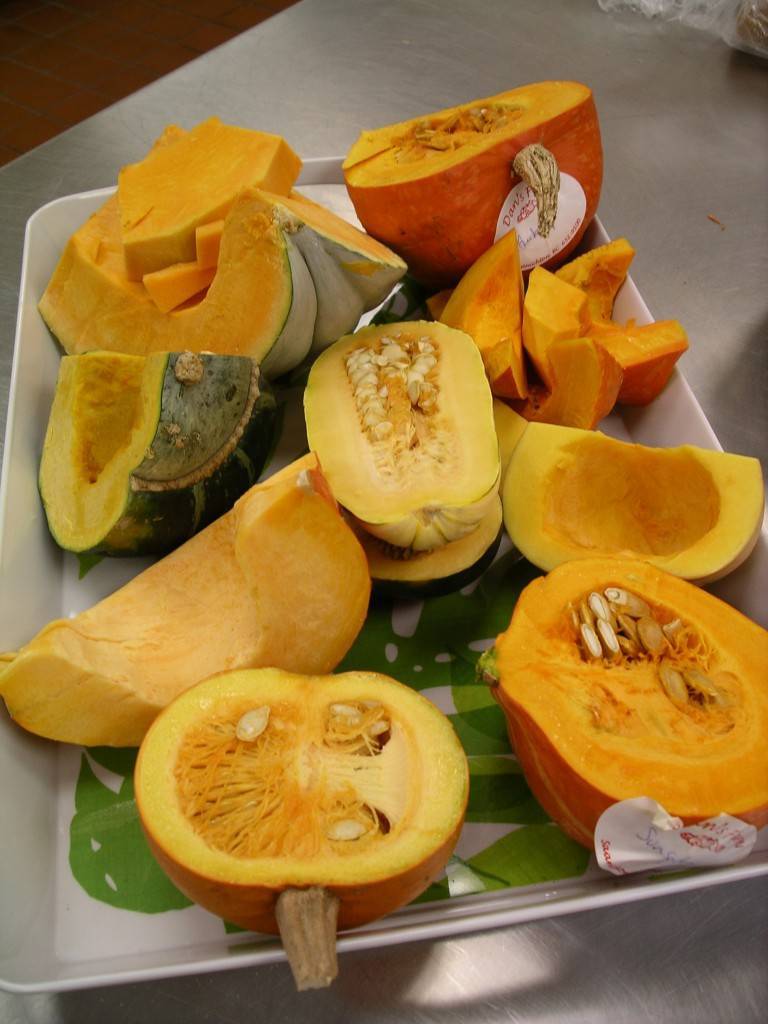 Autumn: the time of year when every cook, I'm sure, has the same burning question: What kind of winter squash is worth the effort of peeling, chopping, and cooking?  I mean, there are so many varieties for sale and they are all pretty tough to crack. Which ones taste the best?!
In my Local Harvest cooking class (autumn version only), I aim to answer this very question. I comb farmers' markets and supermarkets, using up the class food budget to buy every kind of winter squash-like or pumpkinish vegetable I can find. Before class I peel and chop a section out of every squash, toss with a bit of melted butter and salt, and roast on a parchment-lined-and-labeled tray (keeping each variety separate, of course).
At the beginning of class, we all gather round with our forks in hand and dive in. (I should mention that although only six types of squash are pictured above and below, each Squash Taste-Off has included at least 14 different squash varieties, and are tested by a minimum of 15 people each time.)
It's important to taste every single squash. Every person needs to know which one is his or her favourite because winter squash are hard to cut into at best, and, at worst, are severely challenging to any cook with a less-than-perfectly-sharp knife. (All that work had better be worth it!) Despite sharing the blanket name of 'winter squash', they all vary in taste, texture, and colour.
Squash can be divided into five loose catergories – these may not be botanically-linked, but this is just how I link them in my mind for culinary purposes. (The results of the various Local Harvest Squash Taste-Offs come after the squash descriptions. Scroll down to see, if you can't stand the suspense.)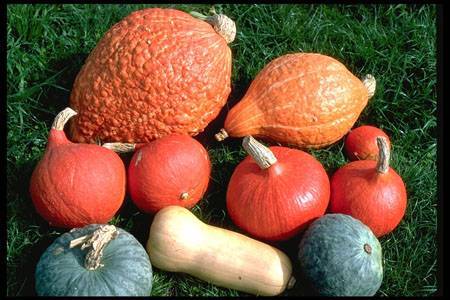 Hubbard Family (except for that lone butternut in there)
Hubbard Family (blue/grey hubbard, green hubbard, orange hubbard, sunspot, red kari) – they all have a torpedo-shape or spinning top shape – slightly pointed on both ends. They are all full-flavoured, sweet, usually moist and 'buttery' in texture. Some varieties are a bit drier (e.g. blue/grey hubbard) and some are moister (e.g. green hubbard, and all the orange ones)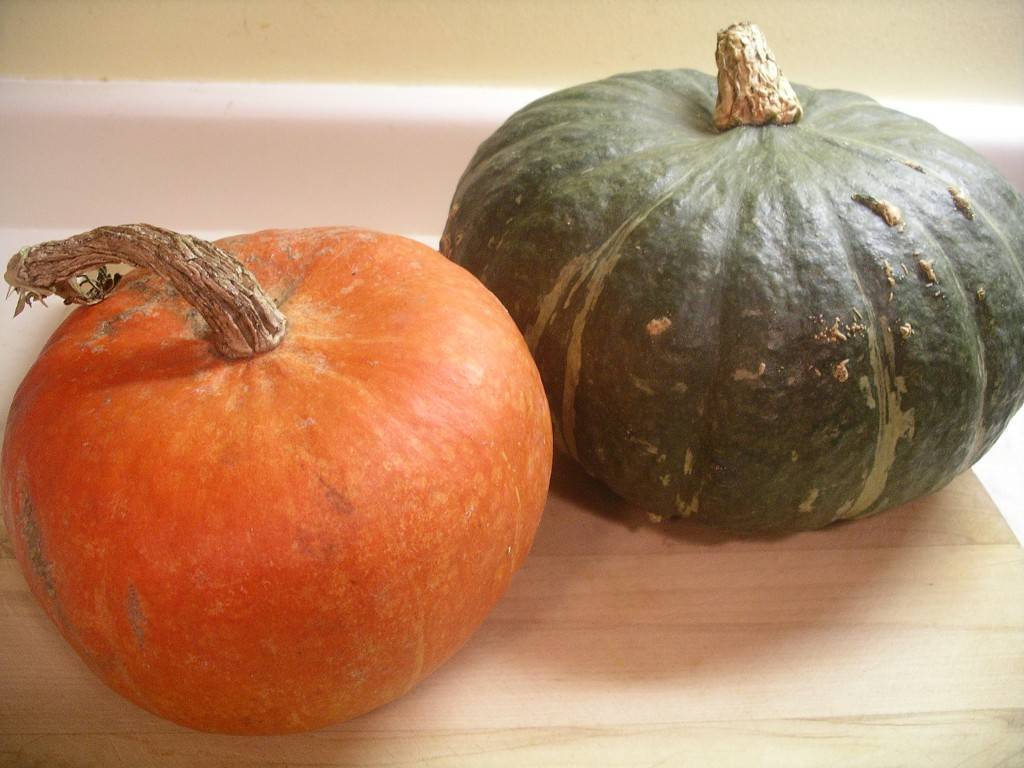 Some members of what I call the Turban Family
Turban Family (turban, buttercup, ambercup, kabocha, sweet mama) – these all have a squat, flattened shape, kind of like a flying saucer, occasionally a bit squared-off, and some have a small or large greyish 'turban' visible on the blossom end. They are all very flavourful and often sweet, but most are on the dry, dense side as far as texture is concerned. They make excellent soup, casseroles, and other dishes, but because of their drier texture they sometimes aren't as good for plain eating. But I say this with reservations, because at least one of the top favourited squashes is in this category.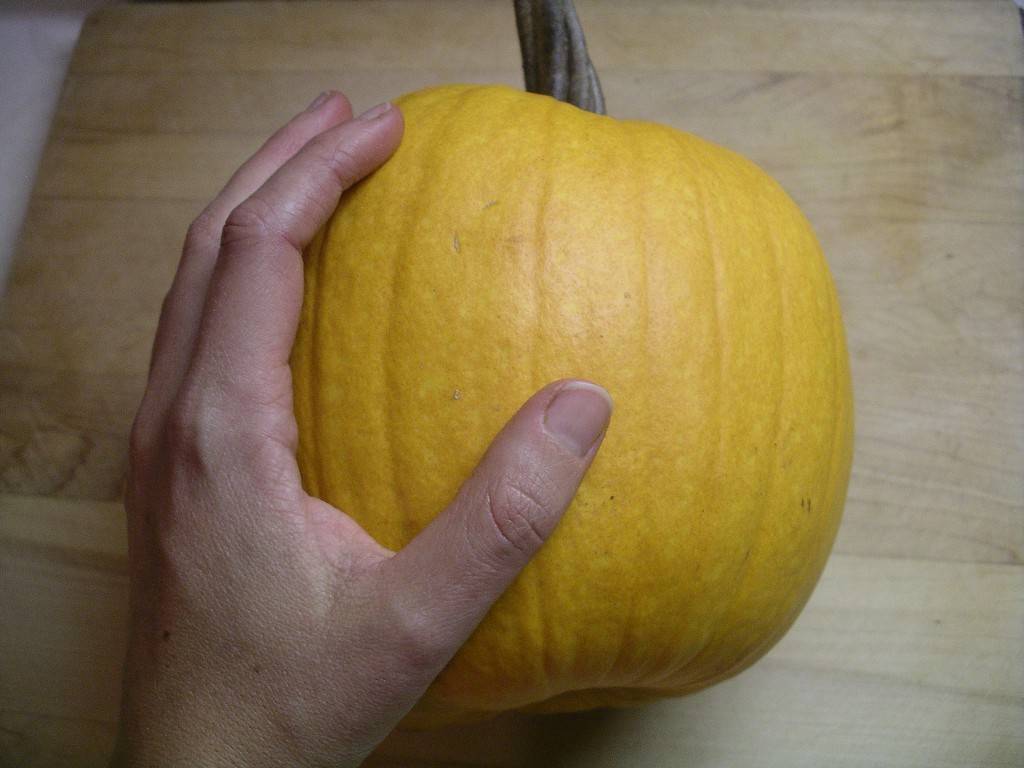 Sugar Pie Pumpkin. Photo taken with hand so viewers have perspective on size of sugar pumpkins. Not to be confused with Jack-O'Lanterns.
Pumpkins (sugar pie pumpkins, Rouge Vif d'Etampes, aka Cinderella Pumpkins) – mildly sweet and nutty, kind of watery compared to other squash, these are reserved for purees, which you can turn into pumpkin muffins, loaves, pies, chiffon cakes, and soup. Cut in half, scoop out and discard seeds, bake, scoop out flesh and puree. No need to peel and chop.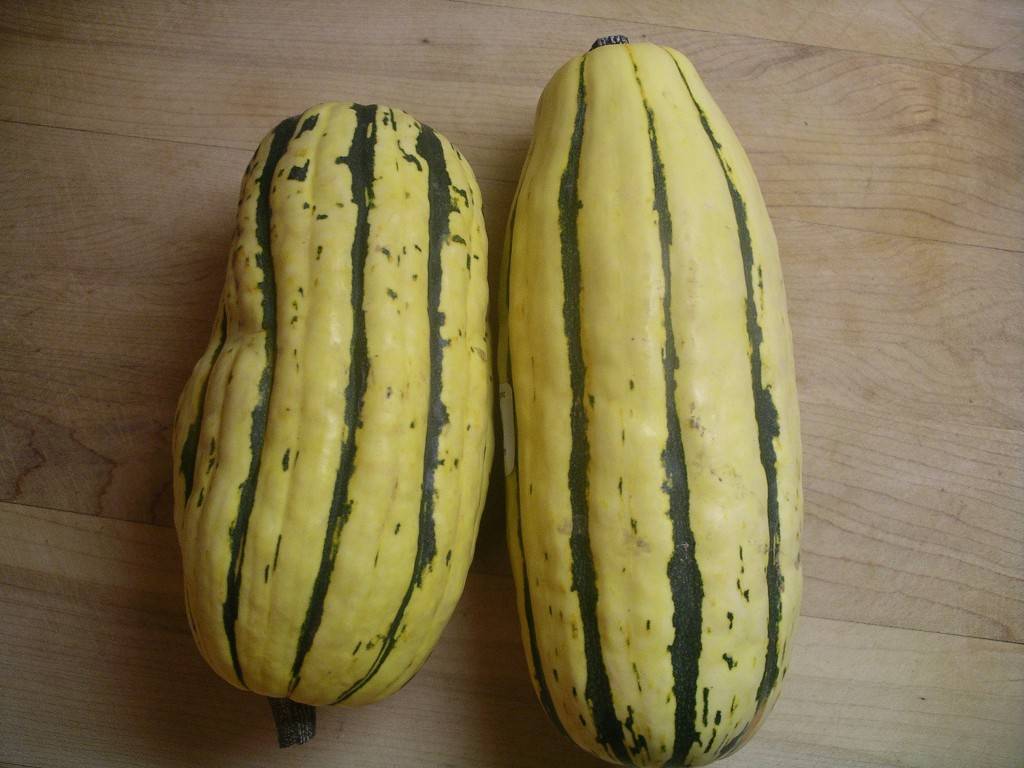 Delicata Squash (also quite little)
Little Ones (delicata, sweet dumpling, sugar loaf, sweet potato) – always sweet, moist and delicious. These are best roasted whole or in halves, unpeeled, possibly stuffed, and scooped out directly from the shell into the mouth. Because of the thinness of the squash walls, if you peel these raw, there will be almost no flesh left.
Others (butternut, acorn, banana, spaghetti) – of these, the only one I really like is banana. I know, a total surprise, but I have done the taste test for a number of years now. Banana squash is generally flavourful, sweet and moist, while the others often leave much to be desired. Acorn has a nice texture and mild flavour, but are hardly worth it for the pain of peeling the ridges. But they can achieve 'worth-it' status when baked with the peel on. Butternut used to be great 20 years ago, but has suffered from some kind of watered-down monocrop cultivation or something. I haven't had a good butternut squash in years. Spaghetti – well, I've never liked it, but if you do, by all means, go for it.
So, the results of the taste off!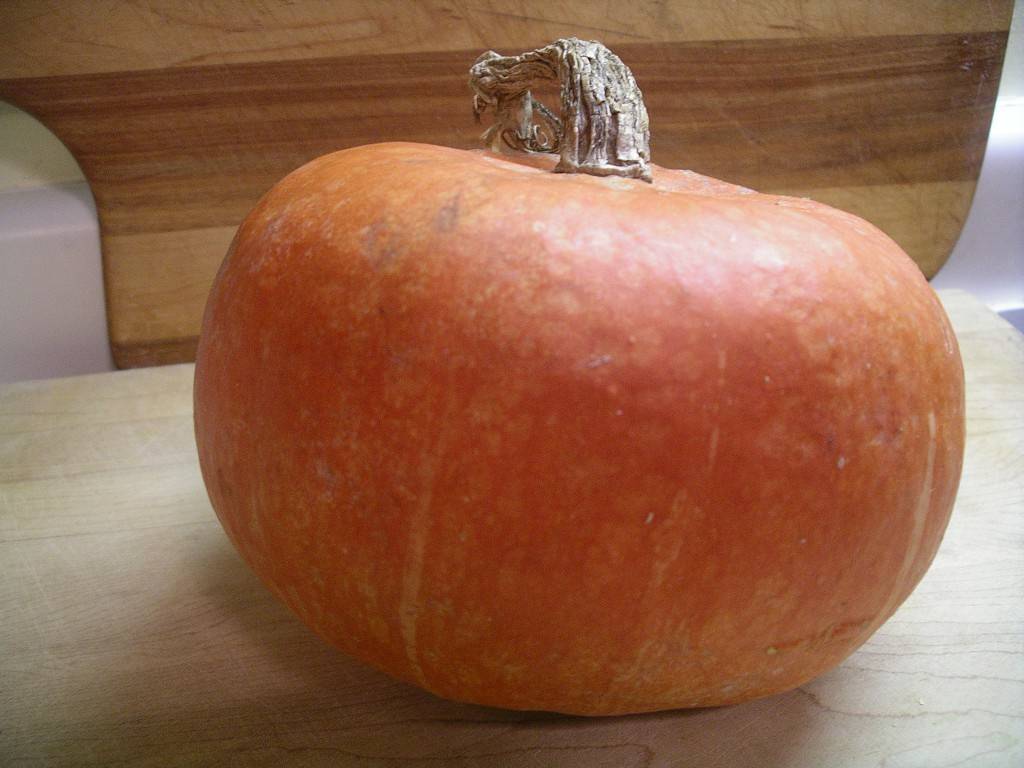 Winner: Ambercup!

Every year, Ambercup (see Turban Family) has won top honours as the favourite squash from the majority (i.e. everyone) of the people at the Local Harvest class. Ambercup is delicious: swee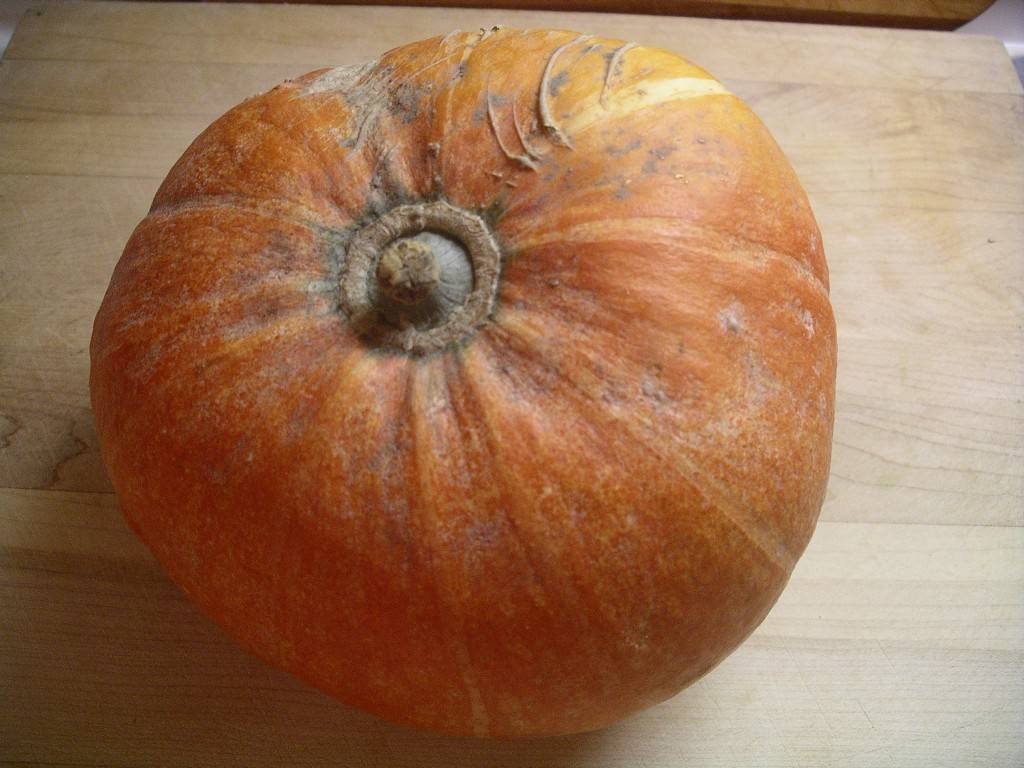 t, deeply flavourful, moist and buttery, wonderful on its own or cooked in things. Go to a farmer's market or farm stand and buy some today! (Careful: some of the farmers will tell you that Sunspot is the same squash but it definitely is NOT. Sunspot is pretty good, but it has NOTHING on Ambercup. Sunspot is small and torpedo-shaped. Ambercup is a bit bigger and flattened on top and bottom, occasionally with a small grey 'turban' on the blossom end – see photo at right.)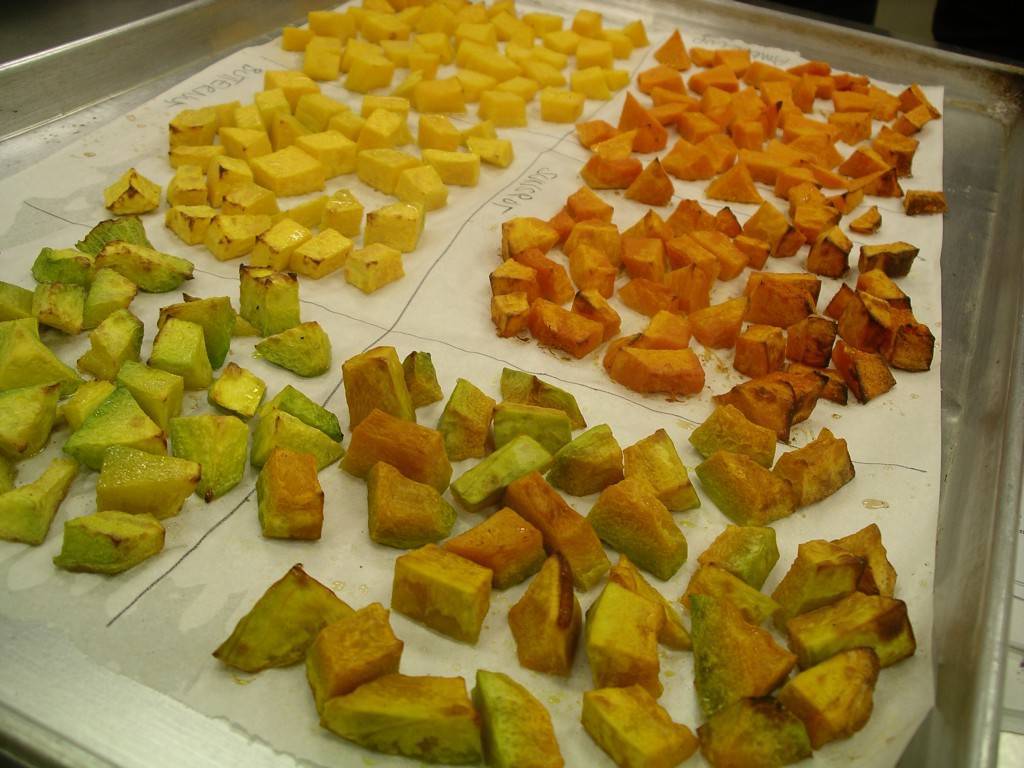 Very honourable mentions:
Delicata/Sugar Loaf (see Little Ones) – this is almost always the second-runner up. Bonus – they are the easiest to prepare.
Hubbards of all kinds  – they have so much flavour and usually a divine texture (green hubbard was a big surprise this year, with its extra-buttery texture)
Banana – always a big surprise to most people
Very honourable mentions for people who like squash flavour but want it less sweet:
sweet mama – top honours in this category (ironic, really, given its name)
buttercup and kabocha – great great flavour, but a bit on the dry side – these would probably compare more favourably if I had steamed all the squash rather than roasted it – both are favourites of mine for soup and tempura.
Squash that almost nobody liked:
butternut (really!)
acorn (there was a bit of division on this, since many loved the texture. Also these probably taste better when they don't have to compare themselves to amazing hubbard and ambercup)
sugar pie pumpkins (this last was kind of unfair, because they are a bit watery and stringy compared with other squash in a plain taste-off, but they are truly excellent for baking, as in muffins and pies).
And there you have it. The results of a three-year squash taste-off, for your eating pleasure. Next time: how to peel and chop a winter squash.
UPDATE #1 – I have been asked by a few people where to get Ambercup squash. Answer: you can get it at most of the farm stands throughout Saanich. Both Michell's Farm on Island View and Dan's Country Market on Oldfield Rd sell Ambercup.