Cranberry Custard Bars with Orange
November 28, 2012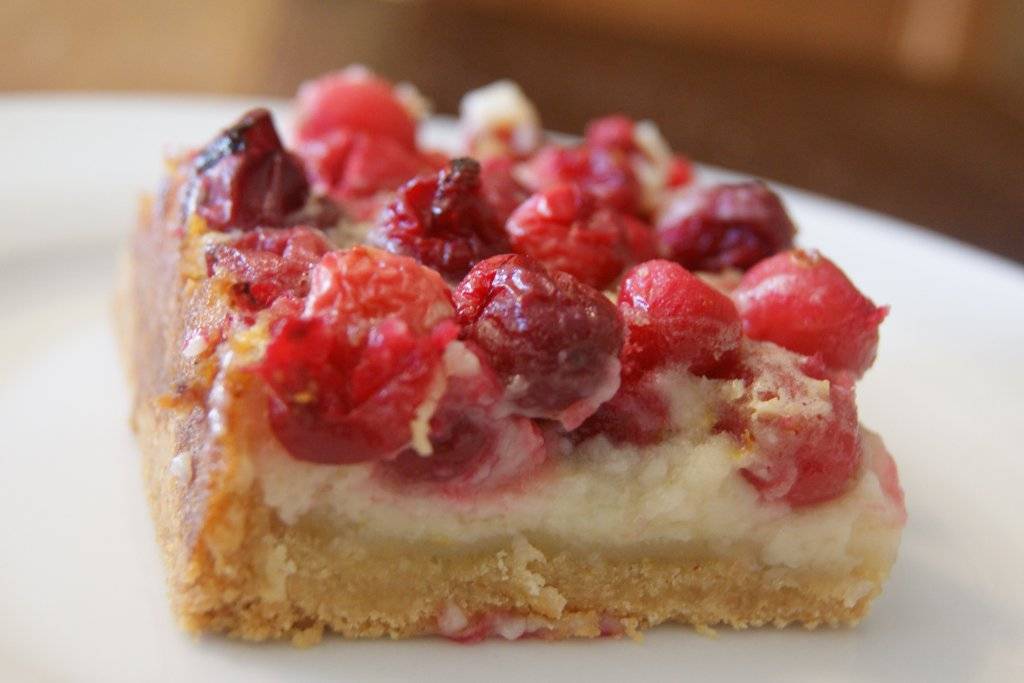 You want a lip smacking dish to take to a Christmas party? A recipe that's seasonal, creative, delicious, but still simple? Please allow me to introduce my latest creation, Cranberry-Orange Custard Bars!
My most popular blog post to date has been the Rhubarb Custard Bars that I posted Spring 2011. Those bars are most definitely worthy – vanilla custard, tart fruit, crisp butter-caramely crust. They are so good that I have been dreaming of variations to make during the 10 months of the year that rhubarb is not in season.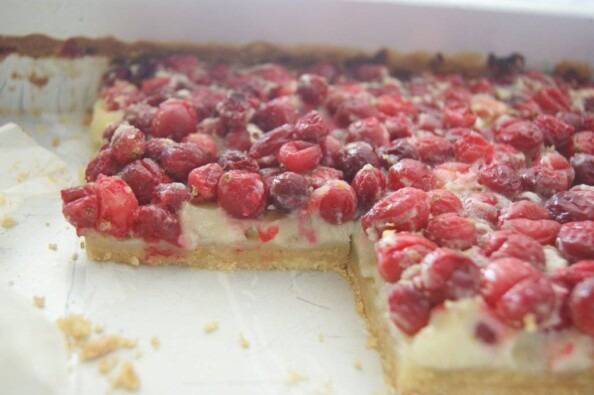 Perfecting this recipe was not as simple as swapping the rhubarb for cranberries. I needed to adjust the consistency and the flavouring, and I needed to test the recipe several times. Three times, just to make sure they were perfect. And then a fourth, to make absolutely certain of perfection, you understand. Wait, let me taste a bar one last time…
Well, before I gain too much early holiday poundage, let me declare a winner. Recipe #4 – nicely tart berries playing against smooth orange-scented custard on a crisp shortbread-like crust. I know I am going to make this recipe for my Christmas party this weekend.
Or maybe two pans – one to eat and one to share.
Sigh…. these are just too good.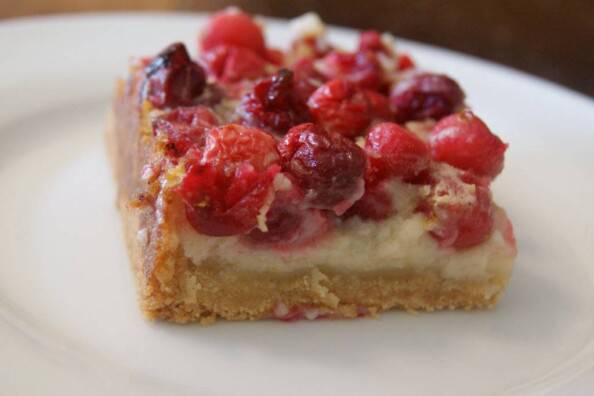 CRANBERRY CUSTARD BARS WITH ORANGE
Makes 18 large bars.
Plan to eat these bars up within two days. If you don't think you can eat them that quickly, cut the recipe in half and bake it in an 8×8-inch square pan. Make sure to cut the bars on the large side because the cranberries like to fall off the edges.
Crust:
1-1/4 cup all purpose flour
1/4 cup whole wheat flour (try whole wheat cake & pastry flour)
½ cup cool butter
½ cup sugar
¼ tsp salt
finely grated zest of one orange
Preheat oven to 375 F. Butter the bottom and sides of a 9? x 13? (approx) metal or glass pan. Cut a piece of parchment paper to fit exactly in the bottom of the pan.
In a large bowl combine all ingredients.  Mix with your fingers until the mixture resembles fine crumbs.  Butter should be completely incorporated. You can use a food processor for this step, if you like.
Press crumbs (not too too firmly, but firm enough) into the bottom of the prepared pan. Press a tiny bit up the sides of the pan as well (to catch the custard). Place pan on lower-center rack of the preheated oven. Bake for 15 to 25 minutes, until golden. Remove from oven and reduce oven heat to 350 F.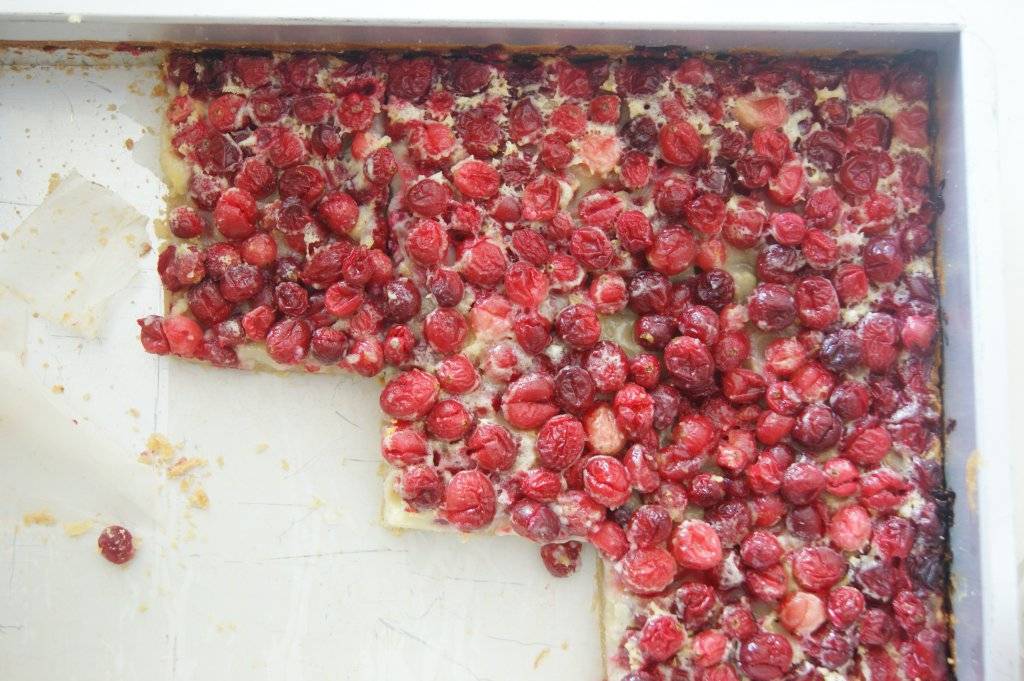 Topping:
1½ cups sugar
3 eggs
5 Tb all-purpose flour
2 tsp vanilla
¼ tsp salt
1 cup light cream, or 1/2 cup milk and 1/2 cup light cream
finely grated zest of one or two oranges
4 to 5 cups fresh or frozen cranberries (*note: thaw frozen cranberries before using)
While the crust is baking, mix the topping ingredients together.  In a large bowl, mix the sugar, eggs, flour, vanilla, salt, cream, and orange zest, whisking well to eliminate lumps.  Stir in the whole cranberries (thaw the frozen ones first). Once the crust comes out of the oven, pour the topping over it (the crust should still be warm).  Return to the oven and bake for 30-40 minutes, rotating pan once back to front, until custard no longer jiggles and toothpick inserted in the middle comes out mostly clean.
Let cool. Cut into bars.
Note: the first bar is hard to cut, but after that, they should be pretty easy to cut.